February 19th, 2021 by AnyChart Team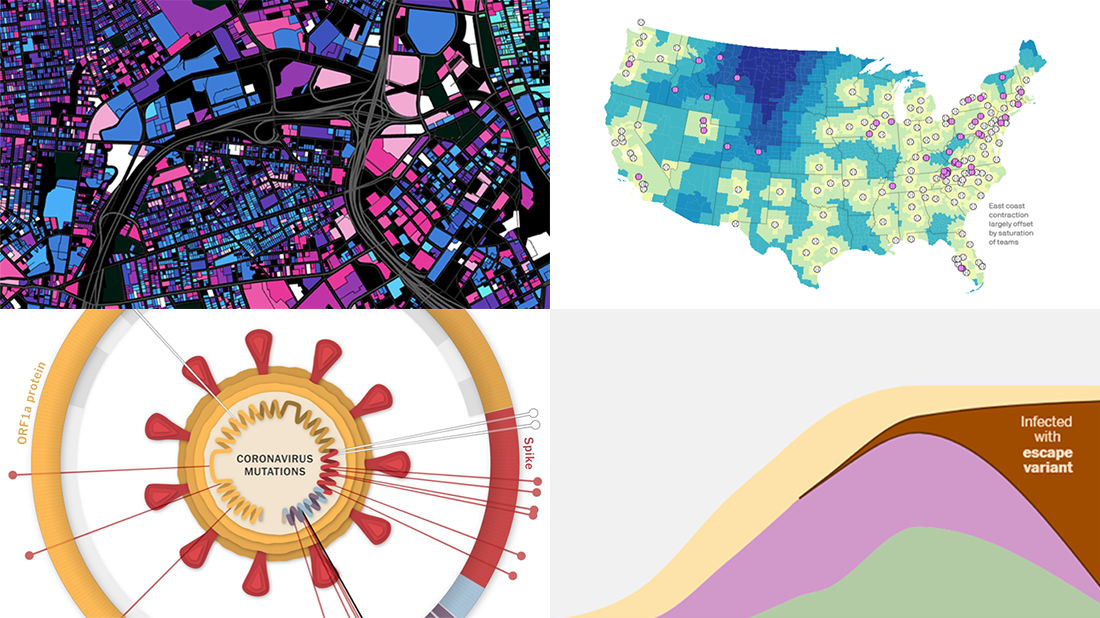 For us humans, data is usually easier to explore and analyze when it's properly visualized. If you are looking for some good examples, you've come to the right place at the right time! DataViz Weekly is here to let you know about new great information visualizations.
Today on DataViz Weekly:
Coronavirus vaccination pace, goals, and challenge — The Washington Post
Coronavirus mutations and variants — The New York Times
Distance to the nearest MiLB team in 2021 — Axios
Age of buildings in Providence, RI — Chris Sarli
---
February 12th, 2021 by AnyChart Team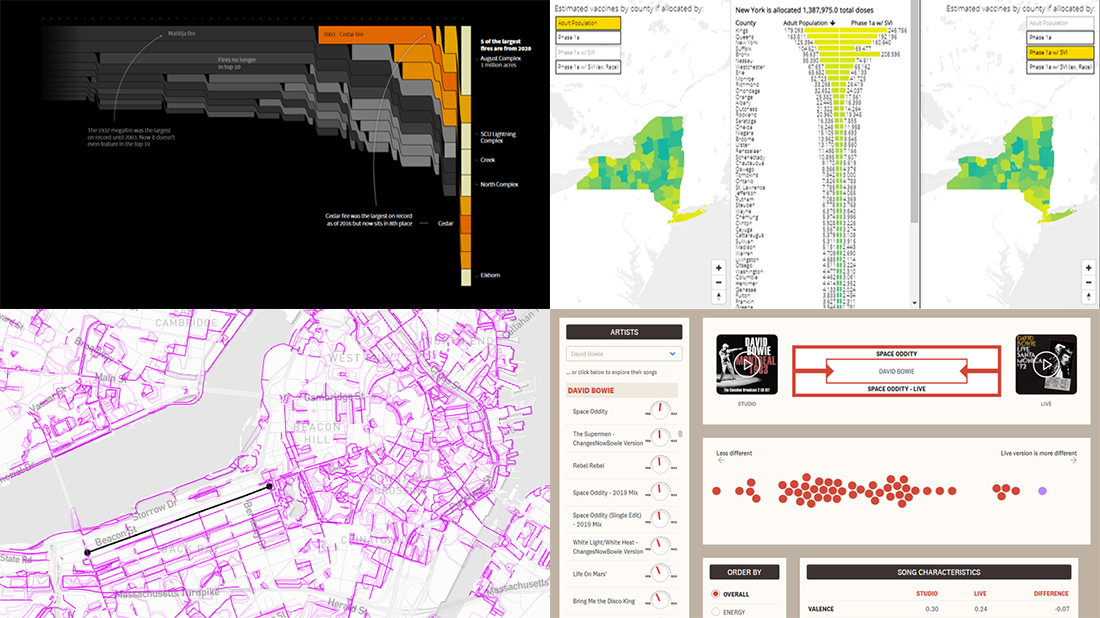 "Numbers have an important story to tell. They rely on you to give them a clear and convincing voice," Stephen Few once said. That actually is the purpose of data visualization. On DataViz Weekly, we show you how this works in reality. Welcome to our new roundup of the most interesting data visualization projects we've recently found!
Comparing live and studio versions of songs — The Pudding
Historical wildfires in the U.S. West — Reuters
Boston's most desirable streets — MIT Senseable City Lab
Inequality and COVID-19 vaccine allocation in America — GHJP Yale & C4SR Columbia
---
January 29th, 2021 by AnyChart Team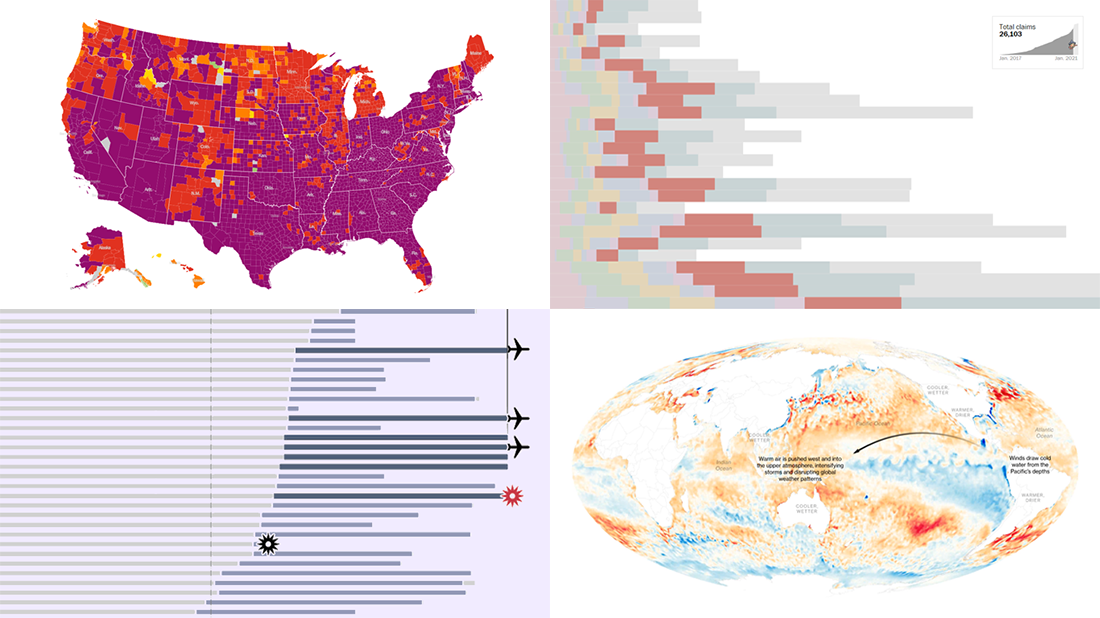 We continue our weekly blog feature where we show you the best data visualizations we've met out there over the past seven days. Here's our new selection of stunning charts and maps from different creators — check it out! Today on DataViz Weekly:
La Niña and its impacts — Bloomberg
Donald Trump's false and misleading claims while in office — The Washington Post
COVID-19 risk levels by county — The New York Times
Sriwijaya Air fleet — Reuters
---
December 25th, 2020 by AnyChart Team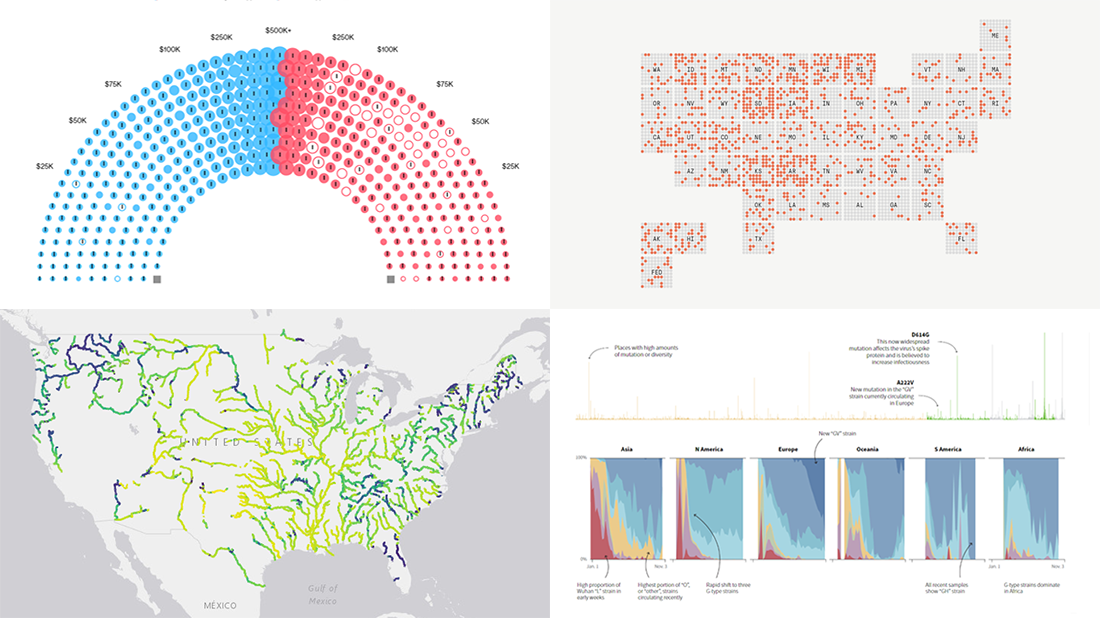 Merry Christmas everyone (who's celebrating)! 🎄 Meanwhile: COVID, election, and environment — the topics quite symbolic for this year are in the spotlight of today's, the year's last DataViz Weekly. Don't miss out on some of the latest best data visualizations!
Look at the list of projects featured on DataViz Weekly this time and keep reading to learn more about each:
Winners of the 2020 U.S. election by funding from Wall Street — Bloomberg
COVID-19 infection rates in prisons by state — The Marshall Project
Novel coronavirus strains in evolution worldwide — Reuters
River colors across the United States — Gardner Hydrology Lab at Pitt
---
December 18th, 2020 by AnyChart Team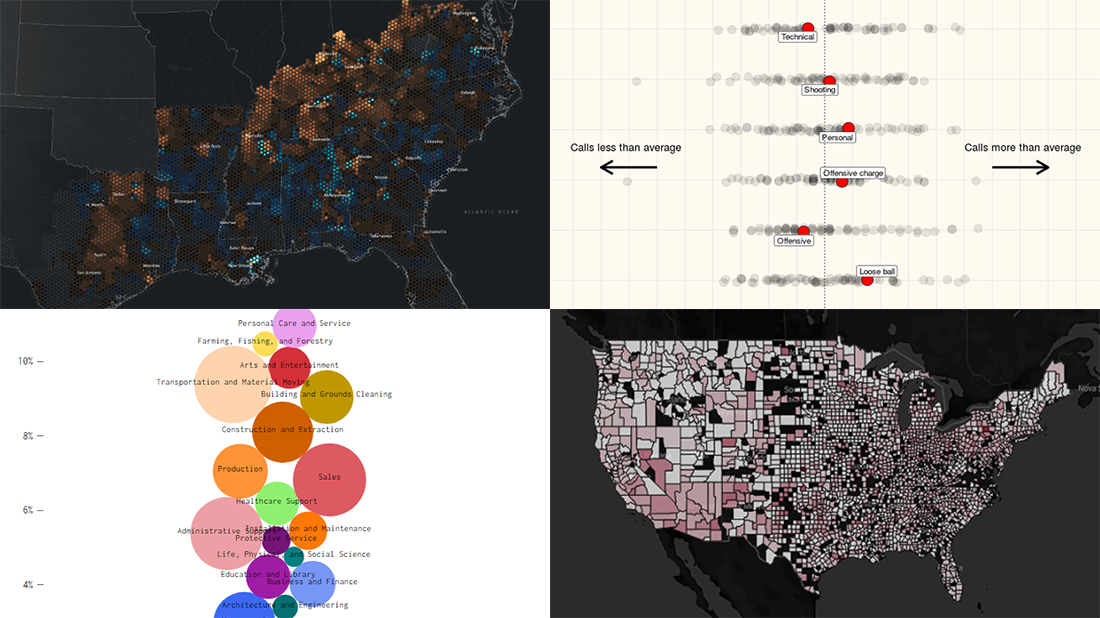 Get ready for another dose of amazing charts and maps! DataViz Weekly's here to show you a set of new projects featuring graphics that make data talk — excellent examples of data visualization in action!
Here are this week's picks:
Over 200 years of migrations in the American South — Edward Ayers, Nathaniel Ayers & Justin Madron
NBA fouls and violations, by referee — Owen Phillips
U.S. unemployment change, by occupation — Nathan Yau
U.S. hospital COVID-19 bed occupancy — Carlson School of Management at UMN
---
December 11th, 2020 by AnyChart Team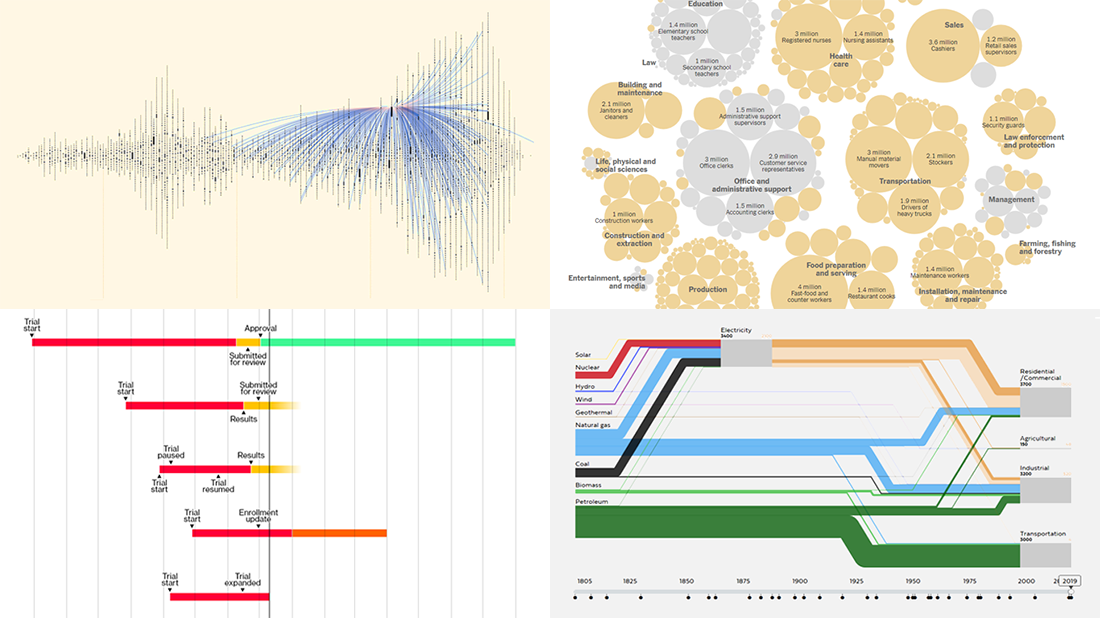 Welcome back to DataViz Weekly, where we overview the best new data visualizations created by professionals. As always, let's begin with a list of the projects we're excited to put a spotlight on, and then take a closer look at each:
Exploring letter communication networks of the Tudor government in the 16th century — Kim Albrecht, Ruth Ahnert & Sebastian Ahnert
Tracking the most promising coronavirus vaccines — Bloomberg
Defining "essential" and "frontline" workers for vaccination — NYT
Understanding the U.S. energy use evolution since 1800 — RDCEP, UChicago
---
December 8th, 2020 by Shachee Swadia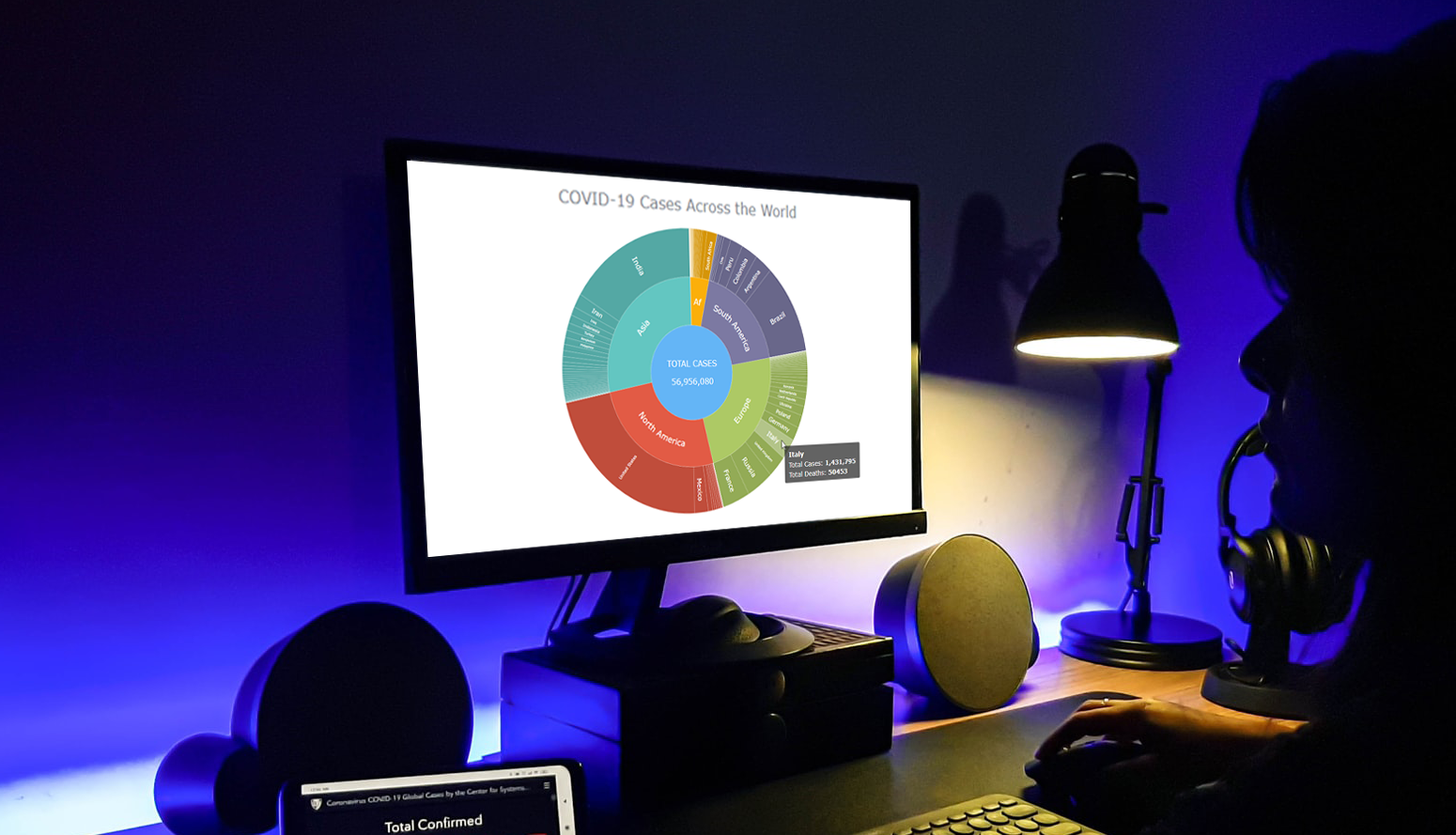 Almost recovered from COVID-19 myself these days, I decided to explore how the world is currently doing, during the pandemic. So I created a sunburst chart to see at a glance what continents and countries are more (and less) affected by the coronavirus than others. The process was quick and I thought someone could be interested to learn about how such data visualizations can be built in a pretty straightforward way, even with very little technical skills. So I also made a tutorial. And here I am — (1) sharing my interactive sunburst chart of COVID cases and (2) describing how I created it using JavaScript in a matter of minutes, step by step!
My JS sunburst chart provides an overview of the situation as of November 24, 2020, and also shows the global count, continent-wide data, and country-wise proportions for the current active COVID-19 cases and deaths. Scroll down to explore it by yourself and check out the tutorial along the way. Here is a sneak peek of the final chart to get you excited:
This sunburst charting tutorial is mainly for beginners to data science. So before we get to business, let's make sure we're on the same page. I'll explain what a sunburst chart is and how it works, to start with. Then I'll show you how to create a cool and colorful interactive visualization like that with JavaScript (and you can do it even if you don't know it too well). That's the plan!
Read the JS charting tutorial »
---
December 4th, 2020 by AnyChart Team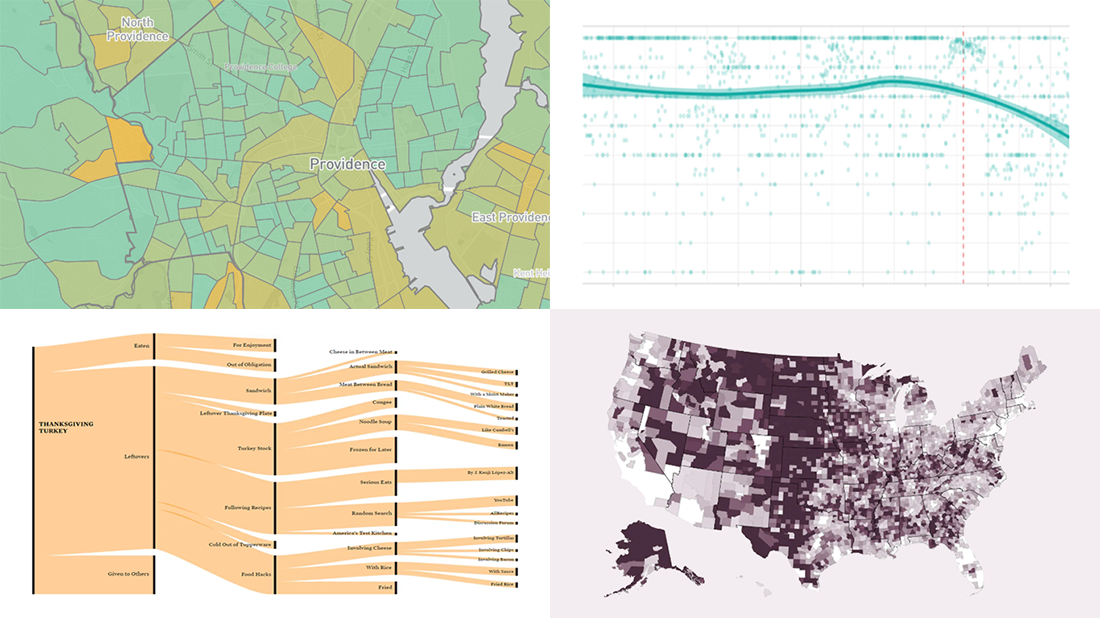 Hey everyone! Continuing to curate the best charts, maps, and infographics from around the Internet, we invite you to meet four fresh great data visualization projects worth checking out.
Today on DataViz Weekly:
Visualizing the ways the Thanksgiving turkey leftovers were used — Nathan Yau
Understanding the scale of 250,000 deaths from the coronavirus — The Washington Post
Finding a correlation between scented candle reviews on Amazon and COVID-19 — Kate Petrova
Evaluating tree equity in American city neighborhoods — American Forests
---
November 27th, 2020 by AnyChart Team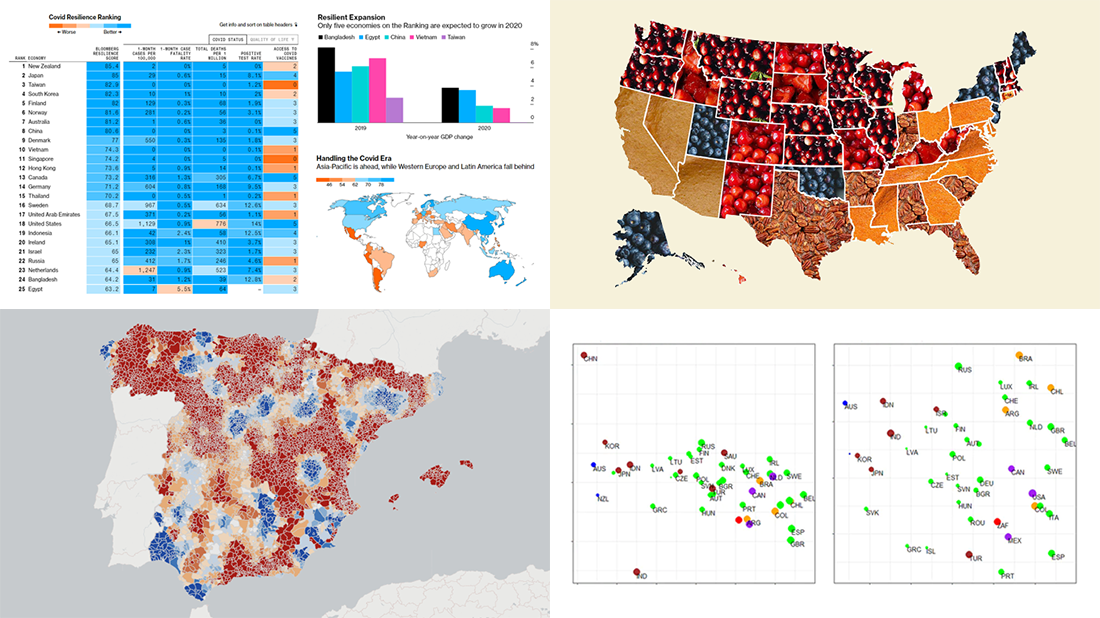 If you love good data visualizations, you've come to the right place at the right time! Every Friday, we choose the four most interesting projects making good use of charts and maps, from those we have come across out there just lately, and introduce you to them. Here are the visualizations we're going to tell you about this time on DataViz Weekly:
(False?) dichotomy between saving lives and saving the economy during the second wave — Michael Smithson on The Conversation
COVID Resilience Ranking revealing the best and worst places to stay during the pandemic — Bloomberg
Length of summers in Spain since 1950, by municipality — Predictia
The most popular Thanksgiving pie in each state — Instagram
---
November 20th, 2020 by AnyChart Team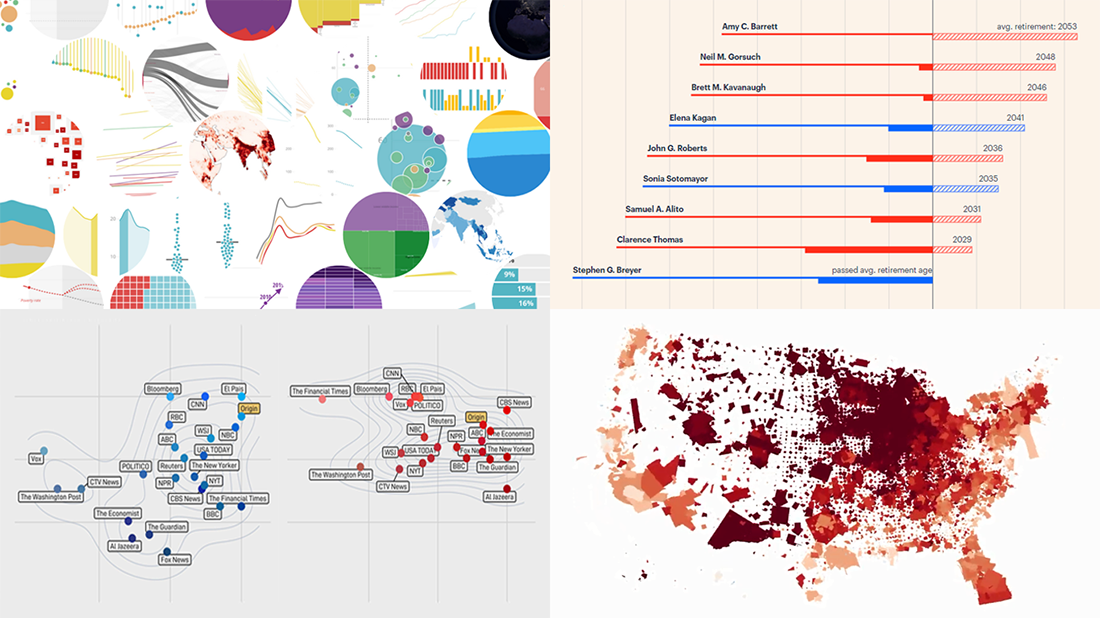 Another long seven-day wait is over, and DataViz Weekly's already here to introduce you to new awesome data visualizations we have met these days around the Web. Let's see what we've got this time!
COVID-19 growth rates in each U.S. county — Benjamin Schmidt
World development indicators — The World Bank
Timelines for new and all current federal judges — ProPublica
Colors of the U.S. election maps on different media — SBS News
---