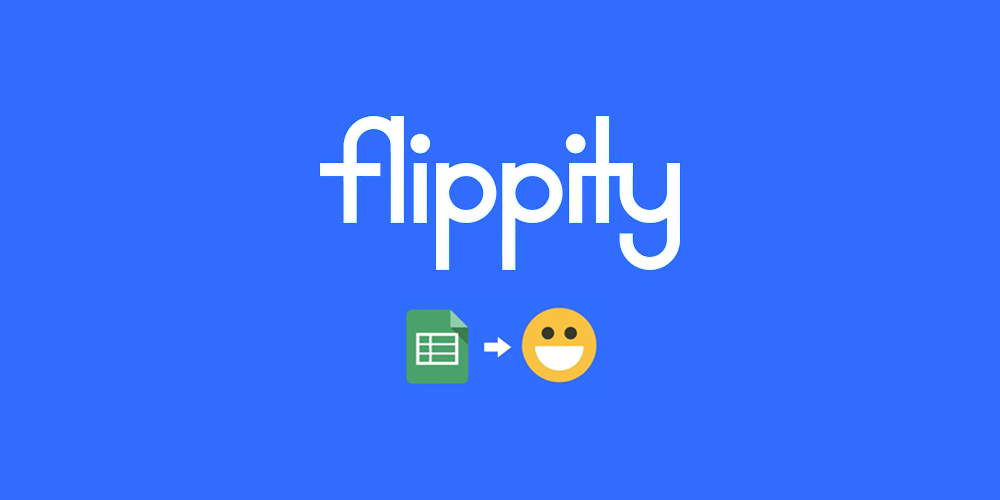 While thousands of companies choose AnyChart to operate interactive data visualization in commercial projects, we are especially proud our charting solutions have been put for good use in education. Here's a great new case, for example.
Have you heard about Flippity? It is a fascinating free web project providing teachers (and students) with an extremely straightforward way to turn Google Sheets' spreadsheets into something cool and useful in the education process — flashcards, quizzes, games, timelines, leaderboards, random name pickers, progress indicators, and many other online things. Earlier this year, Flippity added a dedicated tool to create a Word Cloud from a Google spreadsheet, and we are excited it is powered by our JavaScript charting library!
To learn and tell you more about Flippity and their experience using AnyChart JS for data visualization, we had a quick talk with Steve Fortna, a school teacher from Massachusetts and the creator of Flippity. Check out the interview! (Stack: HTML/Google Sheets.)
---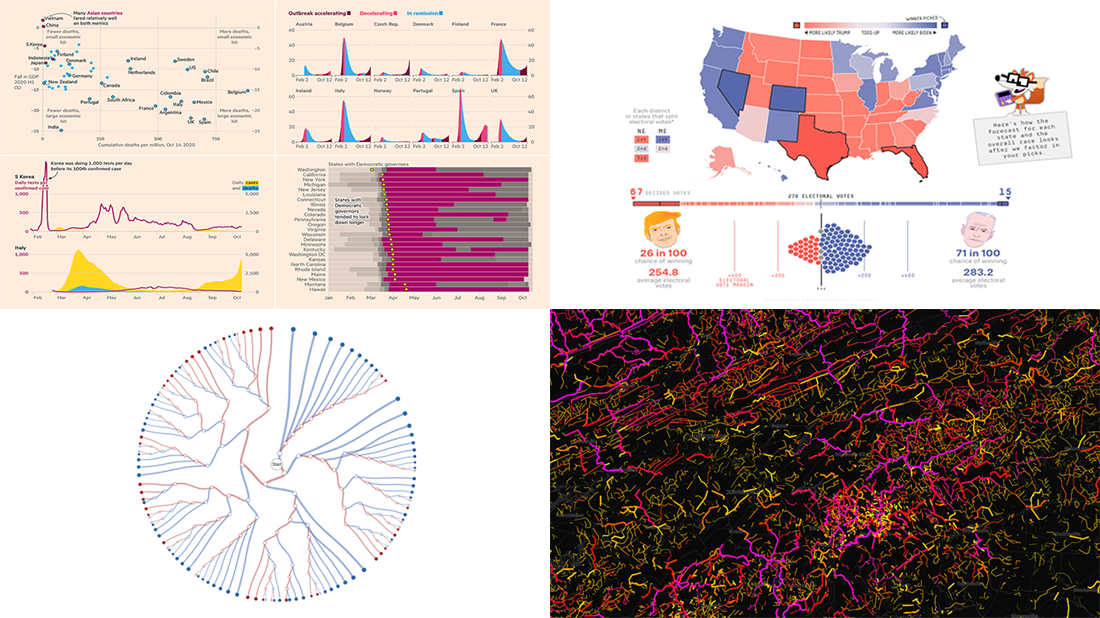 Meet a set of new amazing visualizations we've spotted and admired lately. Below is a list of the projects featured today on DataViz Weekly. Keep reading to learn about each and then check them out right away.
Global COVID-19 crisis in data — FT
Twisty roads worldwide — Adam Franco
Ways Biden or Trump could win — FiveThirtyEight
Electoral College Decision Tree — Kerry Rodden
---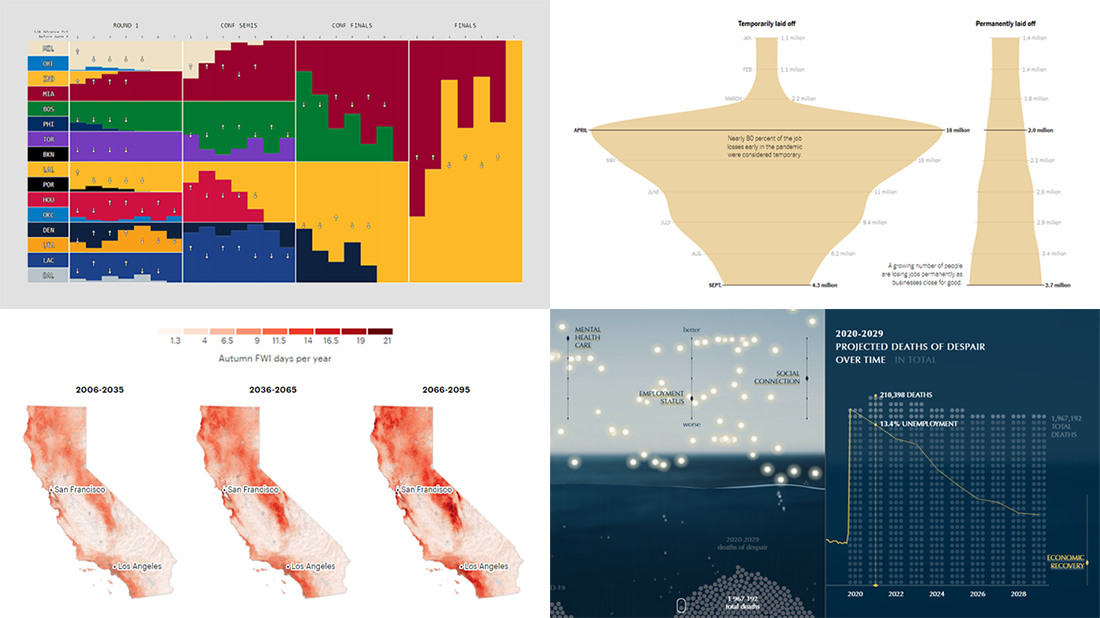 We know DataViz Weekly is read on a regular basis by data visualization practitioners from many countries, and we are happy you guys find it interesting and helpful. Are you ready for another bunch of new great data graphics projects worth looking at? There you go:
NBA playoff win probabilities — Adam Pearce
Fall fire weather days in California by the century's end — ProPublica
U.S. unemployment crisis shapes — NYT
Deaths of despair in America — Periscopic
---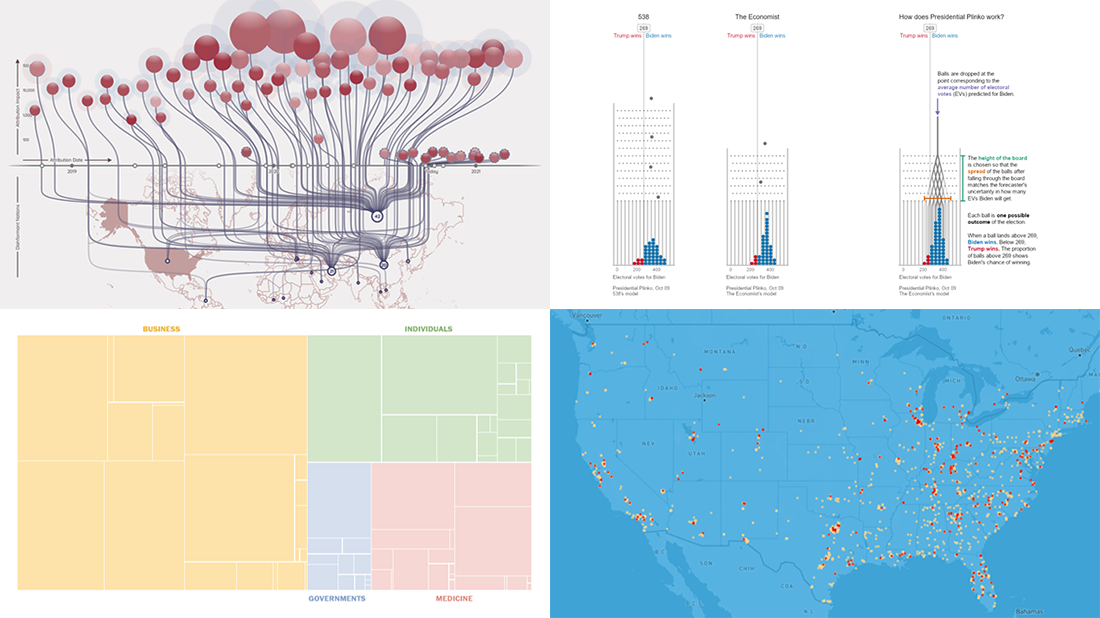 DataViz Weekly is here featuring a selection of new compelling projects with awesome charts and maps. Check out some of the coolest fresh examples of data visualization best practices in action!
$4 trillion coronavirus bailout under the microscope — The Washington Post
Presidential Plinko — Matthew Kay, Northwestern University
Allegations of foreign interference in the 2020 U.S. election — DFRLab
American streets named after athletes — ESPN
---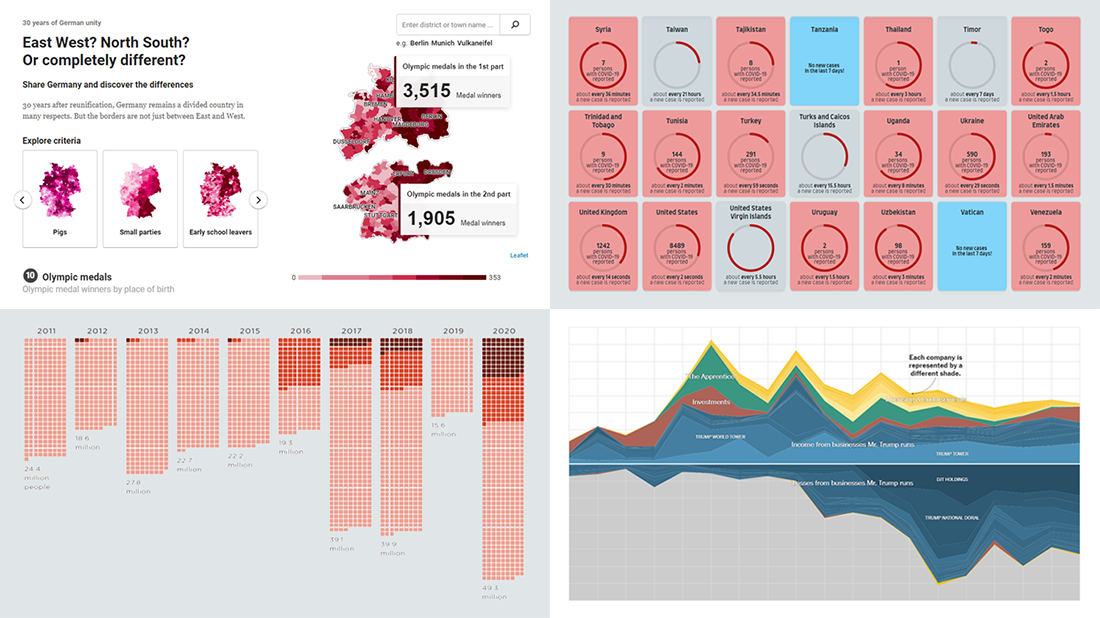 We've curated another four new wonderful examples from around the web that greatly illustrate the power of data visualization in action. Meet them straight away, on DataViz Weekly!
COVID-19 spreading rates by country — Jan Willem Tulp
Two decades of Trump's finances — The New York Times
Dangerous air pollution in the record wildfire season in the Western U.S. — NPR
Germany divided — Berliner Morgenpost
---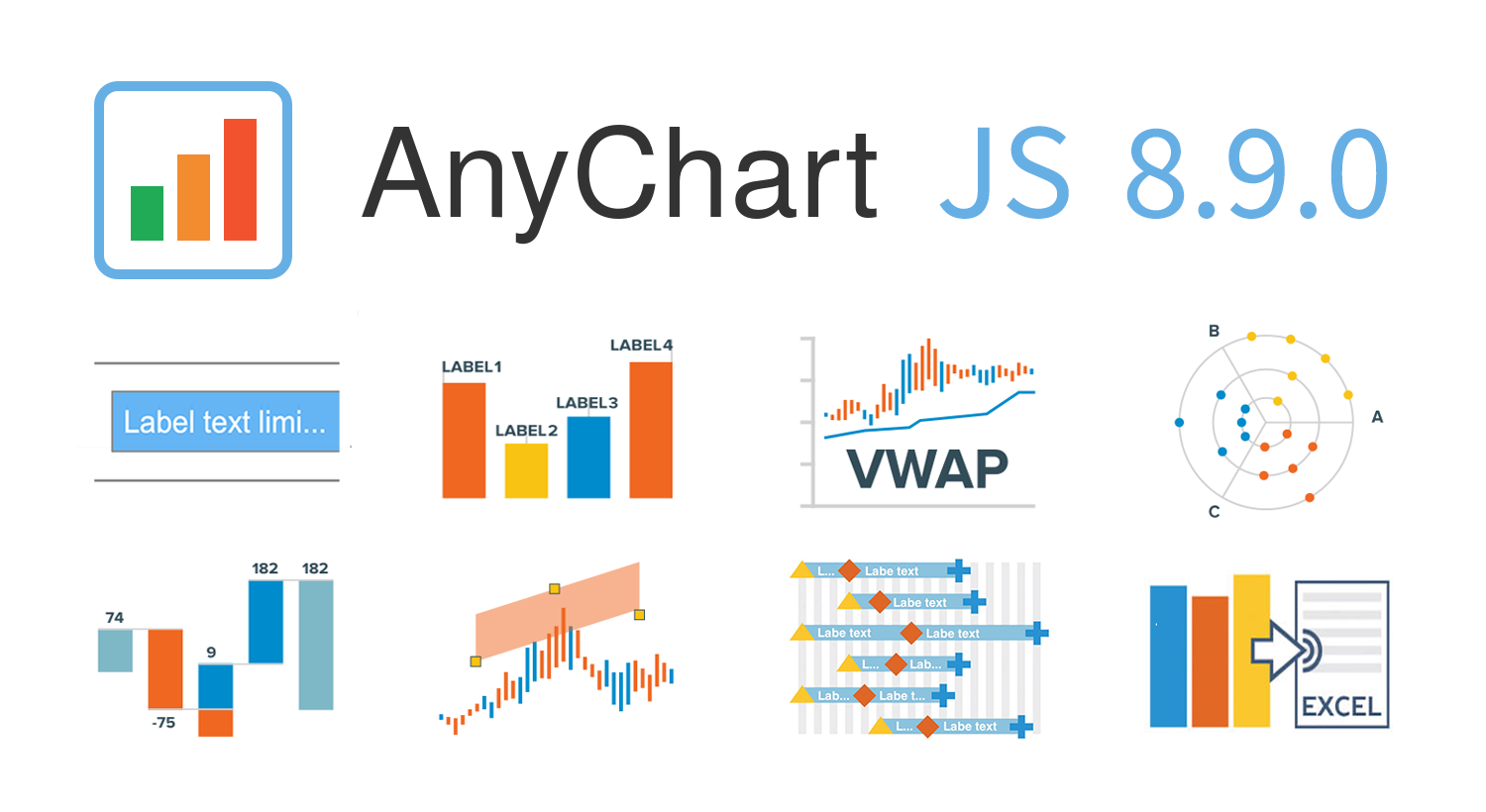 AnyChart 8.9.0 is out! The latest major update brings new exciting out-of-the-box features to our award-winning JavaScript charting library product family — AnyChart, AnyStock, AnyGantt, and AnyMap. Enjoy the improved functionality and build even more compelling data visualizations for your web sites and apps in less time!
»»» See What's New in AnyChart 8.9.0! «««
Categories: AnyChart charting component, AnyGantt, AnyMap, AnyStock, Big Data, Business Intelligence, Dashboards, Financial charts, Gantt Chart, HTML5, JavaScript, News, Stock charts
---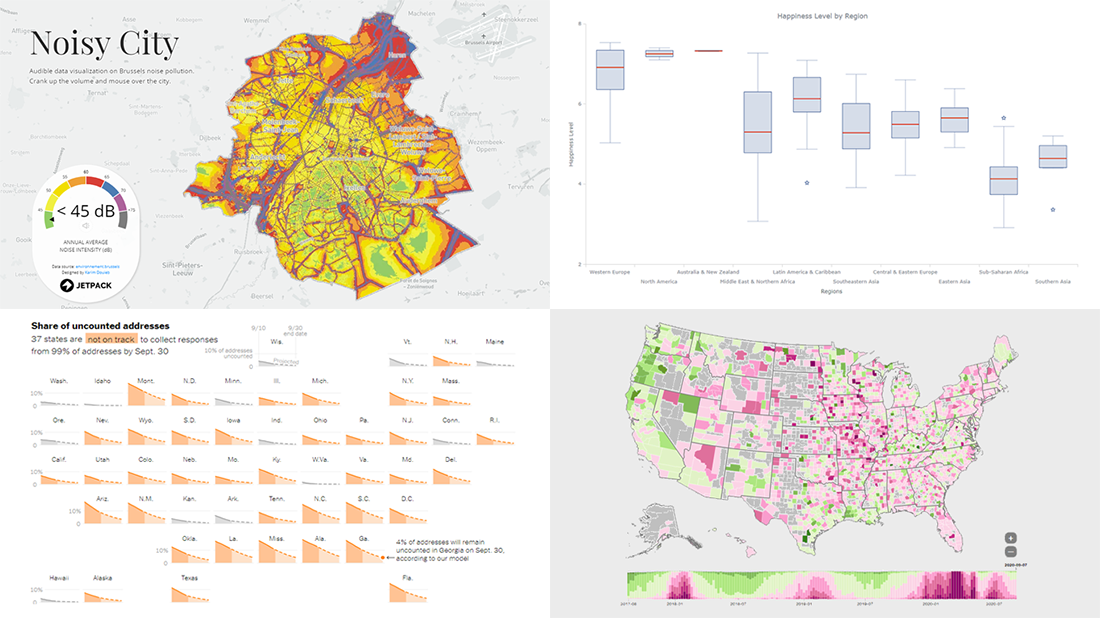 We have put together a roundup of new awesome data visualizations from around the web. Look what we've got for you to check out this Friday on DataViz Weekly:
Noise pollution in Brussels — Karim Douïeb
Census 2020 undercounts and their consequences — NYT Opinion
COVID-19 symptoms search trends — Google People + AI Research (PAIR)
World happiness by region — Wayde Herman
---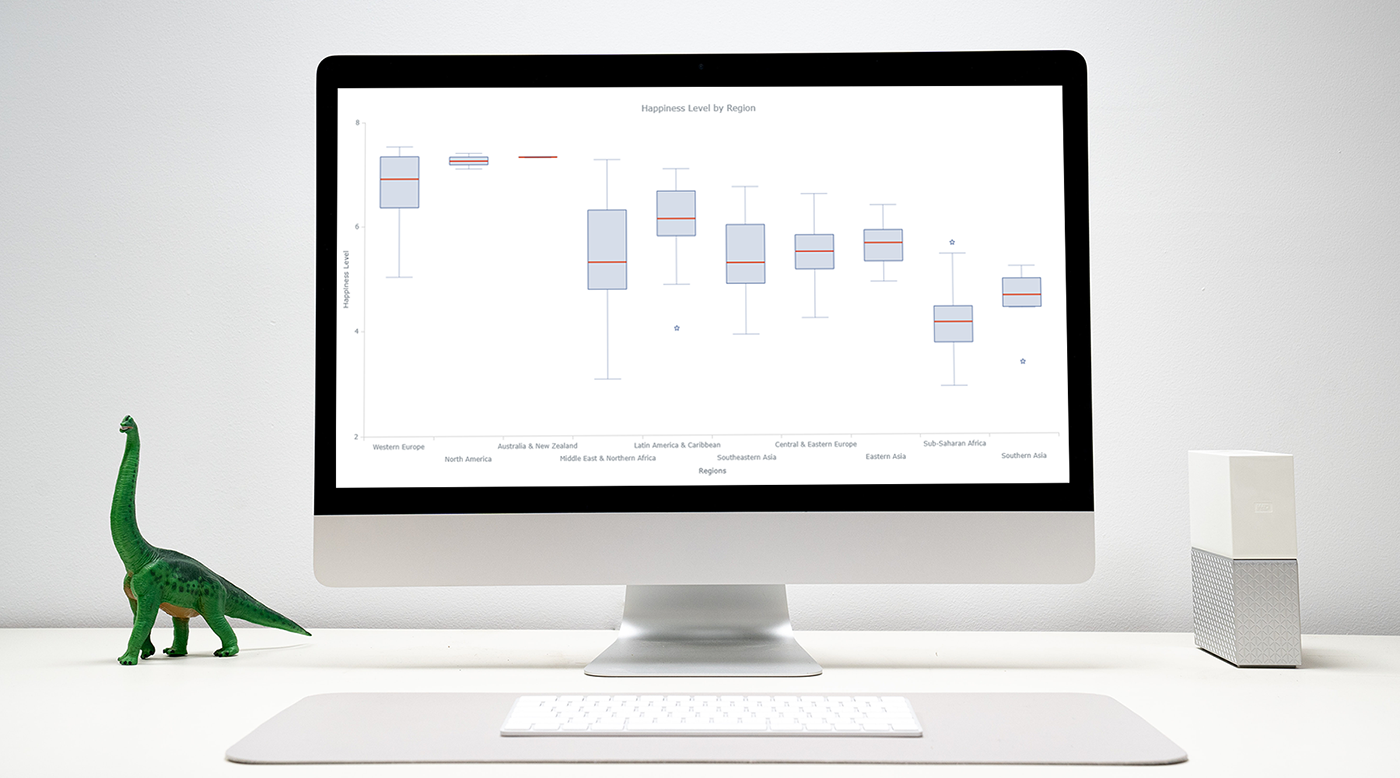 Data visualization is an important and sometimes undervalued tool in a data scientist's toolkit. It allows us to gain an understanding and intuition about the data, through exploratory data analysis, which influences preprocessing, feature engineering, and the correct machine learning algorithm choice. It also helps to better evaluate models and even allows you to spot areas in the data where models could have poor performance.
Taking data visualization one step further by adding interactivity is even more advantageous. By adding interactive elements to your visualizations you create a more engaging experience. This in turn makes a user 'explore' visualizations instead of just reading them!
In this tutorial, I will be covering how to build an interactive data visualization, specifically a box plot as an example, using JavaScript and a charting library. I will begin by first briefly covering the basics of box plots before going through the steps of building one and then finally using the technique in a fun example to investigate the distribution of happiness between the different regions of the planet in an attempt to answer the question: 'Where should you live to be happier?'.
---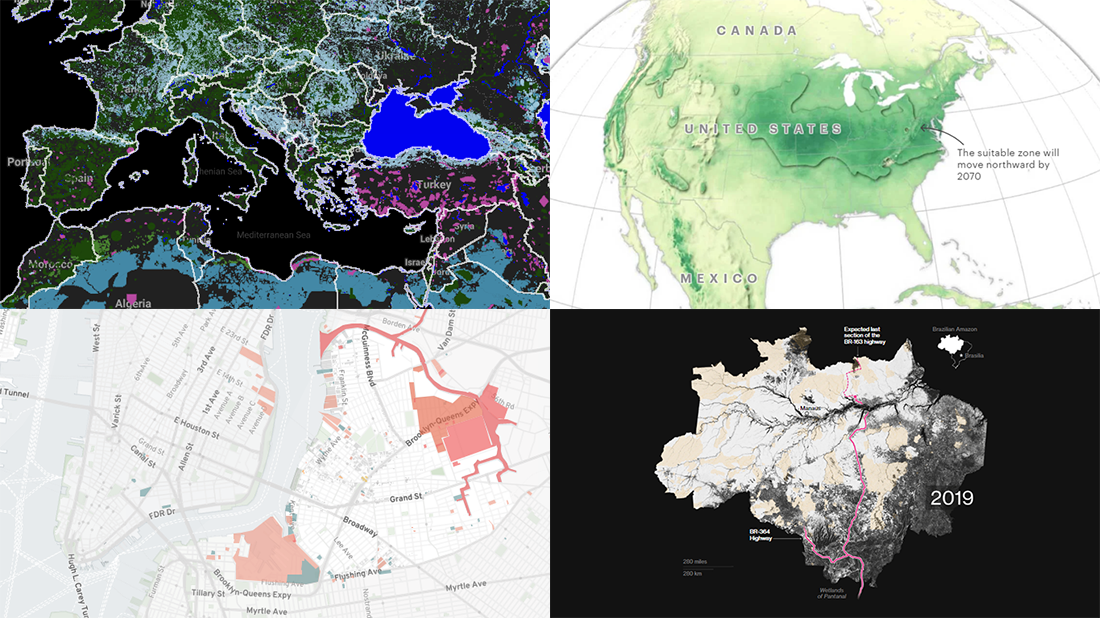 Lately, we've seen a bunch of cool geovisualizations on the topics of climate, pollution, and human impact. Here are some of the most interesting fresh ones. Check out the new DataViz Weekly post which is entirely dedicated to great examples of environmental maps:
American climate shifts — ProPublica
Earth's most biologically important lands — RESOLVE
Rainforest loss — Bloomberg Green
Toxicity in North Brooklyn — North Brooklyn Neighbors
---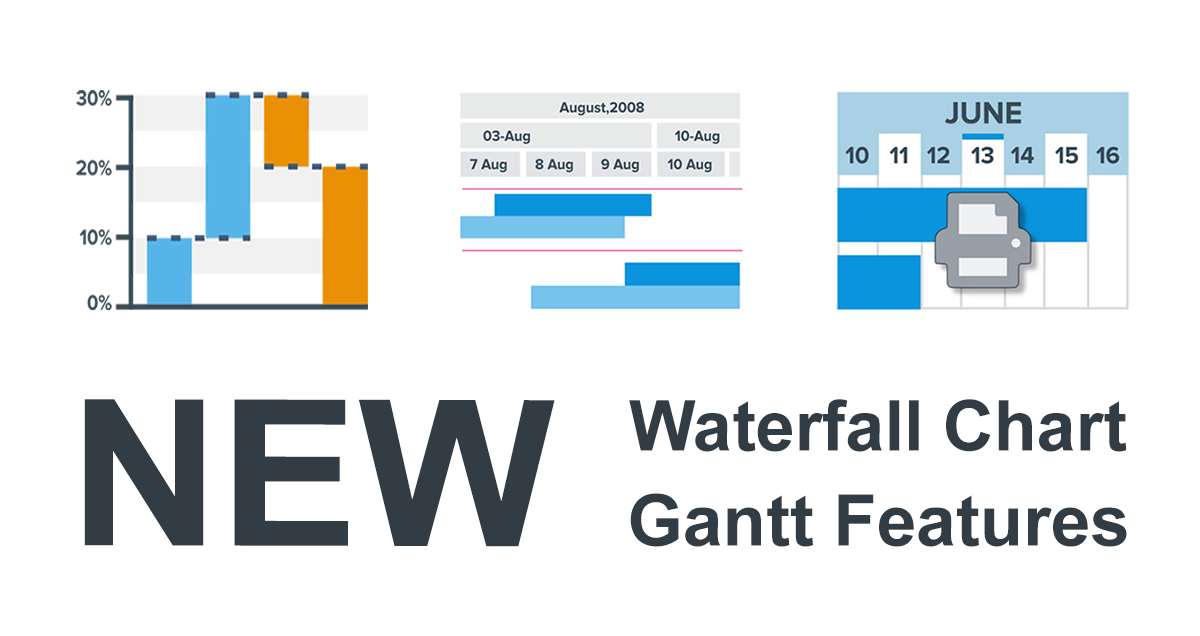 We've just updated the AnyChart and AnyGantt extensions for Qlik Sense to further facilitate the path to enhanced data-driven insights for you! Keep reading to learn about the new amazing Waterfall Chart and Gantt Chart features delivered in the 4.3.249 releases. Then check out the latest versions to see them all in action!
Read more at qlik.anychart.com »
---