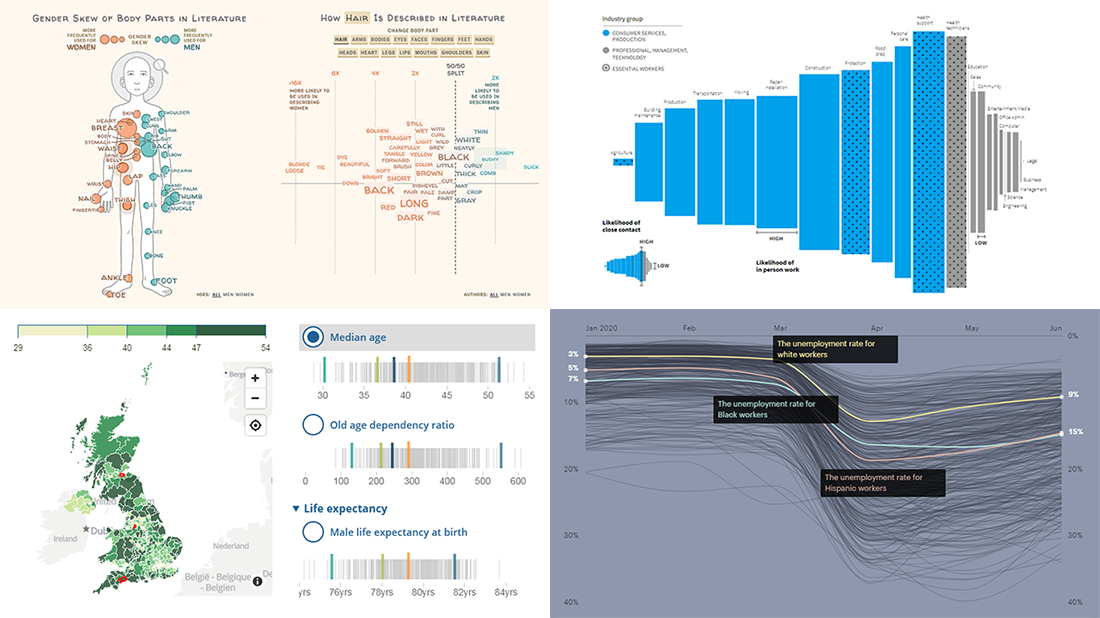 Good charts let data speak, providing insight, revealing patterns and trends, and telling stories. Look at new projects featuring graphics like that, from data visualization professionals!
Physical traits defining men and women in literature — The Pudding
Remote work dividing America — Reuters
Racial disparities in unemployment in America — ProPublica
Ageing indicators across the United Kingdom — ONS
---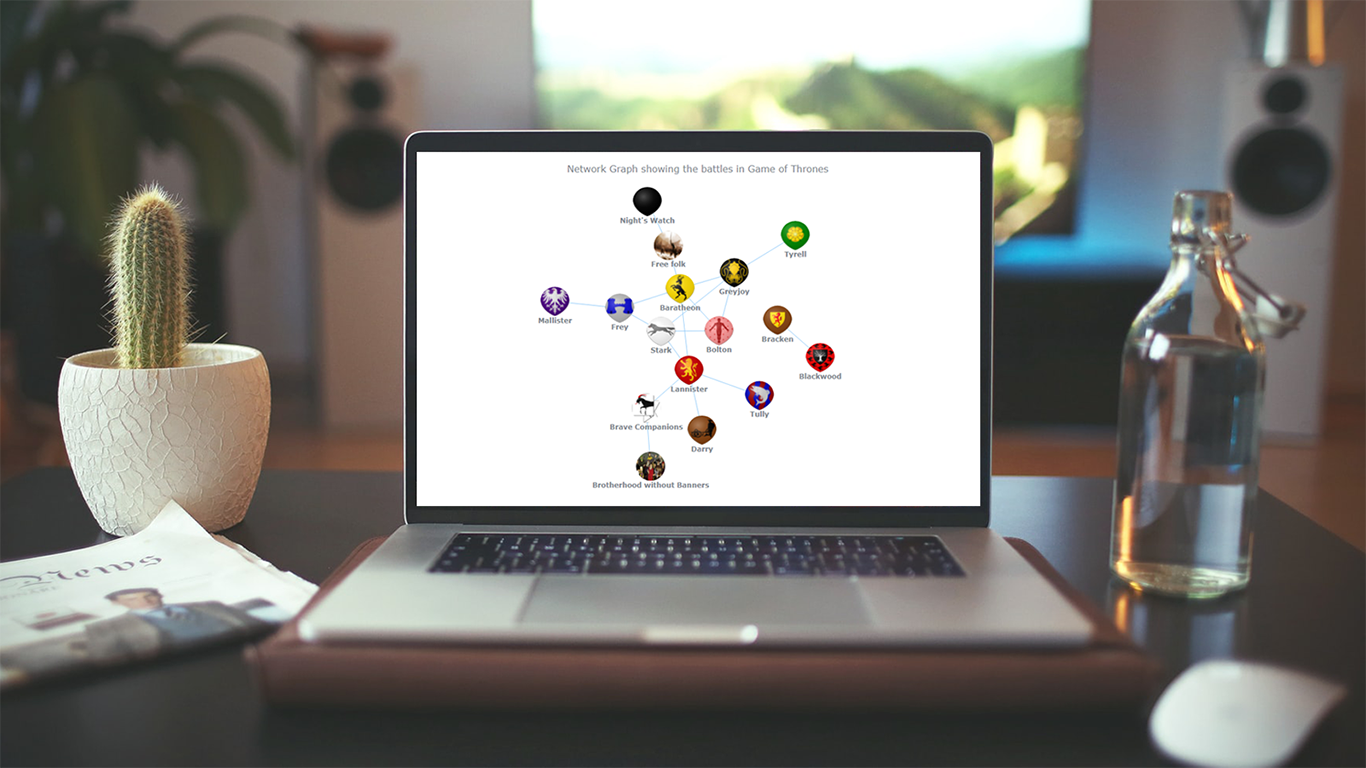 Network graphs are a special, very interesting form of data visualization. Unlike more traditional chart types like bar graphs or pie charts, a network graph does a bit more than visualize numerical data. With these charts, you represent each object as a point, referred to as a node, and the connections between the objects as a line, referred to as either a link or an edge. Here, we do not focus on representing objects with the same precision we are typically used to. Instead, we are trying to discover relationships in a network or sections of a network and are less worried about individual nodes.
Right now, I will guide you through how to develop an interactive network graph for the web using JavaScript (HTML5). Inspired by one fun visualization created by Ben Sullins, I decided to take data about the last decade's biggest TV series, Game of Thrones. It is an epic fantasy tale revolving around the quabbles of various faction-like houses. So in this tutorial, I will be visualizing the relationships in the world of Game of Thrones by showing who attacked whom. Follow me, it's going to be a cool adventure!
---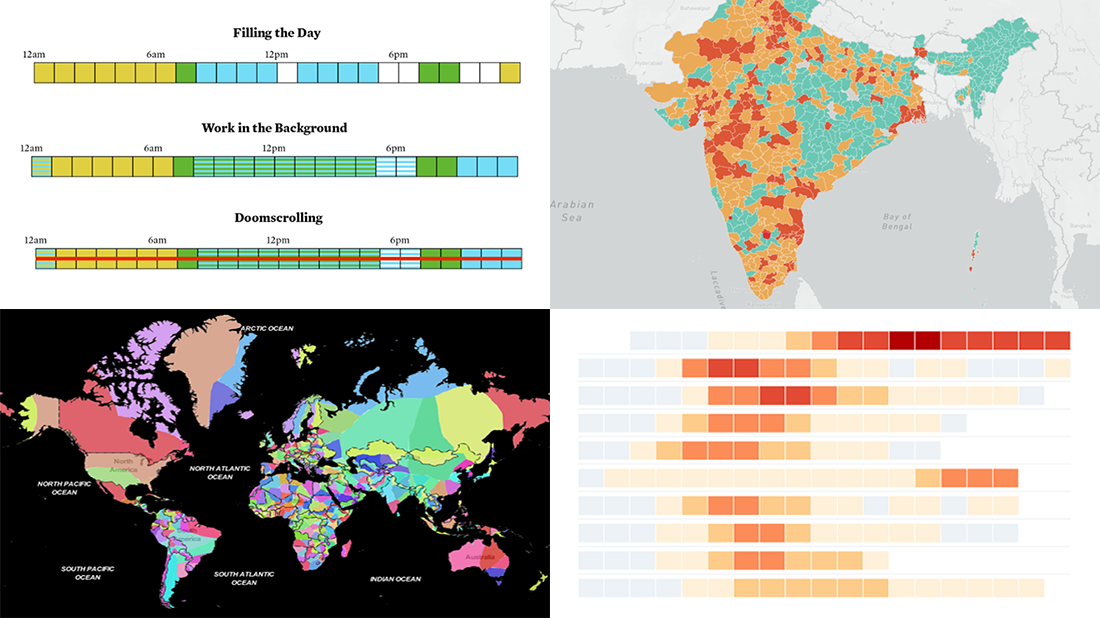 We continue to curate new interesting data visualizations from around the web for our DataViz Weekly blog. Join us as we look at some of the best charts and maps we have seen these days!
Parenting and Working During Lockdown — Nathan Yau
Nearest Neighboring Countries — Topi Tjukanov
Excess Deaths Worldwide — The Economist
Reopening India from Lockdown — Development Seed and Mapbox
---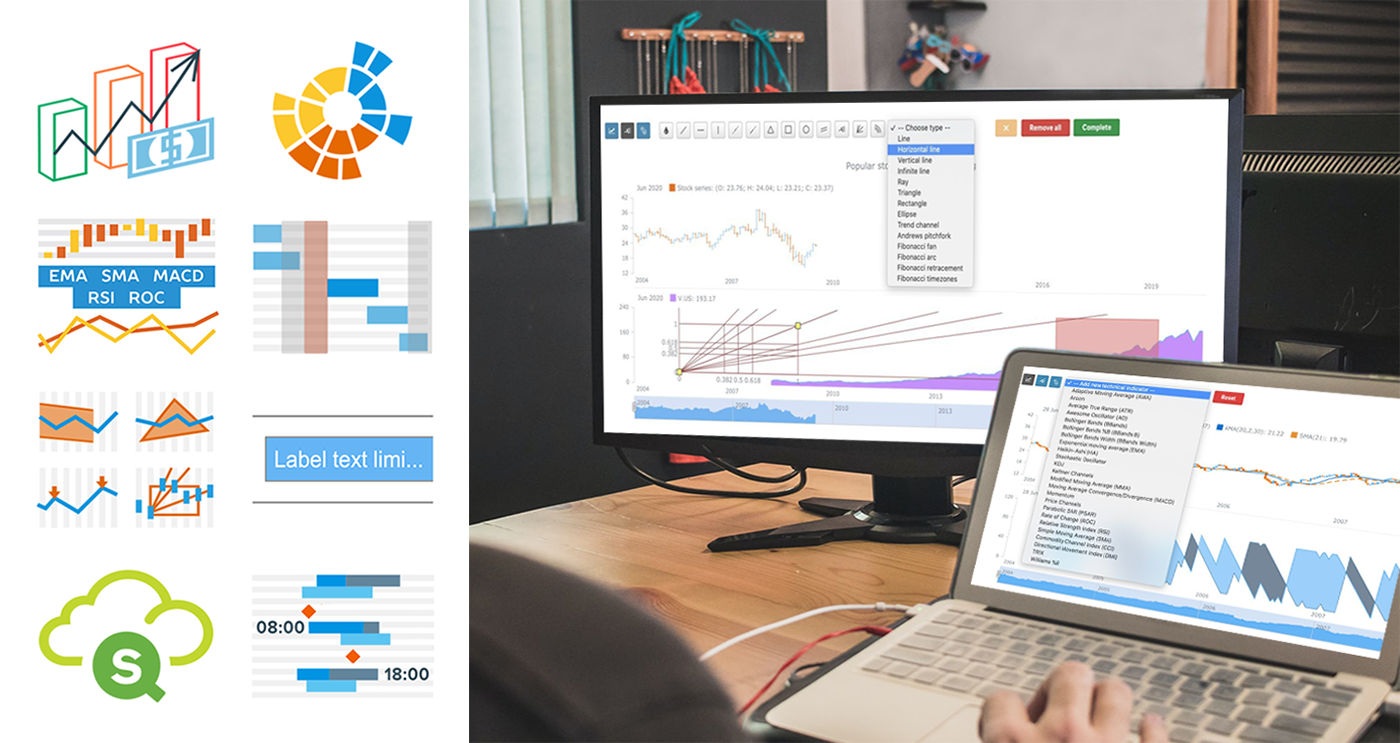 A number of new powerful capabilities are now available in our extensions for Qlik Sense! The new features are designed to help speed up data analysis in the native Qlik environment, making it even more intuitive and workflows streamlined.
Read more at qlik.anychart.com »
---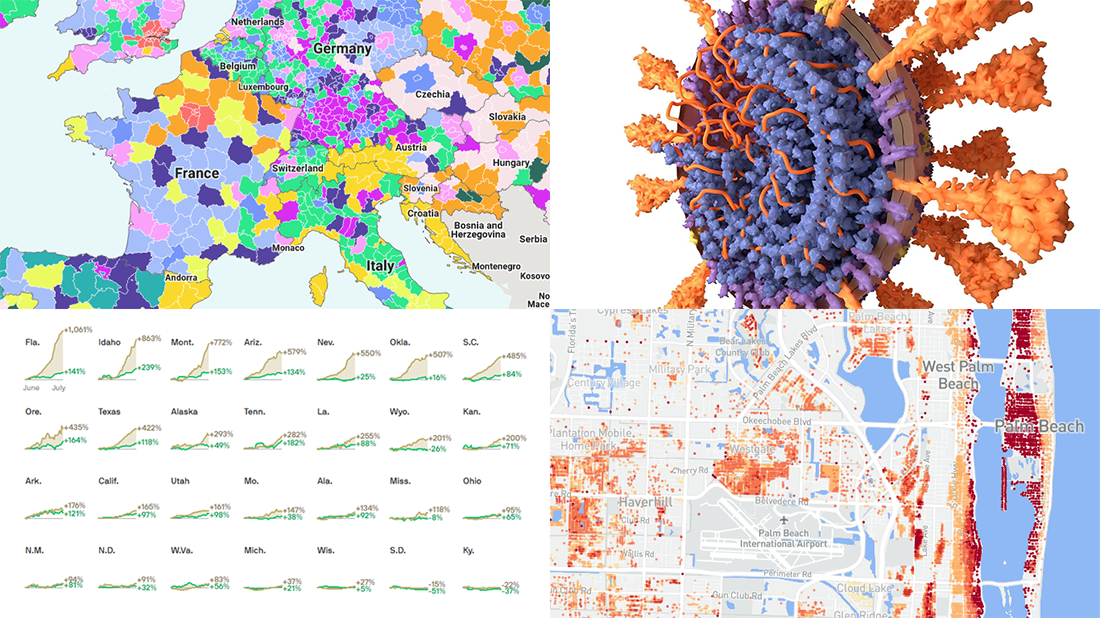 It's Friday and we're glad to share with you some of the most interesting third-party visualizations we've recently come across. Here's what DataViz Weekly has for you to check out this time — look at these cool graphics:
Future of jobs in the regions of Europe — McKinsey Global Institute, Google, et al.
Flood risk factor database for the United States — First Street Foundation, et al.
Changes in new cases against testing — Axios
All we know about SARS-CoV-2 — Scientific American
---

Radar charts, which are also referred to as spider charts or radar plots, are a data visualization used to compare observations with multiple quantitative variables. Each variable is encoded to a spoke which are equidistant apart. The higher the value, the further away from the center of the chart the point is made. Radar charts are best used to compare the 'profile' of observations and to detect outliers within the data. They are therefore used quite a bit in sports, most notably in basketball and soccer for profiling players.
In this tutorial I will be teaching you how to build your own radar chart with JavaScript and how to use them to help with one of the toughest decisions in gaming history: which starting pokemon to choose!
That's right, we will be building radar charts to perform data analysis on Bulbasaur, Charmander and Squirtle to determine, once and for all, which is the best choice.
---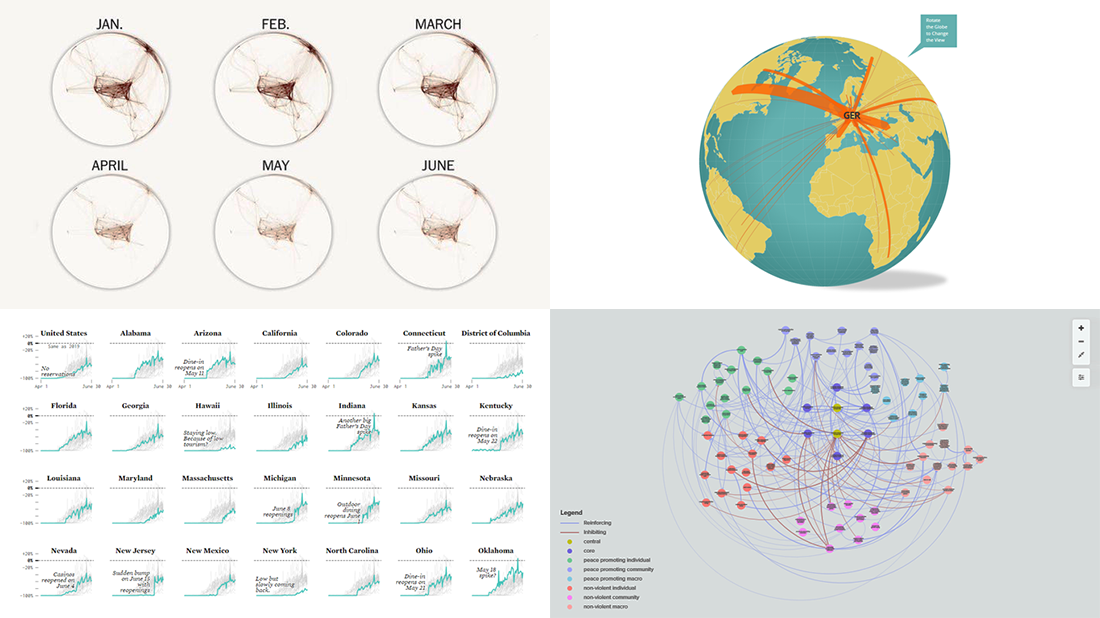 Check out new interesting graphics created by different data visualization experts and made public these days. We've met them around the web and decided to introduce you to them in today's DataViz Weekly. These examples are definitely worth seeing if you like good charts and maps (as we do)!
American Restaurant Reopenings — Nathan Yau
Sustaining Peace Project — AC4, The Earth Institute, Columbia University
International Migrant Stock — Nicolas Lambert and Françoise Bahoken
Global Shutdown — Washington Post
---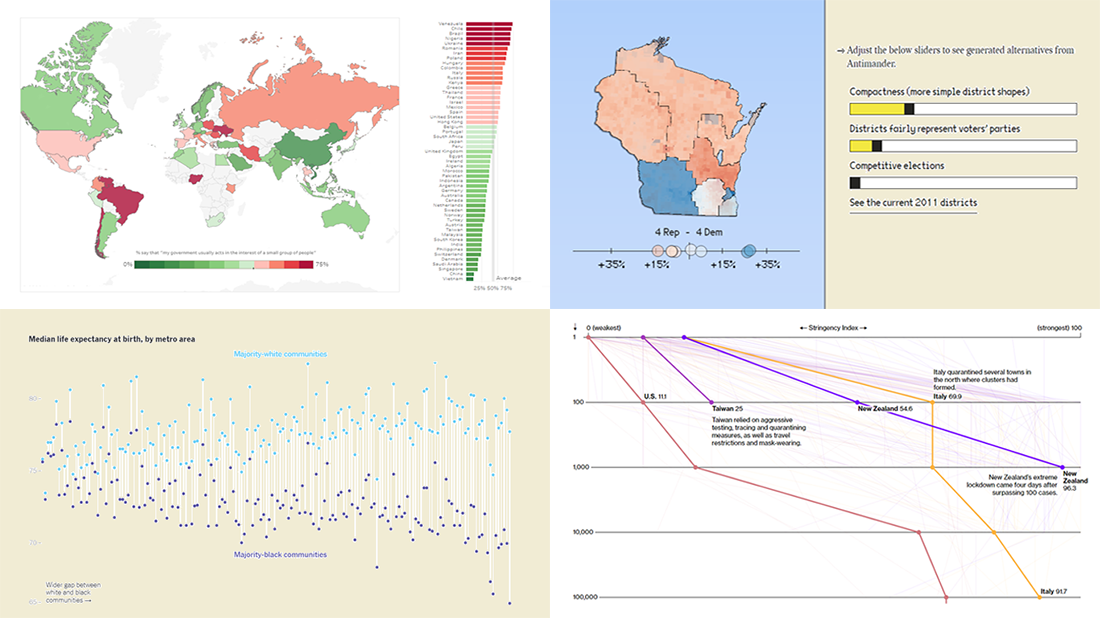 DataViz Weekly is here exhibiting new interesting projects from around the web that demonstrate a great use of different information visualization techniques to deliver better insight. See our new picks:
Democracy Perception Index 2020 — Dalia
Government reactions to the Covid-19 pandemic — Bloomberg News
Gaps between Black and White America — The New York Times Opinion
Antimander, a tool to expose gerrymandering in congressional districts — Joel Simon
---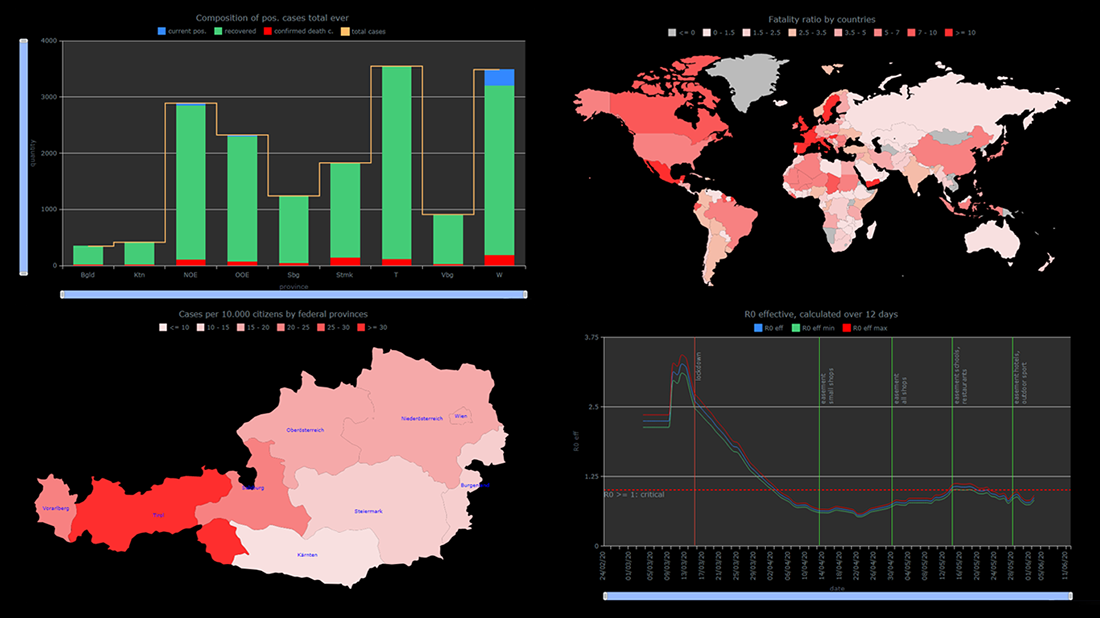 The COVID-19 pandemic persists as a global emergency, and we continue to support initiatives that contribute to tackling the coronavirus crisis. Specifically, we allow COVID-19 analytics projects to use our data visualization tools for free under a non-profit license.
You already know about StopCorona, a COVID tracker by Diffco, which is one such resource. Today, we want to meet you with another noteworthy project using AnyChart to visualize the pandemic statistics — iConcepts SARS-CoV-2 Stats. Created by Austrian part-time web developer Juergen Hoefer and featured on the official Open Data Austria portal, it shows the COVID-19 statistics for Austria (and worldwide) from different perspectives, in countless interactive charts powered by our JavaScript (HTML5) charting library.
We asked Juergen a few questions to learn more about this project and his experience visualizing COVID-19 pandemic data with the help of AnyChart. Read the answers and take a glance at several quick chart examples from his website. (Stack: HTML/CSV.)
---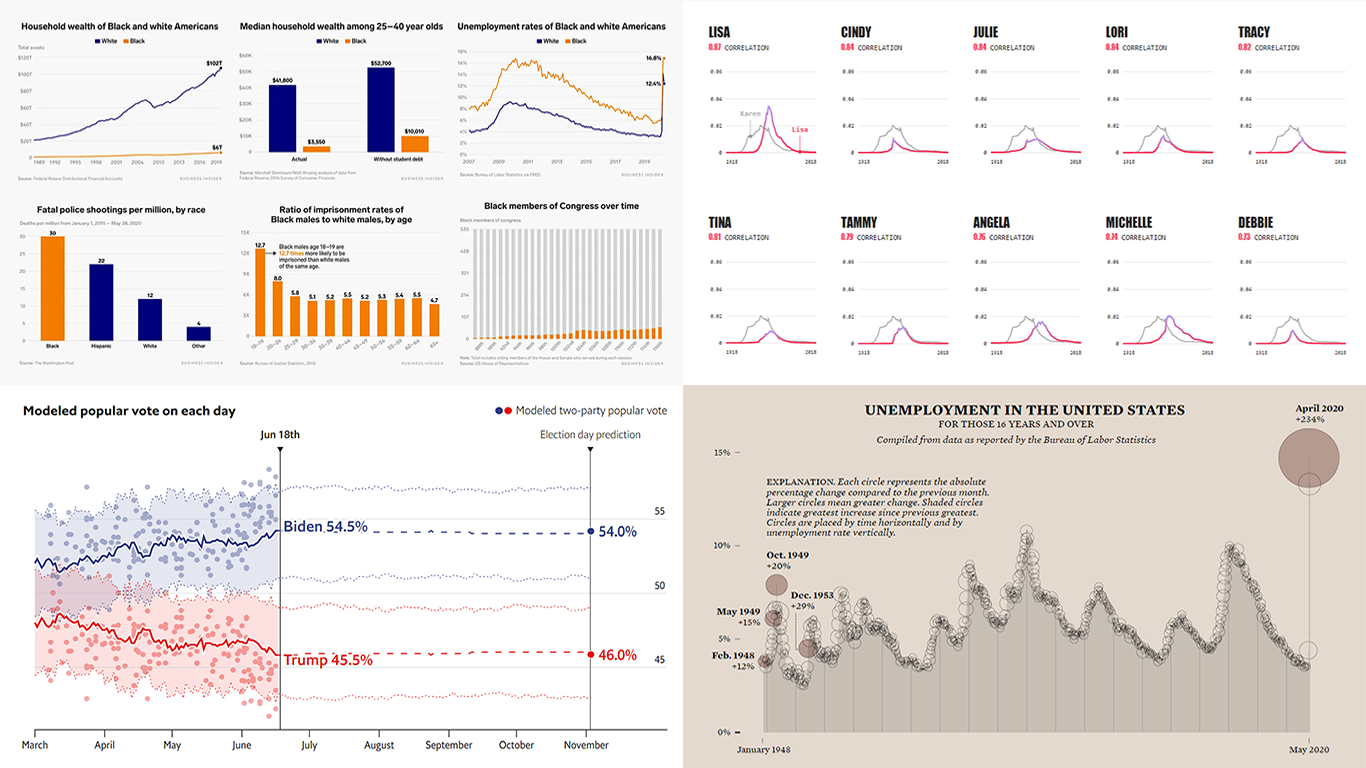 In data visualization, theory is very important but practice is absolutely everything. We continue to share with you some of the new charting best practices we've come across around the web so you could see what others do and keep improving. Check out how various experienced data visualization professionals make data speak and tell insightful stories, in DataViz Weekly.
Today, we are happy to meet you with the following new interesting projects:
Black Lives Matter and racial disparities in America, in 25 charts — Business Insider
The Economist's forecast model for the 2020 U.S. presidential election — The Economist
Unemployment rate in the United States since 1948 — FlowingData
Names with a similar trajectory of popularity over time as Karen — The Pudding
---