November 27th, 2020 by AnyChart Team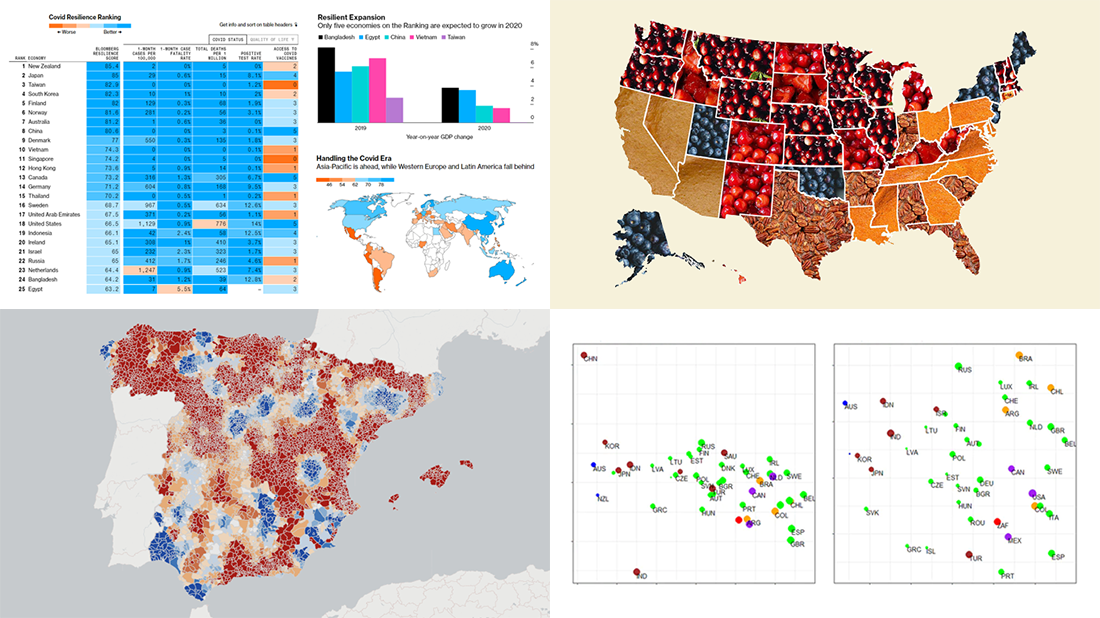 If you love good data visualizations, you've come to the right place at the right time! Every Friday, we choose the four most interesting projects making good use of charts and maps, from those we have come across out there just lately, and introduce you to them. Here are the visualizations we're going to tell you about this time on DataViz Weekly:
(False?) dichotomy between saving lives and saving the economy during the second wave — Michael Smithson on The Conversation
COVID Resilience Ranking revealing the best and worst places to stay during the pandemic — Bloomberg
Length of summers in Spain since 1950, by municipality — Predictia
The most popular Thanksgiving pie in each state — Instagram
---
November 25th, 2020 by AnyChart Team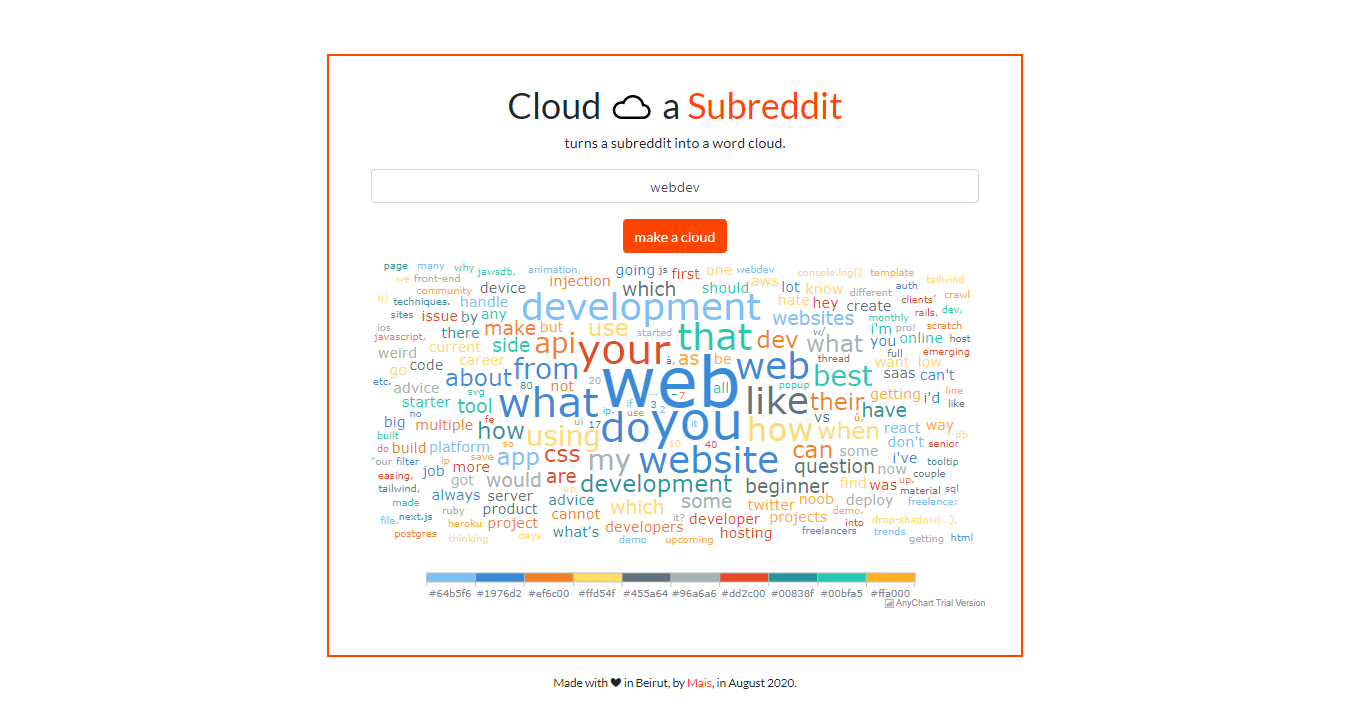 Leading the data visualization market with the best-in-class solutions, we are always excited to see how not only companies but also individuals from all over the world use them to produce interactive charts in their projects. Here's one new interesting example we've recently learned about. Mais Hatem from Syria, currently an undergraduate at the American University of Beirut (Lebanon), created "Cloud a Subreddit," a web project that generates a beautiful interactive Word Cloud chart out of any given Reddit's subreddit with the help of the AnyChart JS library.
We had a quick interview with Mais where she told us more about her work and experience using AnyChart. Check it out.
---
November 20th, 2020 by AnyChart Team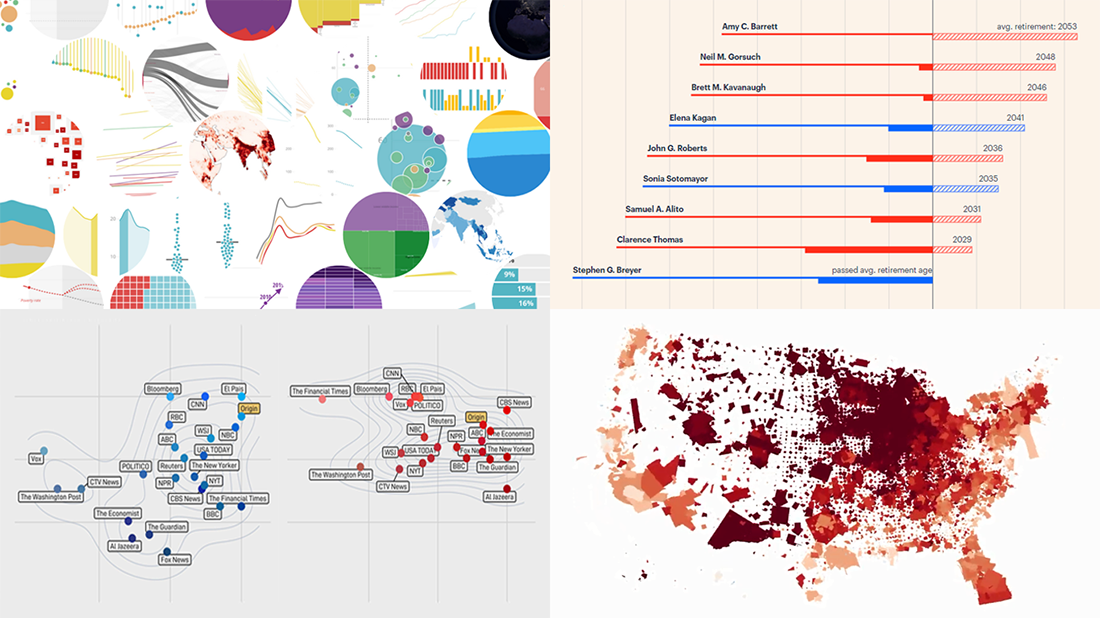 Another long seven-day wait is over, and DataViz Weekly's already here to introduce you to new awesome data visualizations we have met these days around the Web. Let's see what we've got this time!
COVID-19 growth rates in each U.S. county — Benjamin Schmidt
World development indicators — The World Bank
Timelines for new and all current federal judges — ProPublica
Colors of the U.S. election maps on different media — SBS News
---
November 13th, 2020 by AnyChart Team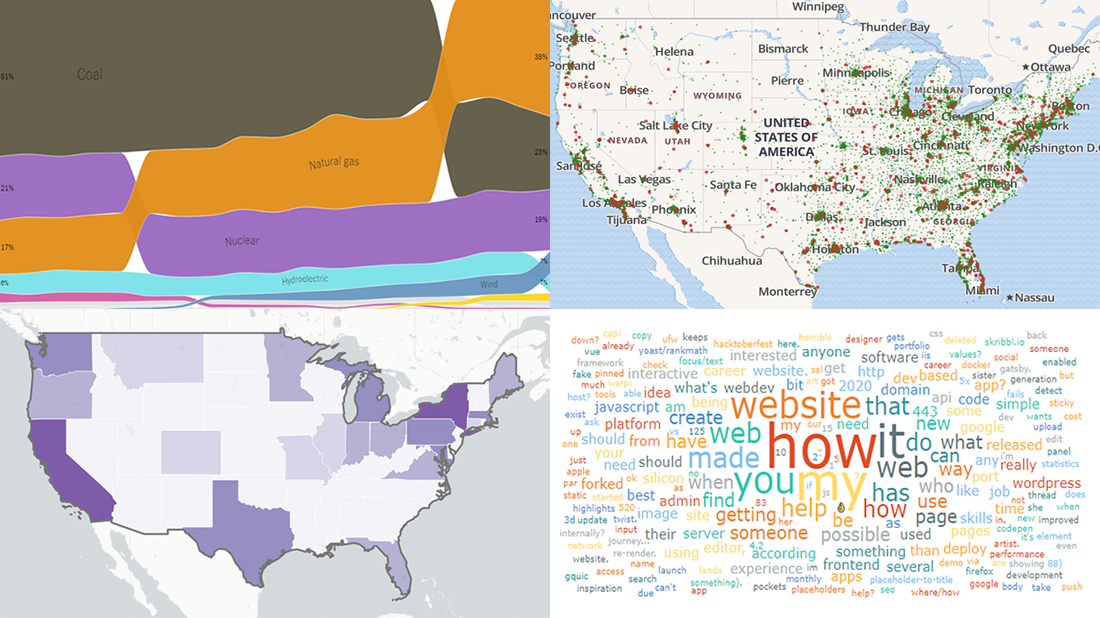 DataViz Weekly is back — check out some of the most interesting third-party data visualization projects we have recently come across! Let's start with a quick list and then take a closer look at each:
Electricity generation in America since 2001 — NYT
Subreddits in word clouds — Mais Hatem
Hate crimes in the United States — UCLA
McDonald's ice cream machine status — Rashiq Zahid
---
November 11th, 2020 by Shachee Swadia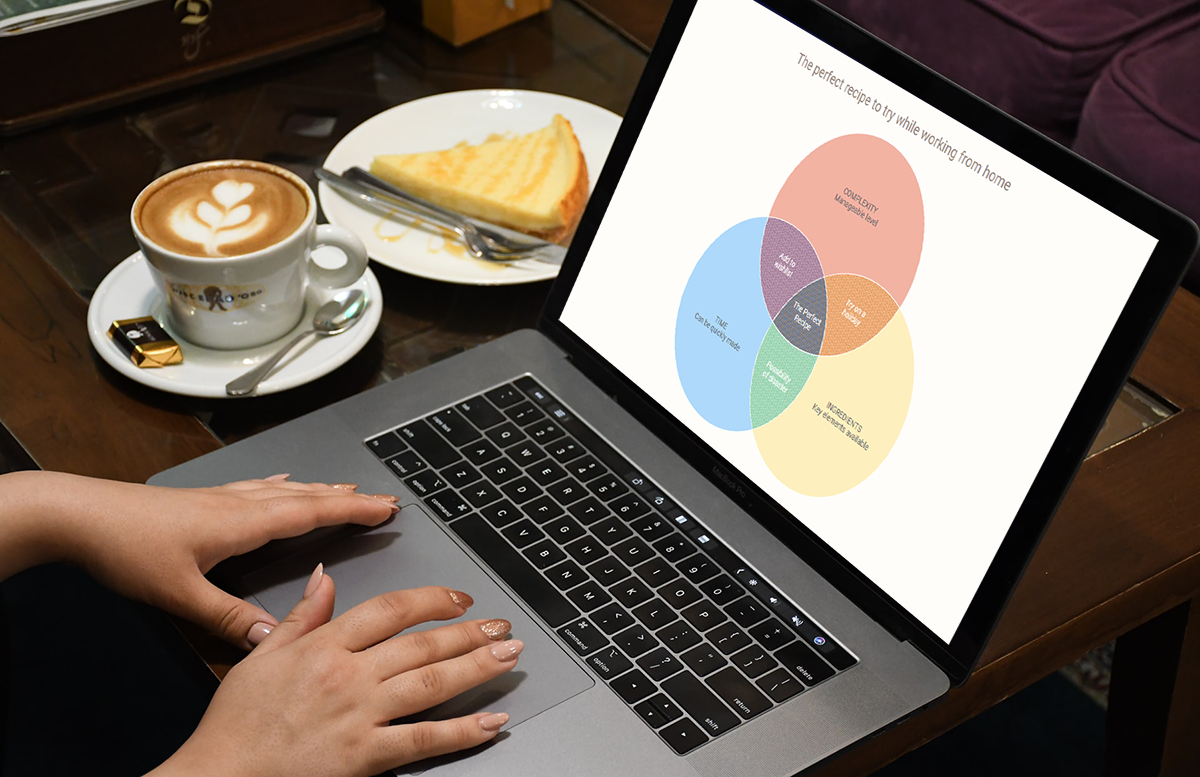 A Venn diagram is a form of data visualization that uses shapes, generally circles, to show the relationships among groups of things. In this chart type, overlapping areas show commonalities while circles that do not overlap show the traits that are not shared.
Introduced by John Venn, an English mathematician, logician, and philosopher, Venn diagrams are also called set diagrams or logic diagrams since they show possible logical relations between elements of different sets. When drawing such charts, we will most probably be dealing with two or three overlapping circles, since having only one circle would be boring, and having four or more circles quickly becomes really complicated.
Not only are these diagrams good visualizations as a concept, but they also provide a great opportunity to represent qualitative data and a bit of graphic humor. Basically, they are easy and fun to build and use. I'll show you right now!
Read this tutorial to learn how to easily create a visually appealing and informative Venn diagram for your website or app with the help of JavaScript. All the code used and demonstrated along the tutorial will be freely available for you to play with.
During the ongoing coronavirus pandemic, with working from home and avoiding food from outside, many of us have become amateur chefs. So, let us use a JS-based Venn diagram to find out what kind of recipe would be the best to try out on a working day — this is going to be a delightful use case to explore!
Read the JS charting tutorial »
---
November 6th, 2020 by AnyChart Team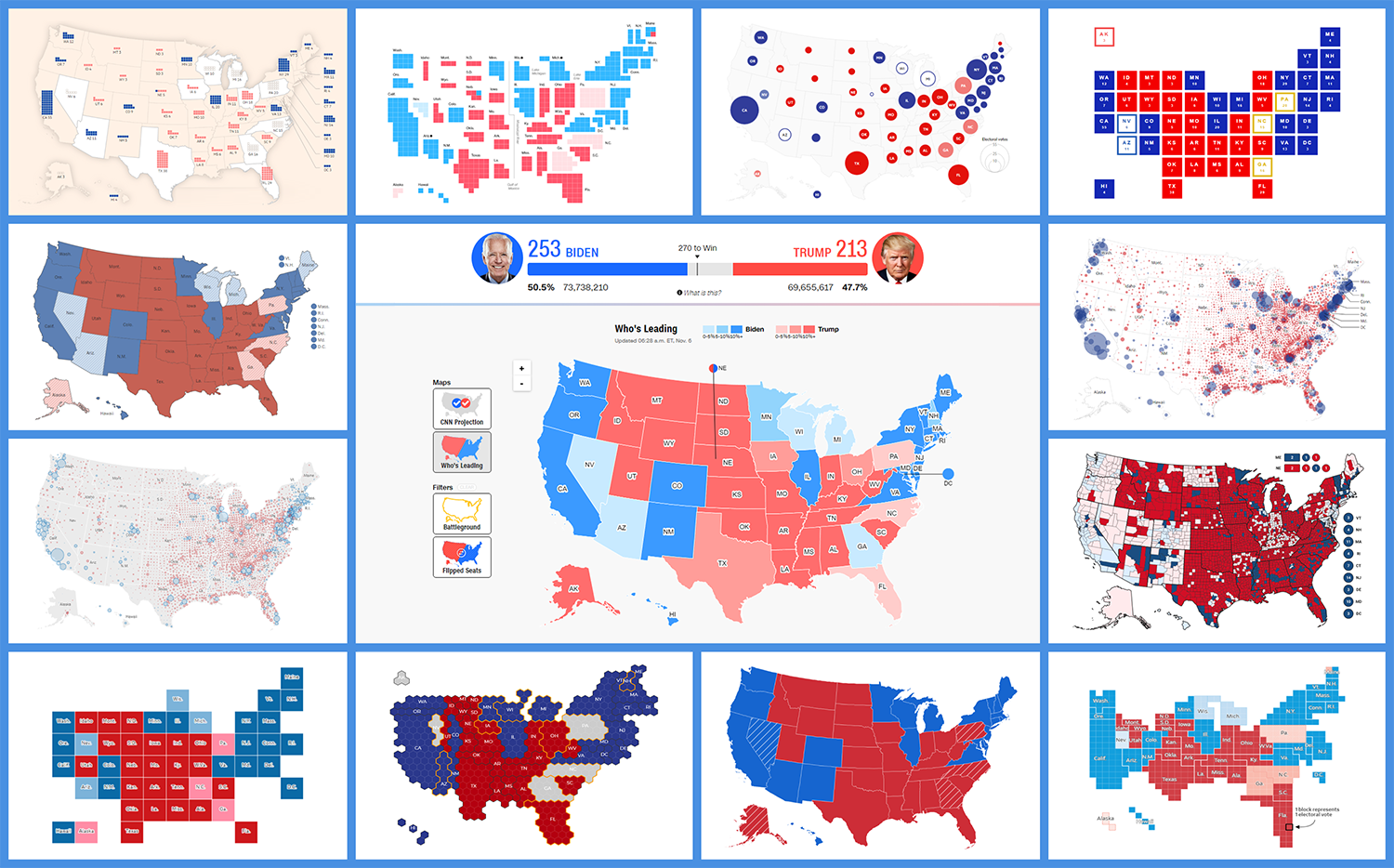 All eyes on election maps! Yes, they could be misleading. And even widely misleading. But it can be at least so fascinating to look at them, especially at times like this! So, we have curated a list of over twenty reputable resources — as of now, to be precise, 24 and counting! — where you can watch the live results of the 2020 United States Presidential election in compelling data visualizations. At the same time, it is a great chance for you to investigate and understand how election maps (and some other graphics) can look and work in practice.
Vote counts may be different on different platforms and update as more data becomes available out there — it's absolutely okay. The election results are still partial. Over the coming days, all numbers will be adjusted to match the real, final vote count. Just in case: We've added only reliable sources — notable, reputable media outlets.
Without further ado, check out maybe the most important data visualizations these days! (Electoral vote count numbers in the text last updated on November 9th, 2020, for each source.)
---