April 20th, 2021 by Shachee Swadia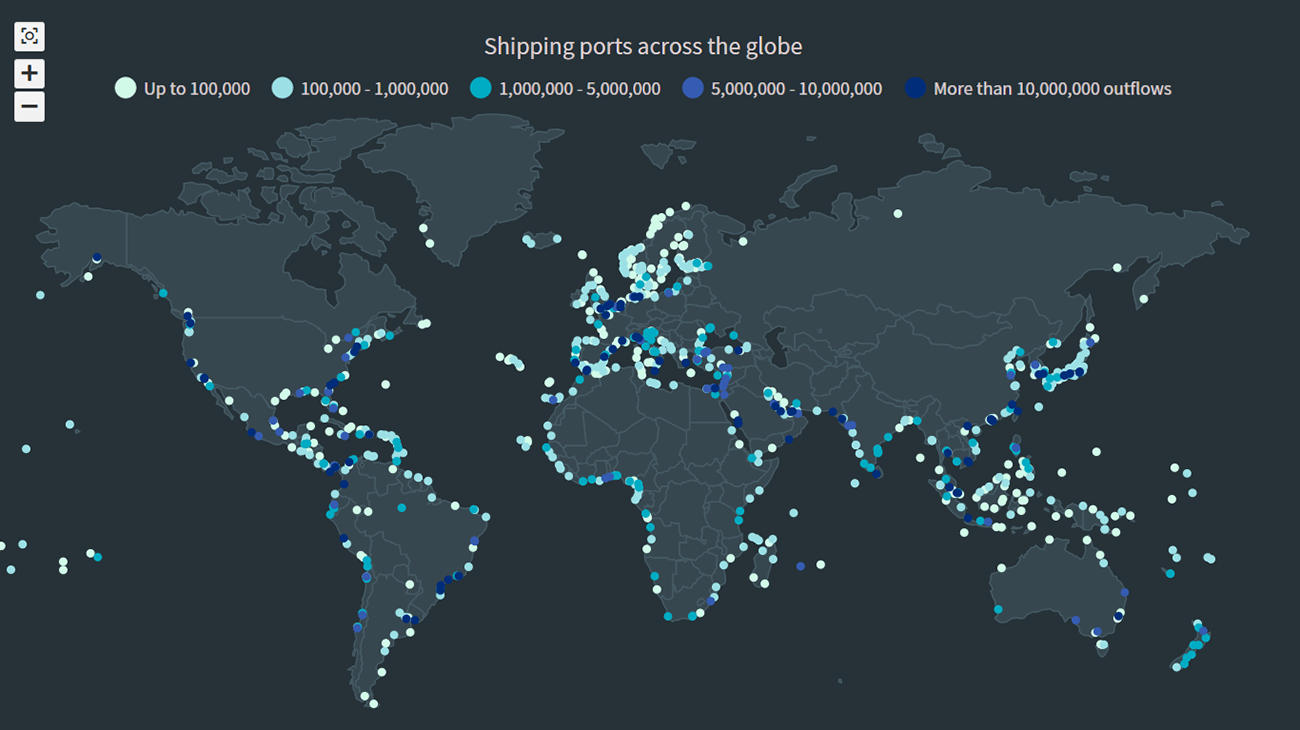 The recent incident of the Suez Canal blockage caught my interest in shipping and prompted me to explore the various shipping ports around the globe. There are more than 850 ports in the world and to get an overall view of where these are located, I decided to plot them on a dot map, or dot density map, using JavaScript.
Building an interactive JS dot density map can seem like a daunting task. But let me assure you that it can be pretty straightforward. Right now, I will show how to make a fully functional dot map chart using a JavaScript library for data visualization.
---
April 16th, 2021 by AnyChart Team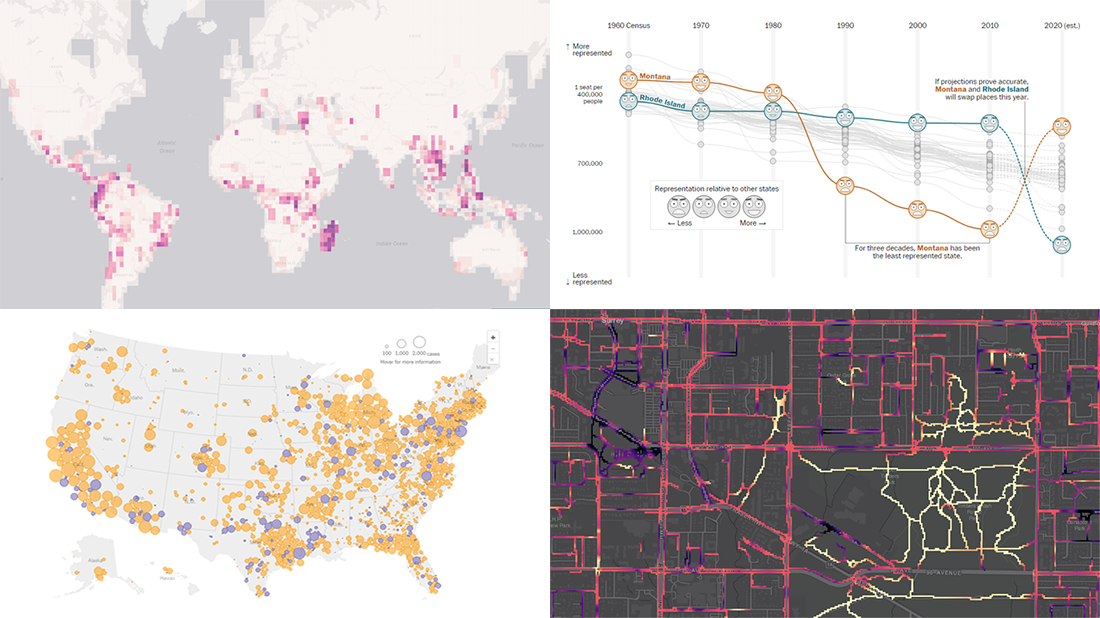 Hello and greetings to all who are fond of data visualization! We've curated a new collection of impressive maps and charts that came into existence just a little while ago. See what projects are praised this time on DataViz Weekly and read next to learn more about each:
Reshuffling of the U.S. House seats after the 2020 Census — The Washington Post
Runnability of streets — Simon Fraser University
Probability of finding undiscovered species across the world — Map of Life
Coronavirus in American prisons — The New York Times
---
April 12th, 2021 by AnyChart Team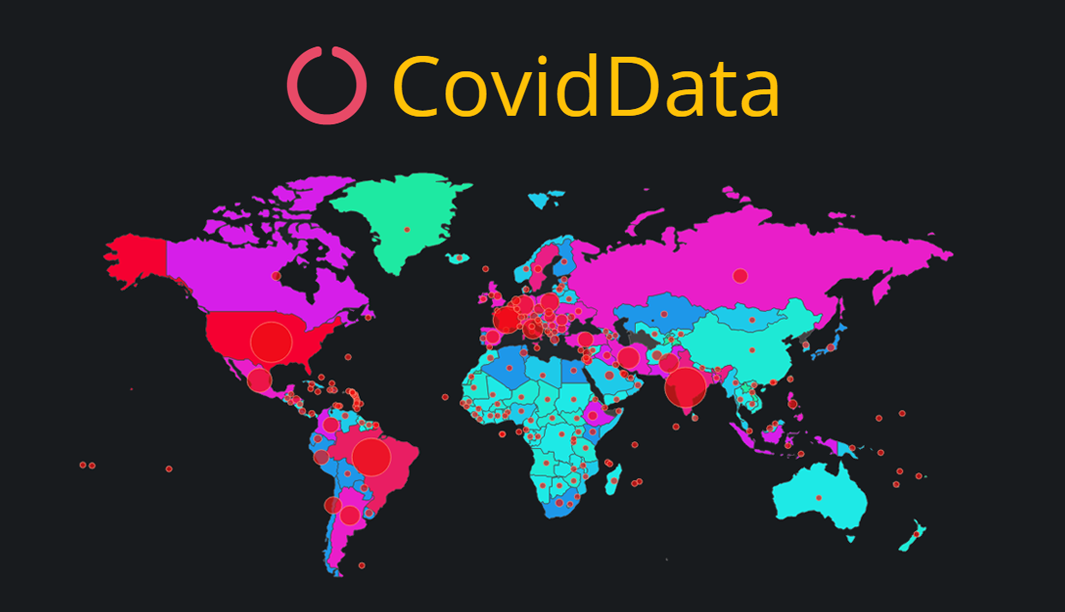 Data visualization has played an important role during the COVID-19 pandemic, allowing governments, scientists, healthcare professionals, and the general public to better understand different aspects of the crisis. There are many illuminating projects all over the web that leverage charts and maps to effectively communicate what the coronavirus statistics have to say. Some of them are using our data visualization tools under a free license provided as part of the special initiative we announced last spring to support the global COVID-19 data analysis effort.
We told you about two examples of such projects earlier: StopCorona and iConcepts SARS-CoV-2 Stats. Now let us introduce you to another interesting resource — COVID-19 Dashboard Tracker by Maxime des Touches. Launched more than a year ago, while Maxime was yet a computer science student, it has turned from a simple online data table into a complex interactive data visualization project offering up-to-date insight into how the pandemic unfolds in France and worldwide.
Maxime kindly agreed to talk to us about his COVID-19 tracker, experience using AnyChart, and the pandemic in general. Check out our quick interview, glance at a few screenshots, and try his open-source dashboard by yourself. (Stack: HTML/jQuery/JSON.)
---
April 9th, 2021 by AnyChart Team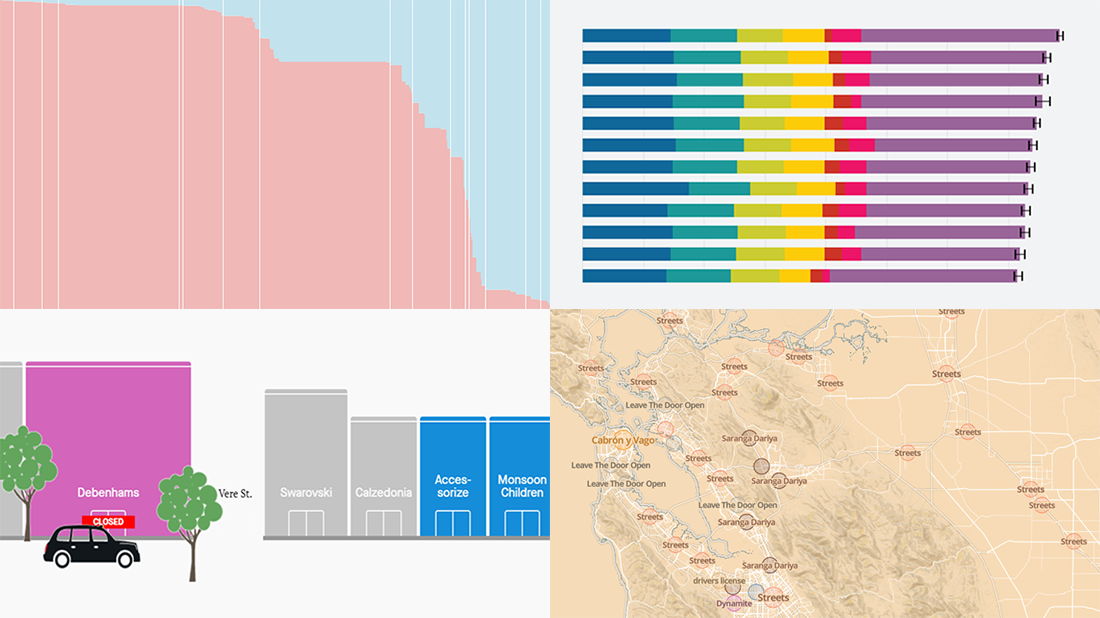 Look at these new exciting examples of data visualizations! We've stumbled across these just recently and are more than happy to present them to you today on DataViz Weekly:
Share of population with income below the poverty threshold — Our World in Data
World Happiness Report 2021 — SDSN
Most popular music in your city and worldwide — The Pudding
COVID's impact on retail stores on Oxford St, Rodeo Dr, and Russell St — Quartz
---
April 2nd, 2021 by AnyChart Team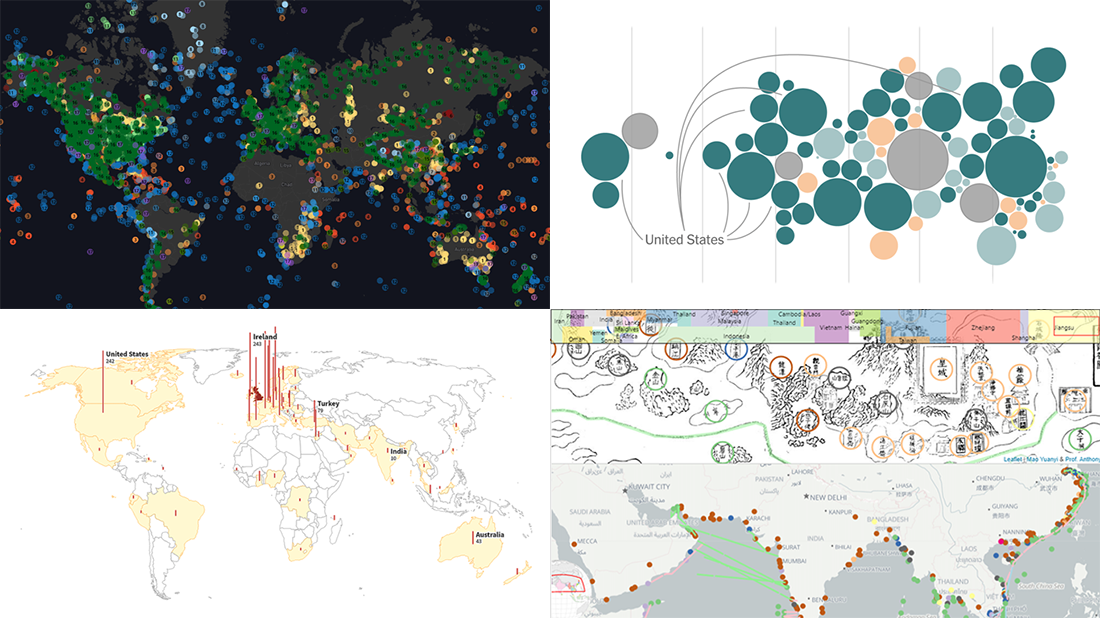 As we continue to bring you regular roundups of the best visualizations we have stumbled upon out there, it's Friday and DataViz Weekly here! Read next and you'll meet the following new stunning projects:
Country wealth and vaccination roll-out — The New York Times
Spread of the Kent variant across Britain and worldwide — Reuters
Earth's сlimate history in proxy data — Carbon Brief
Interactive Mao Kun map explorer — Ryan Carpenter
---