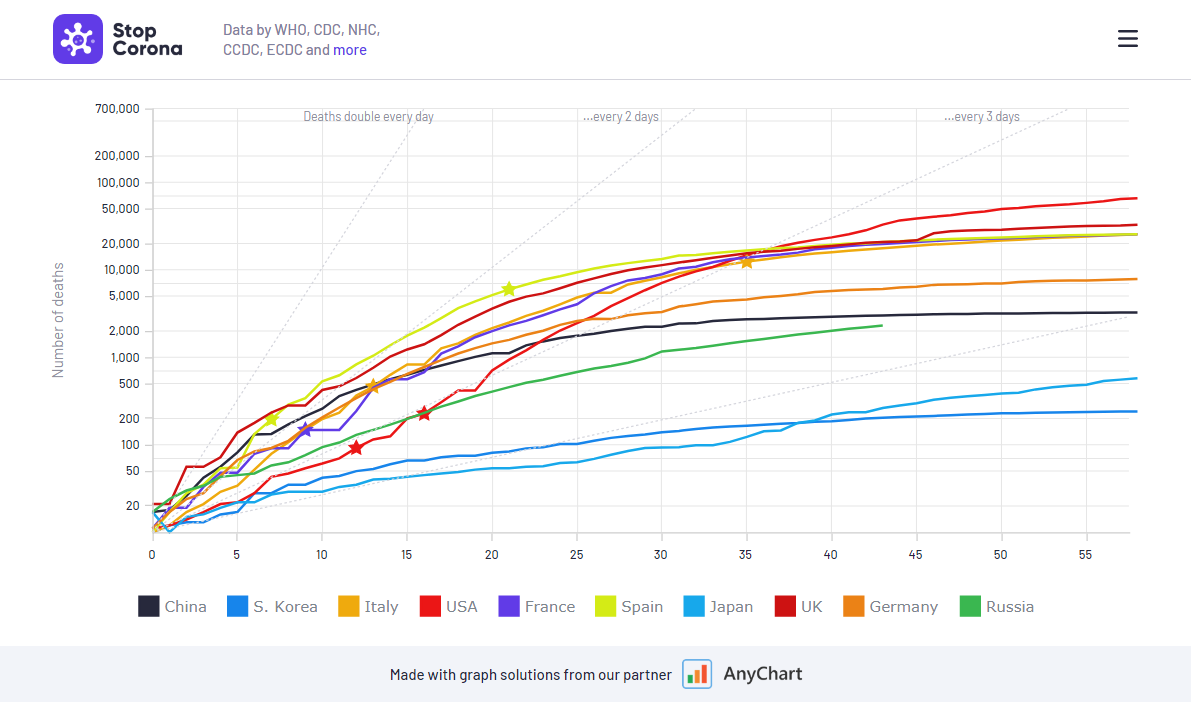 COVID tracker StopCorona.info is using our JavaScript data visualization library to display up-to-date coronavirus statistics in compelling and insightful charts. (Read our interview with its creator to learn how.)
COVID-19 is a global emergency and the fight against it requires a joint effort. We at AnyChart cannot stay aside, too. With a lot of pandemic data out there, from numerous sources and with constant updates, it's difficult to keep up with how the situation unfolds, let alone making sense of all relevant information in due course. But this is exactly where we can help, with our established charting solutions that can visualize any data on the fly.
We thought you should know we're ready to give a full-featured non-profit license to all initiatives aiming to tackle the novel coronavirus outbreak. Moreover, we've already allowed one project – StopCorona.info – to use our JavaScript charting library for free.
Developed as a not-for-profit initiative by Diffco, a top Silicon Valley app development company, StopCorona is designed to bring transparency to the pandemic situation worldwide. To achieve that, it collects COVID-19 statistics from more than 20 reliable public open data sources, including WHO, CDC, ECDC, CCDC, and NHC to name a few. Now this enormous (and ever-expanding) set of coronavirus data is graphically represented in an analyst-friendly interface powered by AnyChart JS Charts.
As a global leader of data visualization and reporting tools, we at AnyChart were more than happy to support StopCorona by letting them use our award-winning JS charting library absolutely free, under a full-featured non-profit license.
If you guys are building a useful resource for COVID-19 data analytics, try AnyChart and apply for a free license, too. We will gladly provide you with complimentary access to our flexible data visualization solutions. In this way you will get the industry's best charts for the web or mobile fully at your service, empowering your website visitors or app users to make sense of the myriad COVID numbers at a glance, with great ease.
About StopCorona COVID Tracker
StopCorona is a COVID tracking project aimed to provide up-to-date statistics about the novel coronavirus outbreak, including confirmed cases, deaths, and other relevant numbers. Putting together raw data from a variety of official public sources, it arranges all COVID-19 information in a user-friendly interface to allow for convenient analysis of global, regional, and local trends and figures.
Updated every half hour, an interactive dashboard shows the latest global COVID statistics at a glance. A live map enables an intuitive spatial outlook of how the virus spreads. Charts – visualized using AnyChart – provide data-driven insight into how the situation changes over time. You can hover and drill down for an in-depth view of what has been going on across the globe with the current pandemic.
Next in the roadmap of the StopCorona COVID tracker is the release of dedicated web and mobile (Android) applications. The apps will feature personalization, helping users to keep an eye on their 'favorite' areas. For instance, you will be able to turn on notifications to get alerts on new confirmed cases for a specific location (tracking a country, a city, or a district), daily COVID-19 trends, and more.
COVID-19 Advanced Data Insights
For advanced insights, StopCorona has included additional resources where you can find even more visualizations surrounding COVID-19 data.
There are interactive multi-line charts, powered by AnyChart, that compare how the number of confirmed cases and deaths has changed over time across different countries, and other visualizations, such as an animated map of the U.S. cases since April 1, and (links to) both Google's Community Mobile Reports and Nextstrain's genomic epidemiology graphics.
In development is a chart showing the impact of the pandemic circumstances on the performance of stock market indices.
COVID-19 Data Sources
StopCorona takes the COVID-19 statistics from the following data sources (in alphabetical order):
Asahi Shimbun
Australia Government Department of Health
BNO News
China CDC (CCDC)
DXY.cn. Pneumonia. 2020
European Centre for Disease Prevention and Control (ECDC)
Financial Times
Google COVID-19 Community Mobility Reports
Government of Canada
Hong Kong Department of Health
Italy Ministry of Health
La Repubblica
Le Monde
Macau Government
Ministry of Health Singapore (MOH)
National Health Commission of the People's Republic of China (NHC)
Nextstrain COVID-19 studies
Taiwan CDC
The New York Times
US CDC
World Health Organization (WHO)
Yandex Maps COVID-19
Стопкоронавирус.рф
---
We are more than happy to support such efforts. If you are building a useful resource for COVID-19 data analytics, apply for a non-profit AnyChart license and use our award-winning data visualization tools for free.
Together we can cope with this global challenge. In the meantime, please stay safe.
---
Comments (5)