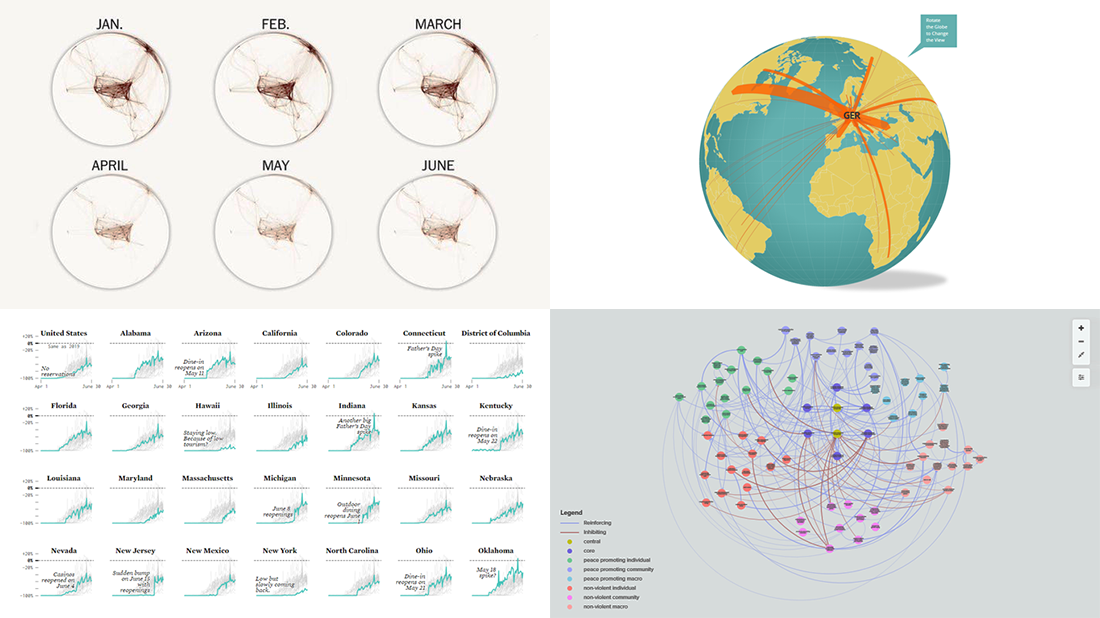 Check out new interesting graphics created by different data visualization experts and made public these days. We've met them around the web and decided to introduce you to them in today's DataViz Weekly. These examples are definitely worth seeing if you like good charts and maps (as we do)!
American Restaurant Reopenings — Nathan Yau
Sustaining Peace Project — AC4, The Earth Institute, Columbia University
International Migrant Stock — Nicolas Lambert and Françoise Bahoken
Global Shutdown — Washington Post
---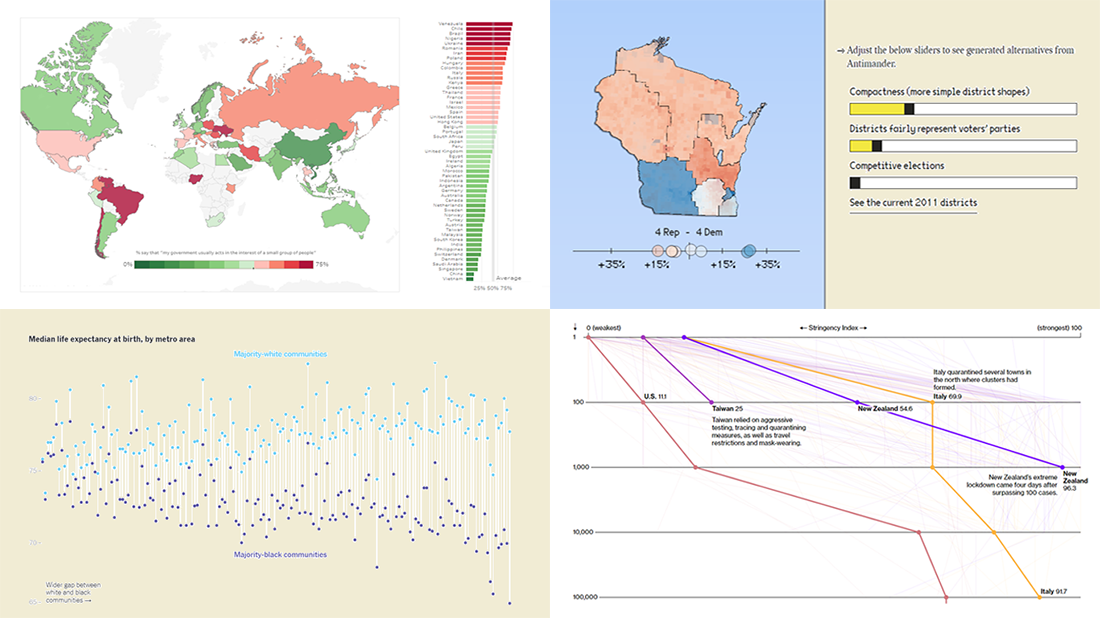 DataViz Weekly is here exhibiting new interesting projects from around the web that demonstrate a great use of different information visualization techniques to deliver better insight. See our new picks:
Democracy Perception Index 2020 — Dalia
Government reactions to the Covid-19 pandemic — Bloomberg News
Gaps between Black and White America — The New York Times Opinion
Antimander, a tool to expose gerrymandering in congressional districts — Joel Simon
---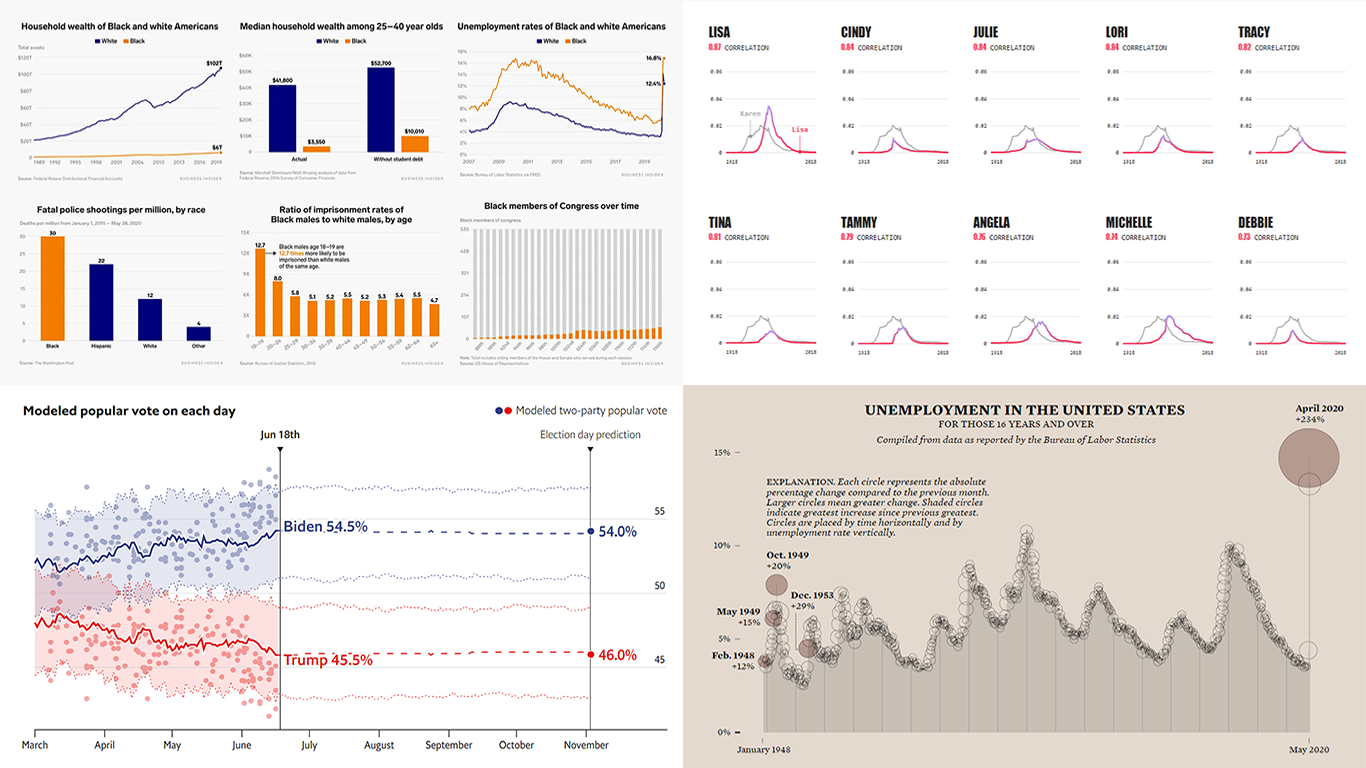 In data visualization, theory is very important but practice is absolutely everything. We continue to share with you some of the new charting best practices we've come across around the web so you could see what others do and keep improving. Check out how various experienced data visualization professionals make data speak and tell insightful stories, in DataViz Weekly.
Today, we are happy to meet you with the following new interesting projects:
Black Lives Matter and racial disparities in America, in 25 charts — Business Insider
The Economist's forecast model for the 2020 U.S. presidential election — The Economist
Unemployment rate in the United States since 1948 — FlowingData
Names with a similar trajectory of popularity over time as Karen — The Pudding
---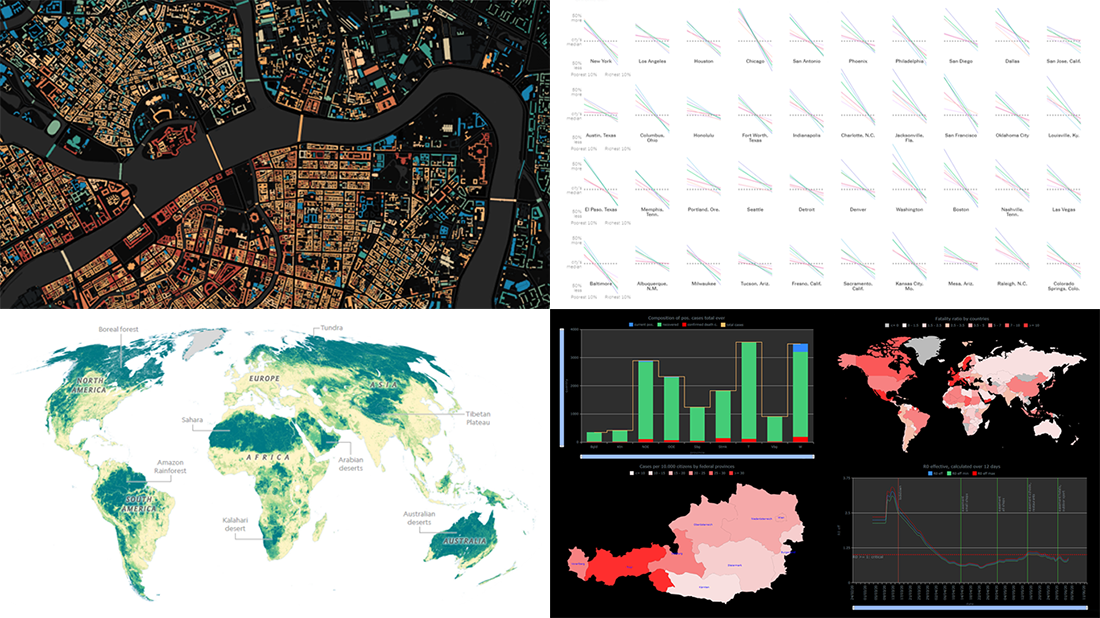 Hey everyone! Here's DataViz Weekly with a quick presentation of four new data graphics projects that we've found worth checking out. Look at these stunning examples of charts and maps in action!
Areas with the humanity's lowest impact on the natural world — National Geographic
COVID-19 in Austria (and worldwide) — Jürgen Höfer
Age of buildings in Saint Petersburg (Russia) — Nikita Slavin
Chronic health conditions by income and race — NYT
---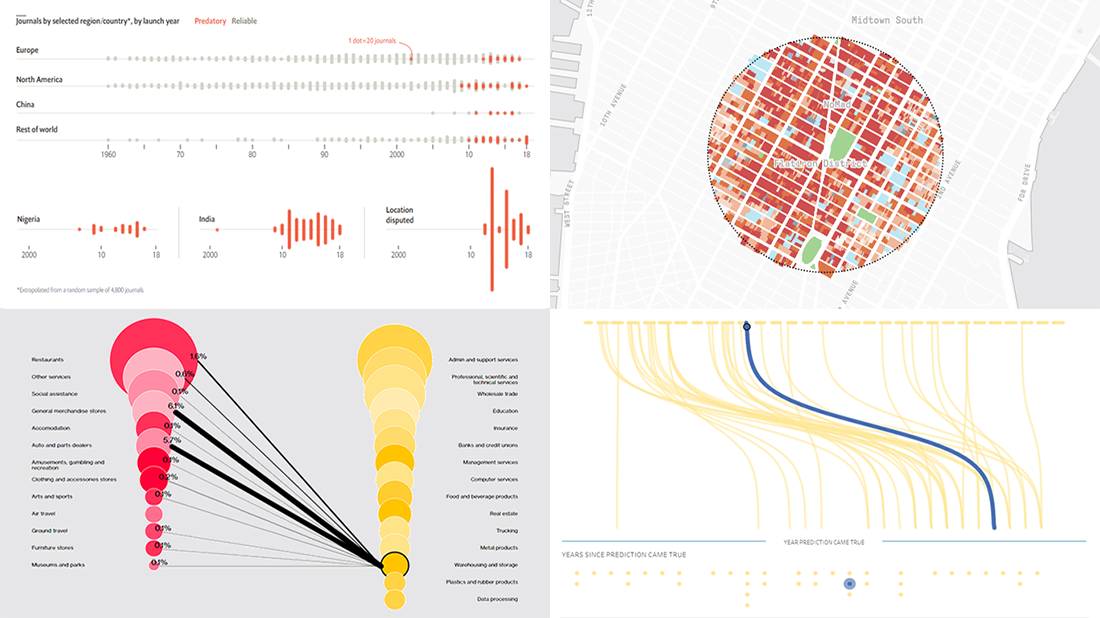 Every week, we meet a number of new visual presentations of data around the web. Then, on Friday, we pick the four most interesting of them to tell you about. The following projects made it to DataViz Weekly this time:
Job losses in the United States, the second wave — Bloomberg
Predictions from The Simpsons that came true — Seffana Mohamed-Ajaz
Morphocode's city explorer — Morphocode
Dodgy academic journals — The Economist
---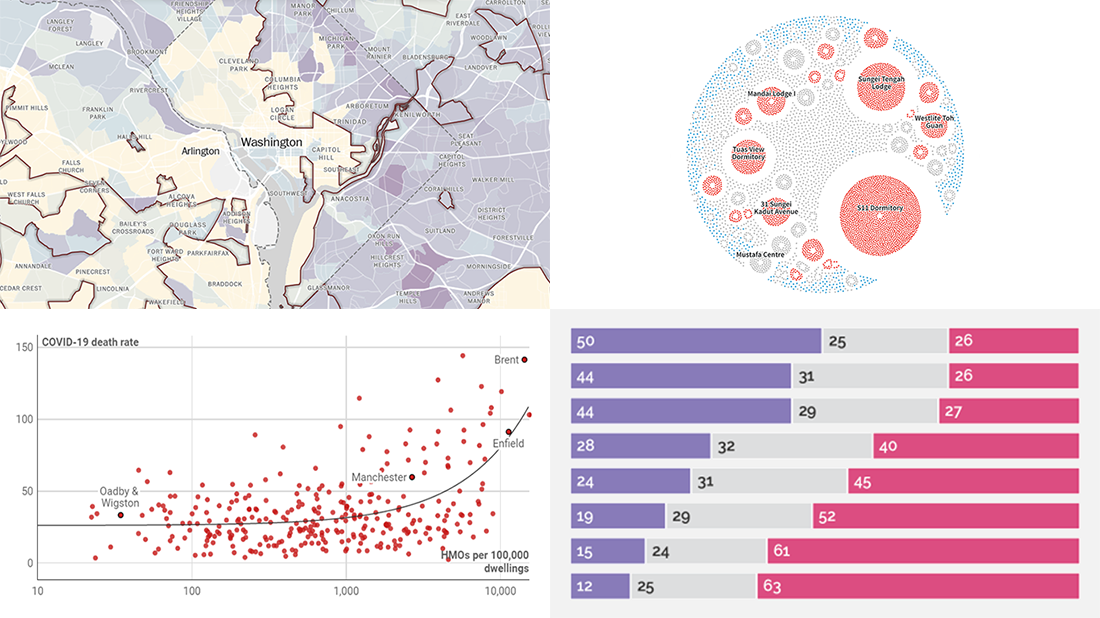 Waiting for a new serving of interesting chart examples? DataViz Weekly is here! Check out new coronavirus data visualization projects from around the web that we've found worth seeing:
Anatomy of the COVID-19 outbreak in Singapore — Reuters
Health disparities in communities of color across the United States as revealed by COVID-19 — The Washington Post
Bill Gates coronavirus conspiracy theory in public opinion — Yahoo News
Link between the housing crisis and COVID-19 deaths in the United Kingdom — Inside Housing
---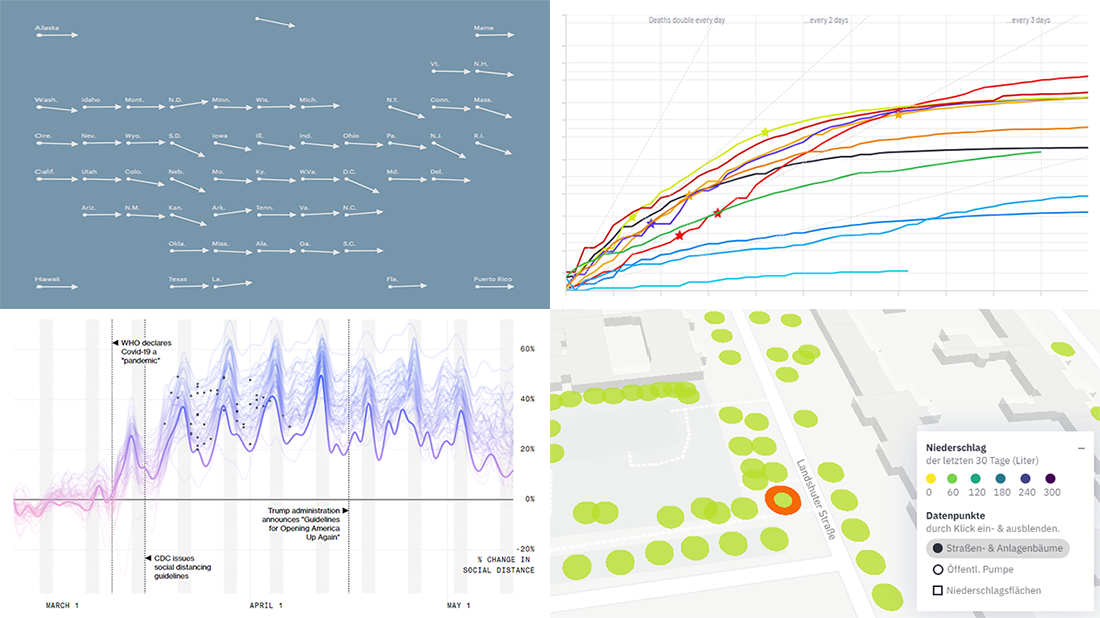 In the new DataViz Weekly article, we highlight four fresh projects, visualizing COVID statistics and data about Berlin trees, for great use of charts. Here's a quick list of what each is about:
StopCorona, a COVID tracker charting data from over 20 sources — Diffco
Social distancing in America and how it worked in each state — Bloomberg
COVID-19 test trends in the United States, by state — ProPublica
Berlin trees and how each is watered — CityLAB Berlin
---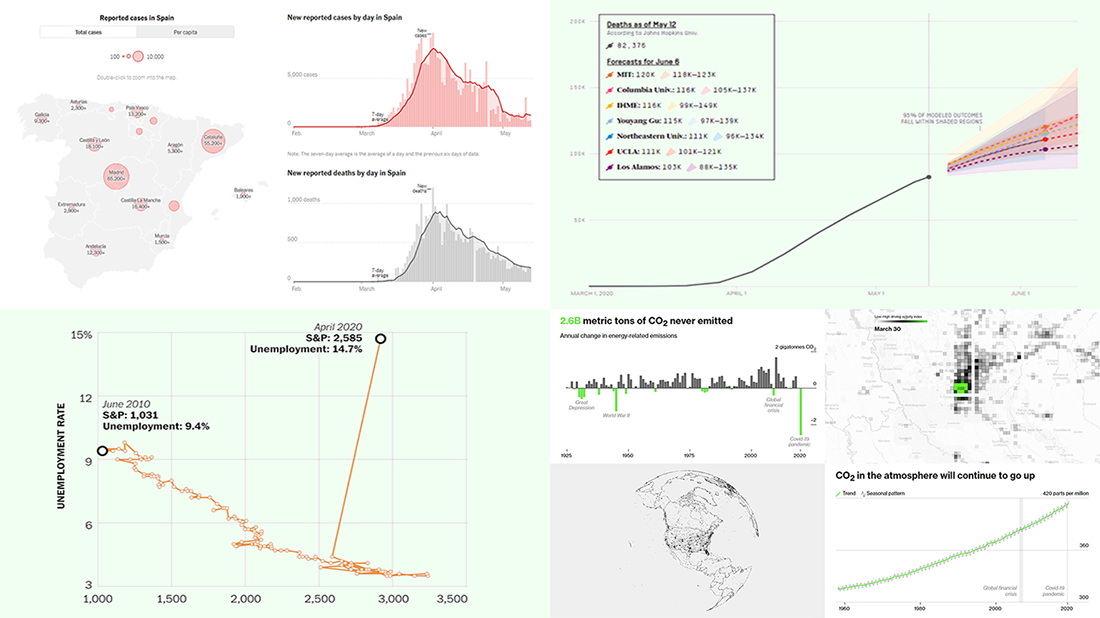 Check out new interesting examples of charting COVID-19 data in action. We have seen a lot of visualizations over the past few days and selected the following projects to share with you today in DataViz Weekly:
Fatality models for the United States – FiveThirtyEight
Impact on climate change – Bloomberg Green
(Now broken) correlation between the stock market and unemployment rates in America – The Washington Post
Situation in Spain – The New York Times
---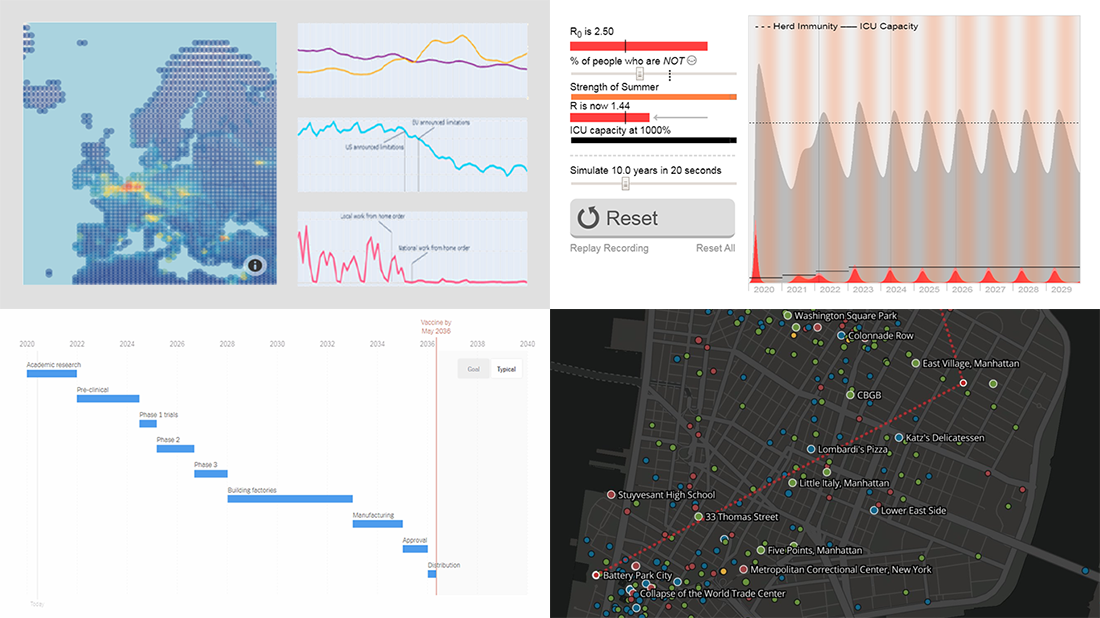 Without any exaggeration, the vast majority of data visualizations made public these weeks (and already months) are about the novel coronavirus pandemic. In compliance with the general trend, three of the four projects presented in the new DataViz Weekly article shed light on issues related to COVID-19. Take a glance at a quick list of the featured data visualization works and read more to meet them.
COVID-19 vaccine development timeframe and how to reduce it – NYT
COVID-19 future, in playable simulators – M. Salathé & N. Case
COVID-19 impact on traffic and air pollution in Europe – European Data Portal
Atlas of places featured in Wikipedia – T. Noulas, R. Schifanella, D. Sáez-Trumper & J. Tan
---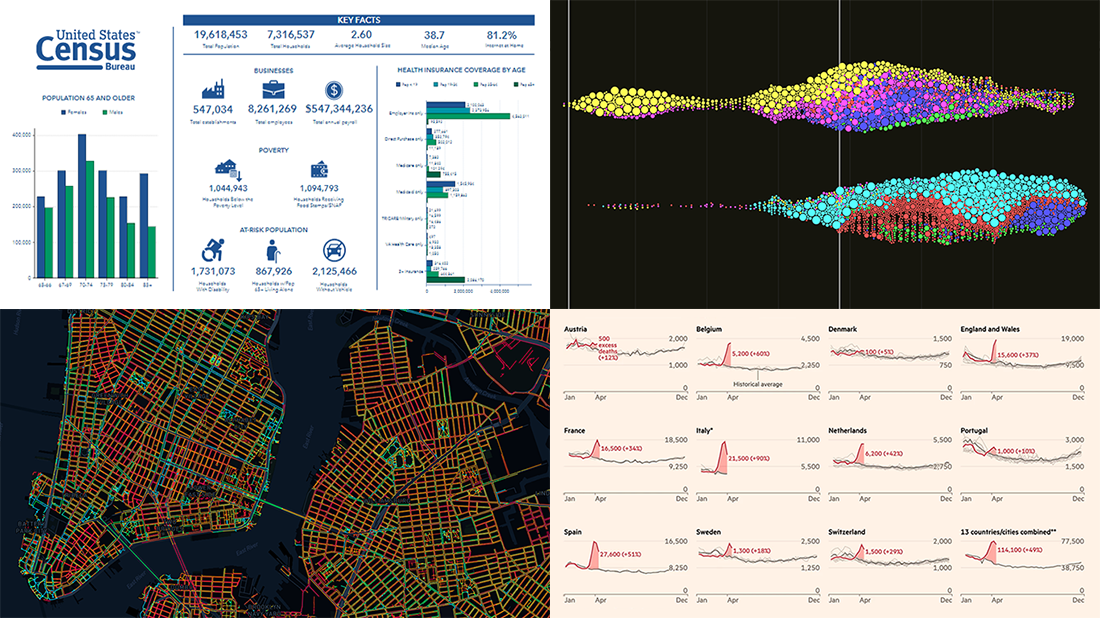 It's Friday, May 1, and we invite you to take a quick look at the fresh DataViz Weekly selection of cool charts and maps. This article presents the following new COVID-19 data visualizations we have come across this week:
Discovering excess deaths from COVID-19 — FT
Exploring NYC sidewalk widths through the prism of social distancing — Meli Harvey
Analyzing coronavirus search trends — Schema Design, Google News Initiative and Axios
Visualizing demographic and economic data for COVID-19 impact planning reports — U.S. Census Bureau
---