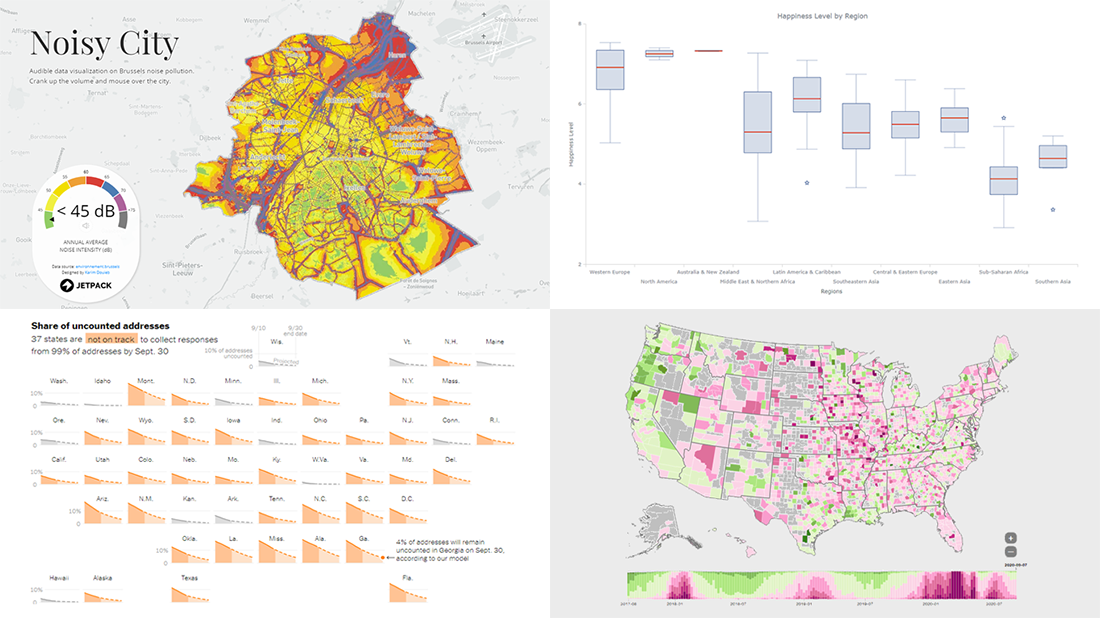 We have put together a roundup of new awesome data visualizations from around the web. Look what we've got for you to check out this Friday on DataViz Weekly:
Noise pollution in Brussels — Karim Douïeb
Census 2020 undercounts and their consequences — NYT Opinion
COVID-19 symptoms search trends — Google People + AI Research (PAIR)
World happiness by region — Wayde Herman
---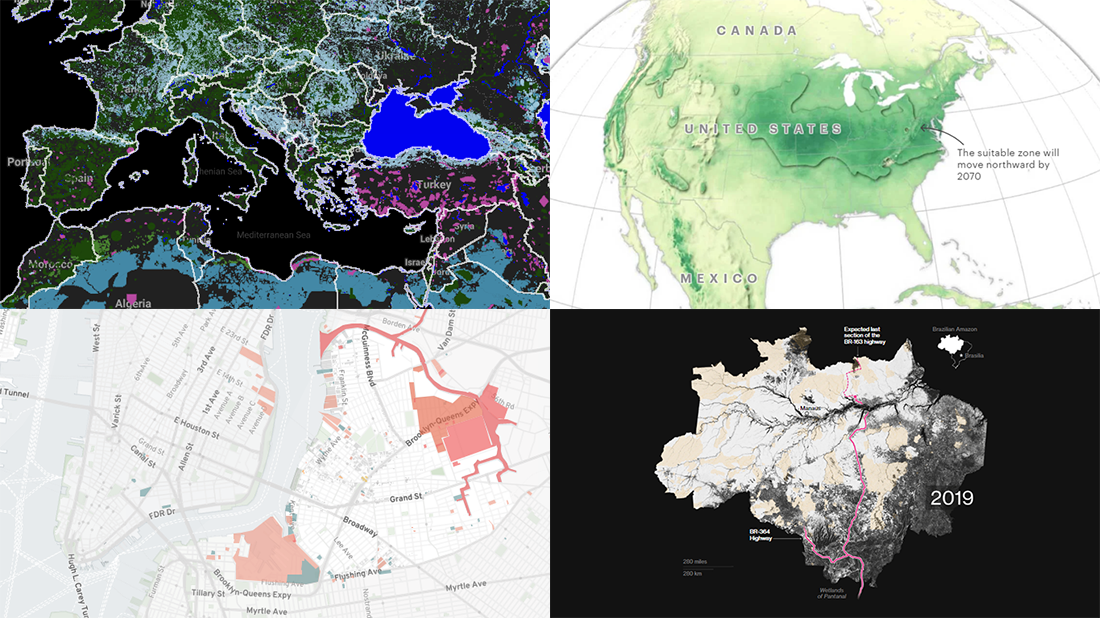 Lately, we've seen a bunch of cool geovisualizations on the topics of climate, pollution, and human impact. Here are some of the most interesting fresh ones. Check out the new DataViz Weekly post which is entirely dedicated to great examples of environmental maps:
American climate shifts — ProPublica
Earth's most biologically important lands — RESOLVE
Rainforest loss — Bloomberg Green
Toxicity in North Brooklyn — North Brooklyn Neighbors
---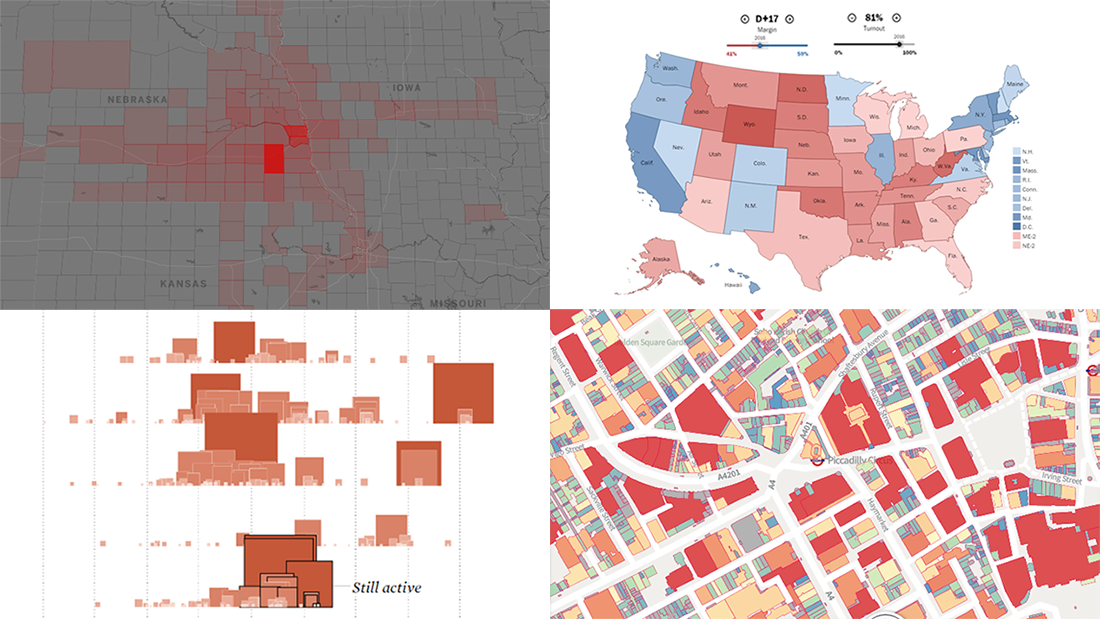 The long wait is over! DataViz Weekly is here bringing some of the best new maps and charts from all over the web to the spotlight! Look at these amazing examples that show the power of smart data visualization:
College football fan movement and COVID-19 risk — ESPN
California wildfires over the past 17 years — FlowingData
London solar opportunities — UCL Energy
Voter scenarios for the U.S. presidential election — The Washington Post
---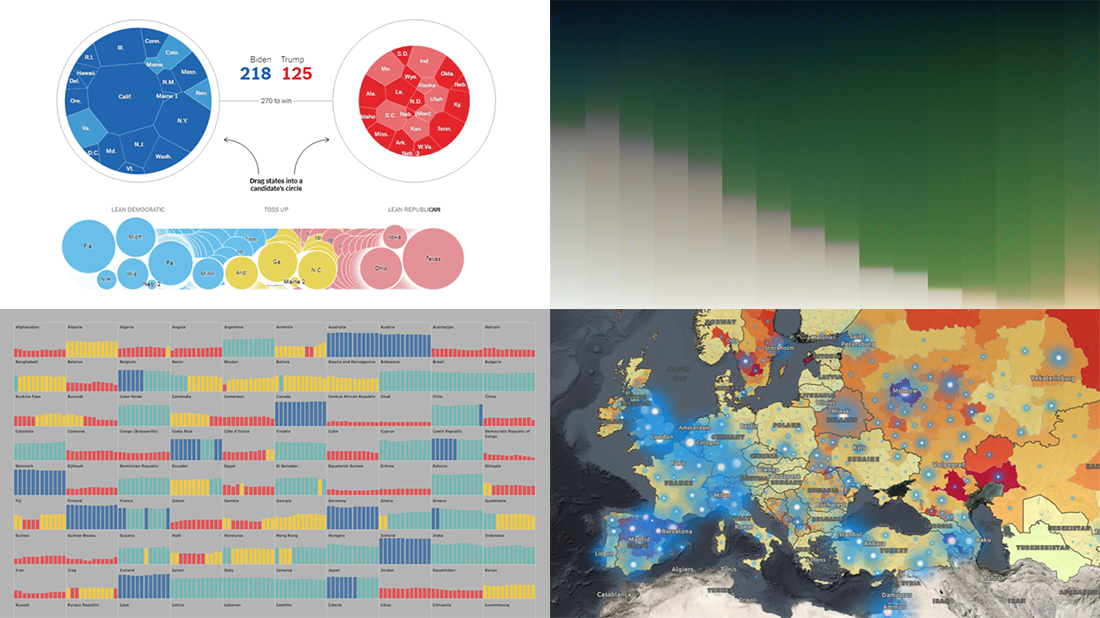 Celebrating the first Friday of September, don't miss these awesome fresh data visualization projects for inspiration! We have recently met them around the web and are glad to introduce you to them in a quick overview. So our new picks for DataViz Weekly include:
COVID-19 situation in Europe, a subnational view — WHO/Europe
Potential outcomes of the U.S. presidential election — The New York Times
State of democracy worldwide since 2006 — Preity Lodha
Colors of the American landscape vs electoral map colors — The Upshot
---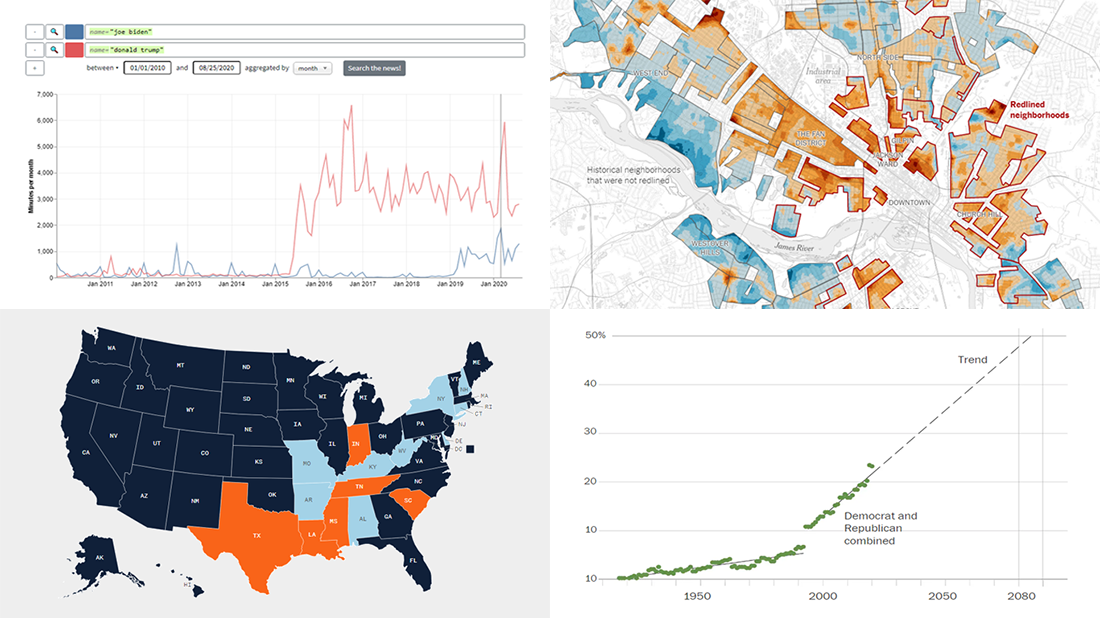 We've curated another four great examples of data visualization in action. Would you like to learn about them and check them out right now? Wait no longer! Below is a list of the projects highlighted in the new DataViz Weekly — just give it a glance and go ahead!
Exploring a link between racism in the housing policy and hotter neighborhoods — The New York Times
Analyzing the content of cable TV news — Stanford University
Tracking gender inequality in American politics — The Washington Post
Summarizing voting rules for the 2020 U.S. election by state — NBC News
---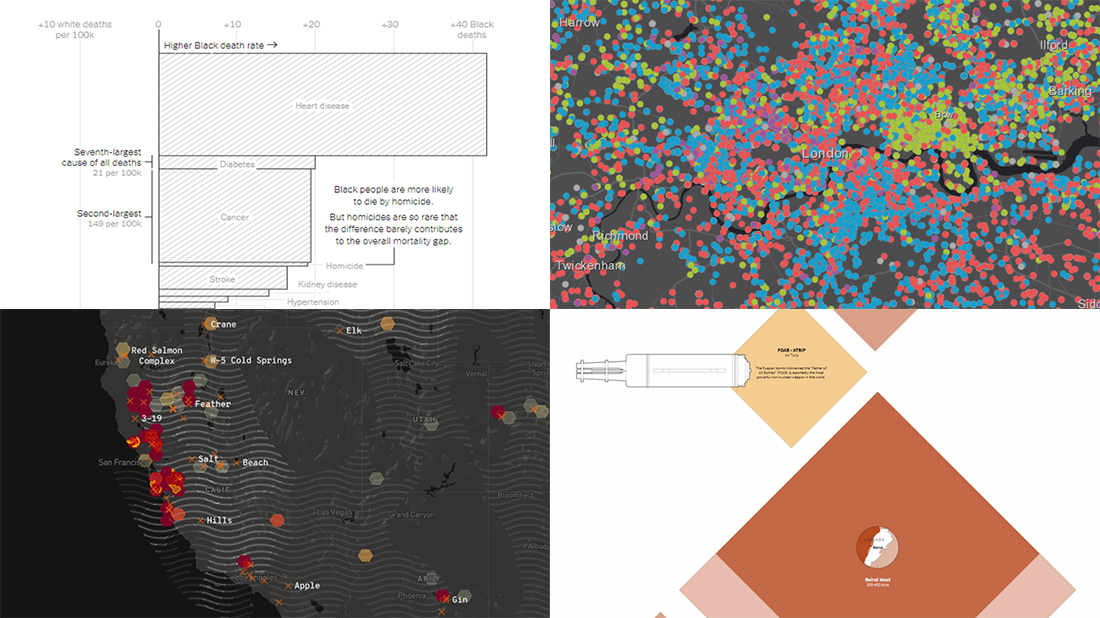 DataViz Weekly is here with a new dose of awesome charts and maps for all data visualization addicts! Today, we are putting a spotlight on the following projects where data is allowed to speak with the help of graphics:
Stop and search incidents in London — Esri UK Education
California wildfires — Los Angeles Times
Scale of the Beirut explosion — Reuters
Mortality rates for Black and White Americans — New York Times Opinion
---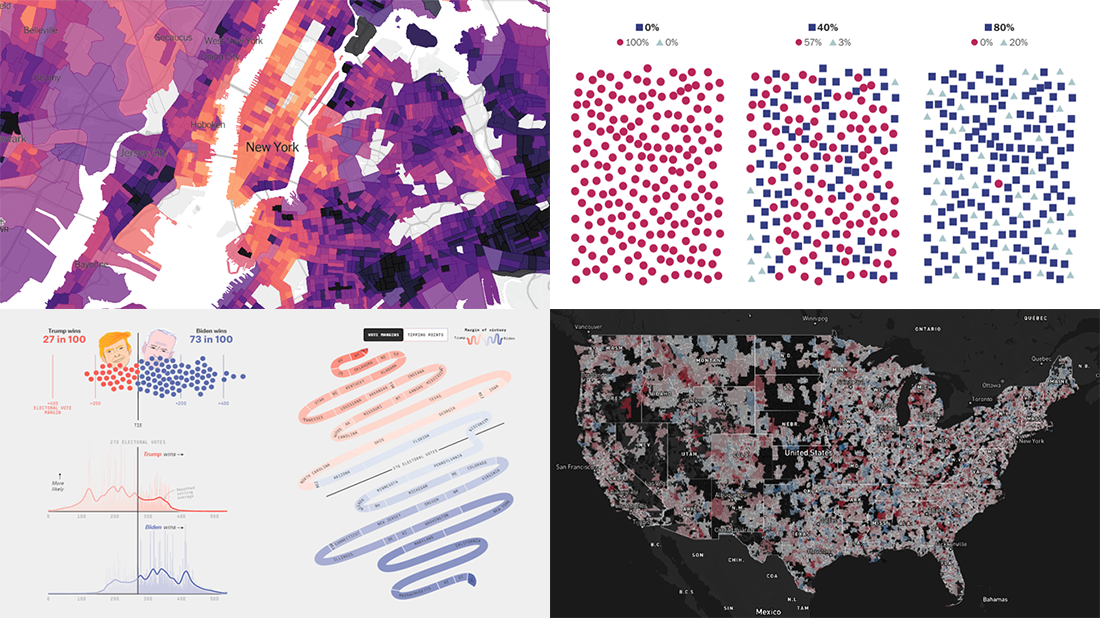 Look at these new cool information visualization projects and notice how different techniques help explore and communicate data, in practice.
Today in DataViz Weekly:
FiveThirtyEight's 2020 U.S. presidential election model — FiveThirtyEight
Herd immunity simulations — The Washington Post
Unemployment in the United States at the census tract level — The Upshot
Home prices in America — Realbloc
---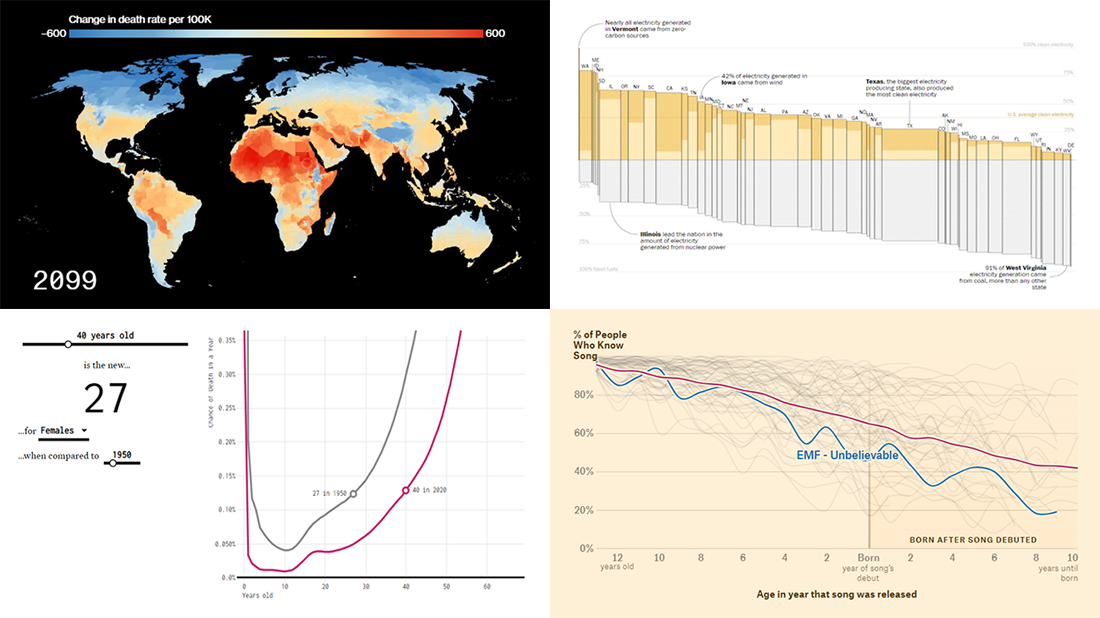 Lately, we've come across a lot of new impressive charts all over the internet. Here are some of the most interesting ones — check them out and you'll see the real power of data visualization in action! Today in DataViz Weekly:
New age for your age — FlowingData
Electricity generation in the U.S. states by fuel source — The Washington Post
Mortality consequences of climate change and income inequality — Bloomberg Green
1990s music recognition across generations — The Pudding
---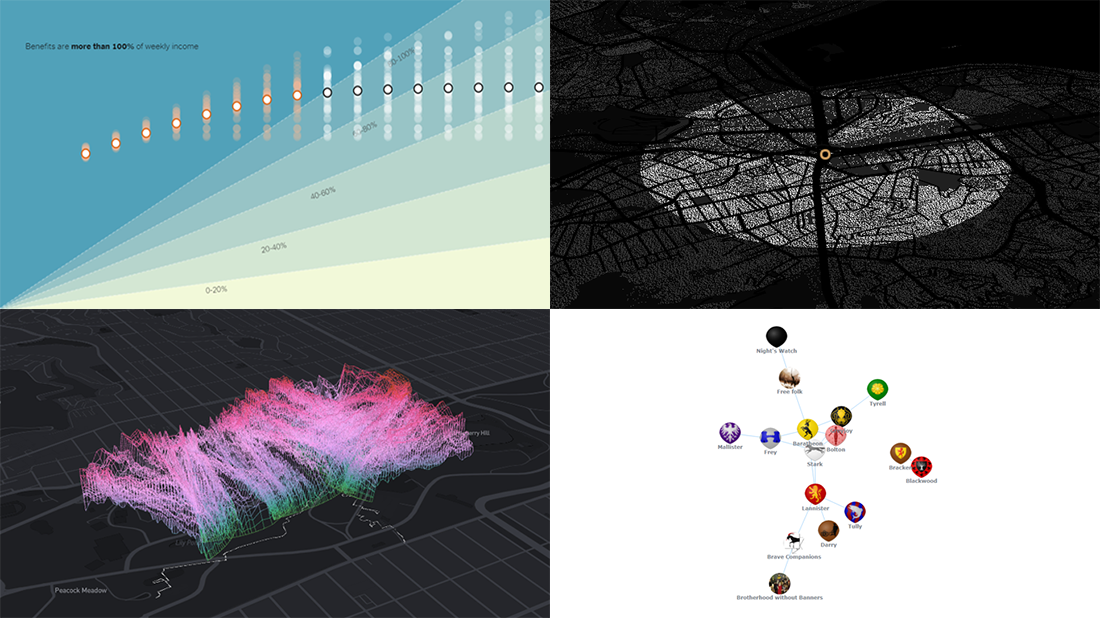 There are many ways of plotting data. Which one to choose in your case? The answer depends, of course, on what kind of data you need to analyze and what questions you want it to answer. In DataViz Weekly, we meet you with some of the best practices on a regular basis. The only thing that unites them is, all the highlighted projects have been launched in public just about now. So here are the new great examples and inspirations:
Changing soundscapes of urban parks worldwide — MIT Senseable City Lab
Extra $600 unemployment benefits in America — The New York Times
COVID-19 deaths in Brazil (as if all of them happened in one neighborhood) — Agência Lupa & Google News Initiative
Game of Thrones battles in a network graph — Wayde Herman
---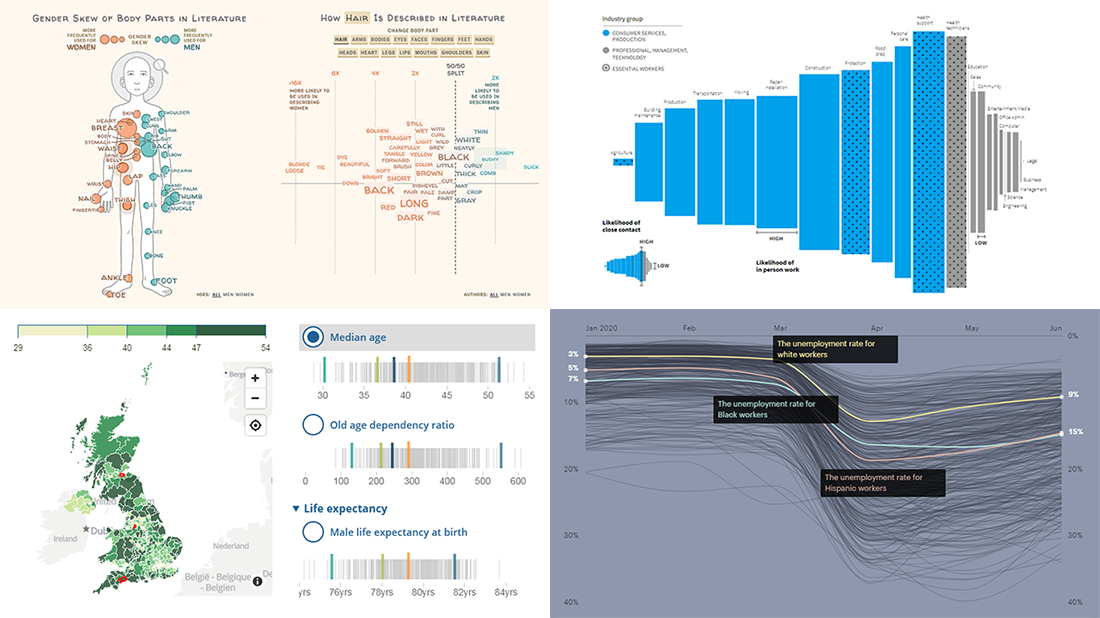 Good charts let data speak, providing insight, revealing patterns and trends, and telling stories. Look at new projects featuring graphics like that, from data visualization professionals!
Physical traits defining men and women in literature — The Pudding
Remote work dividing America — Reuters
Racial disparities in unemployment in America — ProPublica
Ageing indicators across the United Kingdom — ONS
---