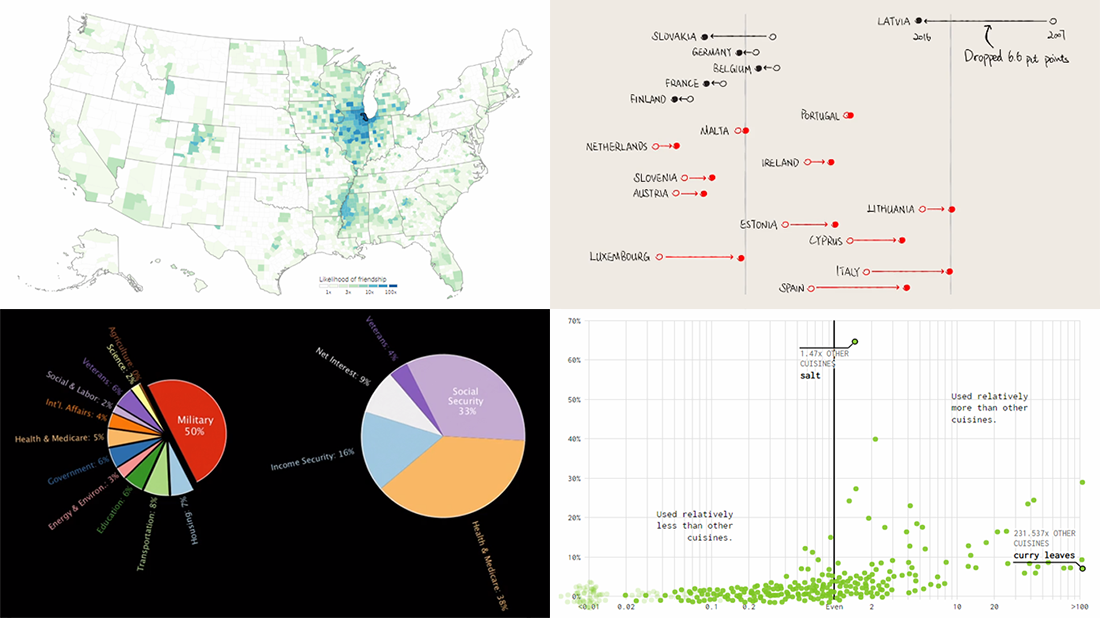 Take a look at another four new interesting projects with captivating visualizations that we've come across just about now. As always happens on DataViz Weekly, we start with a quick list of topics and then get straight down to the show:
food ingredients by cuisine;
social connectedness across the United States;
ten years since the 2008 global financial crisis;
U.S. federal government spending from 1962 to 2023.
---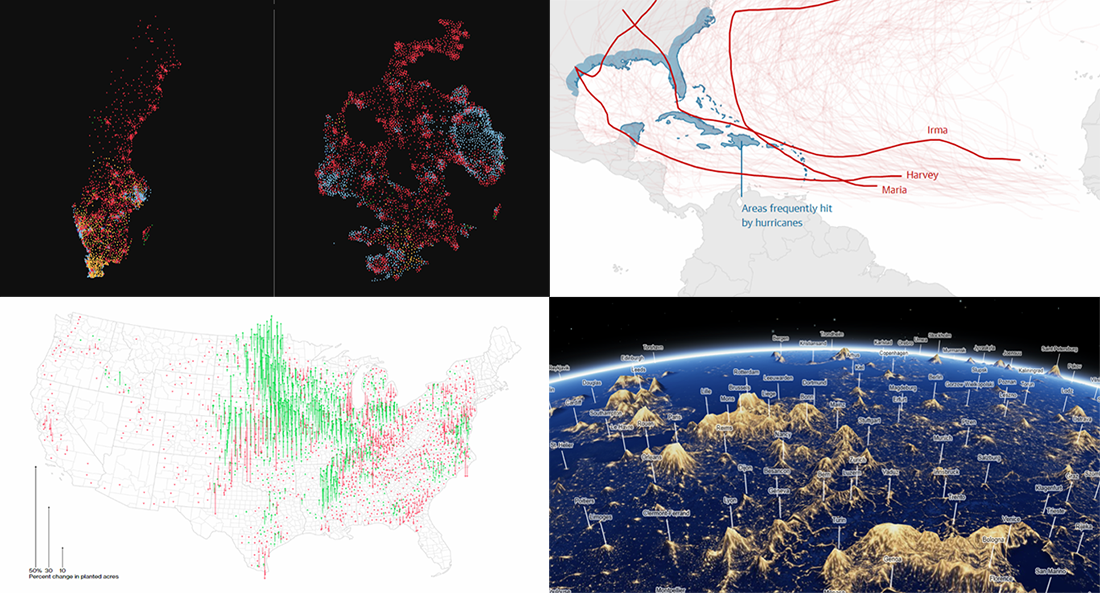 Yay, it's DataViz Weekly time again! Here's what new data visualizations we've recently found around the web and decided to share with you now:
Swedish general election results;
American cropland's shift away from diversity;
climate change and hurricanes;
world cities' night lights visualized as terrain.
---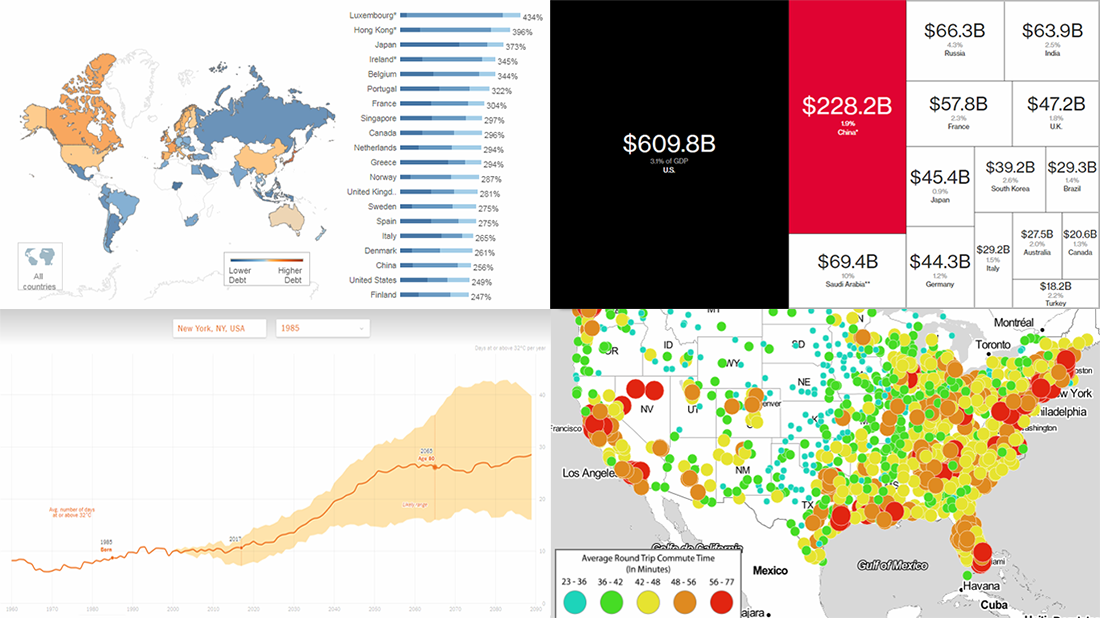 Check out the new issue of DataViz Weekly on the AnyChart blog, showing you four interesting data graphics-based stories and projects on the following topics:
how much hotter your hometown is than when you were born;
global debt;
commute times in U.S. cities;
China as an aspiring superpower.
---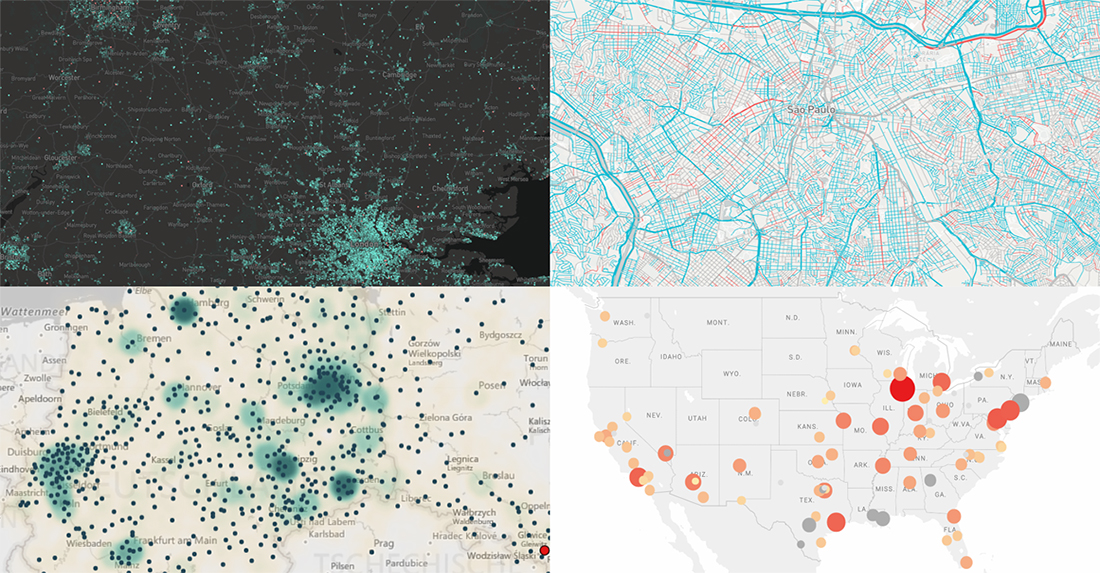 Hey everyone. This week, we've come across four interesting map visualizations and decided to share them with you within the framework of our DataViz Weekly feature. Let's start with a quick list of what projects are featured and then, without more ado, take a look at them more closely right away:
gender of all streets in Brazil;
birthplaces of current Berliners;
house price change in England and Wales;
violent crime trends in the USA.
---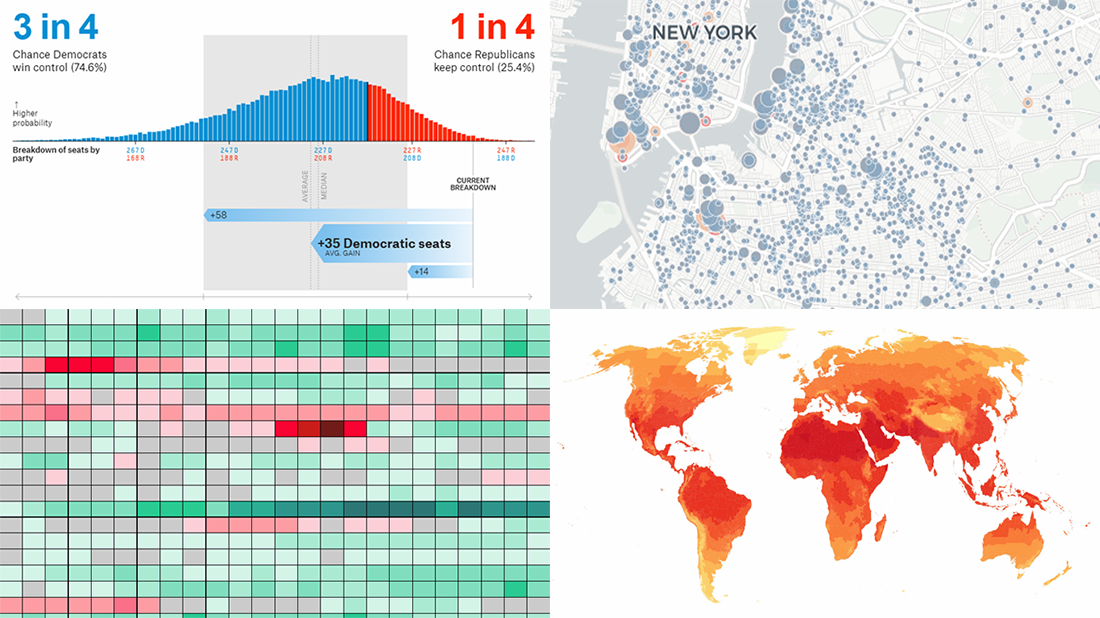 Welcome to DataViz Weekly, a regular feature on the AnyChart blog that highlights some of the most interesting new data visualization projects each Friday.
Here's what we are glad to tell you about this time:
active constructions in New York City, in real time;
global PMI activity;
cities with no need for air conditioning and heating;
2018 U.S. House midterm election forecast.
---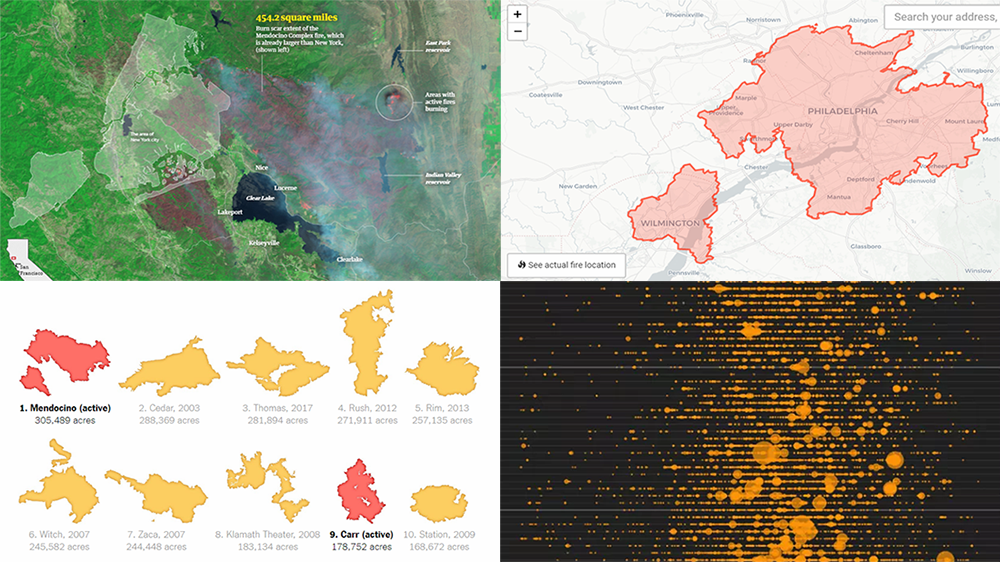 A new record-breaking wildfire season in California is in full swing, occupying the headlines of many national and even world media outlets. To better analyze and present what's going on, data and graphics experts created various maps and charts. Today's issue of Data Visualization Weekly features some interesting ones of them, and in fact, is fully dedicated to the topical California wildfire problem.
---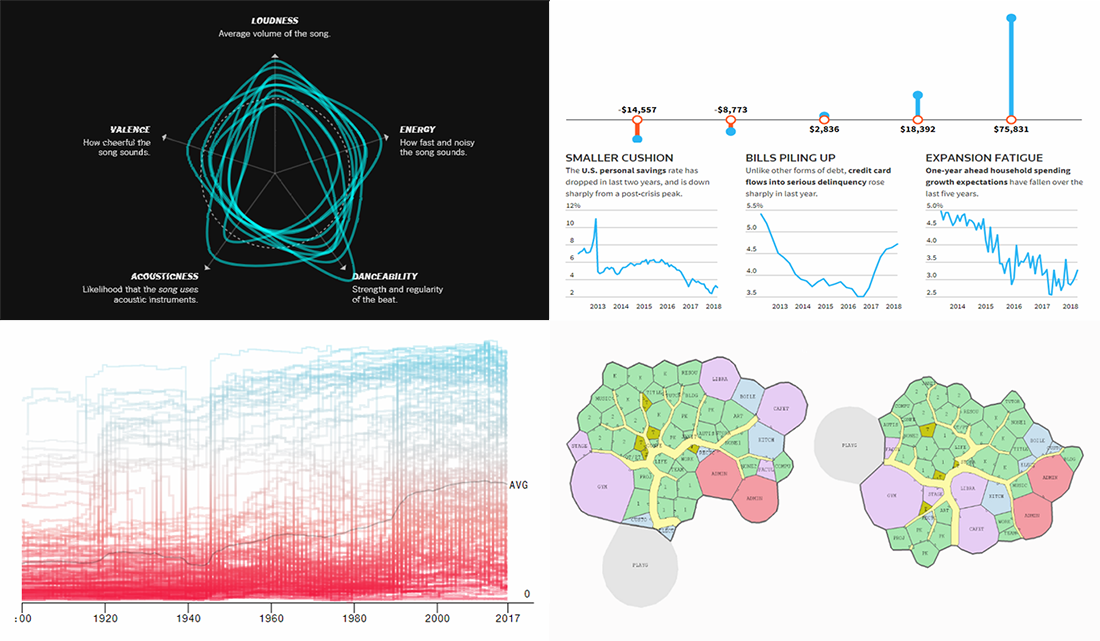 Another seven-day-long wait is over, and finally, the new DataViz Weekly piece is now out. So if you want to check out some of the new cool dataviz works we've recently found out there on the web, look no further!
Today on Data Visualization Weekly:
more elections but less democracy;
floor plan optimization based on genetic algorithms;
similarity of music hits;
poorer Americans and U.S. economy growth.
---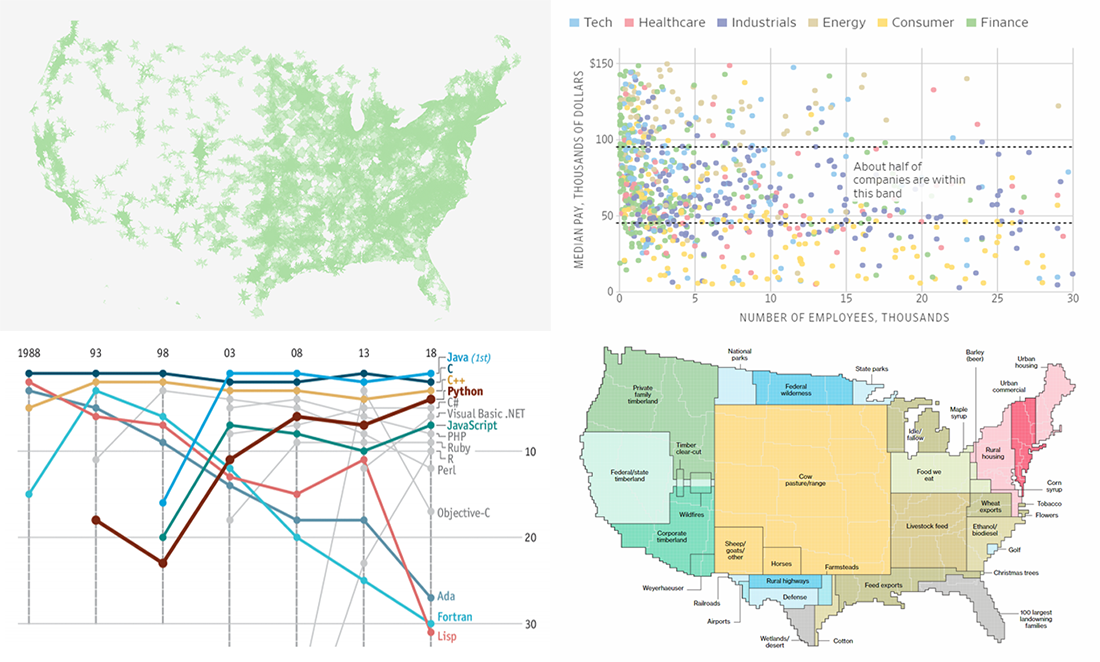 DataViz Weekly is here to meet you with several new interesting data visuals and stories based on them that have come to light just recently. Look what we are happy to feature this time:
how the United States uses its land;
company size vs. pay;
education deserts in America;
popularity of programming languages.
---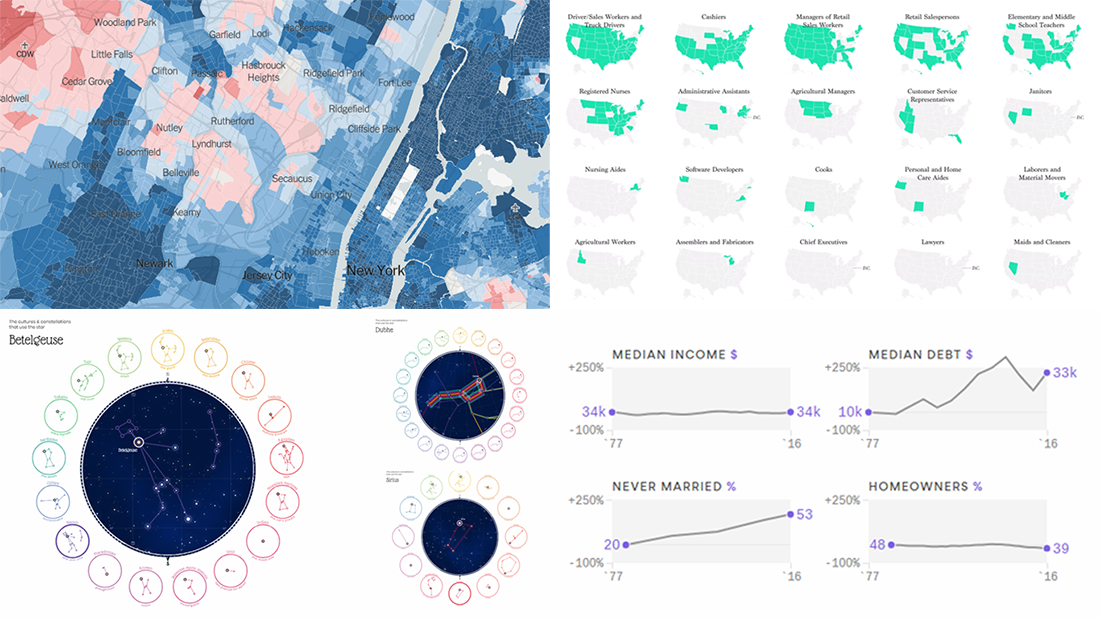 It's already Friday, so don't hesitate to check out the new DataViz Weekly post on our blog. Here you'll find visualizations about:
2016 U.S. presidential election, by voting precinct;
the most popular jobs in the United States, by state;
what's changed in the life of young American adults in 1977-2016;
different constellations seen by different cultures in the same sky.
---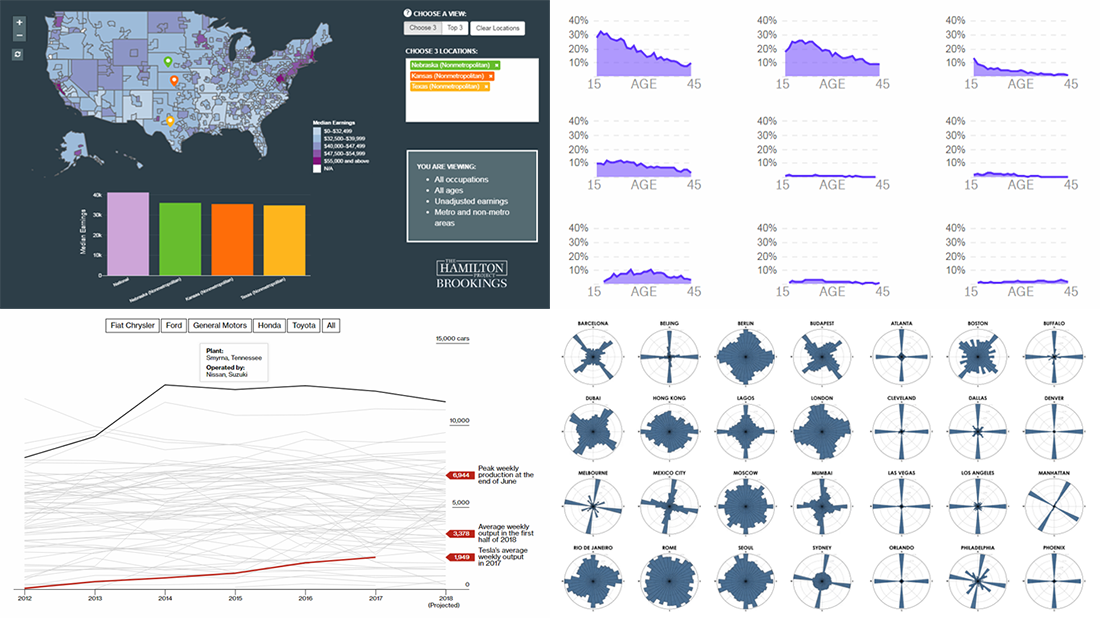 Not only is the AnyChart JS Charts blog a go-to place for our news and tips and tutorials. It's also where — within the framework of our regular DataViz Weekly feature — we keep you posted on new interesting data visualizations from out there on the web. Today, we've chosen to highlight the following information graphic works:
street orientation in cities around the world;
occupations and earnings across the United States;
birth control methods;
car output of Tesla against North America's most productive factories.
---