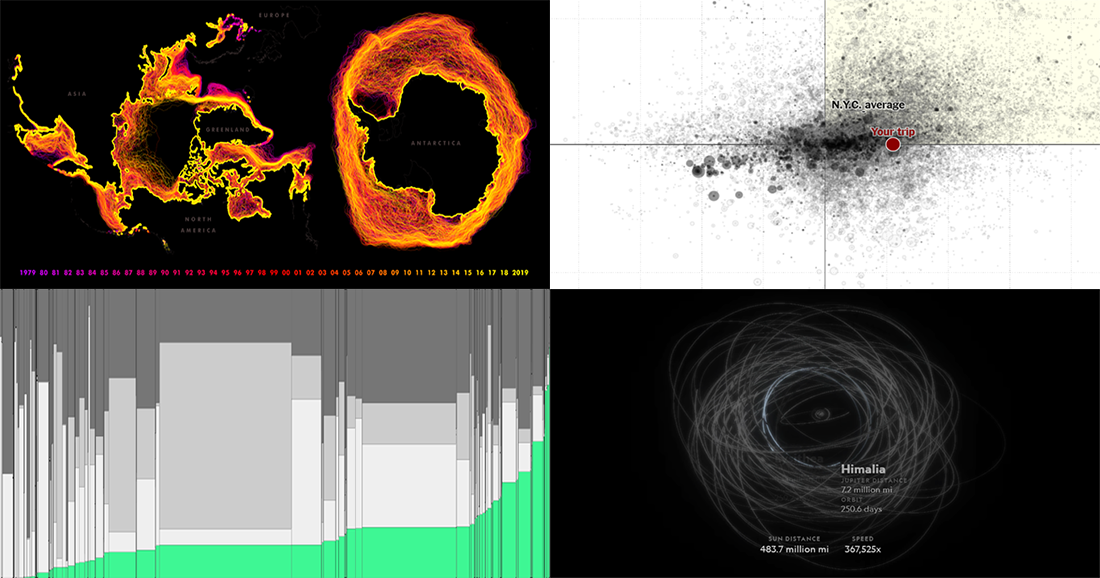 Many excellent visualizations have appeared this week around the web. Now it's time to choose four and briefly introduce them to you — that's what we've been doing for years within the framework of the special DataViz Weekly feature on our blog.
Alright. We invite you to take a look at the following new cool projects as another set of great data visualization examples, for your inspiration and fun:
Variability in the New York subway commutes — The Upshot
Moons in our solar system — National Geographic
Energy consumption worldwide since 1980 — Bloomberg
Sea ice extents since 1979 — ArcGIS Blog
---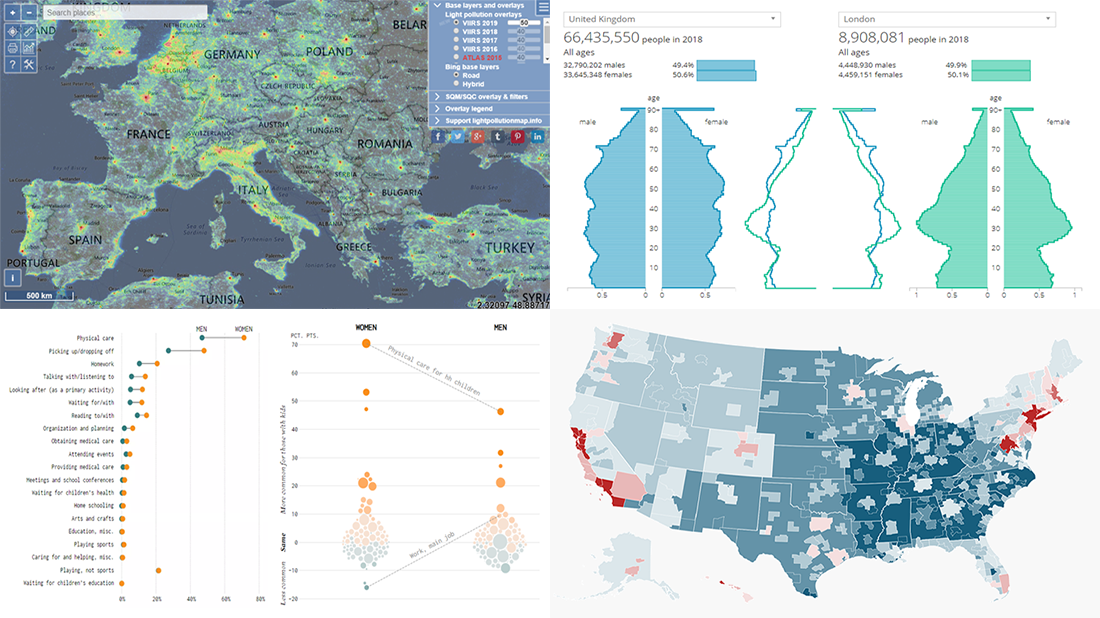 Here are some of the cool, engaging data visualizations we've come across these days. They are great examples of how awesome and informative charts can be when they truly let data talk.
The visualizations we are featuring this time on DataViz Weekly are as follows:
Differences between men and women's everyday life with kids — FlowingData
50 maps showing various aspects of the American life — Business Insider
New population estimates for the United Kingdom — ONS
Light pollution around the globe — Jurij Stare
---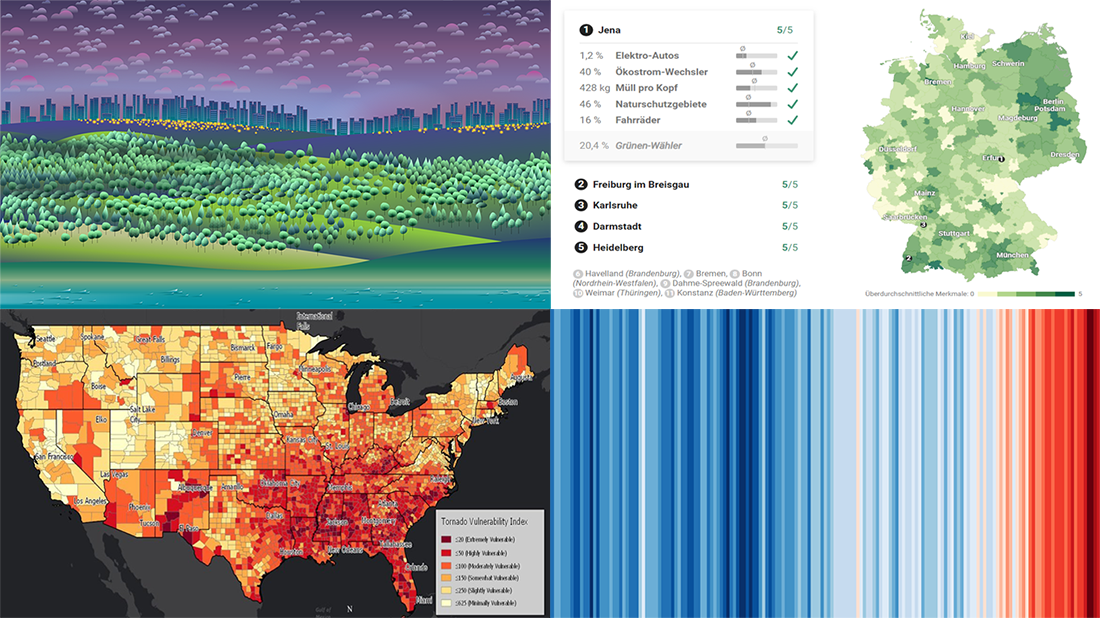 We've picked another four awesome projects as new data graphic examples to showcase in DataViz Weekly this Friday. Check them out right away as they are definitely worth it:
Suicides in the Netherlands
Where Germany is really green
Temperature change worldwide
Vulnerability to tornadoes across the United States of America
---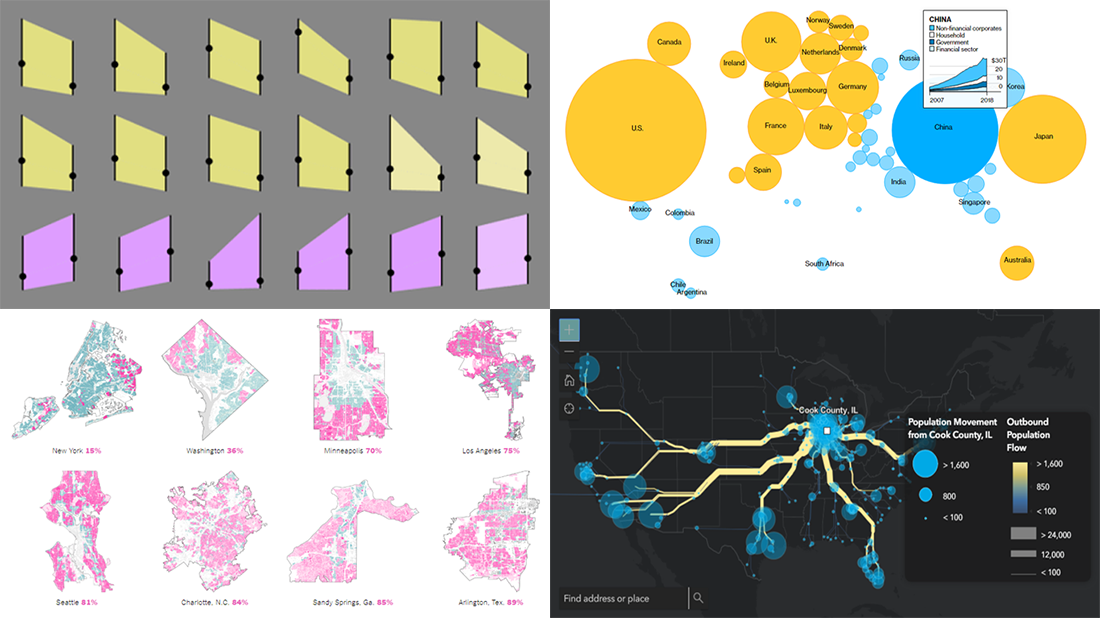 Generally, data becomes much easier to make sense of when it is visualized in diagrams, maps, or other forms of graphics. DataViz Weekly shows you examples of how this is true in reality. Today, we've put together another four of the latest data visualization projects discovered by our team around the internet. They bring insight into the following topics:
Single-family home zoning in the United States of America
Time use of parents vs people without kids
Debt of emerging market countries
U.S. internal migration
---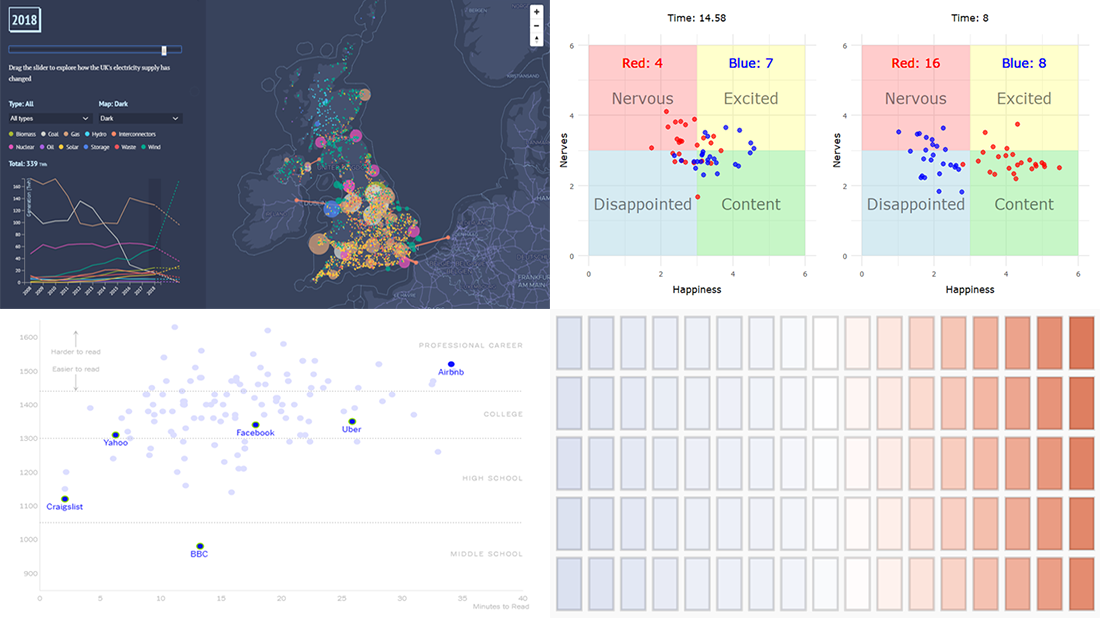 Are you ready to check out new compelling visualization projects? DataViz Weekly is awaiting your attention! Today in the focus:
Privacy policies of 150 popular websites and apps
Transformation of electricity supply in the United Kingdom
Oceans in the changing climate
Emotions during a basketball game
---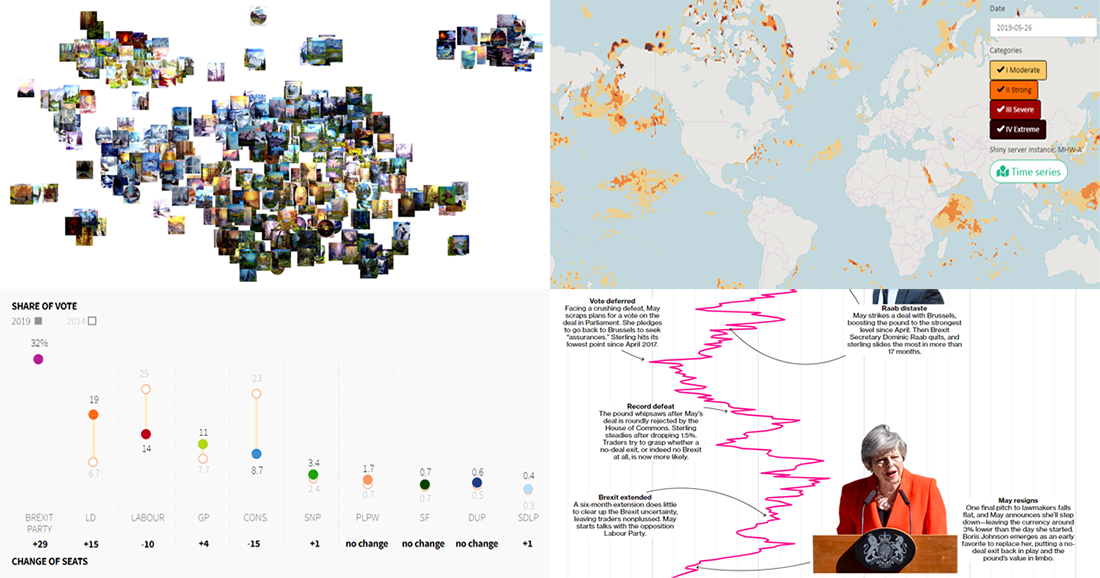 Take a look at four of the most interesting data visualization projects and stories we have found around the web during the last few days. Here's what we feature today in DataViz Weekly:
GBP rate change in the context of Brexit turns
European Parliament election in the United Kingdom
Marine Heatwave Tracker
Evolution of Bob Ross's famous phrases over all 403 episodes of The Joy of Painting
---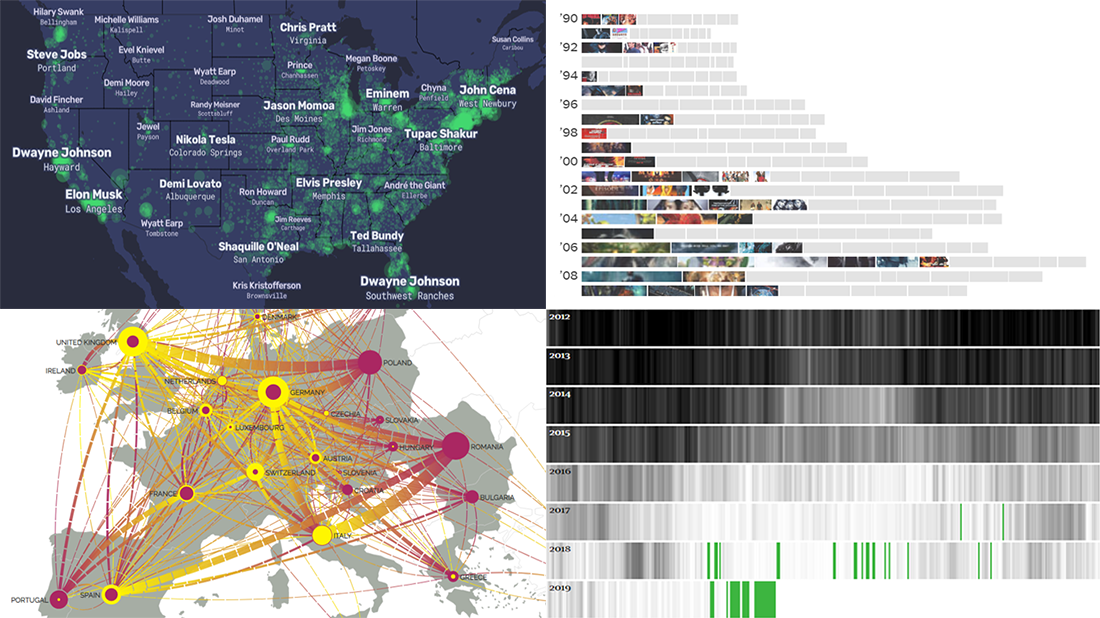 Data visualization is a powerful way to facilitate making sense of numbers. It can provide an insightful look at data and display trends and patterns at a glance for a more efficient and quicker analysis. Check out new data chart examples from around the web that nicely show how it works in practice.
Today on DataViz Weekly:
How Britain is phasing out coal-powered energy
U.S. cities' most Wikipedia'ed residents
Rise of summer movie sequels
European migration flow map
---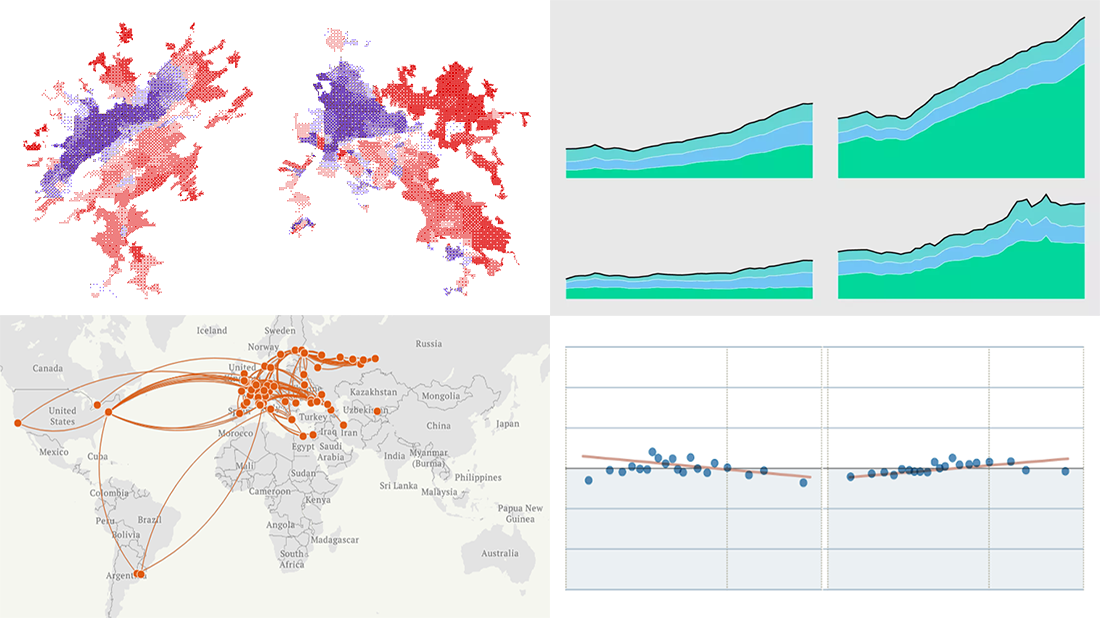 Each Friday, we meet you with four of the most interesting data-based projects we've just come across. Here's what recently created visualizations we are glad to tell you about this time on DataViz Weekly:
Why Workers Without College Degrees Are Fleeing Big Cities — The New York Times
Where Democrats And Republicans Live In Your City — FiveThirtyEight
Cost of College — FlowingData
The Romanovs' Twilight — TASS
---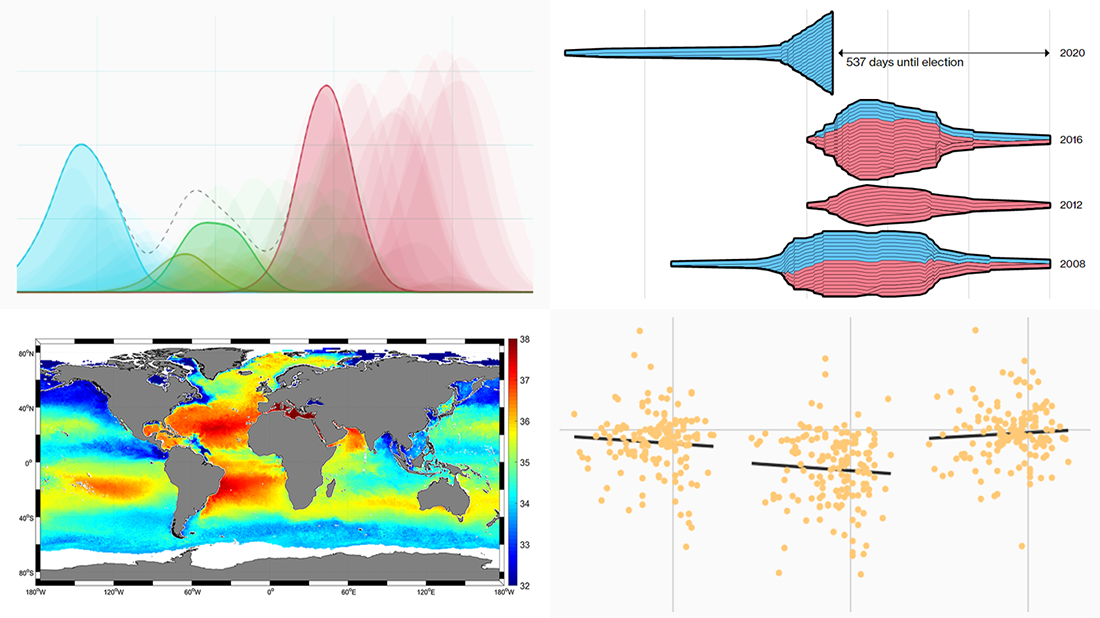 New DataViz Weekly is here, highlighting some of the new cool graphics visualizations we found around the web just recently:
Finding a link between undocumented immigration and crime in the United States
Competition in the U.S. presidential elections since 1980
MLB pitchers' pitch distribution
Sea-surface salinity
---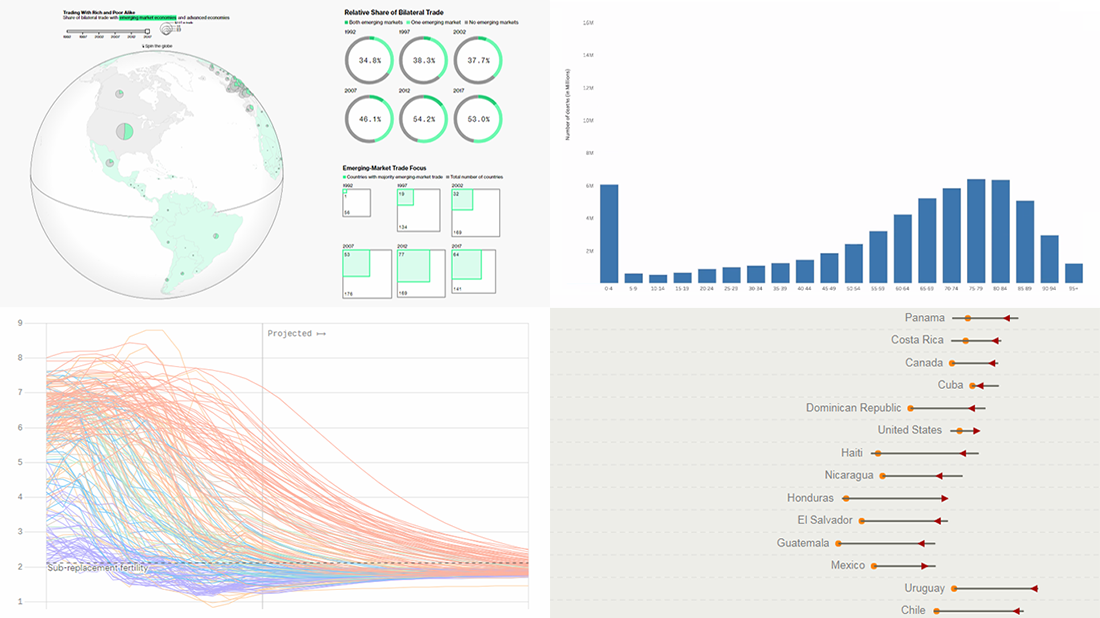 Take a look at another set of compelling data visualization examples we have come across these days, in DataViz Weekly on the AnyChart blog:
Rise of developing countries in global trade
Birth rates
Growing similarity of diets
Child mortality
---