July 23rd, 2021 by AnyChart Team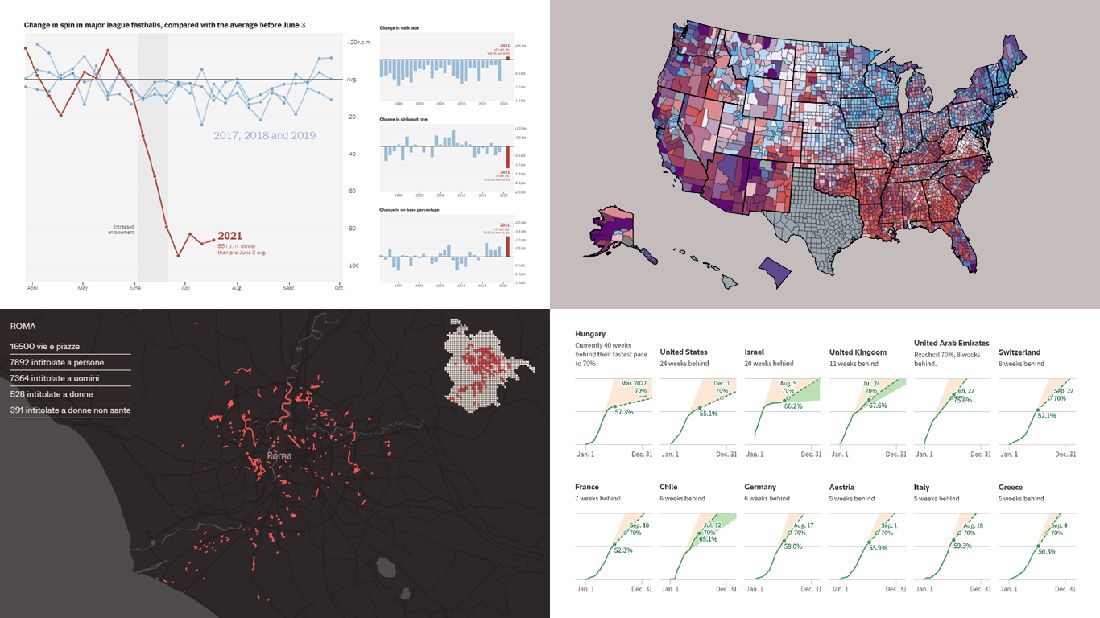 Look at some of the most interesting data visualizations we have come across out there over the last few days! The following projects are deservedly featured in DataViz Weekly this time:
Falling spin rates in American baseball after a crackdown on sticky substances — The Upshot
Gender diversity in Italian street names — EDJNet
Shifts in the COVID-19 vaccination pace worldwide since January 2021 — Reuters
Vaccination equity in America — CDC
---
July 16th, 2021 by AnyChart Team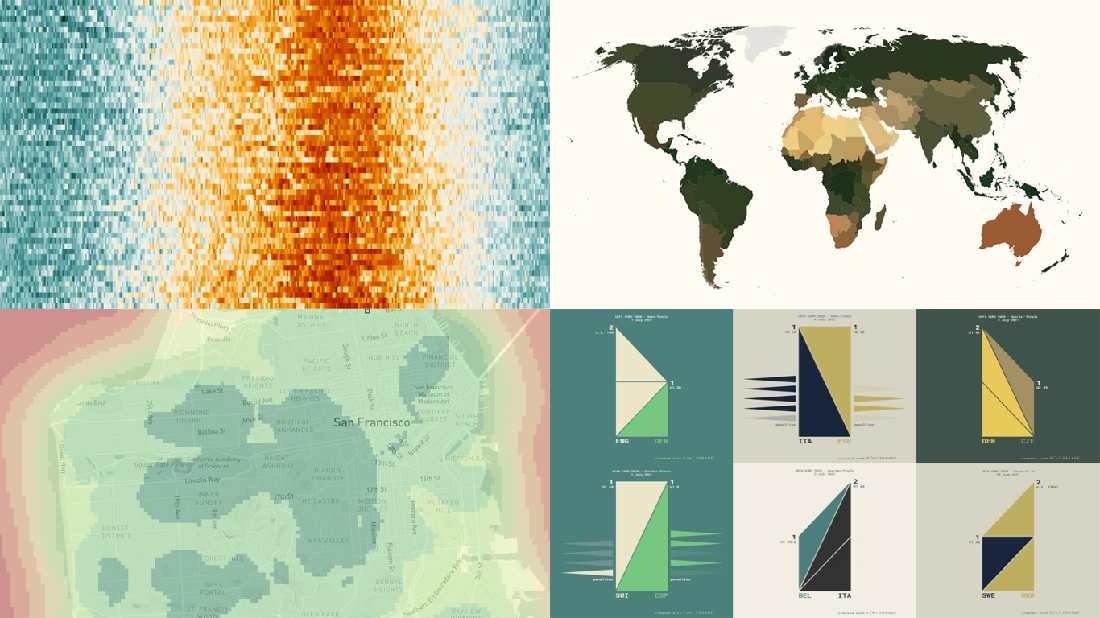 Are you ready for another set of amazing data graphics? It's Friday, so DataViz Weekly is here to let you know about four great new visualization works worth checking out right now!
15-minute cities in Germany and worldwide — Chris and Nils from Gießen
Daily temperatures in Tokyo since 1964 (and what to expect at the Olympics) — Reuters
Average colors of countries, as well as U.S. states and counties — Erin Davis
Euro 2020 and Copa América 2021 playoffs visualized in triangles — Krisztina Szűcs
---
July 9th, 2021 by AnyChart Team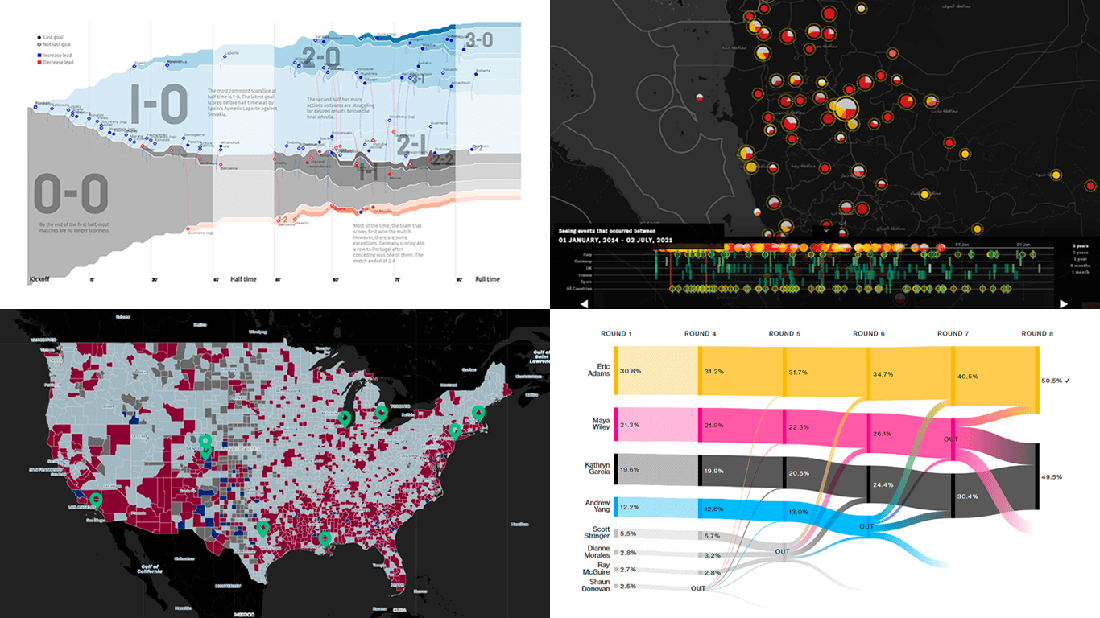 Graphical representation makes data easier to understand and interpret. The DataViz Weekly series on our blog aims to highlight the most vivid examples of clever data visualization in action so you can better realize how it can work or simply have fun exploring new stunning charts and maps.
Today on DataViz Weekly:
European arms in the bombing of Yemen — Forensic Architecture, Yemeni Archive, ECCHR, and Bellingcat
All scorelines and goals from the UEFA Euro 2020 group stage — Krist Wongsuphasawat
Racial residential segregation in the United States — The Othering and Belonging Institute at UC Berkeley
NYC Democratic mayoral primary vote results — Bloomberg
---
July 2nd, 2021 by AnyChart Team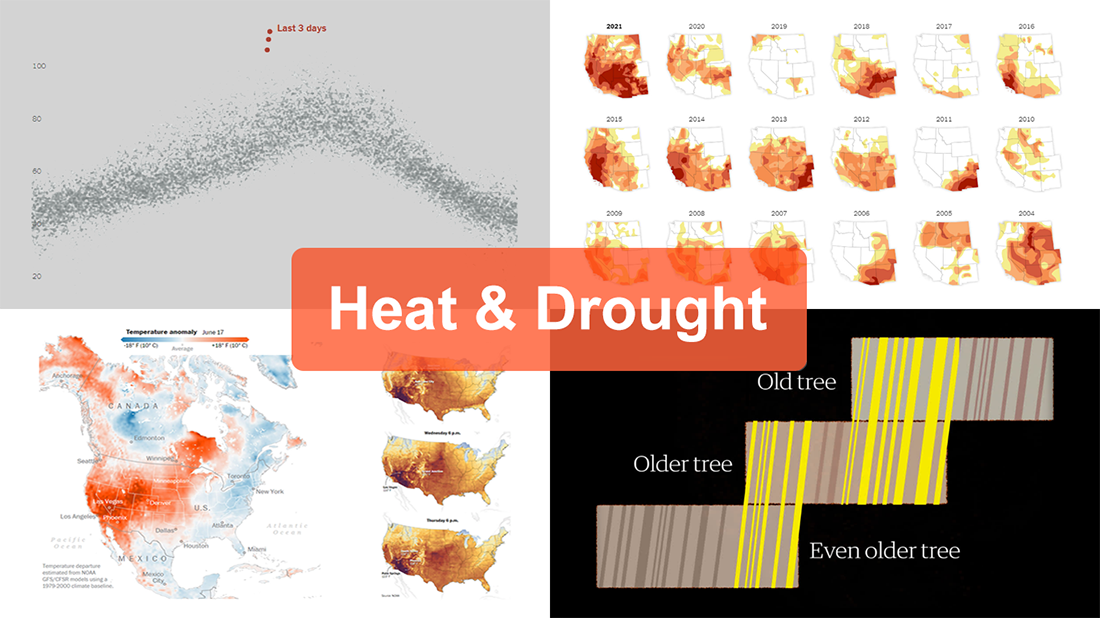 The extreme heat that has gripped the Western United States this summer basically aligns with scientists' expectations for climate change. On top of that, as all the more scorchers are likely coming up, the year 2021 may well be remembered as a relatively cool one.
For this new edition of DataViz Weekly, we've curated a set of recent visualizations shedding light on the essence and context of the record-breaking heat and drought in the U.S. West. Take a look!
Heat dome and temperature extremes in the West — The Washington Post
Heat in the Pacific Northwest since 1979 — The Upshot
Drought conditions in the West since 2000 — The New York Times
Southwestern droughts since 800 CE (as shown by tree tings) — The Guardian
---
June 25th, 2021 by AnyChart Team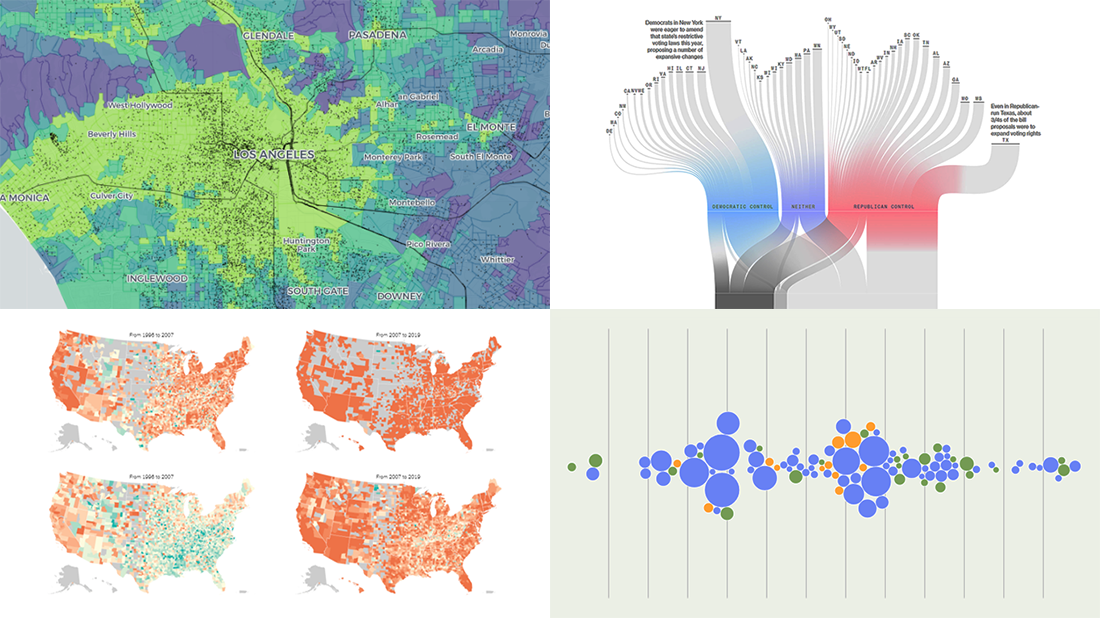 Join us to check out the most awesome data visualizations of all we have come across this week! To begin with, here is a full list of the projects featured today in DataViz Weekly:
Proposed and passed voting bills across the U.S. in 2021 — Bloomberg
Change in birth rates among American women — NYT
Billing practices at the top 100 U.S. hospitals — Axios
Transit equity in major U.S. cities — TransitCenter
---
June 18th, 2021 by AnyChart Team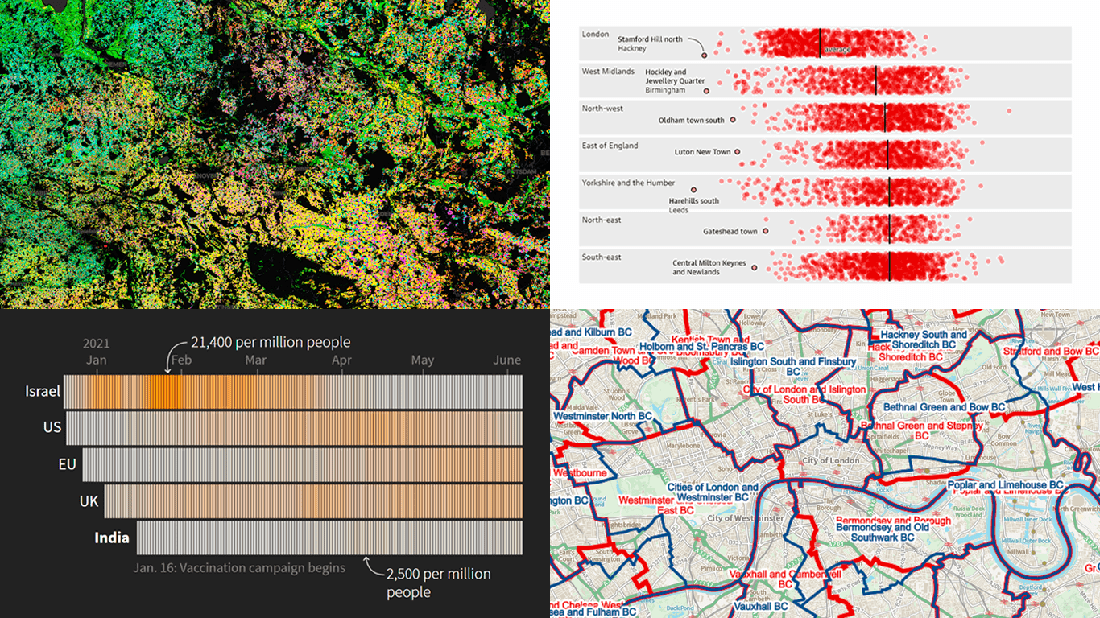 Hardly a day goes by without some cool new charts and maps being built and published, helping to make sense of various data. Every Friday, we tell you about those that have gripped our attention the most during the past few days, within the framework of DataViz Weekly. Come see our new selection!
Proposed new parliamentary constituency boundaries for England — BCE
Reasons behind the delay of lockdown reopening in England — The Guardian
COVID-19 vaccination campaign in India — Reuters
Agricultural land use in Germany by crop type — Earth Observation Lab at HU Berlin, ThEO, and ZALF
---
June 11th, 2021 by AnyChart Team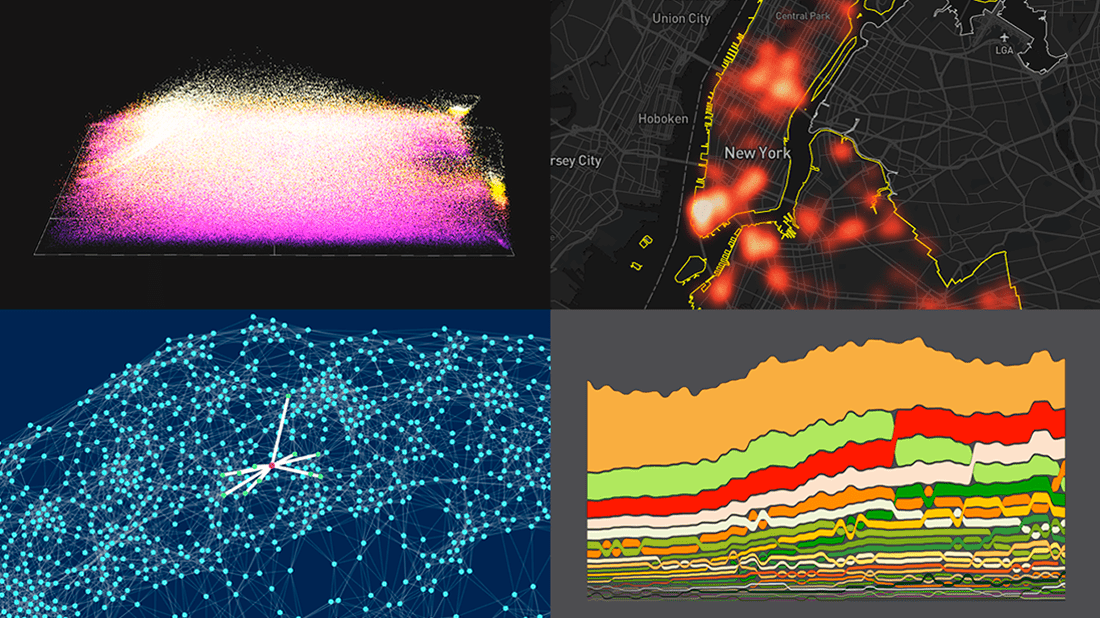 DataViz Weekly is here with a new dose of fascinating data graphics for visualization addicts! Check out some of the most interesting recent projects right away!
Changes in the American diet over the past 40 years — Nathan Yau
Surveillance cameras in New York City — Amnesty International
Cities with similar street networks — Andrei Kashcha
A million soccer passes visualized at once — Karim Douïeb
---
June 4th, 2021 by AnyChart Team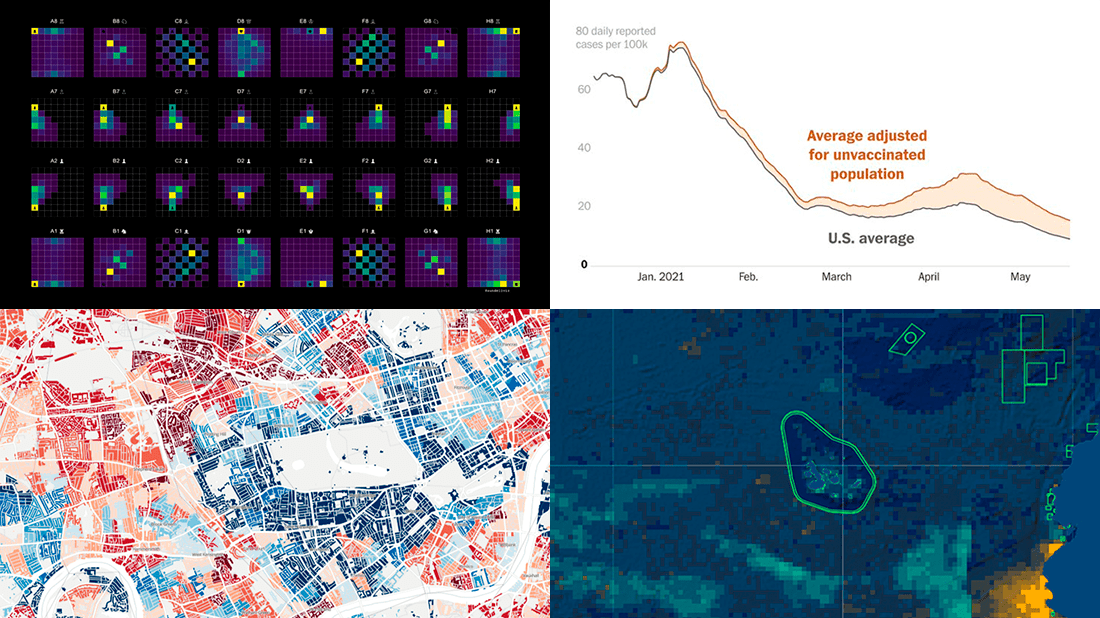 Each Friday, we pick the most compelling new data visualizations and show them in a quick overview. Take a look at our latest DataViz Weekly collection and feel the power of charts and maps!
COVID-19 rates for unvaccinated people in the U.S. — The Washington Post
Income deprivation within English local authorities — ONS
Where chess pieces are usually captured — Anders Sundell
Global Fishing Watch Marine Manager — Global Fishing Watch
---
May 28th, 2021 by AnyChart Team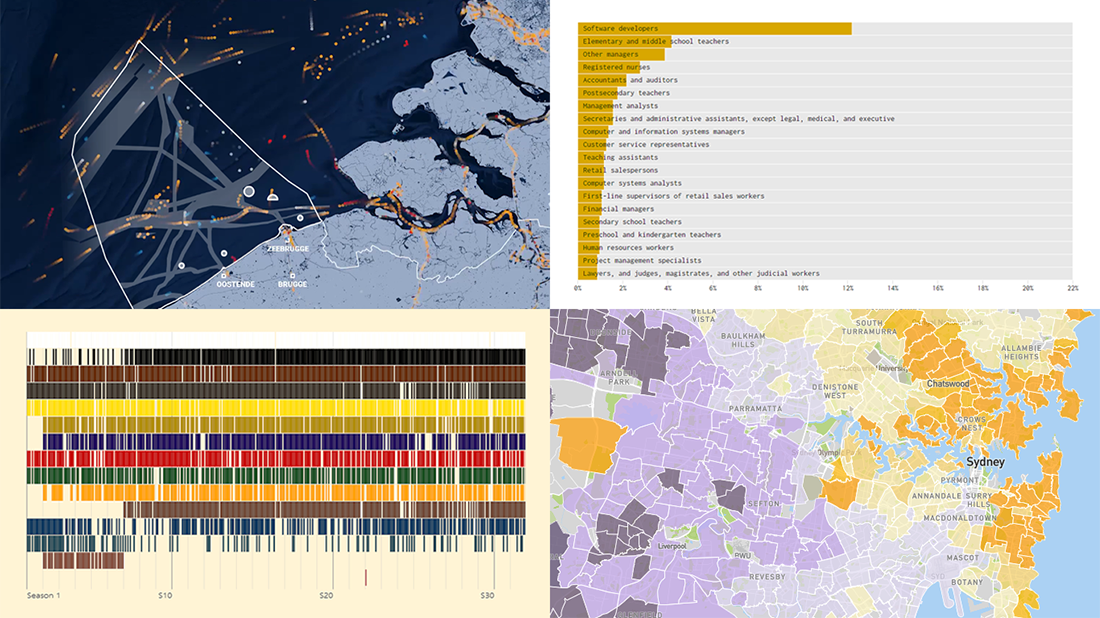 Hey guys, check out new awesome graphics! We have come across these works just about now and decided to highlight them today in DataViz Weekly as really cool data visualization examples. See them now for fun and inspiration!
Human activity in the Belgian part of the North Sea — De Tijd
Colors of Bob Ross's TV artwork — Connor Rothschild
Housing affordability in Australia — Aussie
Jobs that tend to marry together — Nathan Yau
---
May 21st, 2021 by AnyChart Team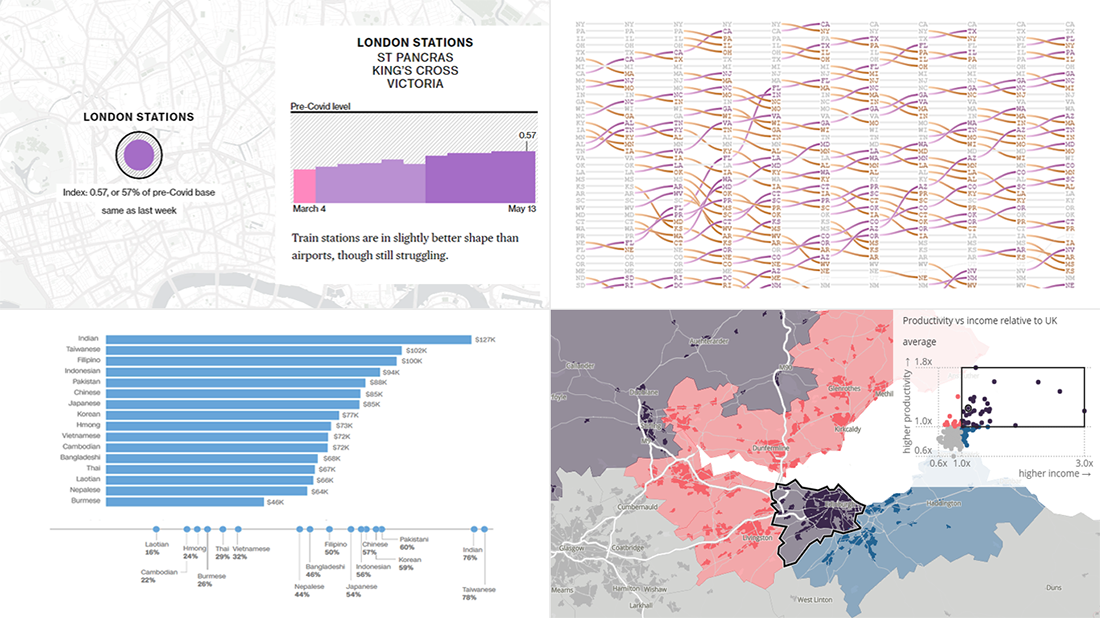 Not too long ago, visual communication skills were nice to have. But that has changed. Nowadays, the ability to visualize data in charts and maps is a must-have and not only for analysts. Stay tuned for DataViz Weekly to see the most interesting examples of smart graphics in action!
Join us today as we look at the following new data visualization projects worth checking out:
Historical shifts in U.S. state population rankings — The Washington Post
Diversity of Asian Americans — CNN
Regional differences in income and productivity across the U.K. — ONS
Pret A Manger sandwich sales as a proxy to measure pandemic recovery — Bloomberg
---