January 14th, 2022 by AnyChart Team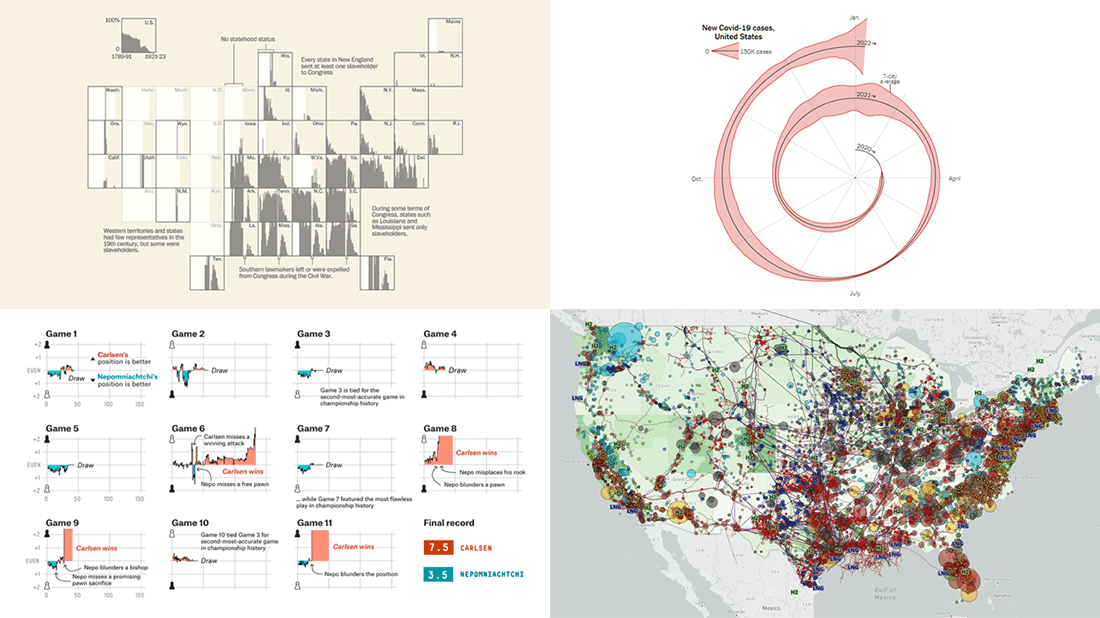 Thanks to your highly positive feedback, we are fully determined to continue DataViz Weekly in the year 2022, a series where the most stunning new data visualization projects are showcased and talked about. So, are you ready for it? Look what made us excited just recently and read on to learn more:
FIDE World Chess Championship 2021 — FiveThirtyEight
Slaveholders in the U.S. Congress — The Washington Post
New COVID-19 cases in the United States, spiralized — The New York Times Opinion Section
Energy, environment, policy, and society across the U.S. — Rice University's Baker Institute for Public Policy
---
January 7th, 2022 by AnyChart Team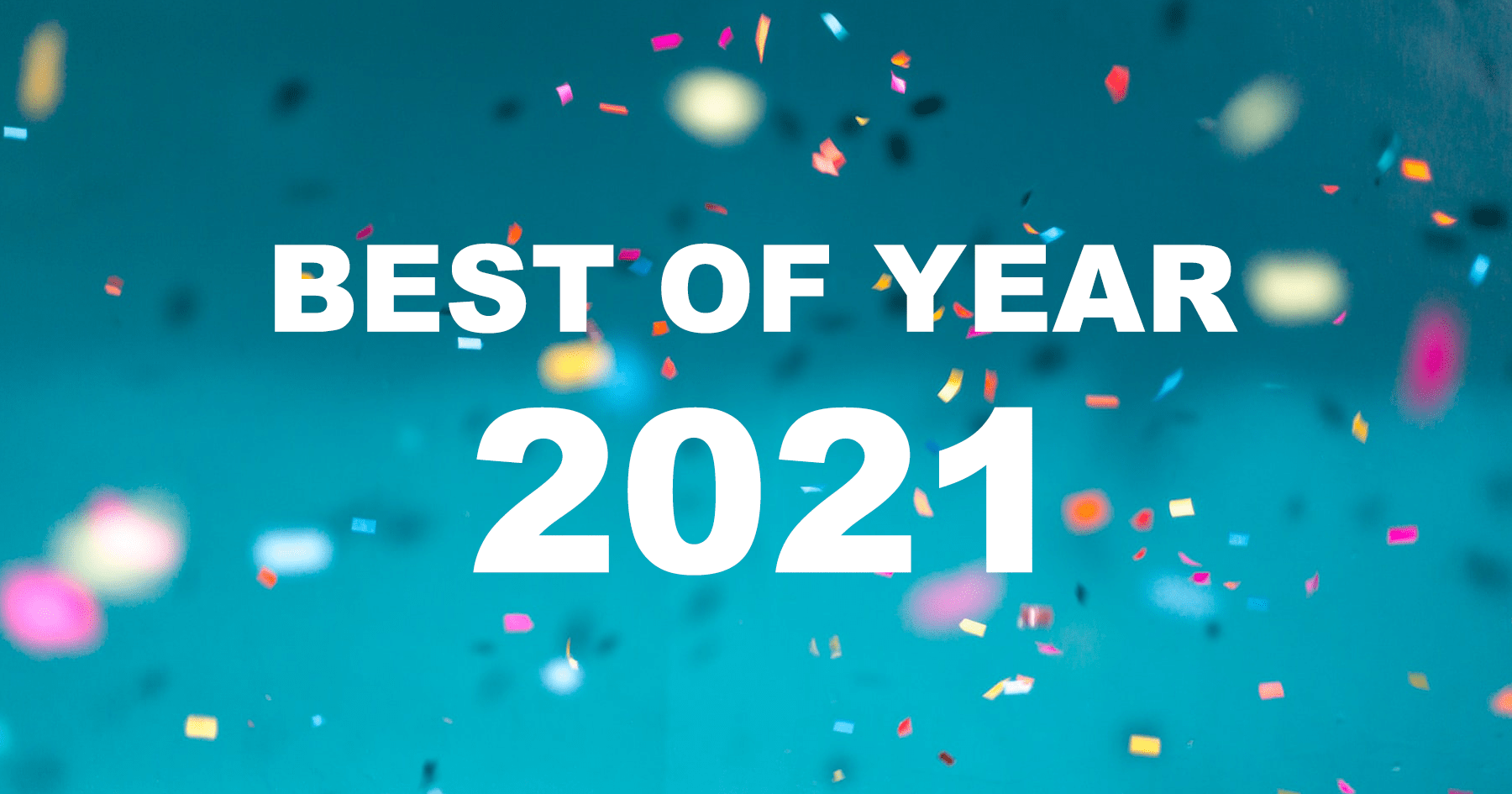 In 2021, there were 53 Fridays. It means a total of 53 DataViz Weekly roundups came out during the year, putting a spotlight on some of the most interesting charts, maps, and infographics from around the web. Today, on the first Friday of 2022, we invite you to remember — or get to know in case you missed something — the very best data visualizations of 2021.
As in previous "best of year" collections (2020, 2019, 2018), we decided not to reinvent the wheel but to take a quick look at renowned experts' picks. Now, check out four lists of the best projects — from Nathan Yau, Kenneth Field, Terence Shin, and DataJournalism.com.
---
December 31st, 2021 by AnyChart Team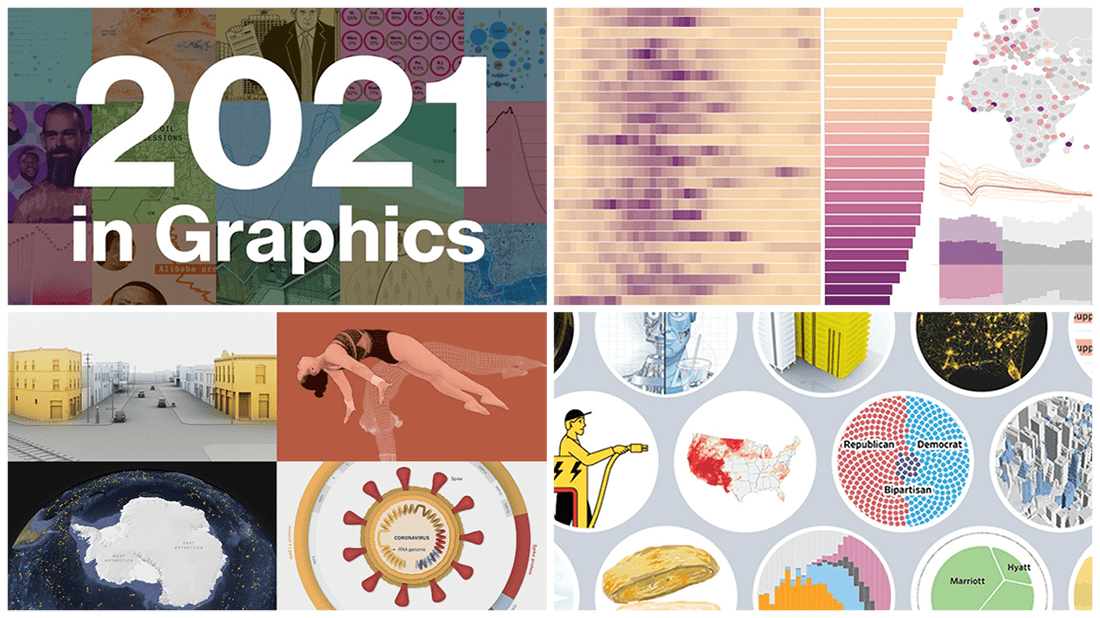 As we get ready to ring in the New Year 2022, it's a great time to take a look back at 2021! Over the last 365 days, various experts in data graphics and visual storytelling have done their best to help us better understand what was going on around us with the help of static and interactive charts, maps, and infographics. Now we want to let you recall the most important matters that shaped the passing year from the lens of data visualization.
Here, in the final DataViz Weekly issue of 2021, we bring you a roundup of the year-in-review-in-graphics recaps on Bloomberg, The Wall Street Journal, The New York Times, and POLITICO.
Check it out, see the awesome visuals, and enjoy the start of a very happy, healthy, and prosperous new year that we wish you all to have in 2022! 😎🎉
---
December 24th, 2021 by AnyChart Team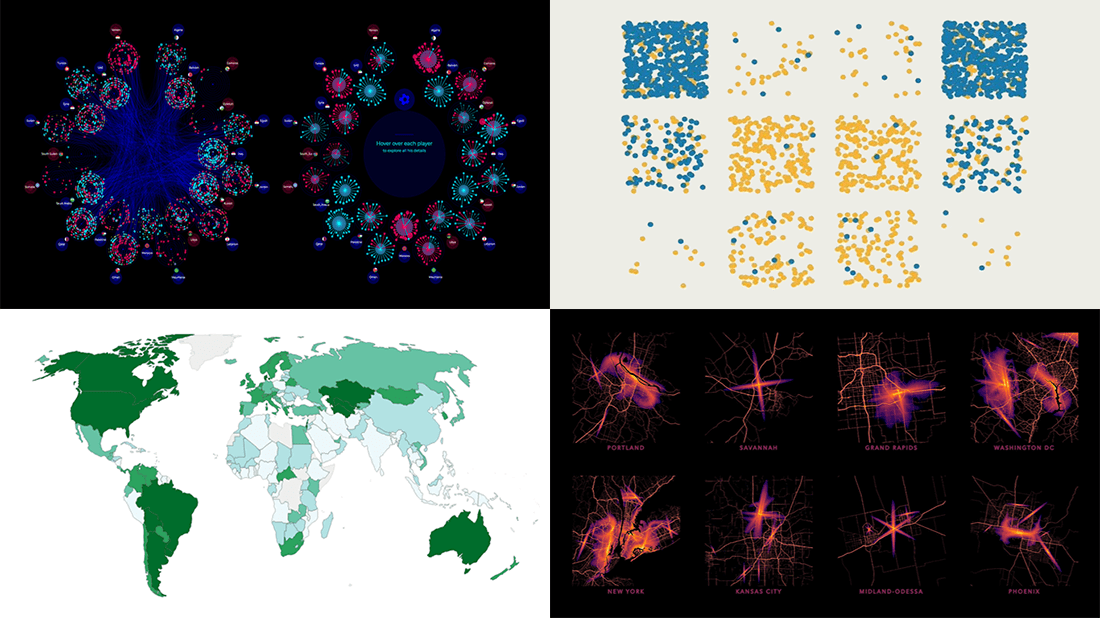 With so many options, we have finally selected the four most compelling of all new data visualization projects seen over the last few days and can't wait to tell you about them. Welcome to DataViz Weekly on the second last Friday of the year! But before we get down to business: Merry Christmas to all who celebrate!
Arab soccer national teams and players — Al Jazeera
America's noisiest and brightest cities — Esri
Social distancing in honey bee hives — The Economist
Global food system in detail — Our World in Data
---
December 17th, 2021 by AnyChart Team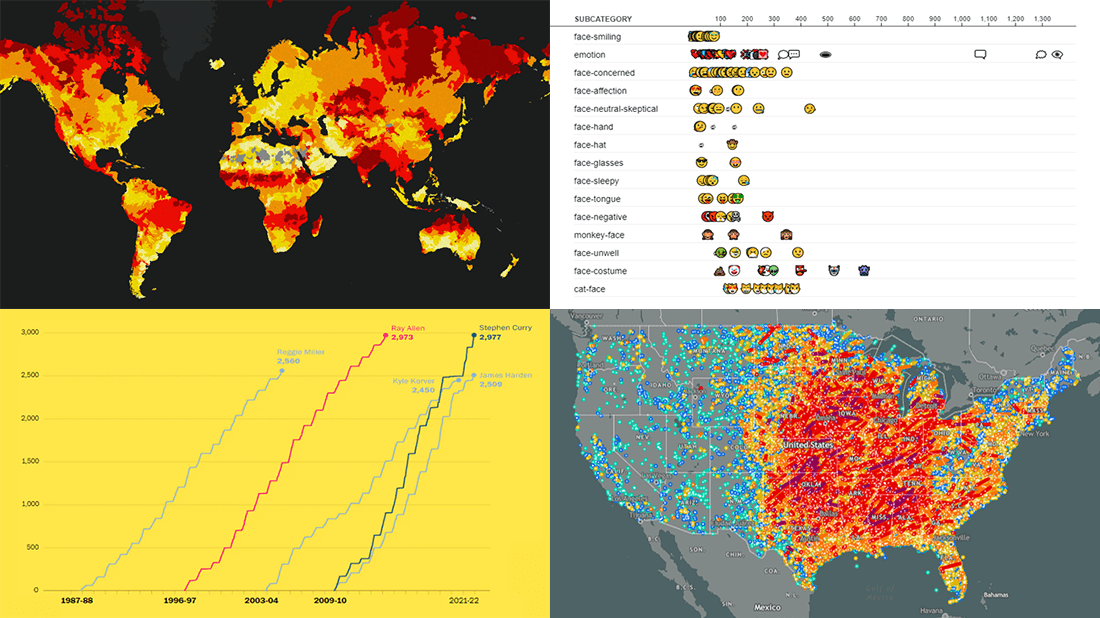 Committed to bringing you the most robust charting solutions, we also continue to curate weekly roundups highlighting projects that greatly implement data visualization best practices, for your inspiration. A new one is here! Look what we've got for you to check out this time on DataViz Weekly:
Tornadoes since the late 19th century — Tornado Archive
Emoji use frequency in 2021 — Unicode
Links between climate change and violent conflicts — Crisis Group
Curry's rise to the NBA's three-point king — The Washington Post
---
December 10th, 2021 by AnyChart Team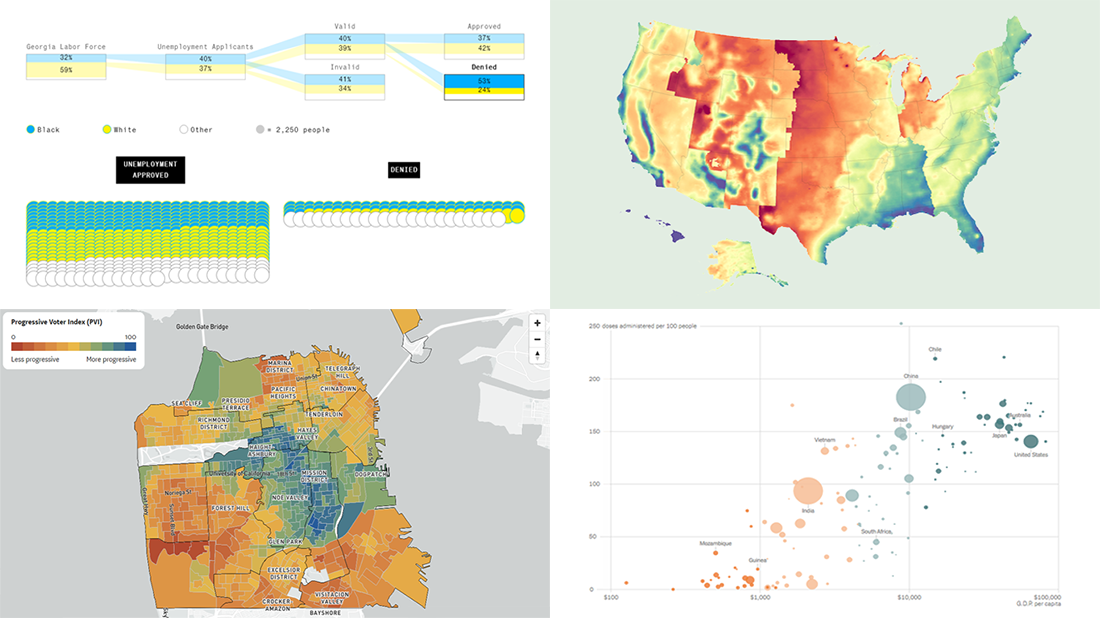 If you love good data visualizations as much as we do, come join us in reviewing some of the most interesting ones we've recently come across, in the new issue of DataViz Weekly!
Global inequality in COVID-19 vaccine supply and demand — The New York Times
U.S. heat data maps — Erin Davis
Racial disparity in pandemic unemployment benefits in Georgia — Bloomberg
Political progressiveness across San Francisco's neighborhoods — The San Francisco Chronicle
---
December 3rd, 2021 by AnyChart Team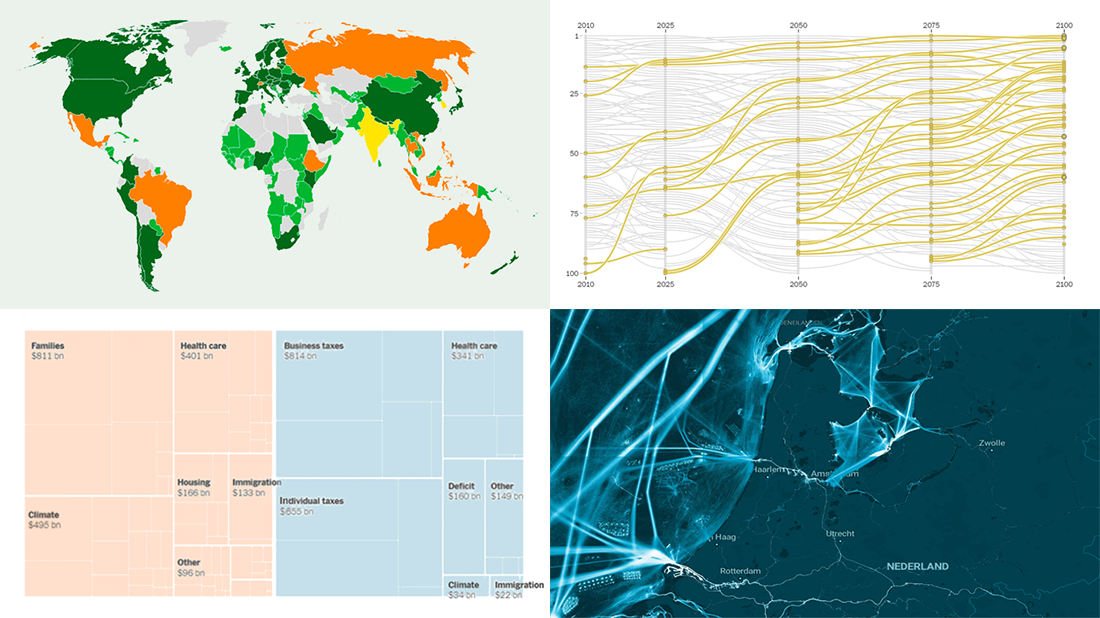 For this DataViz Weekly, we have curated a collection of wonderful new visual storytelling examples from around the web. Take a look through and check them out!
Rapid urban growth in Africa — The Washington Post
Maritime activities in the North Sea — TU Delft
All provisions of the Build Back Better Act — The Upshot
Climate pledges after COP26 — The Guardian
---
November 26th, 2021 by AnyChart Team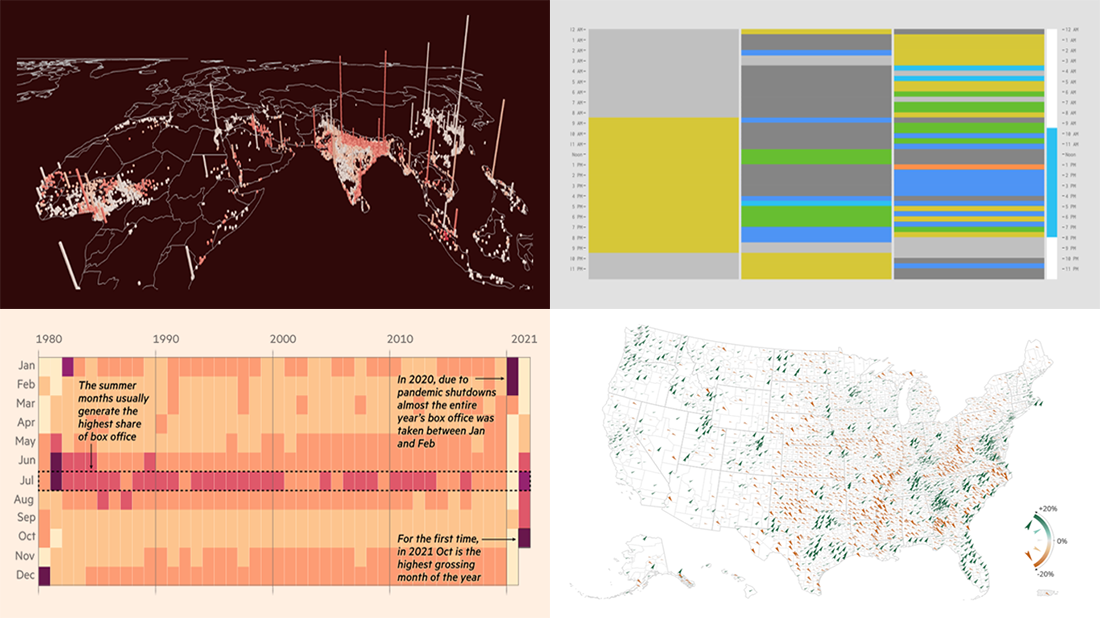 It is much easier to analyze large amounts of data when they are represented using the right visualization techniques. We are ready to show you another four vivid examples! Today on DataViz Weekly:
Population and racial changes in the United States — Pitch Interactive & Census 2020 Data Co-op
Box office for cinema-exclusive and simultaneous release movies — FT
Global extreme urban heat exposure — AP News
Most common daily time uses — Nathan Yau
---
November 19th, 2021 by AnyChart Team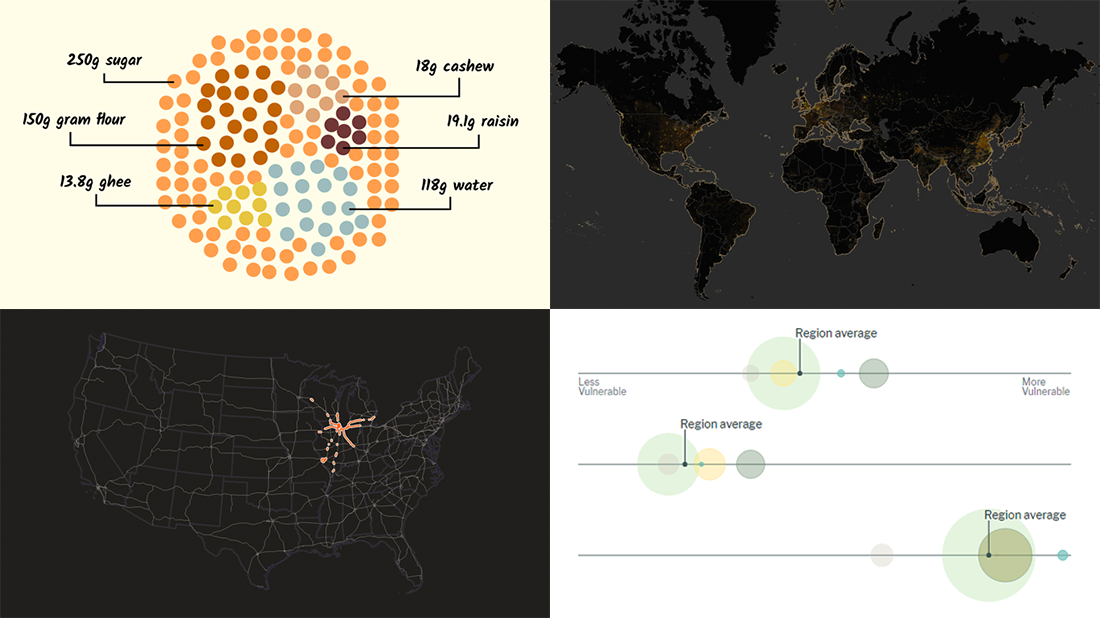 It's Friday and time for a fresh dose of stunning data visualizations! In this DataViz Weekly roundup, we are going to show you four new projects worth checking out.
Maternal health risks across the United States — Surgo Ventures
Impact of human sewage on coastal ecosystems — UCSB & Columbia University
Deepavali snacks and sweets — Kontinentalist
U.S. highway signs indicating destination cities — Matt Dzugan on Observable
---
November 12th, 2021 by AnyChart Team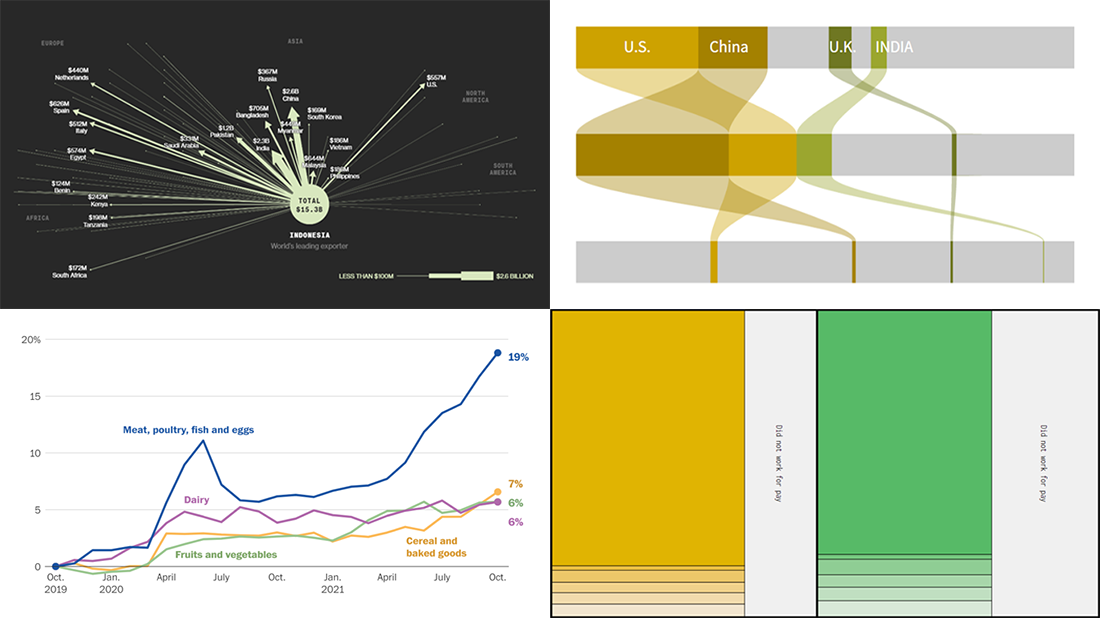 Hi everyone! DataViz Weekly is here to introduce you to some awesome new data visualizations that we have recently found out there and admired!
Inflation in America — The Washington Post
Carbon dioxide emissions by country — Reuters
Shifts in how much U.S. men and women work — Nathan Yau
Sustainable palm oil problem — Bloomberg Green
---