November 25th, 2022 by AnyChart Team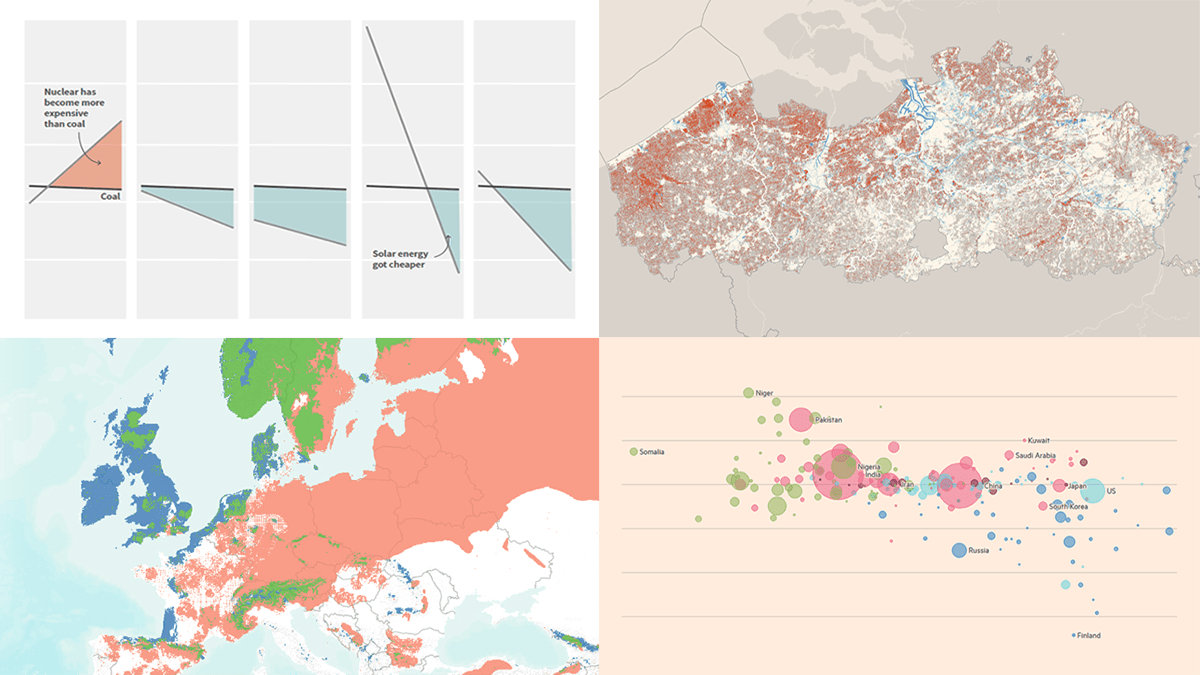 Against the backdrop of the United Nations Climate Change Conference COP27, quite a few data visualizations on climate and environmental issues came out. Earlier, we showed you the Emissions Map by the Climate Trace coalition. This time on DataViz Weekly, here are some more of the top recent ones we believe are worth looking at:
Uneven distribution of climate change effects across the world — FT
Future of European forests under different climate scenarios — Appsilon
Rise of clean energy — Reuters
Endangered Flemish agricultural land under the seventh manure action plan — De Tijd
---
November 18th, 2022 by AnyChart Team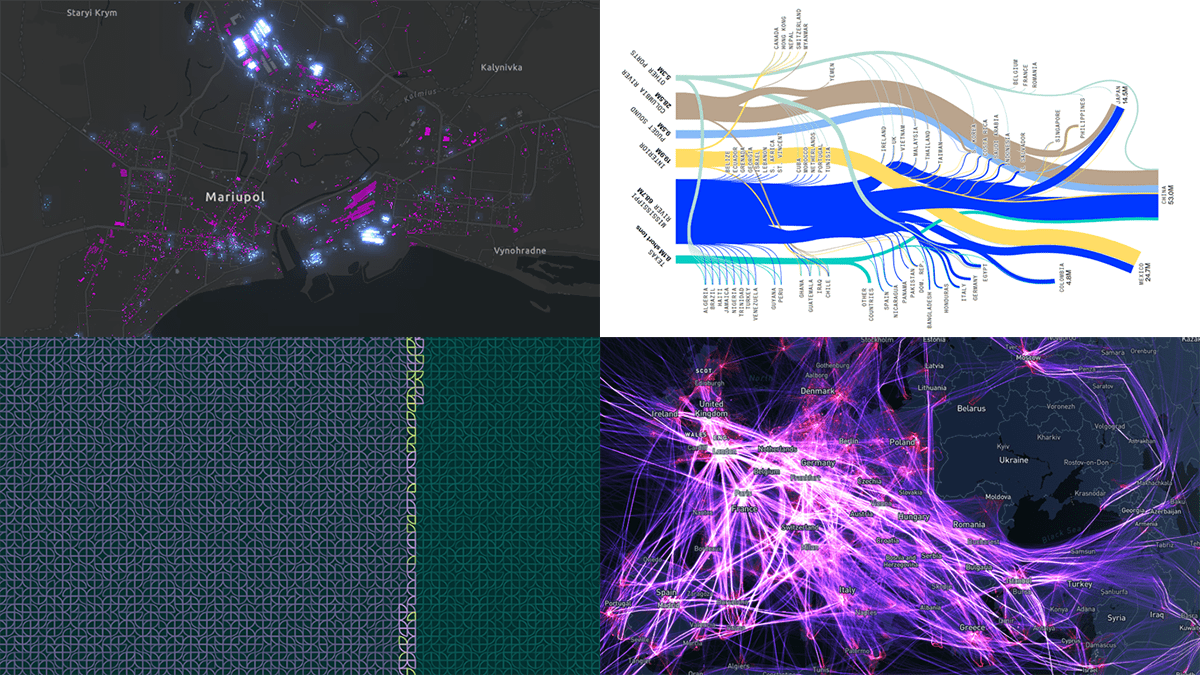 It's Friday, which means it's time for DataViz Weekly to shine and illuminate the best we've recently seen in data visualization! Meet the following projects and check them out!
Your place among the 8-billion population — The Washington Post
Destruction of Mariupol in a time-lapse record — Conflict Observatory
U.S. exports through the Mississippi River — Bloomberg Green
Global air traffic on a single day — Carlos Bergillos
---
November 11th, 2022 by AnyChart Team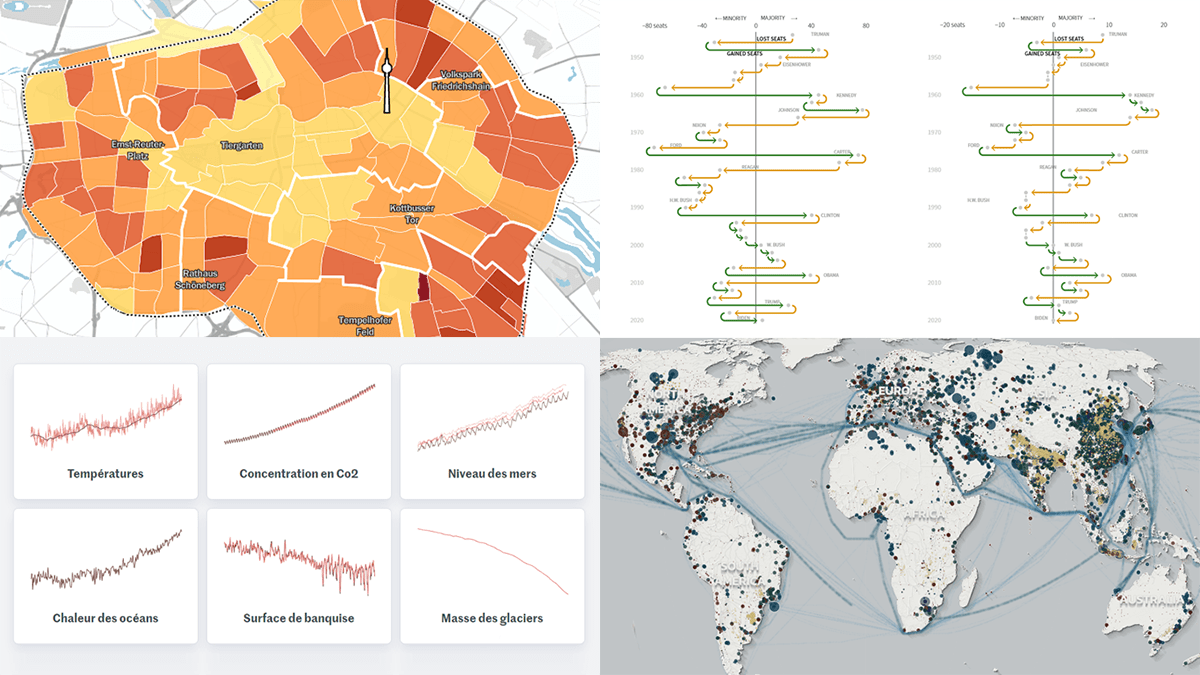 Join us as we look at some of the most interesting data charts and maps we have seen out there these days. Here's what visualizations are featured today on DataViz Weekly:
Presidential party results in midterm and other elections in the U.S. — Reuters
Six indicators of (worsening) climate change — Le Monde
Global greenhouse gas emissions in detailed inventory — Climate TRACE
Car parking spaces in Berlin — Tagesspiegel
---
November 4th, 2022 by AnyChart Team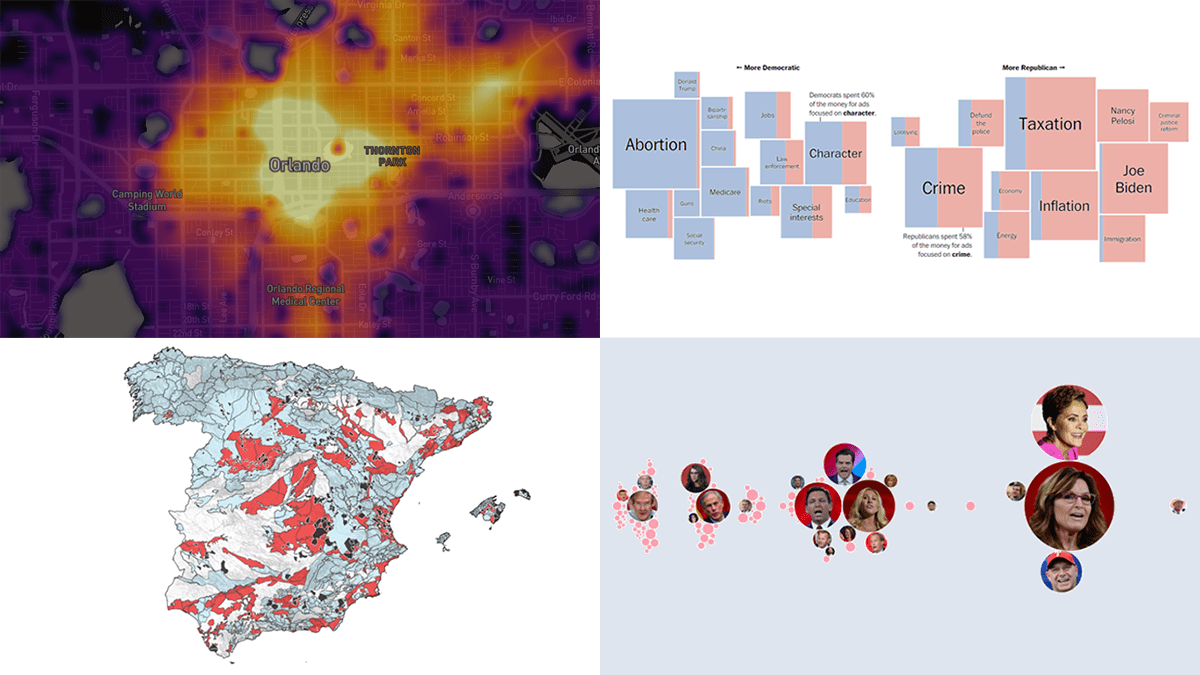 DataViz Weekly is where we curate the coolest data graphics published just about now around the web. Check out our new collection!
Top topics in political ads ahead of the U.S. midterms — The Washington Post
Republican candidates spreading election denial online — Bloomberg
Access to essential services in cities — Leonardo Nicoletti, Mikhail Sirenko, Trivik Verma
Tap water contamination across Spain — DATADISTA
---
October 28th, 2022 by AnyChart Team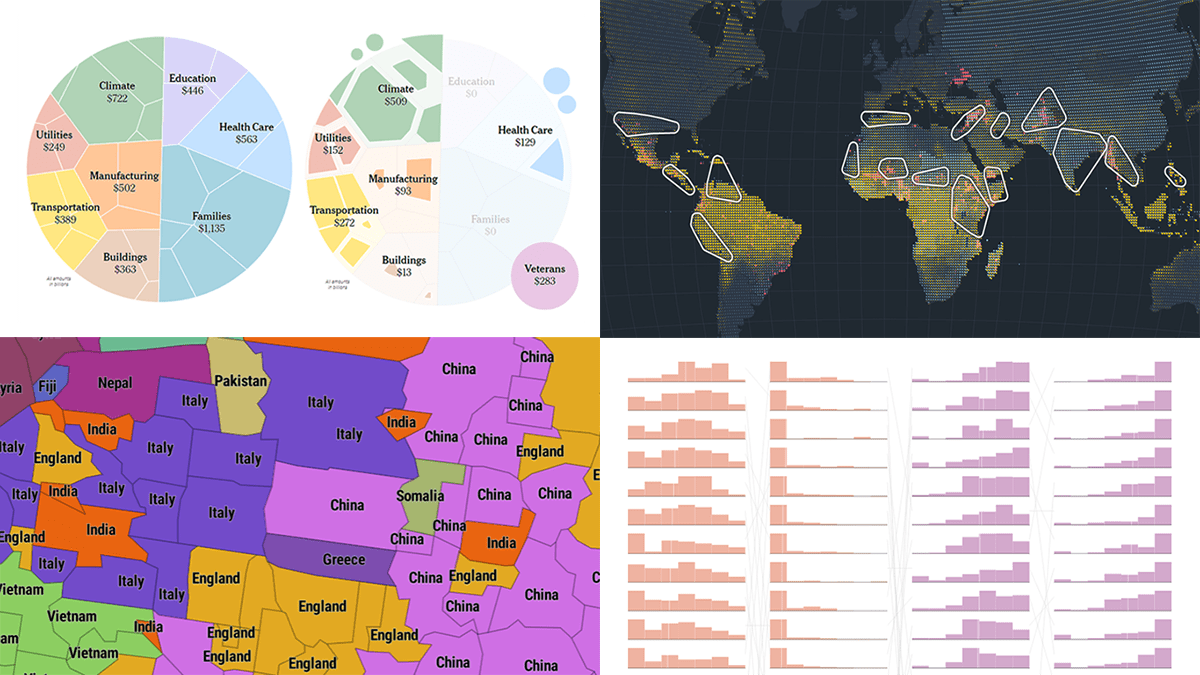 Interesting charts and maps come out all the time. DataViz Weekly is here to show you the best data visualizations we have seen most recently! Look at our newest picks!
Feelings at work by occupation — FlowingData
Impact of climate on conflicts — Auswärtiges Amt (German Foreign Office)
U.S. President Biden's legislative agenda — The Upshot
Australians' birth countries, languages, and religions — SBS News
---
October 21st, 2022 by AnyChart Team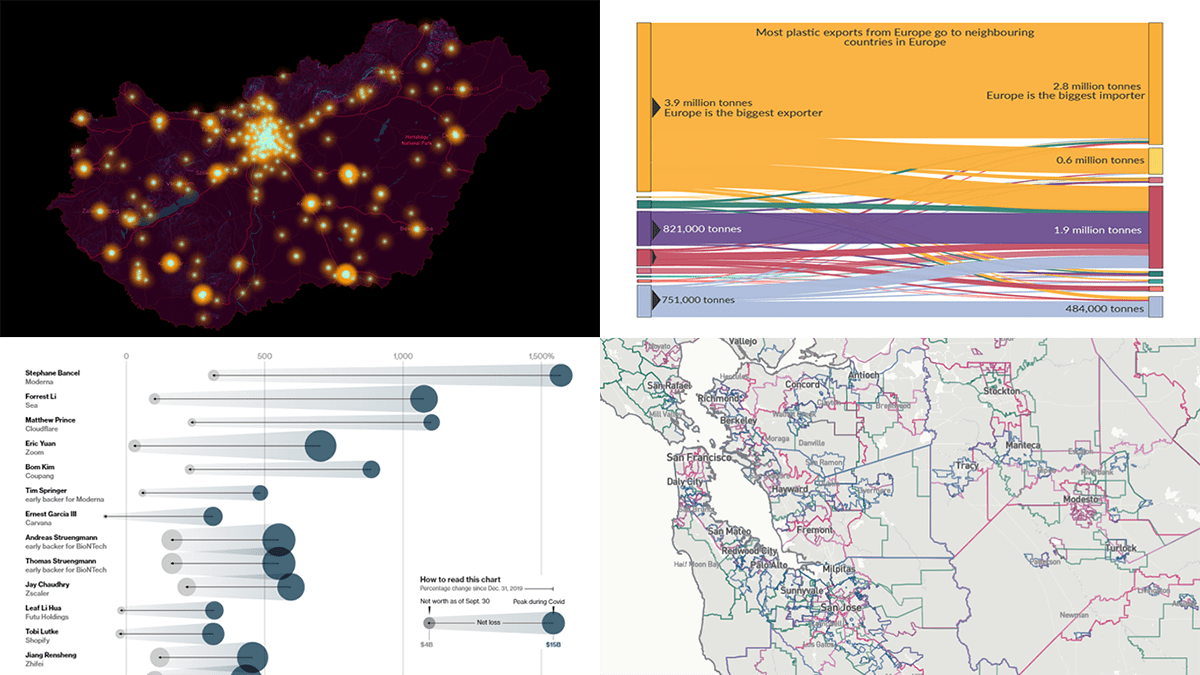 Continuing our regular series DataViz Weekly, we're glad to bring to your attention several stunning data visualization projects as great new examples of professional charting and mapping in action!
Global plastic waste trade — Our World in Data
Teacher protests in Hungary — ATLO
Rise and fall of COVID-19 billionaires — Bloomberg
All U.S. midterm elections where you live — USAFacts
---
October 14th, 2022 by AnyChart Team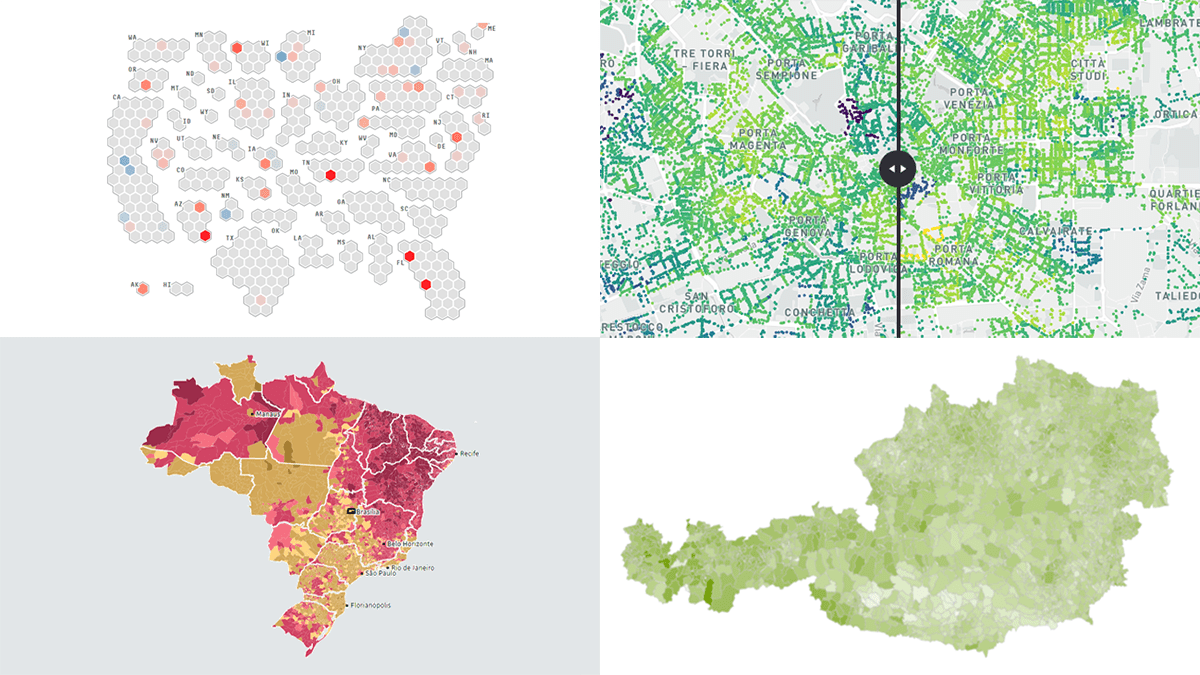 Some of the election races scheduled for this fall have already ended. Others are yet to be decided. And obviously now is a time for election maps to shine again! In this DataViz Weekly piece, we highlight a selection of maps visualizing data on the recent votes in Italy, Austria, and Brazil, as well as the upcoming midterm elections in the United States. Take a look.
---
September 30th, 2022 by AnyChart Team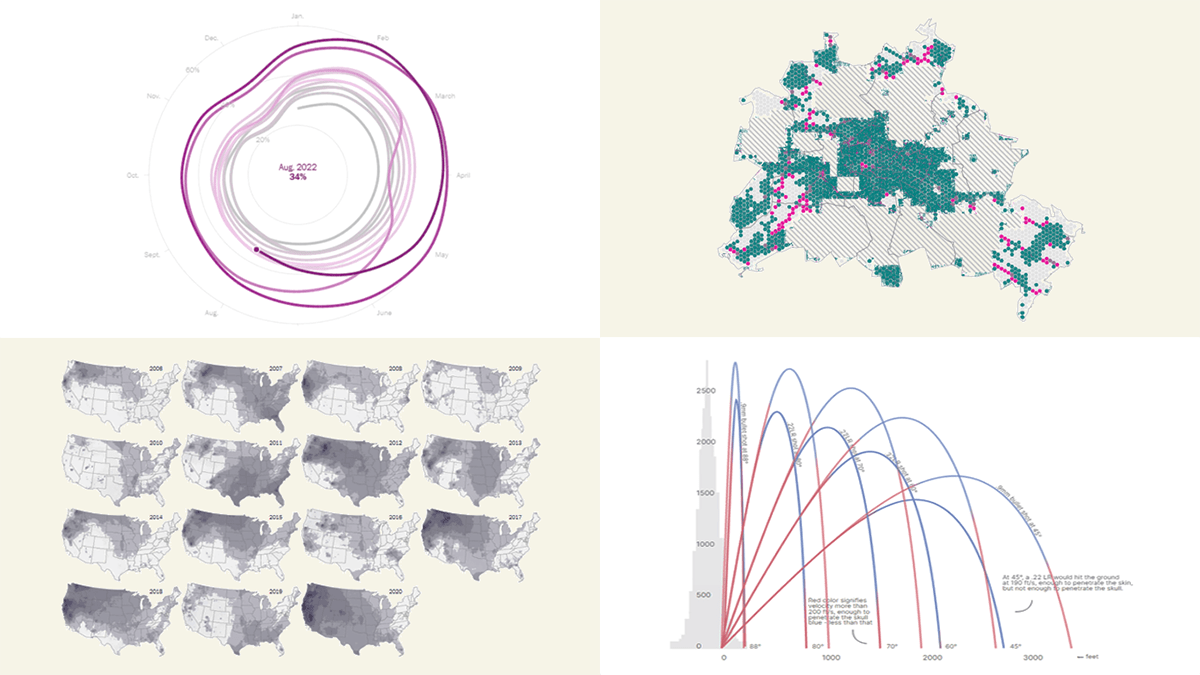 Effective data visualization makes it easy to discover trends and patterns hidden in the data. Now for several years, DataViz Weekly has been showing you real-world examples demonstrating how that can work in practice. The following projects are in the spotlight today:
U.S. housing market trends — The Washington Post
Wildfire smoke pollution across the U.S. — The New York Times
Physics of celebratory gunfire — 1POINT21 Interactive
Cars in Berlin — Hans Hack
---
September 23rd, 2022 by AnyChart Team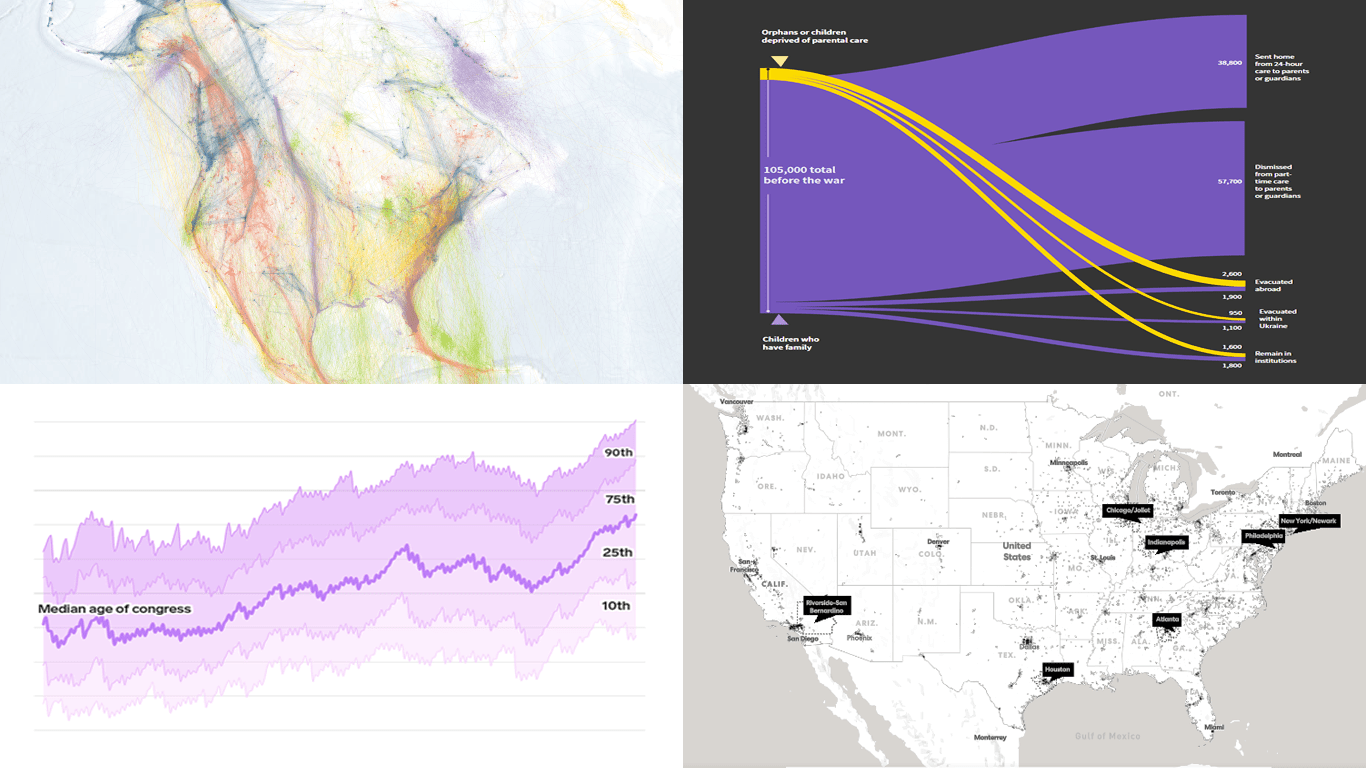 DataViz Weekly keeps you informed of the latest data visualizations that are definitely worth seeing, from our point of view. Check out our new picks:
American bird migration — Audubon
Ukrainian children dismissed from residential care institutions — Reuters
Mega warehouses and their impacts — Sierra
Age of the U.S. political leaders — Insider
---
September 16th, 2022 by AnyChart Team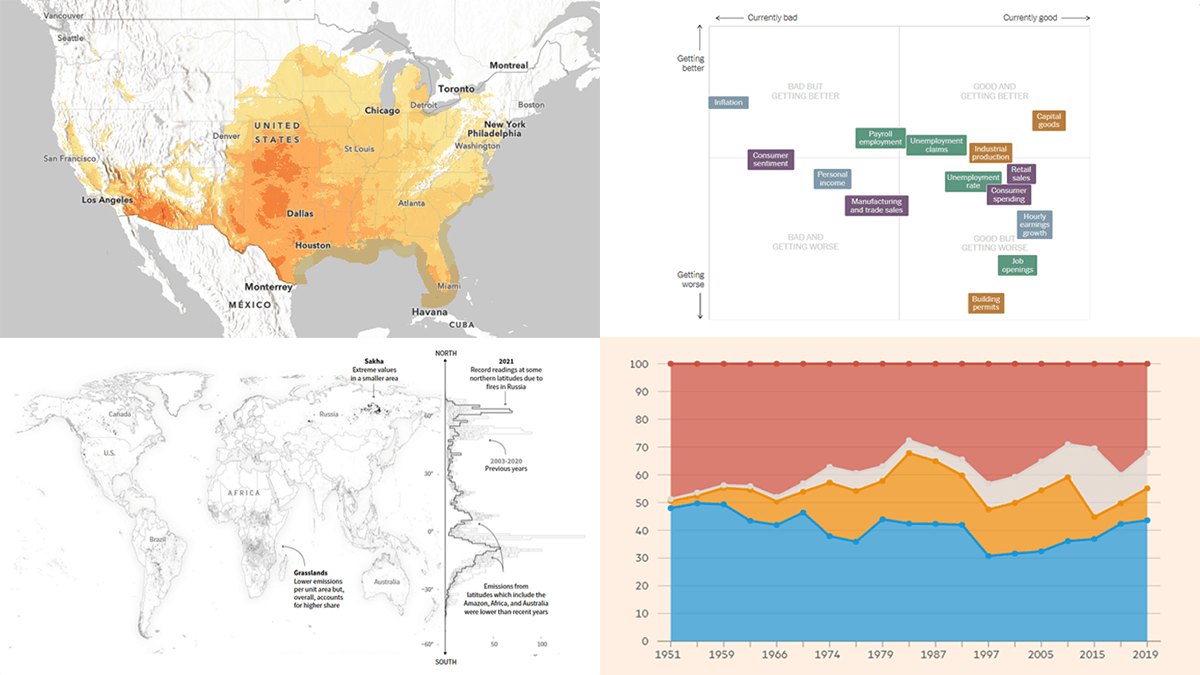 Each Friday, DataViz Weekly gives you a therapeutic dose of data visualization inspiration headed into the weekend! Here are four new projects we believe you should not miss:
Queen Elizabeth II's 70-year reign — The Financial Times
Current condition of the U.S. economy — The New York Times
Carbon emissions from Arctic wildfires — Reuters
Local exposure to climate-related hazards across the U.S. — Esri for NOAA
---