April 16th, 2021 by AnyChart Team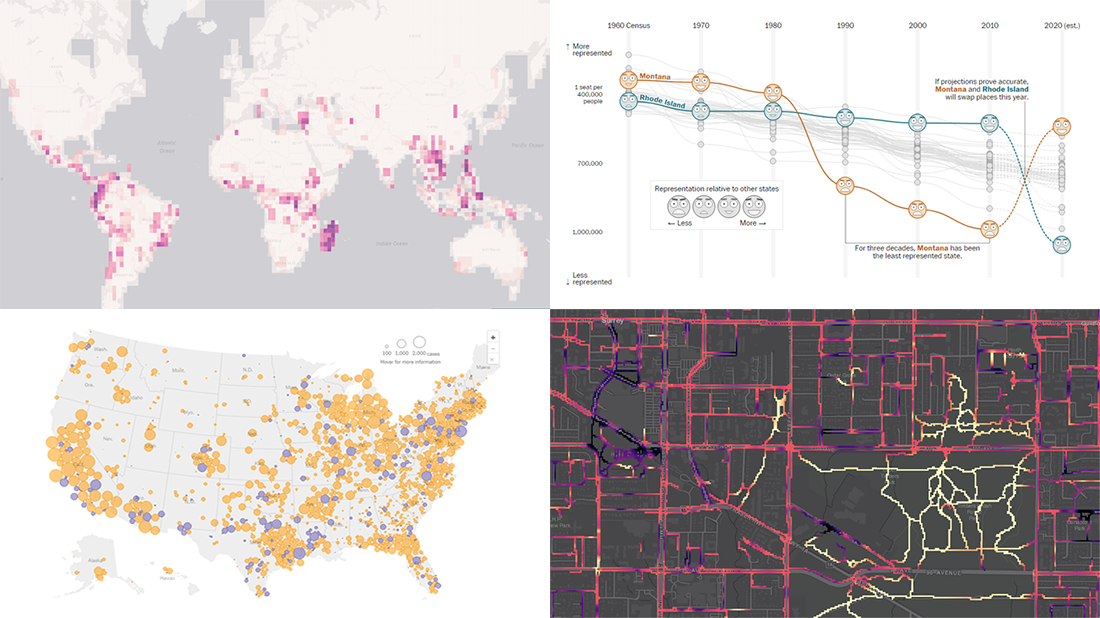 Hello and greetings to all who are fond of data visualization! We've curated a new collection of impressive maps and charts that came into existence just a little while ago. See what projects are praised this time on DataViz Weekly and read next to learn more about each:
Reshuffling of the U.S. House seats after the 2020 Census — The Washington Post
Runnability of streets — Simon Fraser University
Probability of finding undiscovered species across the world — Map of Life
Coronavirus in American prisons — The New York Times
---
April 9th, 2021 by AnyChart Team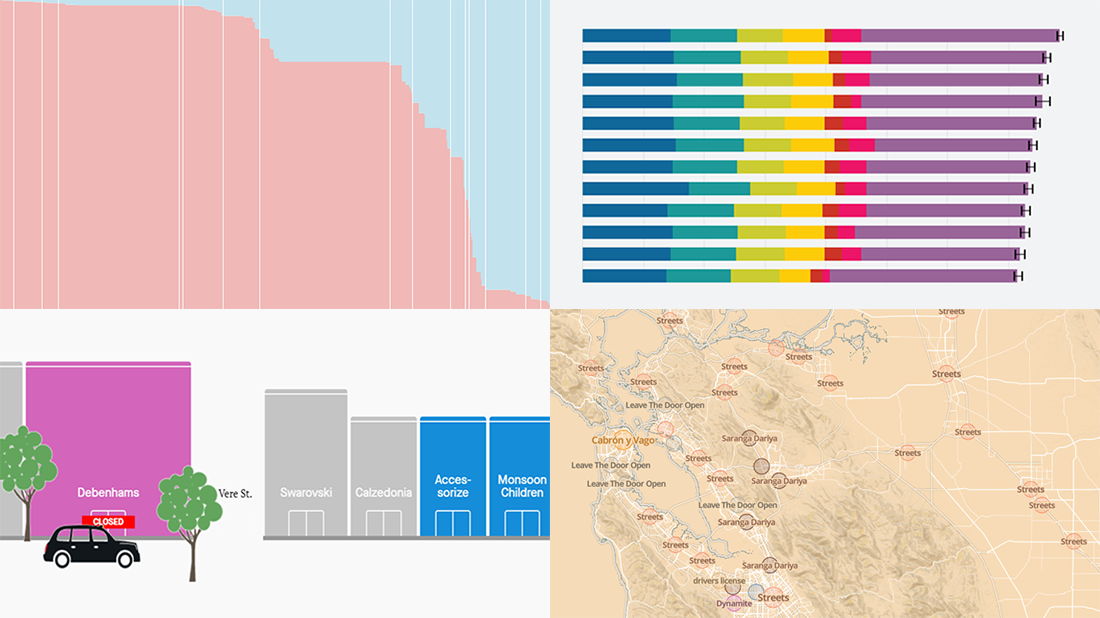 Look at these new exciting examples of data visualizations! We've stumbled across these just recently and are more than happy to present them to you today on DataViz Weekly:
Share of population with income below the poverty threshold — Our World in Data
World Happiness Report 2021 — SDSN
Most popular music in your city and worldwide — The Pudding
COVID's impact on retail stores on Oxford St, Rodeo Dr, and Russell St — Quartz
---
April 2nd, 2021 by AnyChart Team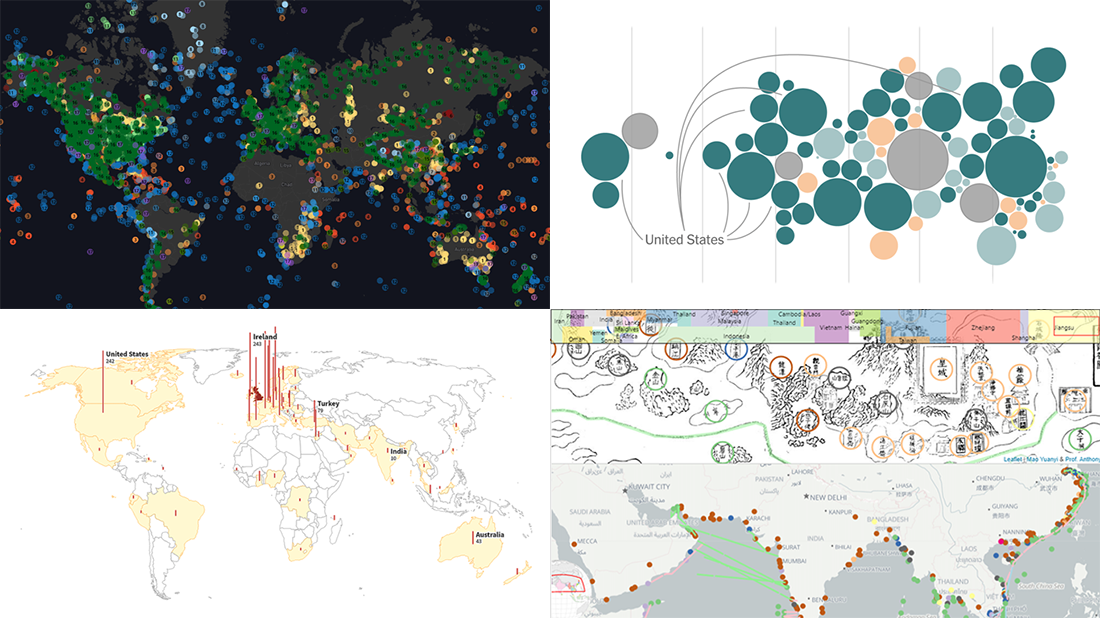 As we continue to bring you regular roundups of the best visualizations we have stumbled upon out there, it's Friday and DataViz Weekly here! Read next and you'll meet the following new stunning projects:
Country wealth and vaccination roll-out — The New York Times
Spread of the Kent variant across Britain and worldwide — Reuters
Earth's сlimate history in proxy data — Carbon Brief
Interactive Mao Kun map explorer — Ryan Carpenter
---
March 26th, 2021 by AnyChart Team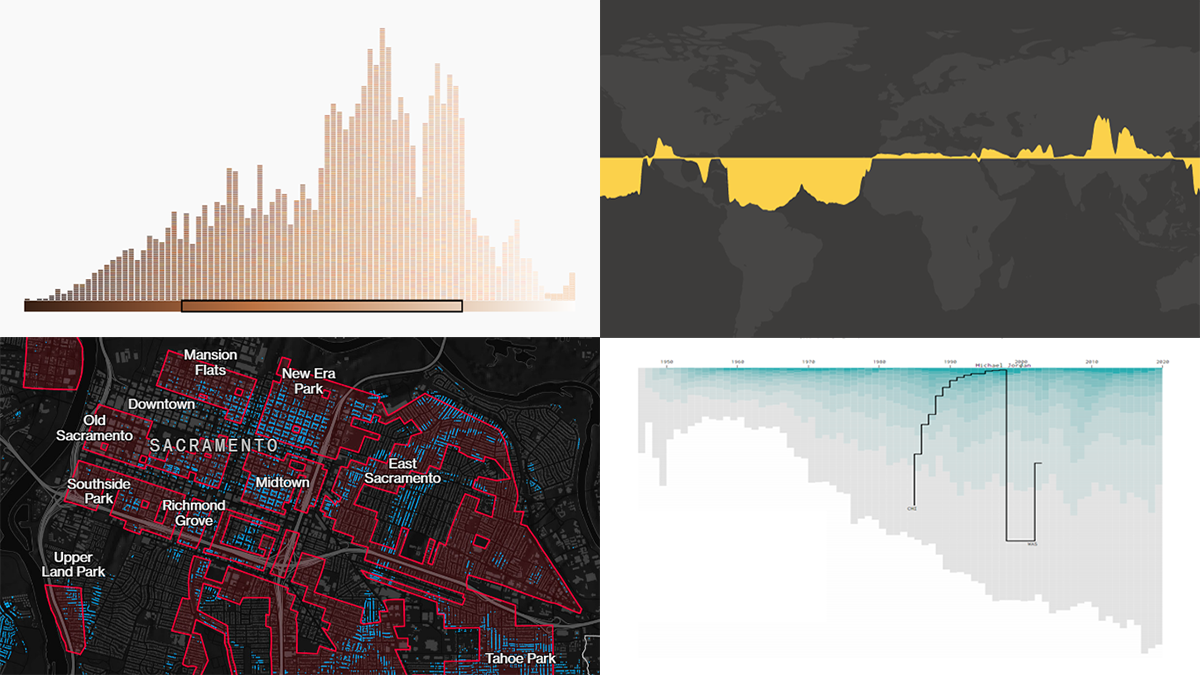 Get your weekly dose of cool data visualization stuff! We have come across these four new amazing projects just lately and are glad to tell you about them right now. Here are the graphics featured this time on DataViz Weekly:
Career timelines for all NBA players since 1946 — Nathan Yau
Bias and anti-blackness in the names of foundation shades — The Pudding
Flood risk in historically redlined and non-redlined neighborhoods — Bloomberg CityLab
Elevation and bathymetry worldwide along parallels — Nicolas Lambert
---
March 19th, 2021 by AnyChart Team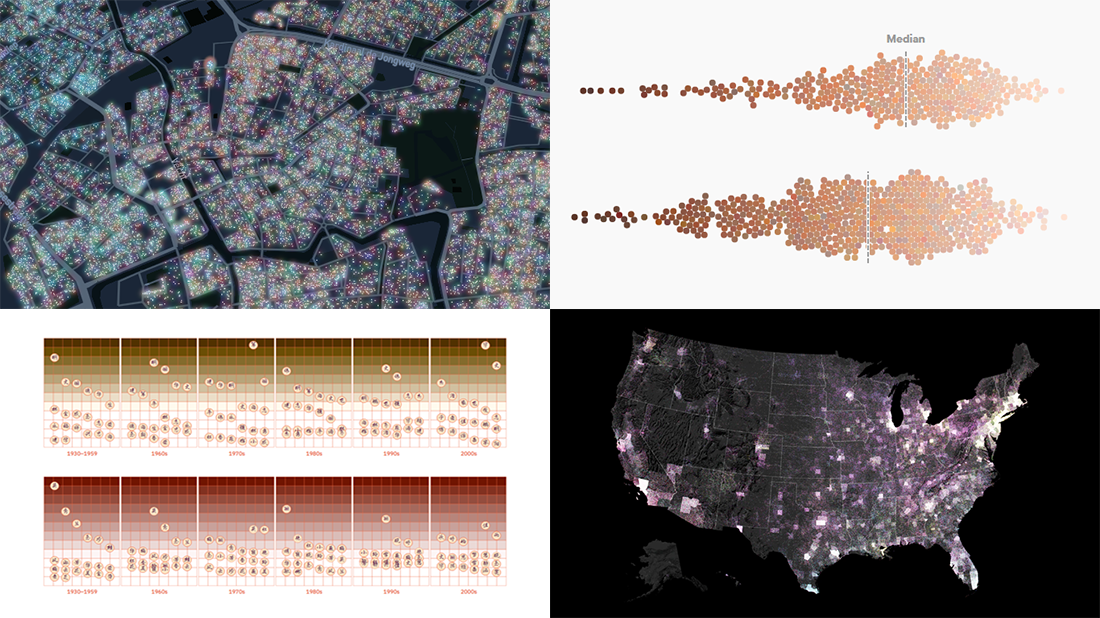 Every day, a number of new data visualizations on various topics come out around the internet. We are keen to curate the most awesome graphics and share them with you on DataViz Weekly! Today in the spotlight:
Skin tones on the Instagram feeds of fashion and beauty brands — Quartz
Timeline of the pandemic year — WaPo
Evolution of Chinese names — Kontinentalist
Dutch election results in detail — NRC
---
March 12th, 2021 by AnyChart Team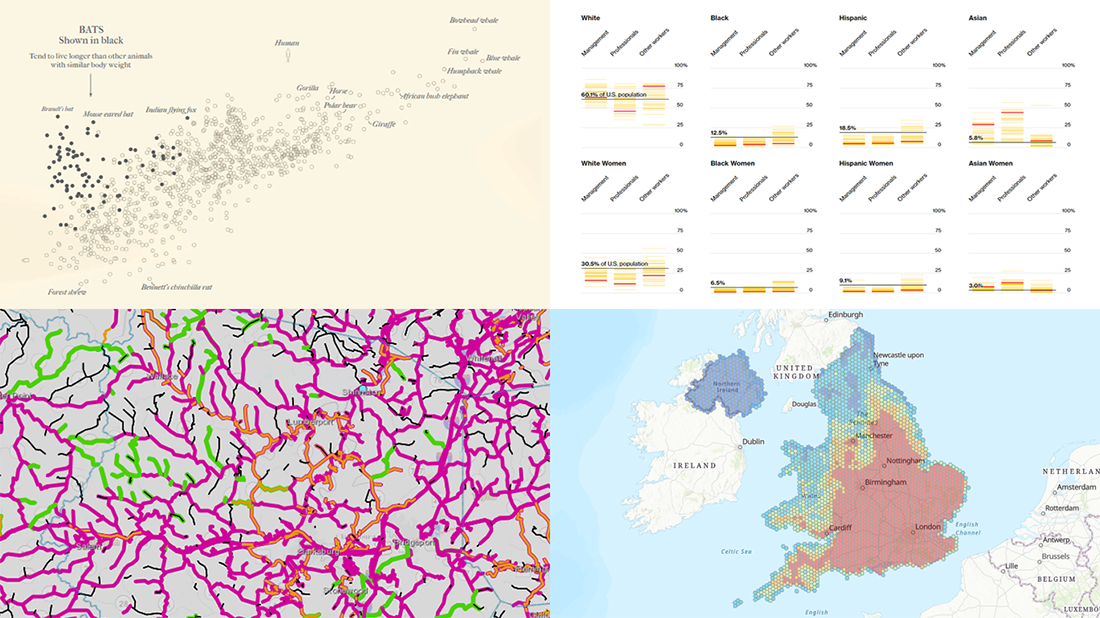 Welcome back to DataViz Weekly, our regular blog feature where we recognize some of the most interesting data visualizations we've recently seen out there. Here's our new selection of stunning graphics from different people — take a look!
Bats and the origin of virus disease outbreaks — Reuters
Race and gender diversity within the biggest corporations in the U.S. — Bloomberg
All roadwork projects in West Virginia for 2021 — WVDOT
Climate threats to heritage sites in England, Wales, and Northern Ireland — National Trust
---
March 5th, 2021 by AnyChart Team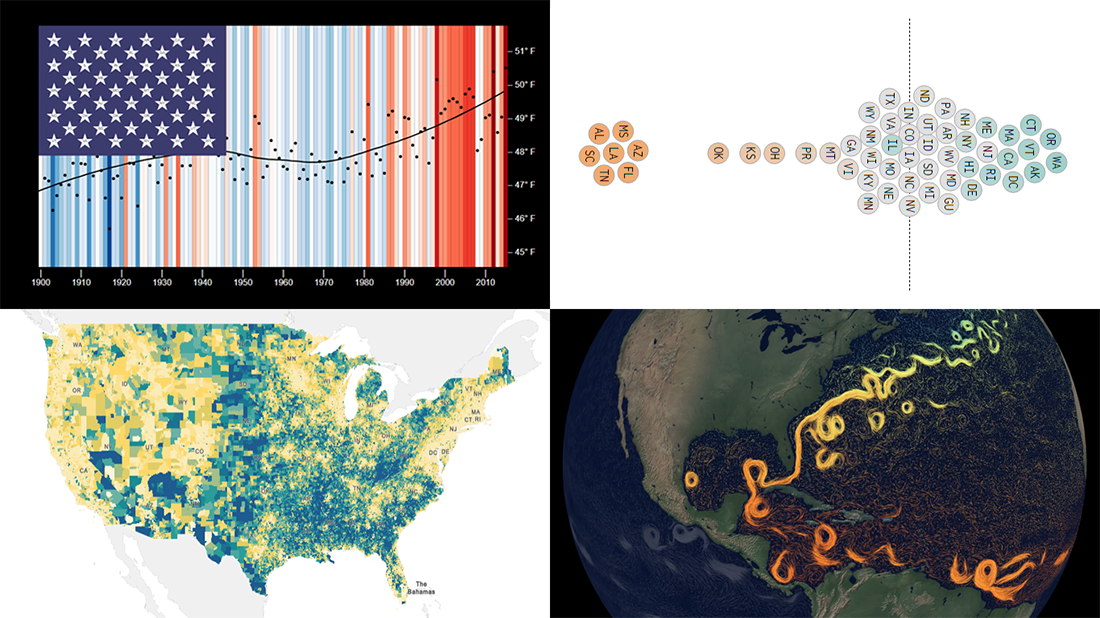 This week, we've found a number of new cool projects that could serve as good examples of robust data visualization. Here are the four ones we like the most. Watch how compelling charts and maps let data speak — join us as we overview these projects today on DataViz Weekly:
Climate stripes for each U.S. state — Luke Browne, YSE
Causes and dangers of the Gulf Stream weakening — The New York Times
Minimum wage change in the U.S. by state since 1968 — Nathan Yau
Homes worth <$100,000 and >$1,000,000 in the U.S. — Social Explorer
---
February 26th, 2021 by AnyChart Team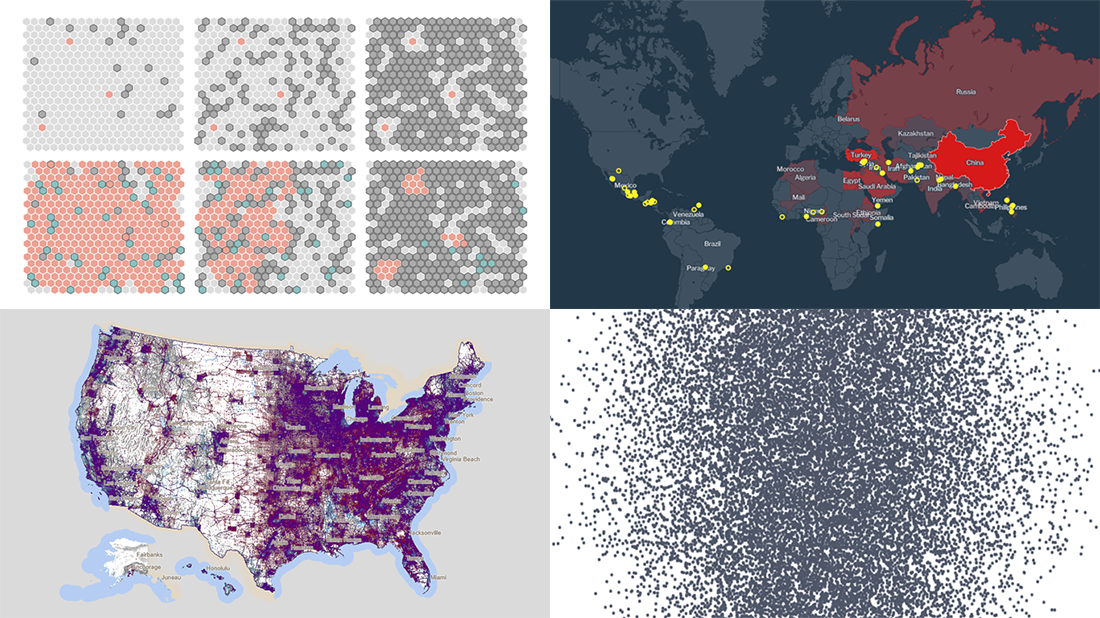 Hey everyone, Friday's here and with it, a new DataViz Weekly article is out! Look at some of the best data visualization projects we have come across out there this week:
Exploring all attacks on journalists worldwide in 2020 — Geoff McGhee for CPJ
Visualizing the scale of 500,000 COVID-19 deaths in the United States — Sam Hart, Reuters
Simulating the spread of infection for different immunity scenarios — Thomas Wilburn, NPR
Mapping every vote in the 2020 U.S. election — Kenneth Field
---
February 19th, 2021 by AnyChart Team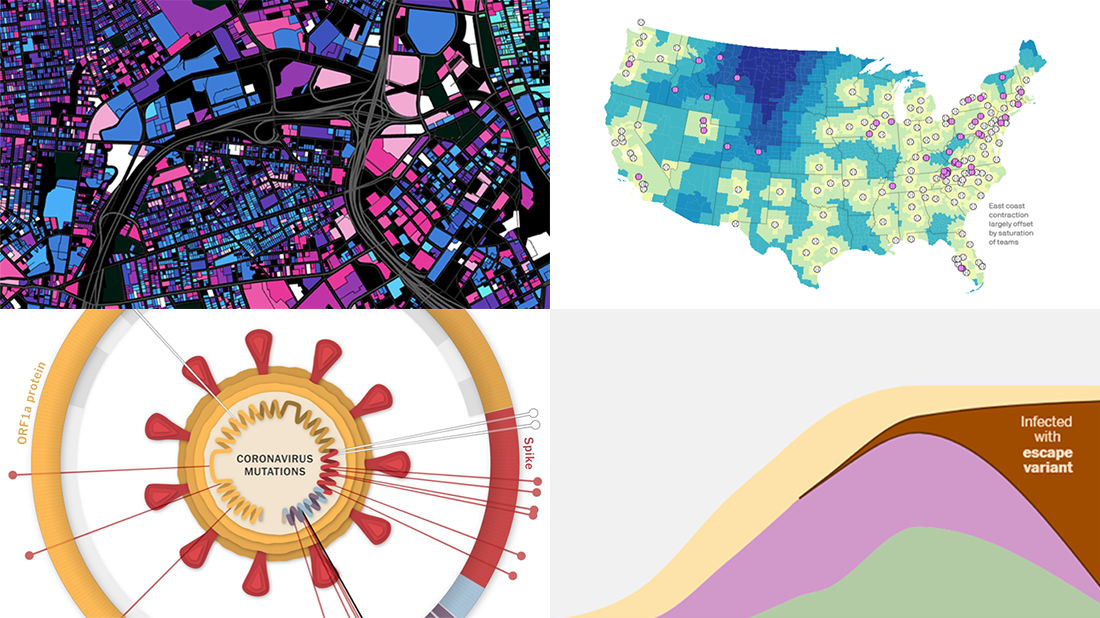 For us humans, data is usually easier to explore and analyze when it's properly visualized. If you are looking for some good examples, you've come to the right place at the right time! DataViz Weekly is here to let you know about new great information visualizations.
Today on DataViz Weekly:
Coronavirus vaccination pace, goals, and challenge — The Washington Post
Coronavirus mutations and variants — The New York Times
Distance to the nearest MiLB team in 2021 — Axios
Age of buildings in Providence, RI — Chris Sarli
---
February 12th, 2021 by AnyChart Team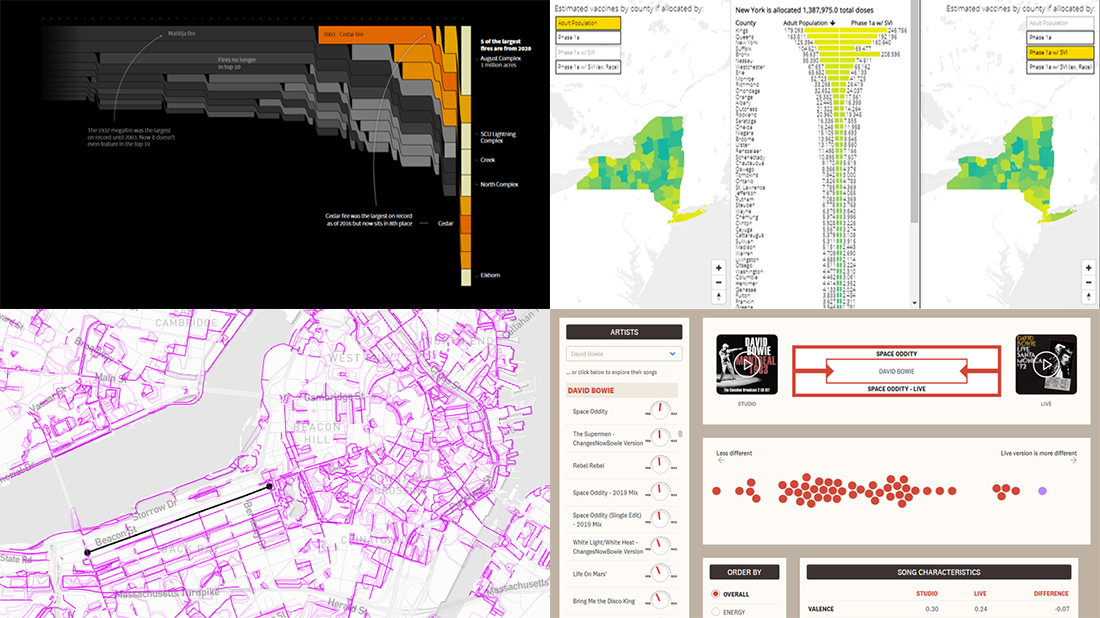 "Numbers have an important story to tell. They rely on you to give them a clear and convincing voice," Stephen Few once said. That actually is the purpose of data visualization. On DataViz Weekly, we show you how this works in reality. Welcome to our new roundup of the most interesting data visualization projects we've recently found!
Comparing live and studio versions of songs — The Pudding
Historical wildfires in the U.S. West — Reuters
Boston's most desirable streets — MIT Senseable City Lab
Inequality and COVID-19 vaccine allocation in America — GHJP Yale & C4SR Columbia
---