May 13th, 2022 by AnyChart Team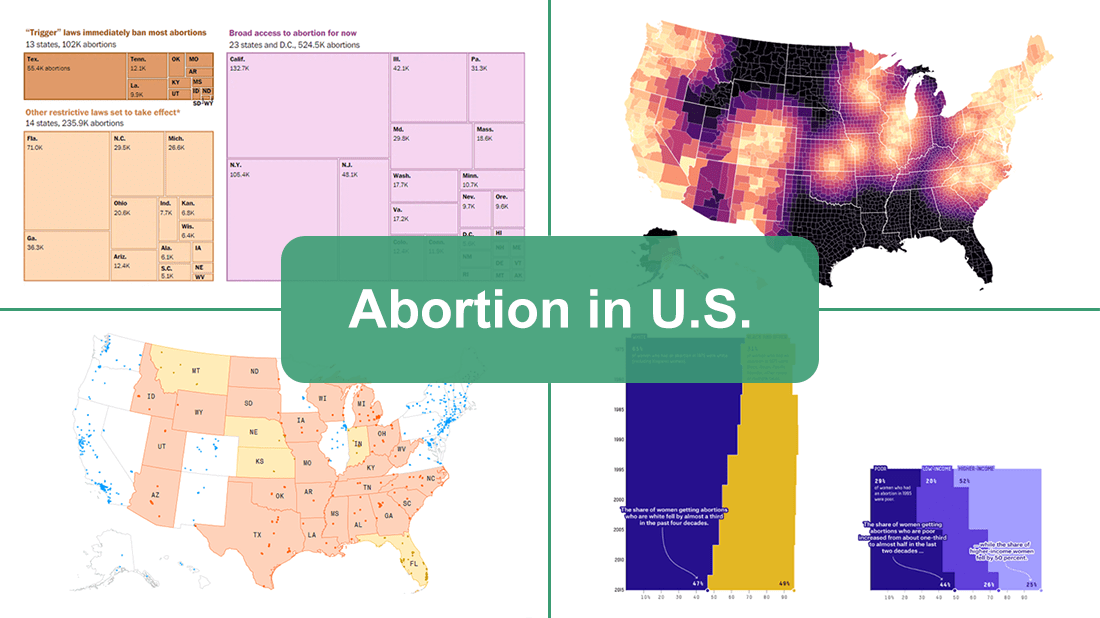 A leaked draft of a U.S. Supreme Court opinion suggests that the 1973 Roe v. Wade decision, establishing federal constitutional protection of abortion rights, could be overturned. If the justices strike down the ruling, each state will be able to determine the legality of abortions.
The document, which was later confirmed to be authentic, cast abortion rights back into the center of the political discourse in the United States. In the wake of that, we decided to make a special edition of DataViz Weekly to show you how some of the top publications — The Washington Post, Bloomberg, Reuters, and FiveThirtyEight — used data visualization to communicate the situation with abortions in the country and what is likely to change if the Supreme Court eventually overturns Roe.
---
May 6th, 2022 by AnyChart Team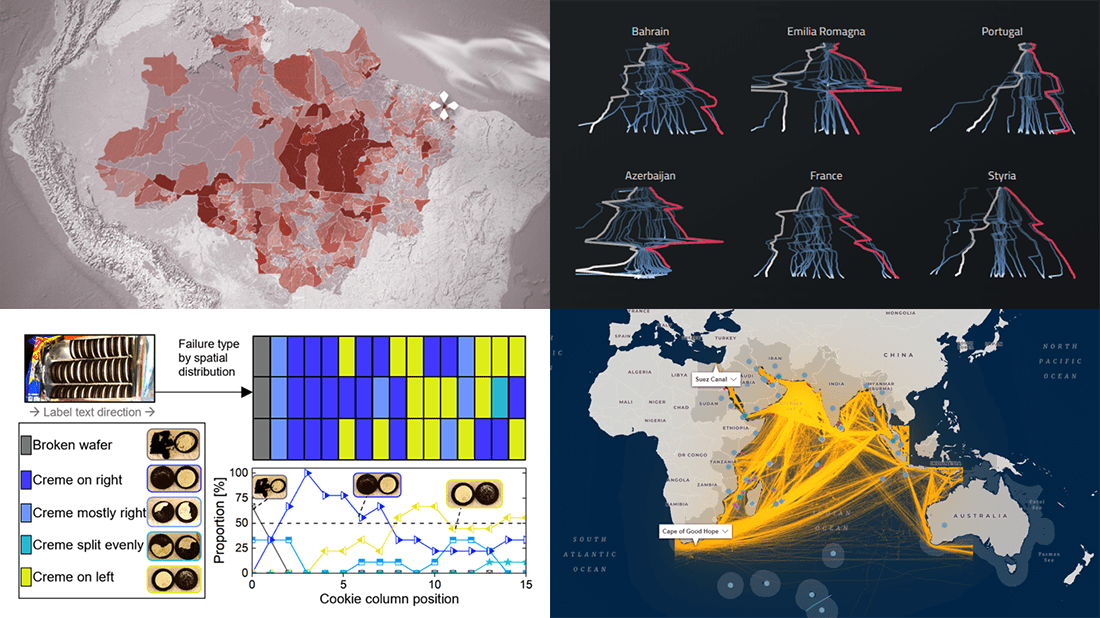 If you like good charts and maps, DataViz Weekly is your must-see destination! This series is designed to show you some of the most awesome data visualizations, and here are the new projects that we believe you wouldn't like to miss:
2021 Formula One racing season — Joey Cherdarchuk
Strategic importance of the Indian Ocean — Carnegie Endowment for International Peace
Flow and fracture of the Oreo sandwich cookies — Crystal Owens, Max Fan, John Hart & Gareth McKinley (MIT)
Rural conflicts in Brazil's Legal Amazon — Agência Pública & CPT
---
April 29th, 2022 by AnyChart Team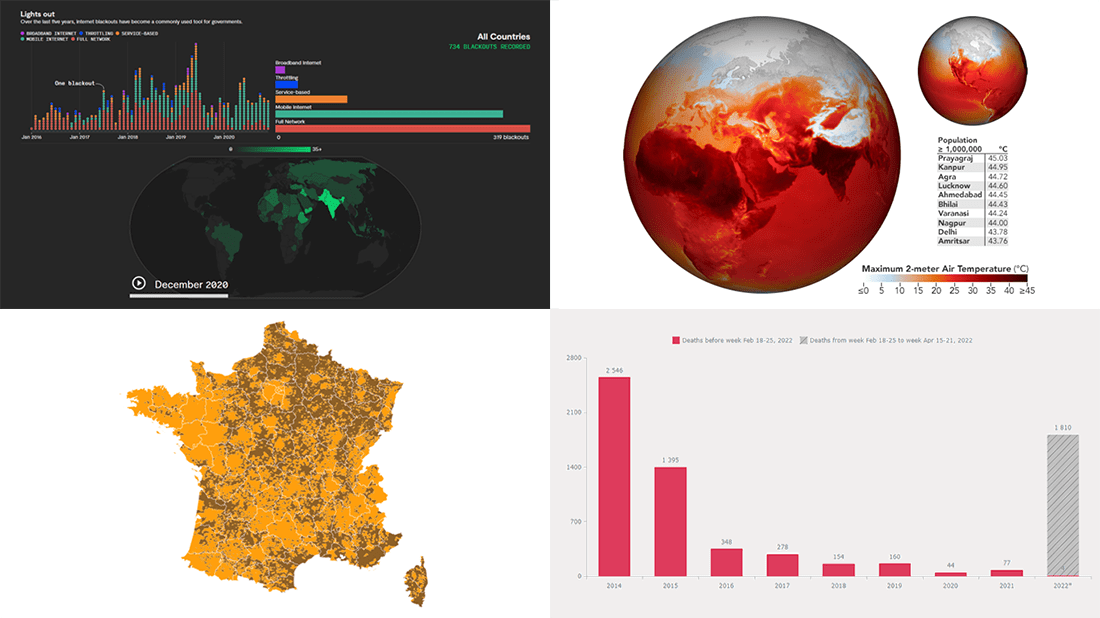 Now it's time for DataViz Weekly! Let's look at the four most interesting new data visualization projects we have recently come across!
Deaths in the (self-proclaimed) DPR in 2014–2022 — Reddit user feoleoneo
French presidential election results — Le Monde
Internet blackouts worldwide since 2016 — Rest of World
April heat wave in India — Joshua Stevens, NASA Earth Observatory
---
April 22nd, 2022 by AnyChart Team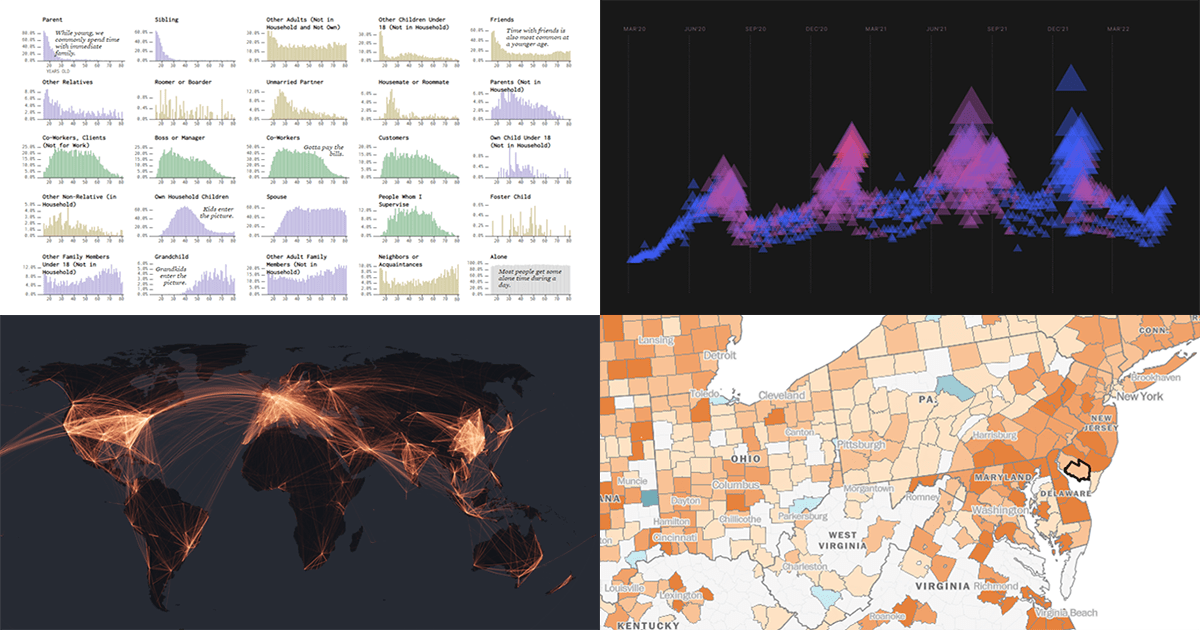 Each Friday, we recall the best data graphics we have seen out there over the last seven days or so and present them to you in a quick roundup. So, DataViz Weekly is here! Just making sure you have not missed these wonderful visualizations:
People we spend time with over the lifetime — Nathan Yau
Housing rents across the U.S. from Q1 2021 to Q1 2022 — The Washington Post
Two years of the COVID-19 pandemic in South Africa — Media Hack
Air travel market recovery worldwide — The Financial Times
---
April 15th, 2022 by AnyChart Team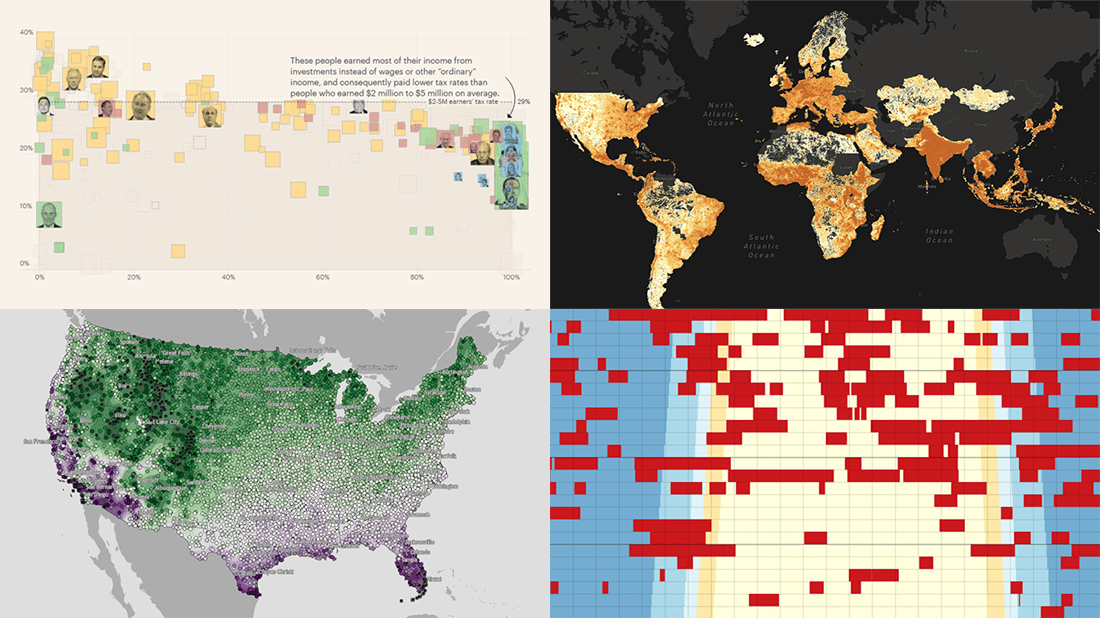 Every day, a number of cool visualizations on various topics come out here and there. DataViz Weekly is designed to tell you about those that have caught our special attention most recently. This Friday, we invite you to take a close look at the following:
Air raid sirens across Ukraine — Volodymyr Agafonkin
Population density around the globe at a 30-meter resolution — Stamen
America's wealthiest people and their taxes — ProPublica
Average date of the last spring freeze across the U.S. — Climate.gov
---
April 8th, 2022 by AnyChart Team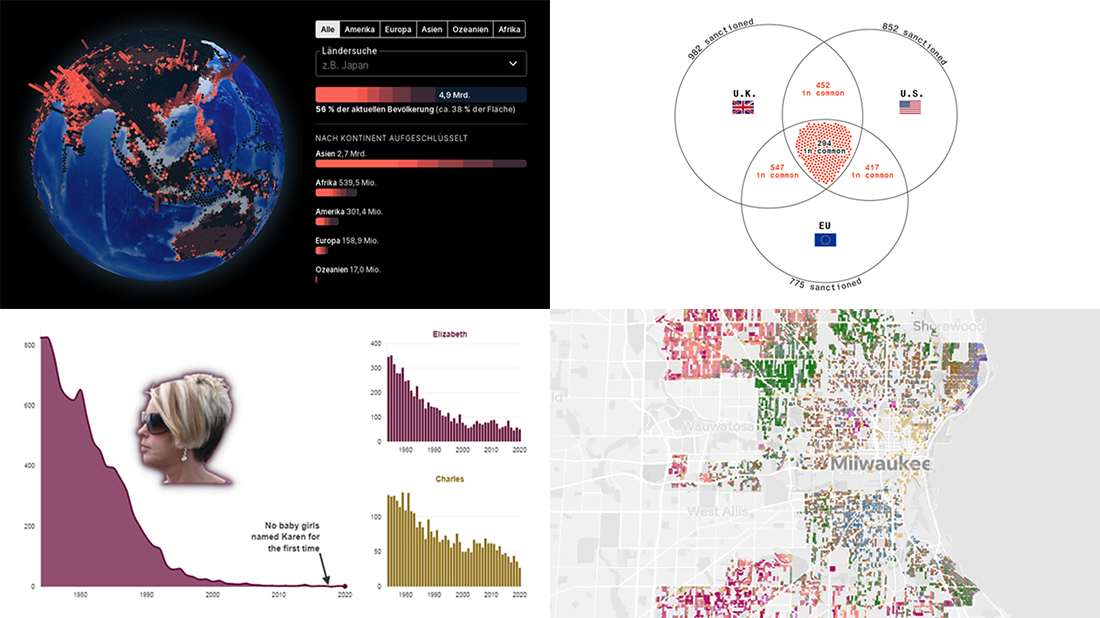 Ready for a new selection of great charts and maps? Join us in checking out four awesome data visualization projects we have come across this week! Today on DataViz Weekly:
Uninhabitable locations worldwide by 2100 — Berliner Morgenpost
Sanctions against Russian oligarchs — Bloomberg
Baby naming trends in Scotland — The Courier
Milwaukee architectural home styles — The Milwaukee Journal Sentinel
---
April 1st, 2022 by AnyChart Team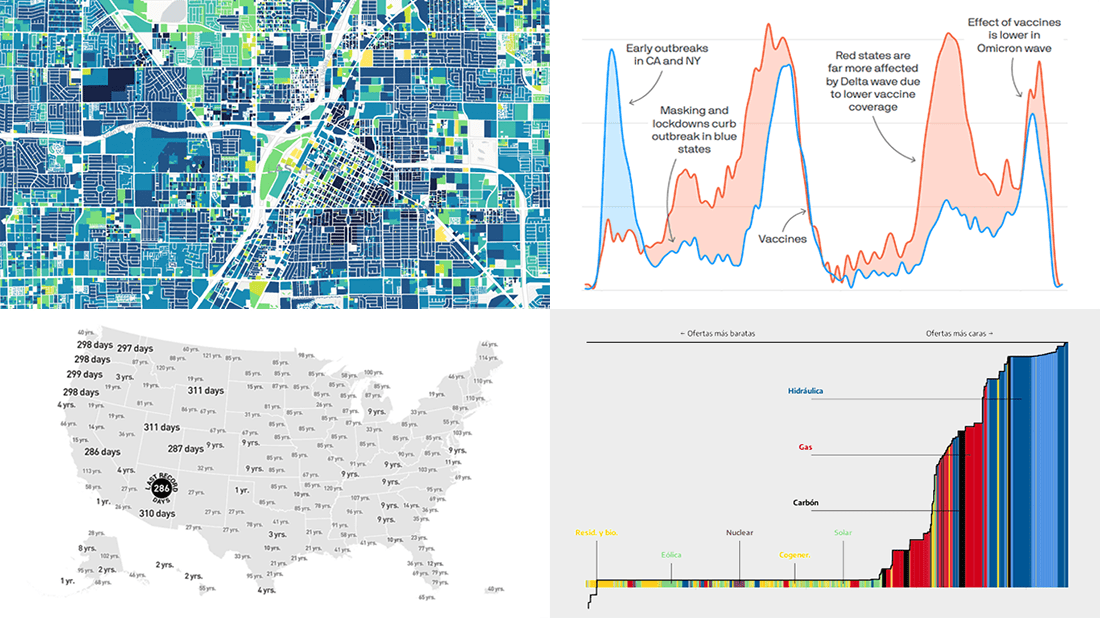 Visualized data is much easier for the human brain to process and understand than textual or tabular. On DataViz Weekly, we collect the most interesting examples of charts and maps demonstrating how that works in reality. Enjoy our new picks:
Age of buildings in Las Vegas — Las Vegas Review-Journal
Electricity market price determination in Spain — elDiario.es
Time since a record temperature high across the United States — The Pudding
Excess deaths in Republican-leaning and Democratic-leaning states — Axios
---
March 25th, 2022 by AnyChart Team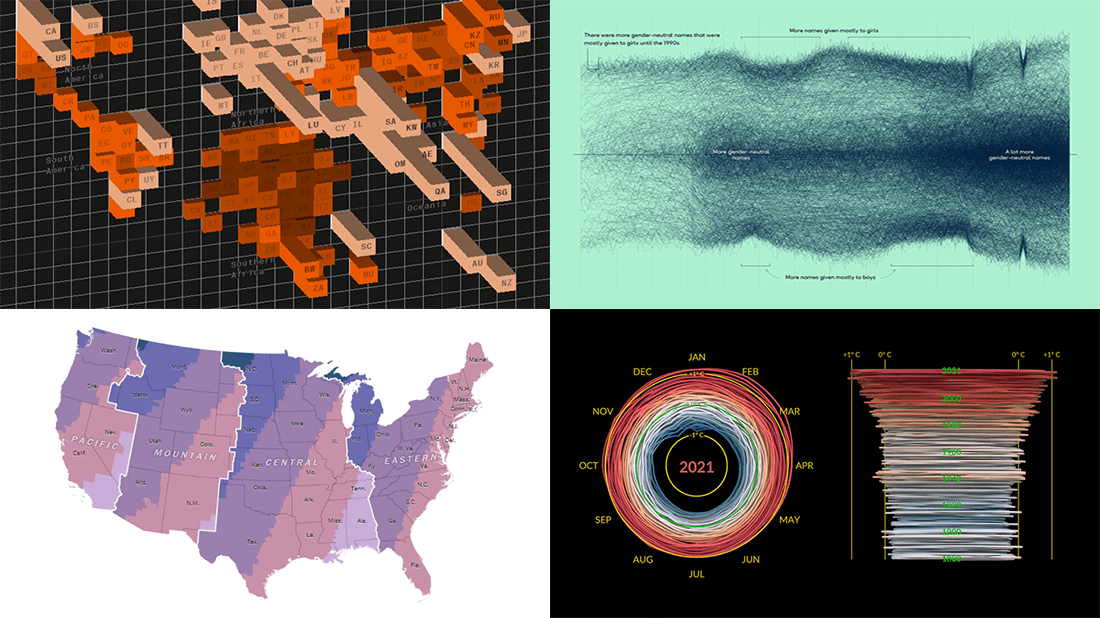 If you are reading this, you (almost certainly) love good data graphics. Well, we won't leave you hanging! Check out a new DataViz Weekly review of exciting data visualizations recently built by honored professionals.
Sunrise times with permanent daylight saving time in the U.S. — The Washington Post
Inequality between rich and poor people's carbon emissions — Bloomberg
Gender-neutral baby names in America — Georgios Karamanis
3D climate spiral for 1880–2021 — NASA
---
March 18th, 2022 by AnyChart Team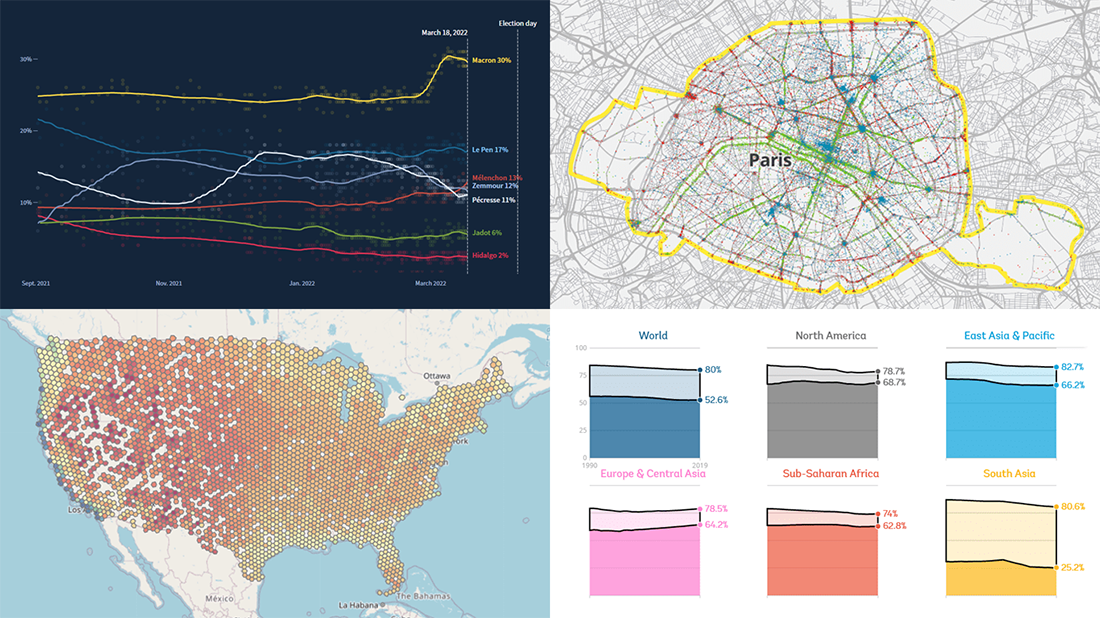 Friday is a lucky day for all fans of data visualization: DataViz Weekly is out! Join us as we look at some great examples of charts and maps published out there just recently.
World Bank Gender Data Portal — The World Bank
Cycling environment across France — FUB
French presidential election polls — Reuters
Ideal climate finder — Luke Champine
---
March 11th, 2022 by AnyChart Team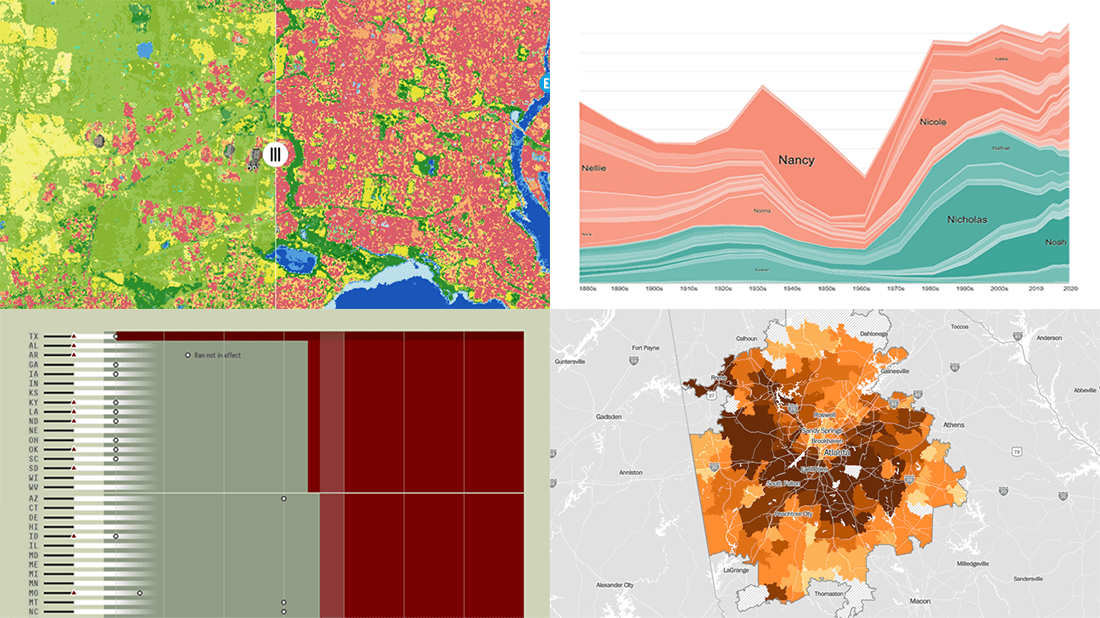 DataViz Weekly is here with another batch of impressive data graphics worth looking at and exploring! Today, we are eager to tell you about the following four new projects:
Burden of abortion across the United States — FiveThirtyEight
Real estate investor activity in the 40 major American cities in 2021 — The Washington Post
Historical popularity of baby names in the U.S. since the 1880s — Namerology
Australia land cover in detail — Geoscience Australia
---