November 29th, 2017 by Vitaly Radionov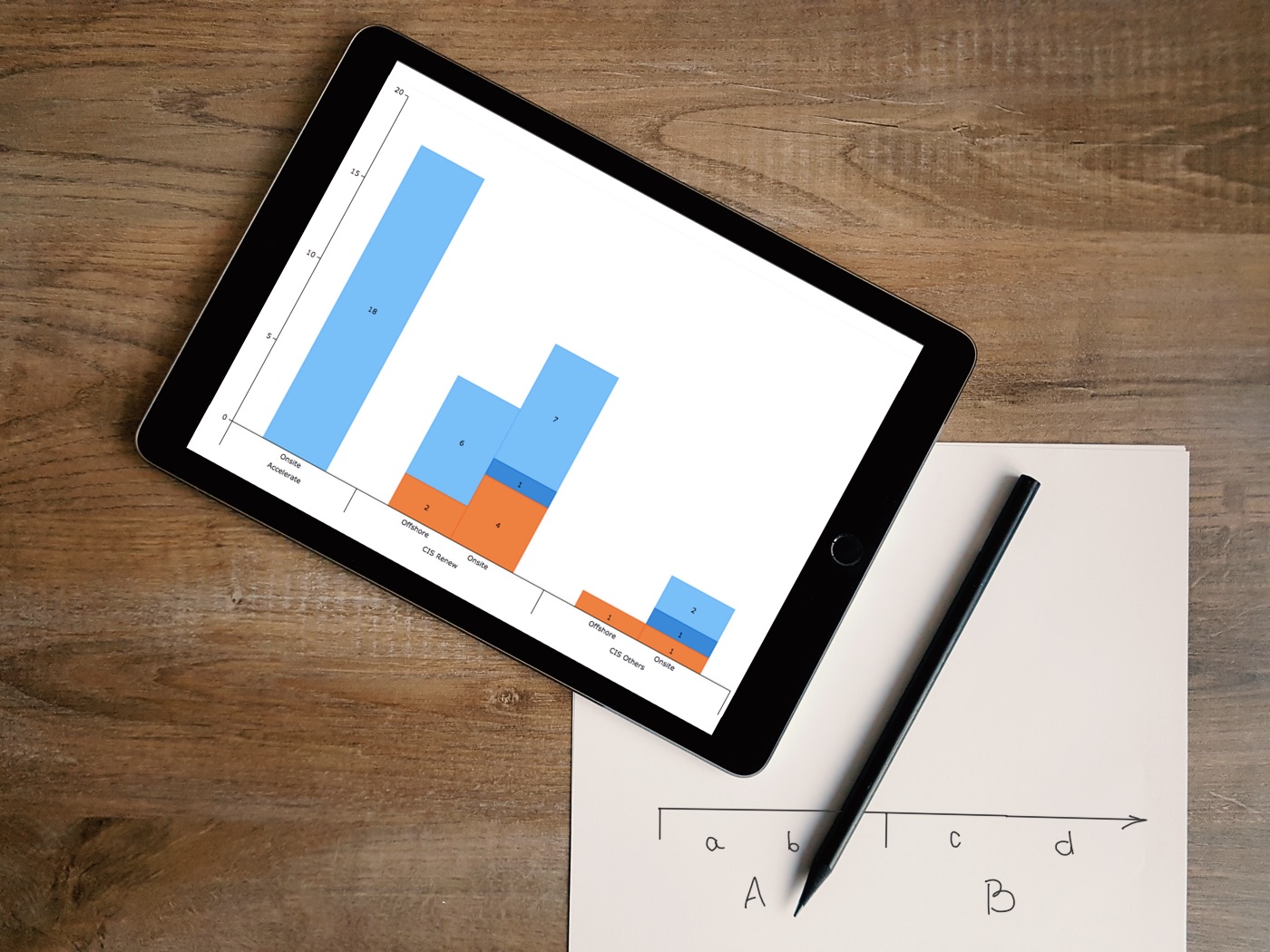 We are glad to present to you a new article in the Challenge AnyChart! series.
Just to remind you, these are articles inspired by your requests to our Support Team and our will to publicly prove that the opportunities of interactive data visualization with our JavaScript (HTML5) charting libraries are profound.
One of our customers asked us how to add a multi-level category axis for categorical data and display subcategories. Ok, there you go! We've made a quick tutorial and created the corresponding JavaScript chart example (you can already see it in the title picture).
---
November 24th, 2017 by AnyChart Team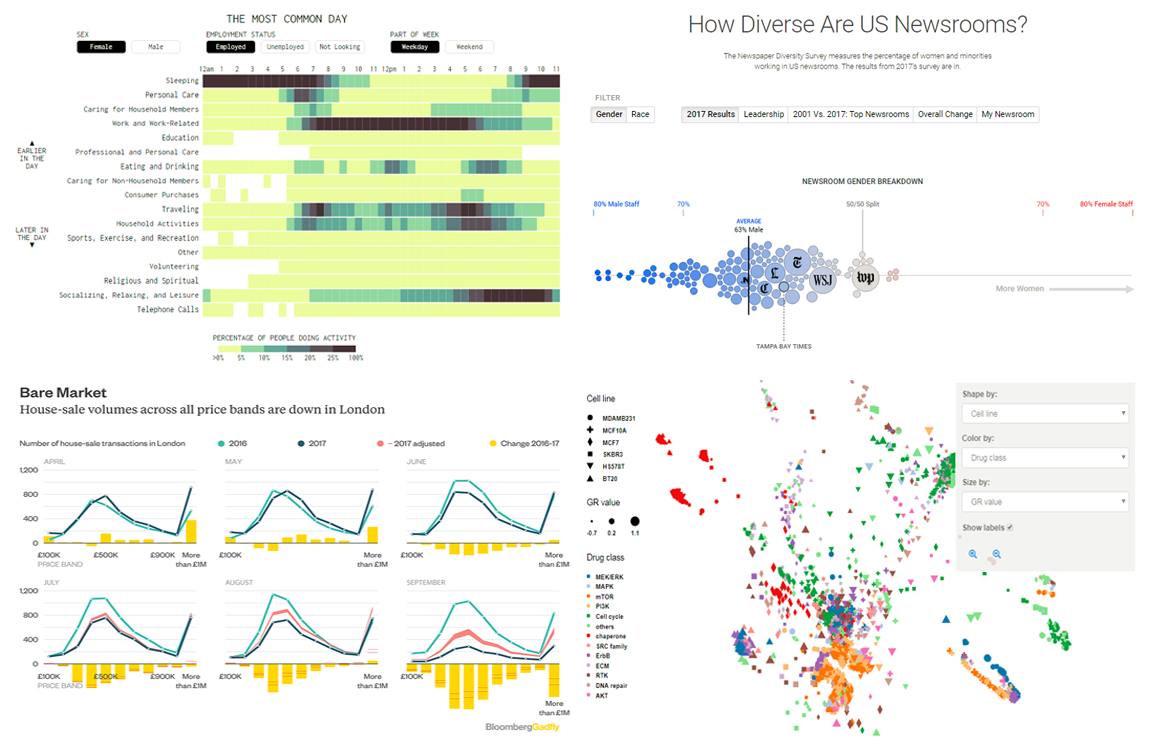 Here's the new DataViz Weekly post. It brings to light four cool data visuals on the following areas:
employee diversity in the major US newsrooms;
daily routines of different groups of Americans;
outlook of Britain's property market;
new revelations about "hidden" variability in how cancer cells respond to drugs.
Without wasting any more time, let's go straight to these data visualizations!
---
November 21st, 2017 by AnyChart Team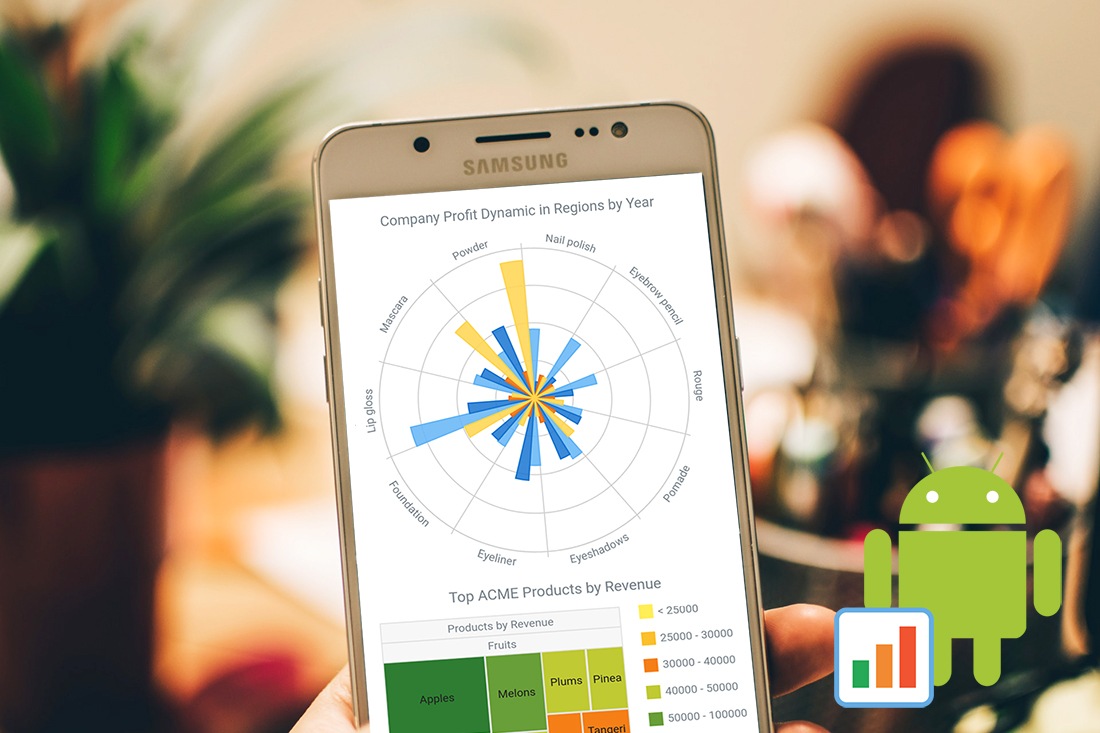 Android app developers can now use AnyChart Java wrapper to run our interactive data visualization solutions in native Android apps! Meet AnyChart Android Charts!
It's a stunning data visualization library for making interactive HTML5 charts in Android apps, running on API 14+ (Android 4.0). AnyChart supplies dozens of different chart types and seamlessly works with any data from any database.
---
November 17th, 2017 by AnyChart Team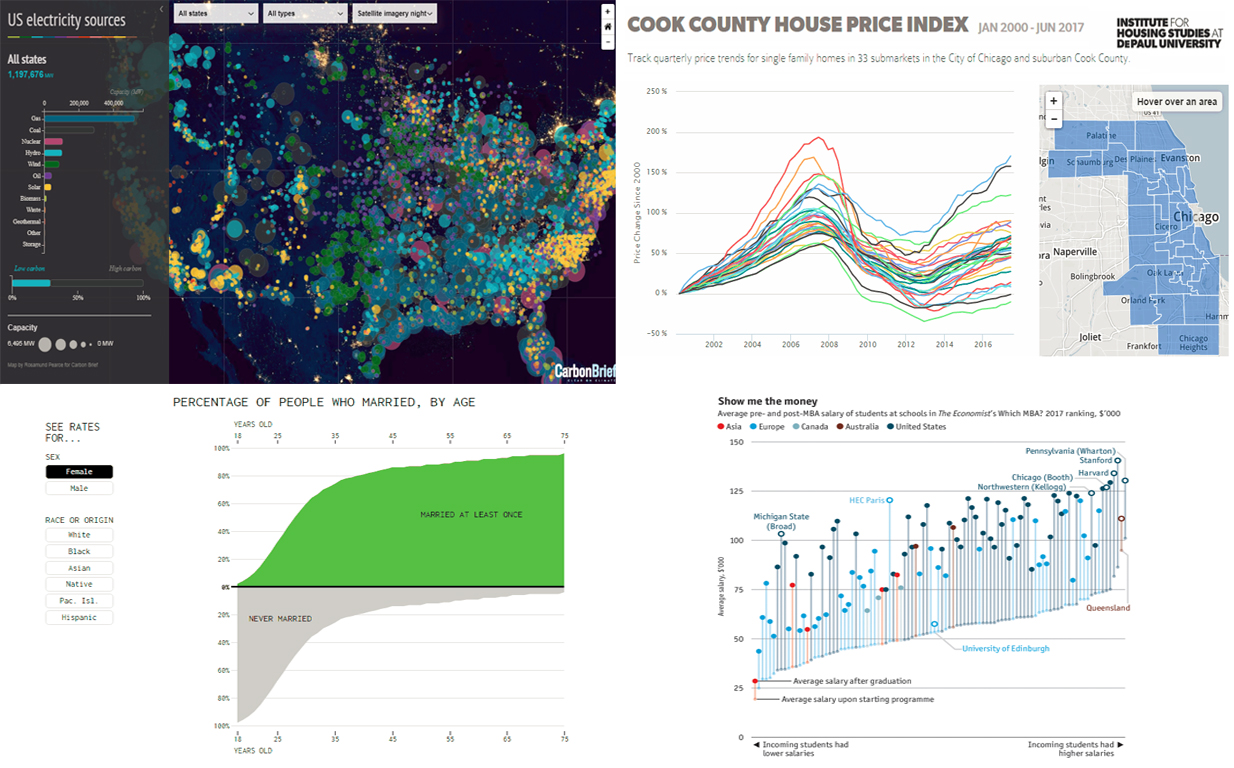 Welcome to our Data Visualization Weekly series where we bring you some of the latest news and information on a wide range of topics, from family and property to energy and education. We use creative and amazing data visuals from around the Web to present information.
Today we introduce to you interesting data on 4 specific areas that you will find quite interesting to know something about, using a variety of visual elements. We take a closer look at energy generation, marriage statistics by age, and Chicago housing price trends. Another area that we will focus on is MBA – what schools give the biggest (and smallest) boost to salaries. So let's begin straight away with the first topic.
---
November 15th, 2017 by AnyChart Team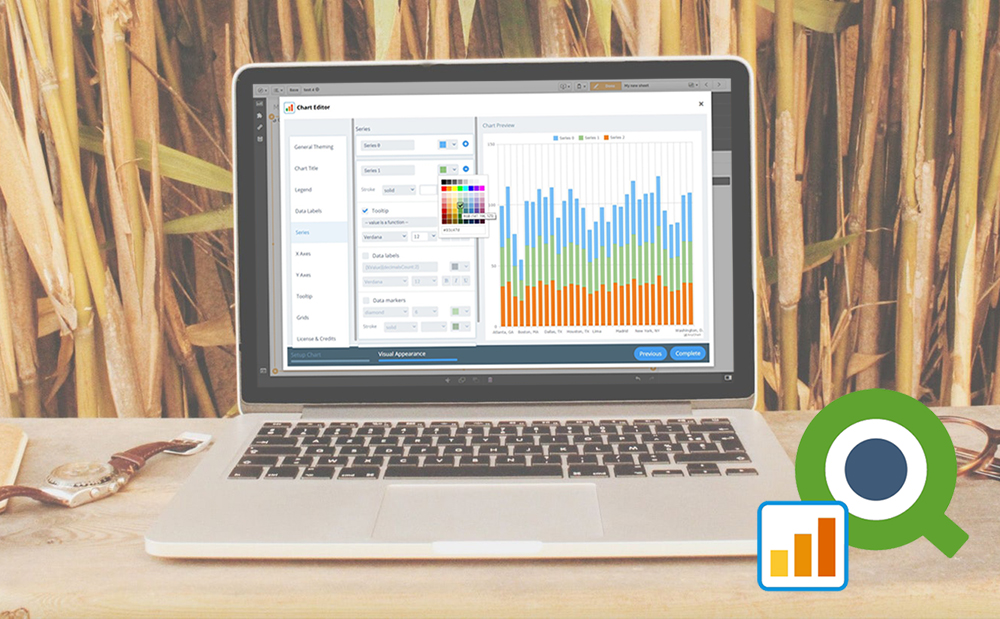 When AnyChart JS Charts' dedicated extension for Qlik Sense first hit the stage on Qlik Branch in the spring of 2017, it was well received by the community. In fact, we delivered what many Qlik users craved: advanced flexibility which at the same time would not affect the ease of interactive data visualization. And that was just the beginning.
Now, we are happy to present version 2.0 of our extension for Qlik Sense!
The major update has brought new chart types and elaborate features out of the box, sharing another portion of the ultimate data visualization power inherent in the AnyChart JavaScript charting library with Qlik users.
---
November 10th, 2017 by AnyChart Team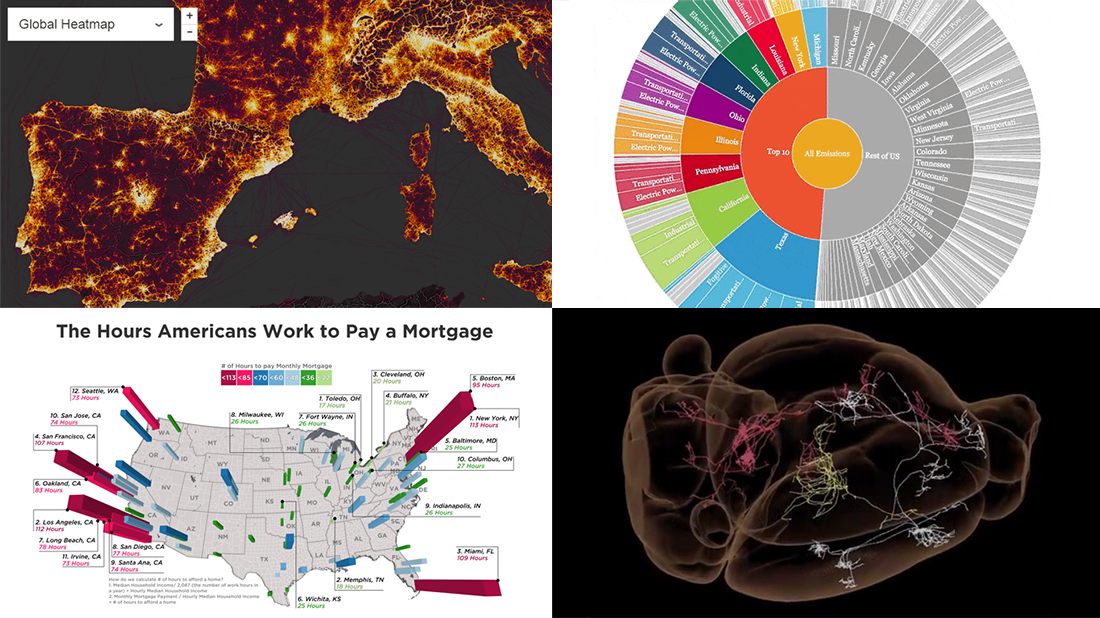 Another week, another four interesting visualization examples. That's how our DataViz Weekly feature works!
For the present post, we've selected the following visual graphics:
world map of fitness routes;
how much Americans need to work to pay mortgage;
explorer of US state greenhouse gas emissions;
extensive map of mouse brain wiring.
---
November 3rd, 2017 by AnyChart Team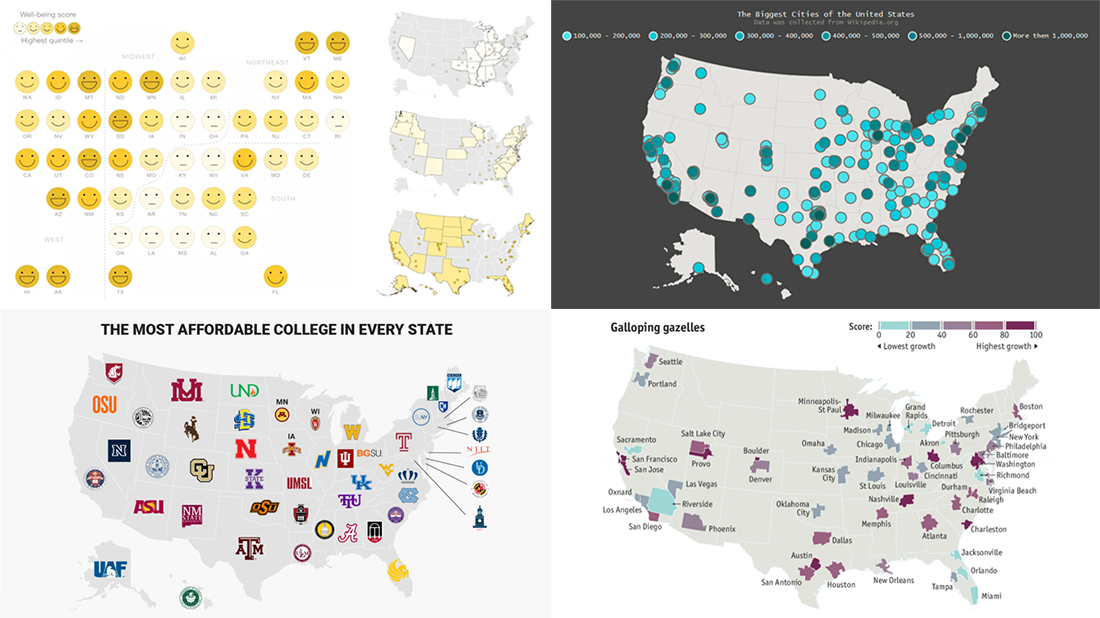 The new issue of DataViz Weekly is fully devoted to US maps. Here you'll find four interesting geo visualizations telling data stories about the United States of America: the biggest cities, well-being, affordable colleges, high-growth entrepreneurship hotspots.
---