November 25th, 2022 by AnyChart Team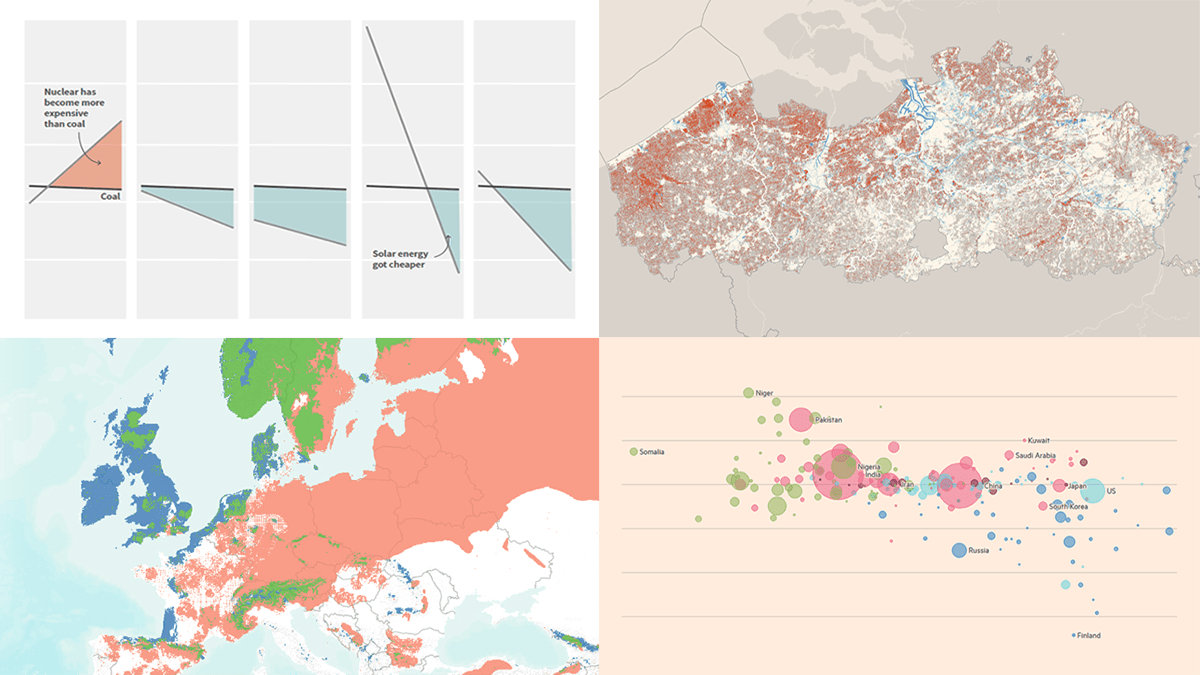 Against the backdrop of the United Nations Climate Change Conference COP27, quite a few data visualizations on climate and environmental issues came out. Earlier, we showed you the Emissions Map by the Climate Trace coalition. This time on DataViz Weekly, here are some more of the top recent ones we believe are worth looking at:
Uneven distribution of climate change effects across the world — FT
Future of European forests under different climate scenarios — Appsilon
Rise of clean energy — Reuters
Endangered Flemish agricultural land under the seventh manure action plan — De Tijd
---
November 18th, 2022 by AnyChart Team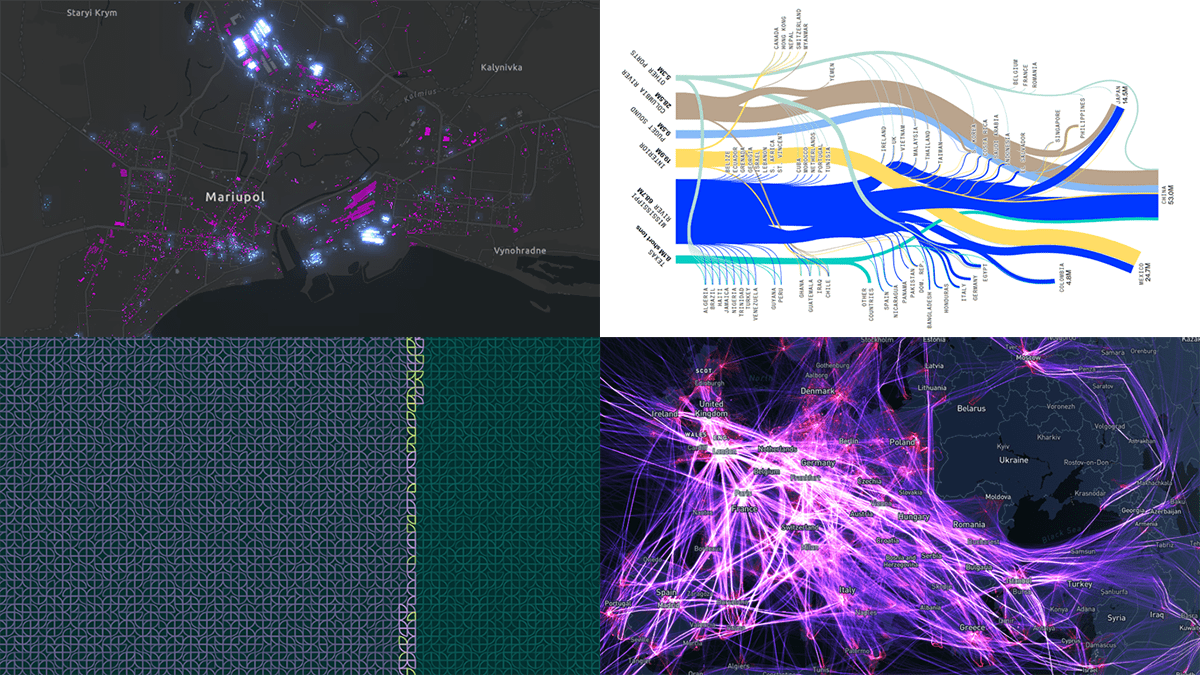 It's Friday, which means it's time for DataViz Weekly to shine and illuminate the best we've recently seen in data visualization! Meet the following projects and check them out!
Your place among the 8-billion population — The Washington Post
Destruction of Mariupol in a time-lapse record — Conflict Observatory
U.S. exports through the Mississippi River — Bloomberg Green
Global air traffic on a single day — Carlos Bergillos
---
November 16th, 2022 by Shachee Swadia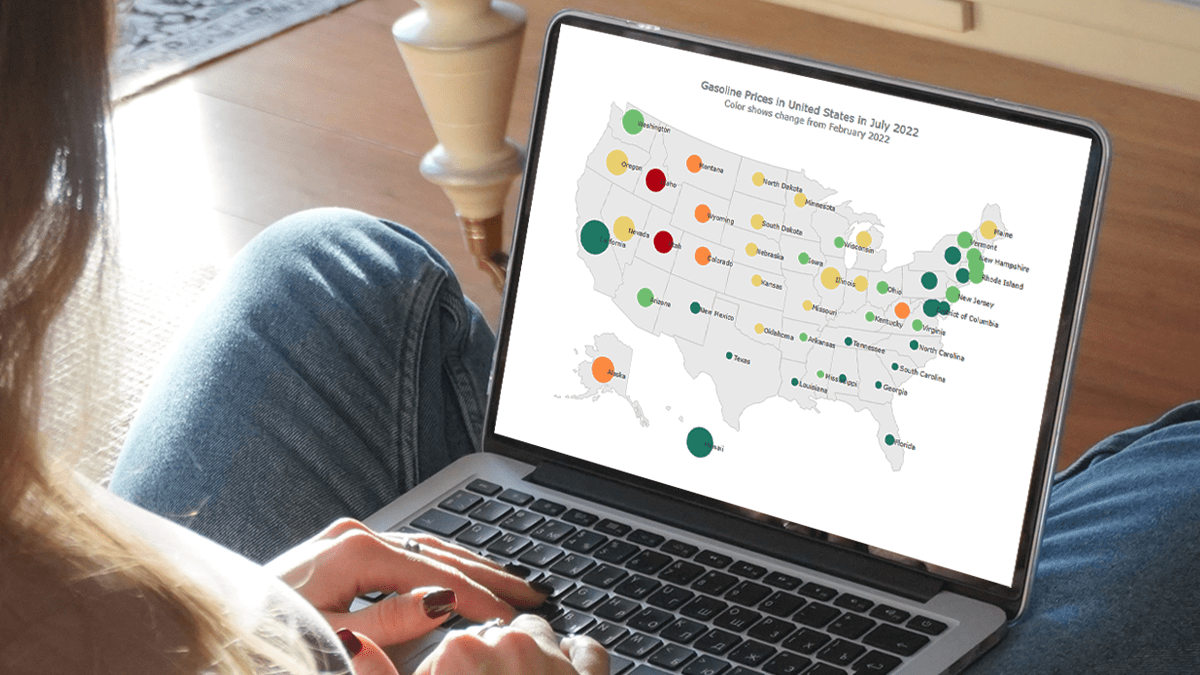 Map charts are a great way to put data in a geographical context. And they are not difficult to create! I am eager to demonstrate that by walking you through the creation of a bubble map, one of the most popular types data maps, with the help of JavaScript.
A bubble map is a combination of a bubble chart and a geographical map. It uses circles of different sizes (and sometimes colors) to indicate numeric values relating to locations or territories.
In this tutorial, I will be visualizing the data on gasoline prices across the United States. They saw record highs this summer after a surge fueled by the outbreak of the Russia–Ukraine conflict. The first, basic bubble map will display the gas prices in July by state. The final one will add the magnitude of the change since February 23, one day before Russia launched an attack on Ukraine.
Follow along and you'll learn to build beautiful interactive maps in JS with ease and no problem!
Read the JS charting tutorial »
---
November 11th, 2022 by AnyChart Team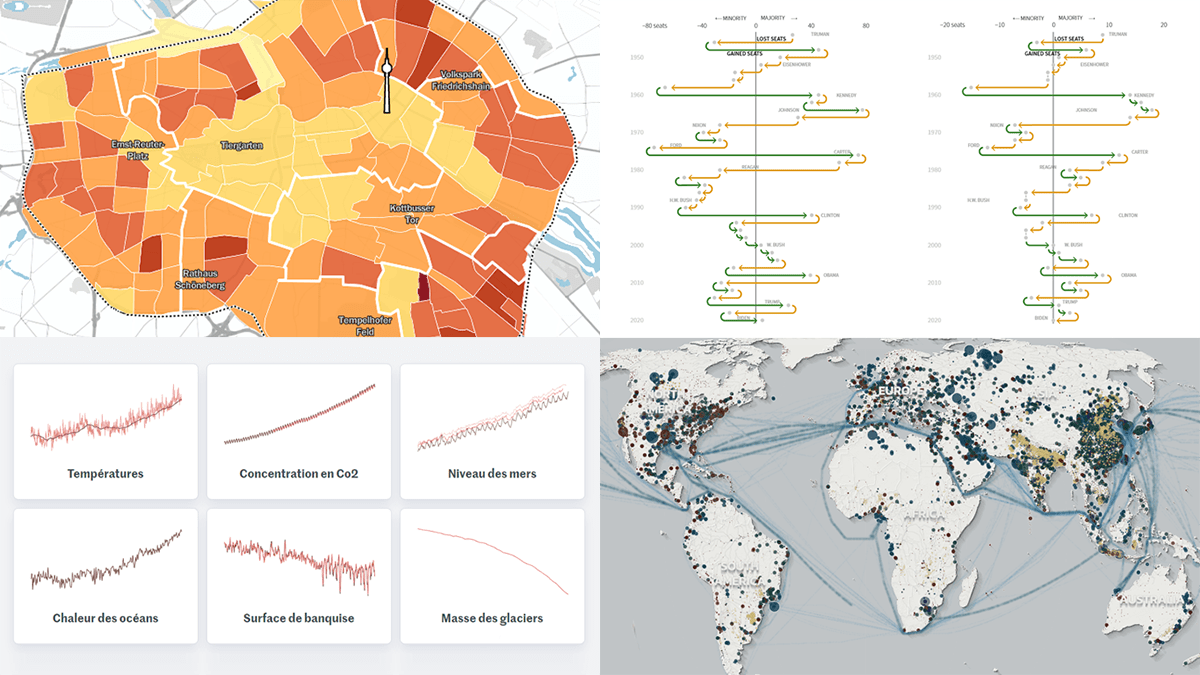 Join us as we look at some of the most interesting data charts and maps we have seen out there these days. Here's what visualizations are featured today on DataViz Weekly:
Presidential party results in midterm and other elections in the U.S. — Reuters
Six indicators of (worsening) climate change — Le Monde
Global greenhouse gas emissions in detailed inventory — Climate TRACE
Car parking spaces in Berlin — Tagesspiegel
---
November 4th, 2022 by AnyChart Team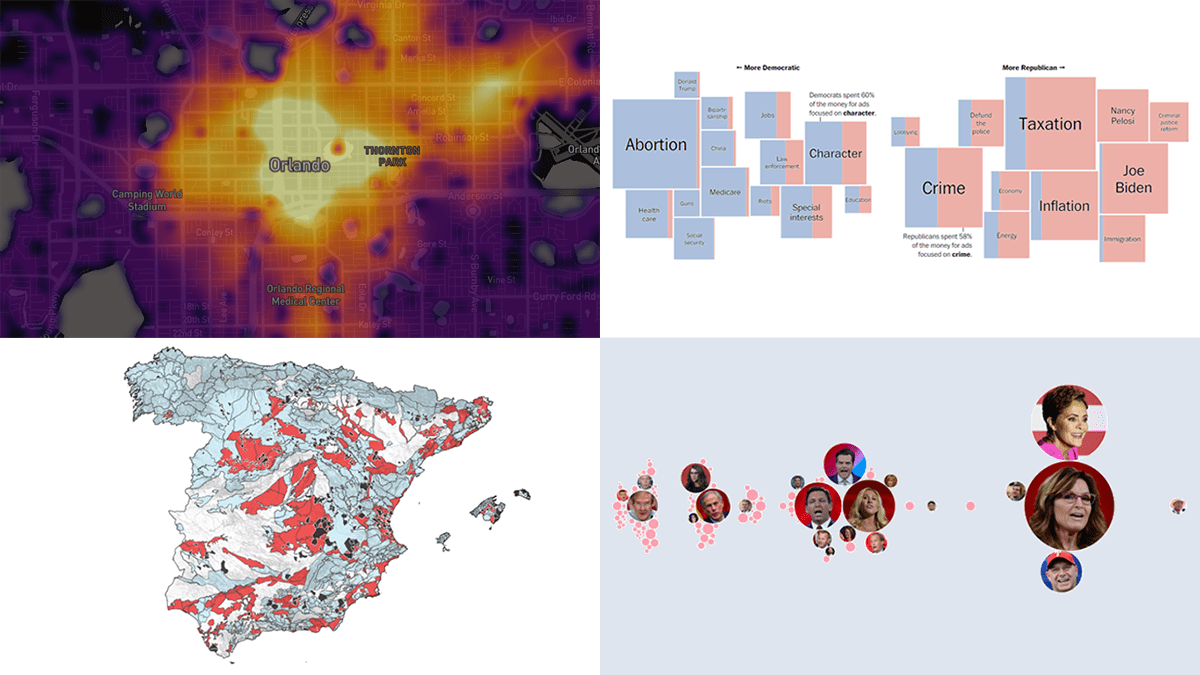 DataViz Weekly is where we curate the coolest data graphics published just about now around the web. Check out our new collection!
Top topics in political ads ahead of the U.S. midterms — The Washington Post
Republican candidates spreading election denial online — Bloomberg
Access to essential services in cities — Leonardo Nicoletti, Mikhail Sirenko, Trivik Verma
Tap water contamination across Spain — DATADISTA
---