June 29th, 2018 by AnyChart Team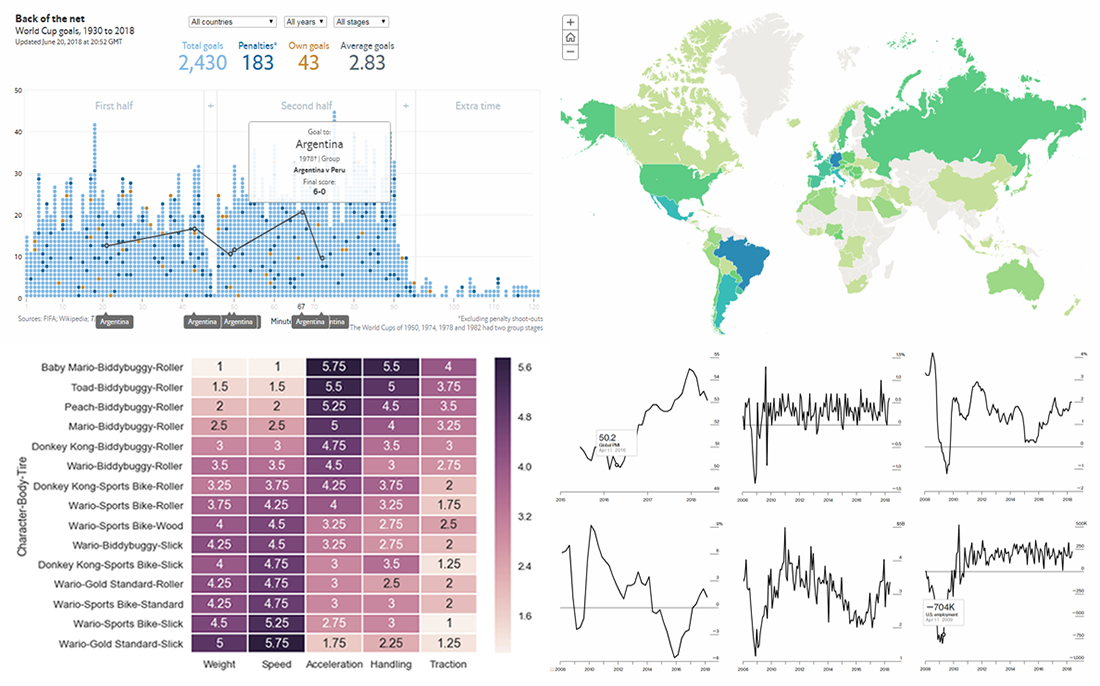 The 21st FIFA World Cup in Russia attracts the attention of many millions around the world who have been thoroughly watching the matches, and the tournament is about to enter the playoff stage. Today's DataViz Weekly post on our blog will tell you about two cool data visualization works devoted to this competition and its history:
all (more than 2,400) World Cup goals in one chart, and
thirty-three maps about the World Cup.
In addition, new DataViz Weekly features the following interesting graphics:
finding the best characters in Mario Kart, and
12 key global economic indicators.
---
June 22nd, 2018 by AnyChart Team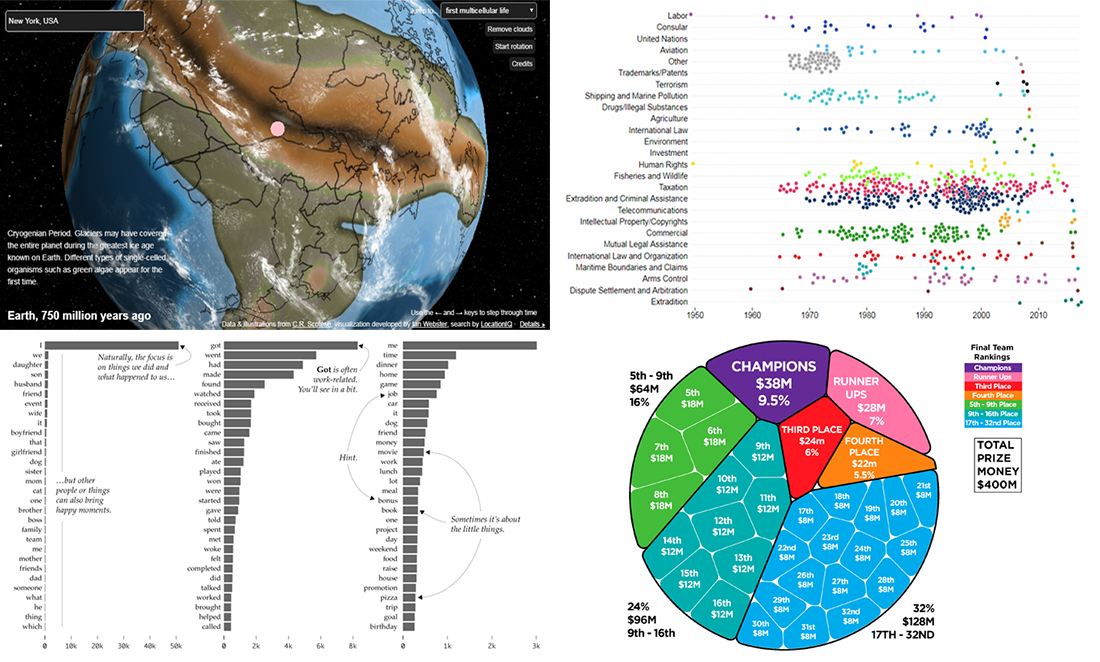 DataViz Weekly continues to share with you interesting data stories and visualizations. Take a look at our new selection:
U.S. Treaties Explorer;
ancient Earth globe;
happy moments in life;
FIFA World Cup prize money.
---
June 21st, 2018 by Irina Maximova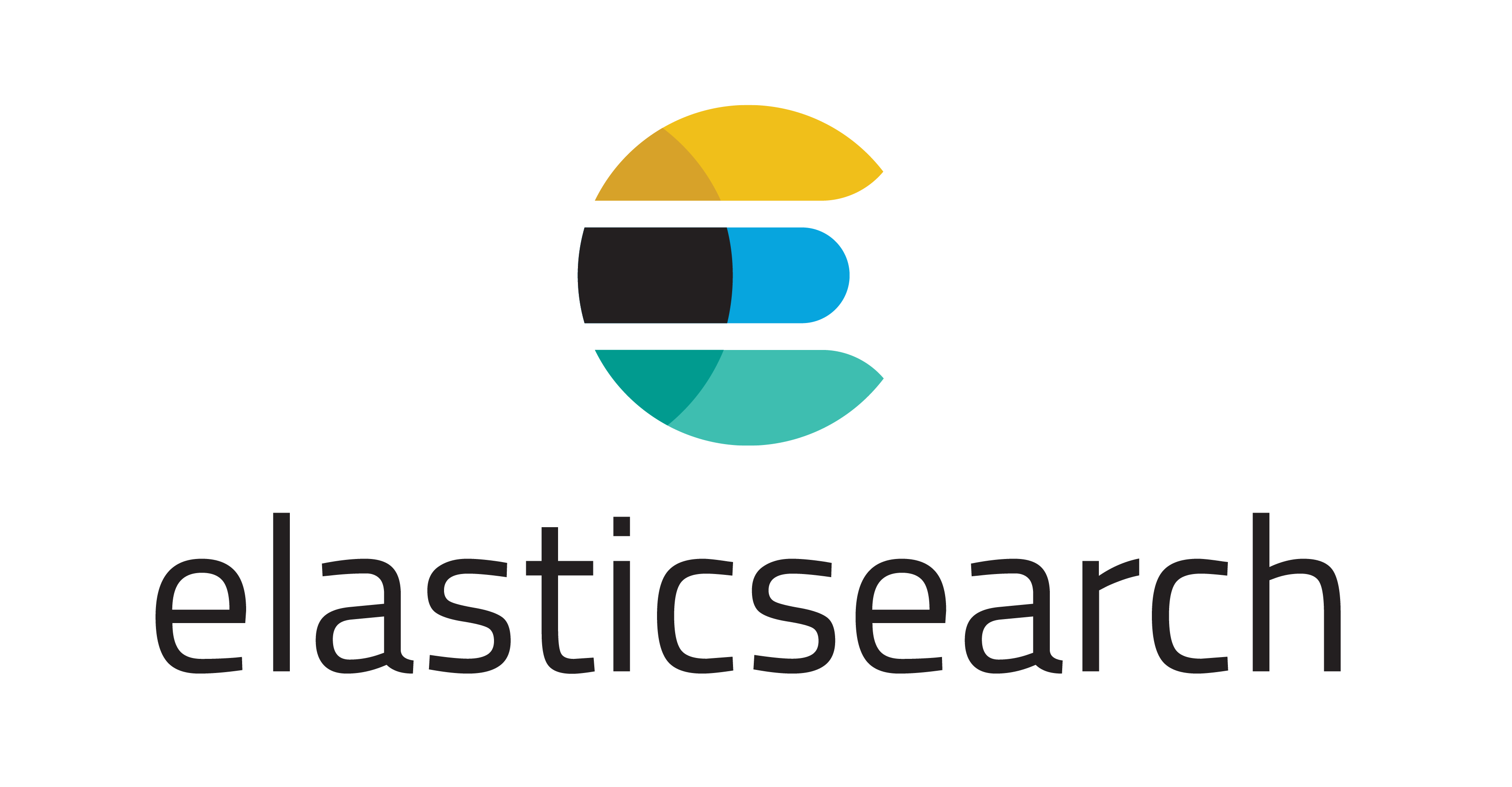 It's always been important to AnyChart to make JavaScript charts run in HTML5 projects fast regardless of the users' technology stack. Our AnyChart, AnyMap, AnyStock, and AnyGantt libraries for data visualization are compatible with all major technologies and platforms, and there is a bunch of different integration samples already available. All of them are a great help in making the process of chart creation more pleasant and less time-consuming. In this article, we will tell you how to integrate AnyChart JS Charts with Elasticsearch. To begin with, let's find out what Elasticsearch is and what makes it special.
---
June 15th, 2018 by AnyChart Team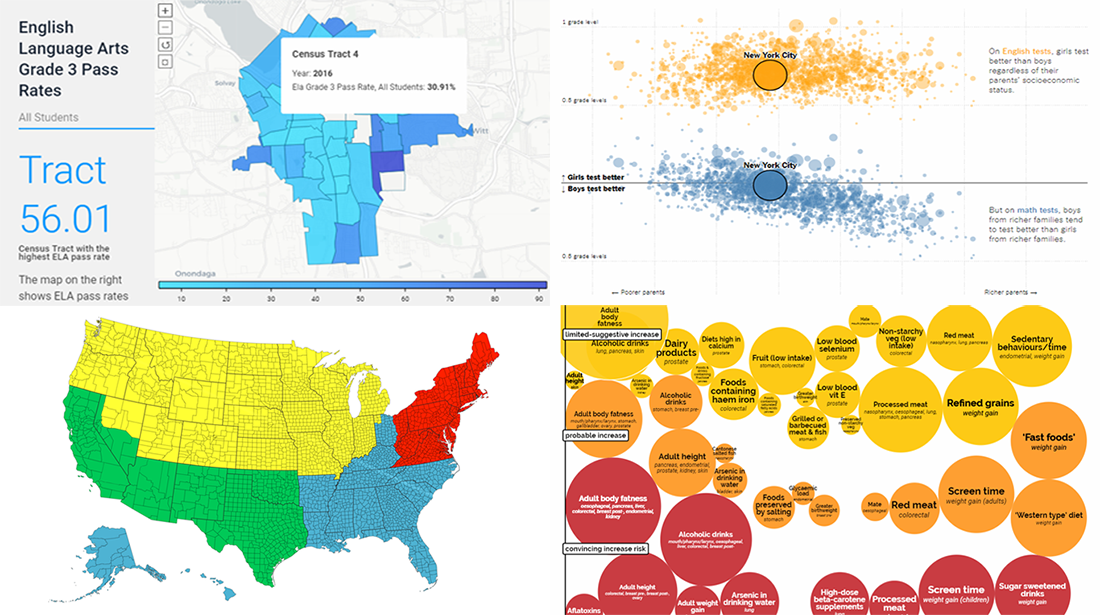 Understanding data gets easier when the data you are looking into is visualized. To illustrate this, here's a new collection of interesting charts, infographics, and stories based on them that we have found on the web just recently.
Today in Data Visualization Weekly:
life in Central New York;
population distribution in the big picture;
gender gap in school test scores;
cancer risk factors.
---
June 14th, 2018 by AnyChart Team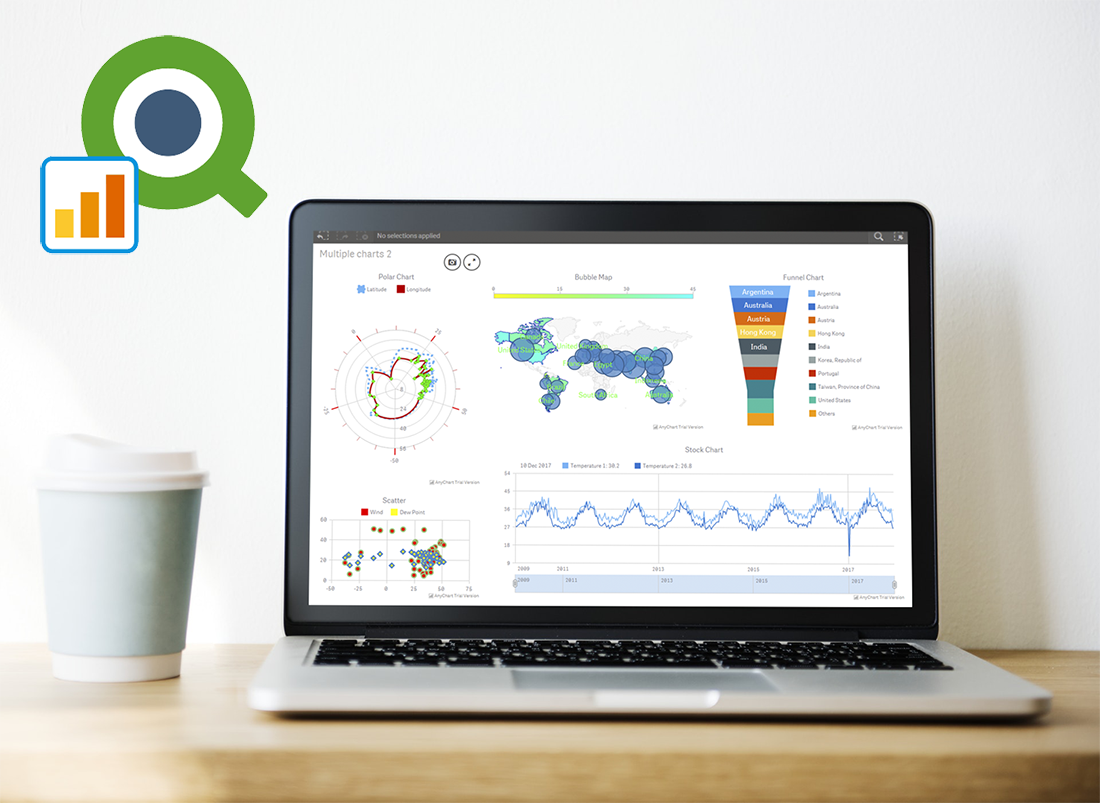 Great news for Qlik users! We've released version 2.4.0 of the AnyChart Qlik Extension. The latest update brings several important new features to Qlik charts: multiple scales, localization support, coloring controls for OHLC, candlestick and waterfall charts, as well as label rotation settings.
Learn more about the new version of our JavaScript (HTML5) charting library extension for interactive data visualization on Qlik data analytics platform, and what's next in our plans.
---
June 8th, 2018 by AnyChart Team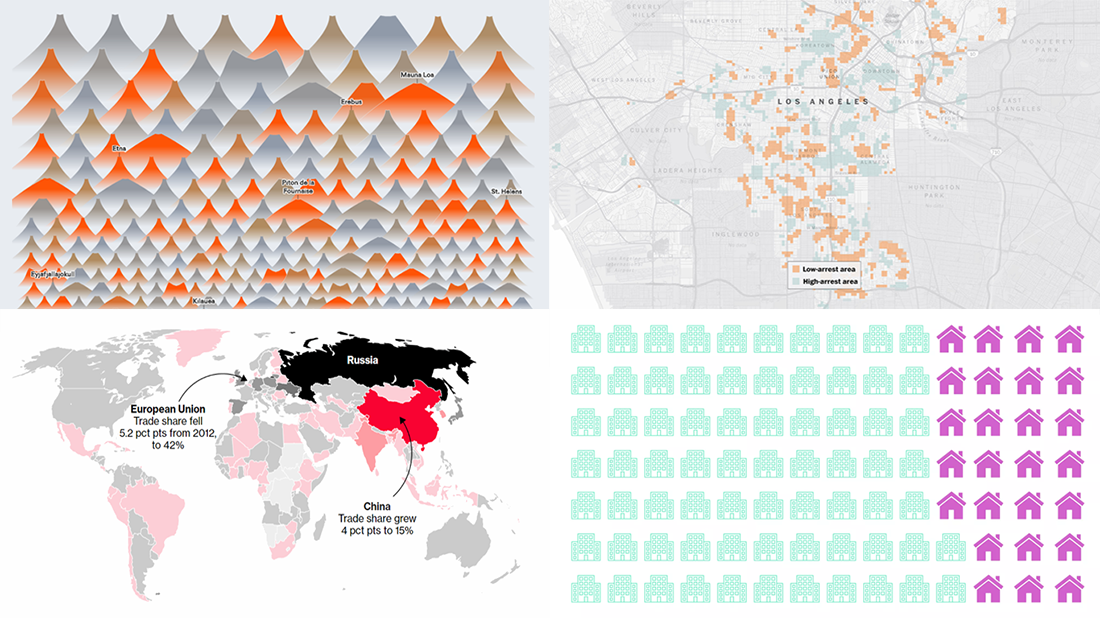 The new DataViz Weekly article is here. Today, we are glad to share with you the following cool data visuals, just in case you missed them out there:
all known volcano eruptions since 1883;
remote and non-remote workers' time usage;
unsolved murders in major US cities;
Russia's economic results.
---
June 1st, 2018 by AnyChart Team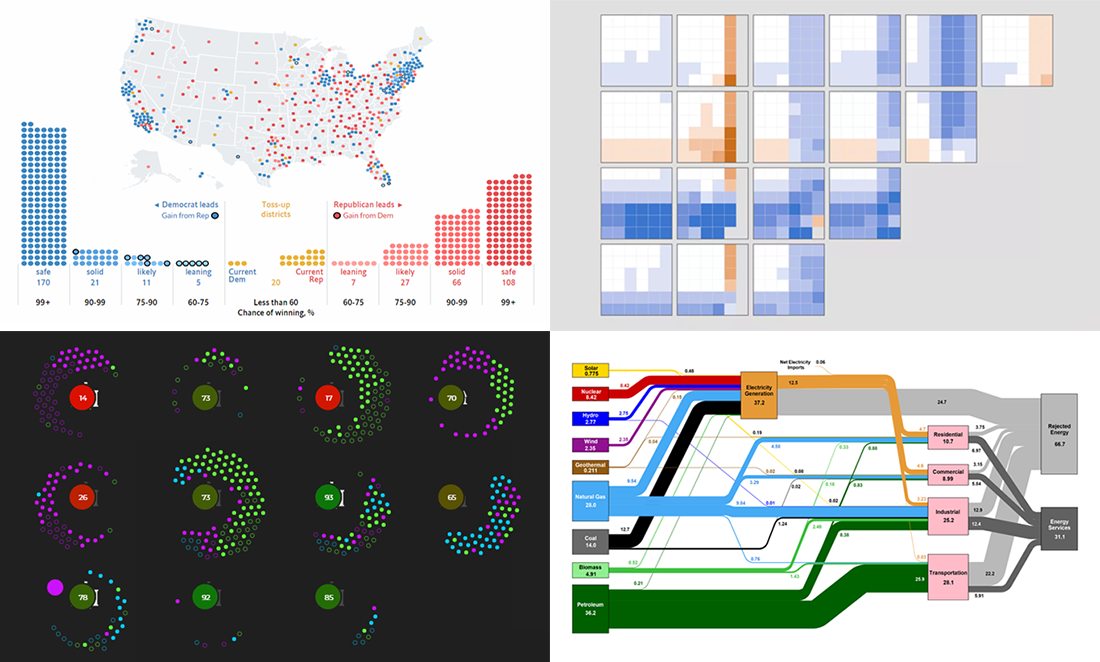 Want to see new cool dataviz examples? We have some right here! Check out our this week's selection of interesting charts and data stories in Data Visualization Weekly.
Here's what we are glad to put a spotlight on this time:
The Economist's predictive model for November's mid-term elections;
key NBA players' stats vs. their teams' chance to win;
US energy flow;
choosing a school in Chicago.
---