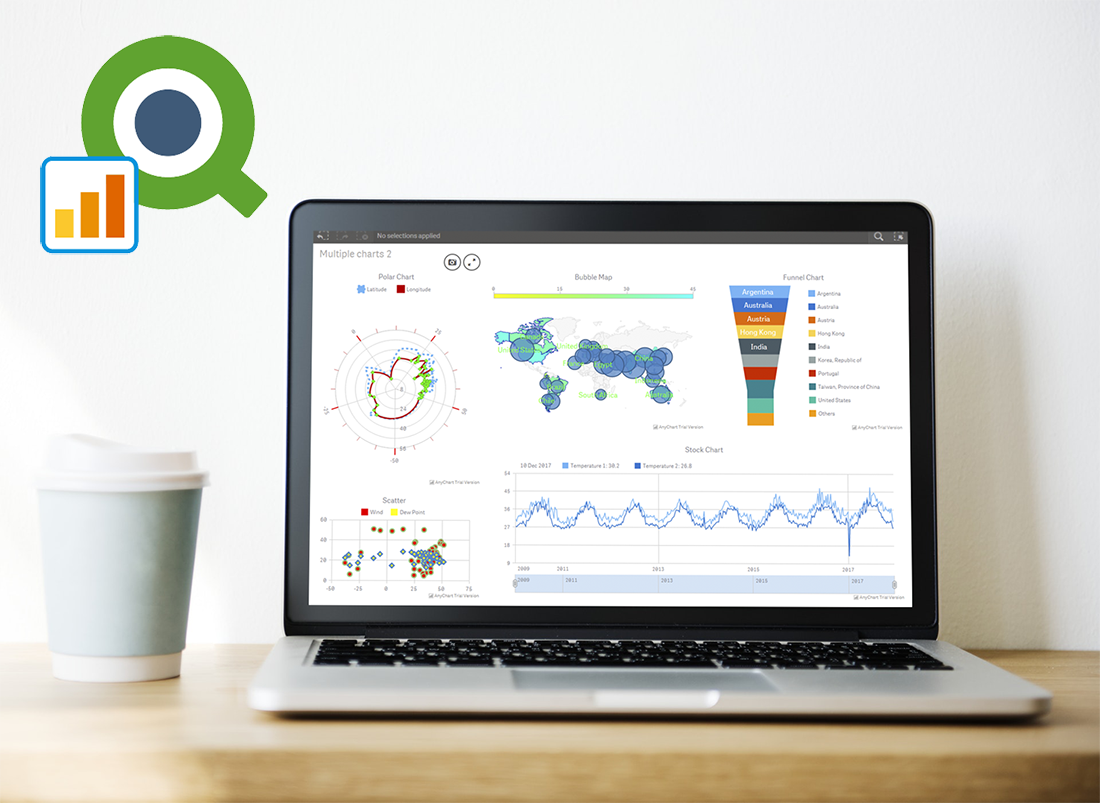 Great news for Qlik users! We've released version 2.4.0 of the AnyChart Qlik Extension. The latest update brings several important new features to Qlik charts: multiple scales, localization support, coloring controls for OHLC, candlestick and waterfall charts, as well as label rotation settings.
Learn more about the new version of our JavaScript (HTML5) charting library extension for interactive data visualization on Qlik data analytics platform, and what's next in our plans.
Qlik Charts Features Newly Added
Multiple Scales

Now you can add extra scales of Ordinal, Linear, Logarithmic, and DateTime types. It is also possible to apply them to any series, grids, and other objects. Enhanced flexibility allows the default chart scales to be fine-tuned.

Localization Support

AnyChart Qlik Extension now supports full localization of input and output date/time and number formats, based on our powerful locale mechanism.

Coloring Controls for Waterfall and OHLC Charts

Total/falling/rising colors can now be configured for waterfall, candlestick, and OHLC charts.

Label Rotation Settings

Series and axes labels can now be rotated.
Road to Version 2.5.0
In September 2018, we expect to release version 2.5.0 of the AnyChart Qlik extension.
Along with various further improvements, the next major update will deliver two important new features:
Gantt charts, and
annotations and drawing tools.
If you need any particular feature or chart type not available yet in our Qlik extension, just let us know. We always carefully listen to our customers and will be glad to consider adding it to our roadmap for Qlik charts.
---
No Comments Yet