Description
AnyChart JavaScript Visualization Library extension for Qlik Sense.
AnyChart is a flexible JavaScript (HTML5) based solution that allows developers to embed interactive and great looking charts and dashboards into any web, standalone or mobile project. AnyChart products include massive out-of-the-box capabilities, combined with the flexibility and the simplicity.
Qlik Sense is a self-service data visualization and discovery application designed for all business users whether, individuals, groups, or organizations. With Qlik Sense you can analyze data and make data discoveries on your own. You can share knowledge and analyze data in groups and across organizations. Qlik Sense lets you ask and answer your own questions and follow your own paths to insight, as well as enabling you and your colleagues to reach decisions collaboratively.
Download and install
You can find AnyChart Qlik Extension on AnyChart Extension Qlik Branch page and on AnyChart Qlik Extension GitHub page.
Installing Extension into Qlik Sense Desktop
Installing Extension into Qlik Sense Server
Open up the Qlik Management Console(QMC)
Enter your user name and password to login
Click 'Extensions' in the left hand menu
Click 'Import' in the upper right hand corner
Click 'Choose File'
Navigate to the folder where you unzipped the 'AnyChart-Qlik.zip'
Select any of the .zip files
Click 'Open'
That is it, you should now be ready to use AnyChart-Qlik extensions for Qlik Sense Server
Chart Editor
Chart Editor is an out-of-the-box chart generator and editor integrated with AnyChart Qlik Extension. Chart Editor has an intuitive user interface and provides access to more than 70 chart types including Gantt Charts, Stock Charts, and Geo Maps.
AnyChart Qlik Demo Application
AnyChart Qlik Demo Application is a anychart-qlik-demo-application.qvf file which contains several sheets with all chart types available in AnyChart Qlik Extension. This Demo Applications files allows you to learn all the power of AnyChart Charts in combintation with Qlik Data Analytics Platform.
License
AnyChart Qlik Extension integration sample includes two parts:
Code of the integration sample that allows to use Javascript library (in this case, AnyChart) with Qlik platform. You can use, edit, modify it, use it with other Javascript libraries without any restrictions. It is released under Apache 2.0 License.
AnyChart JavaScript library. It is released under Commercial license. You can test this plugin with the trial version of AnyChart. Our trial version is not limited by time and doesn't contain any feature limitations. Check details here.
If you have any questions regarding licensing - please contact us. sales@anychart.com
AnyChart product family includes more than 70 different chart types and we're constantly adding new ones.
Note: As far as AnyChart Qlik Extension is still at the development stage, not all charts are supported.
See
roadmap
for details.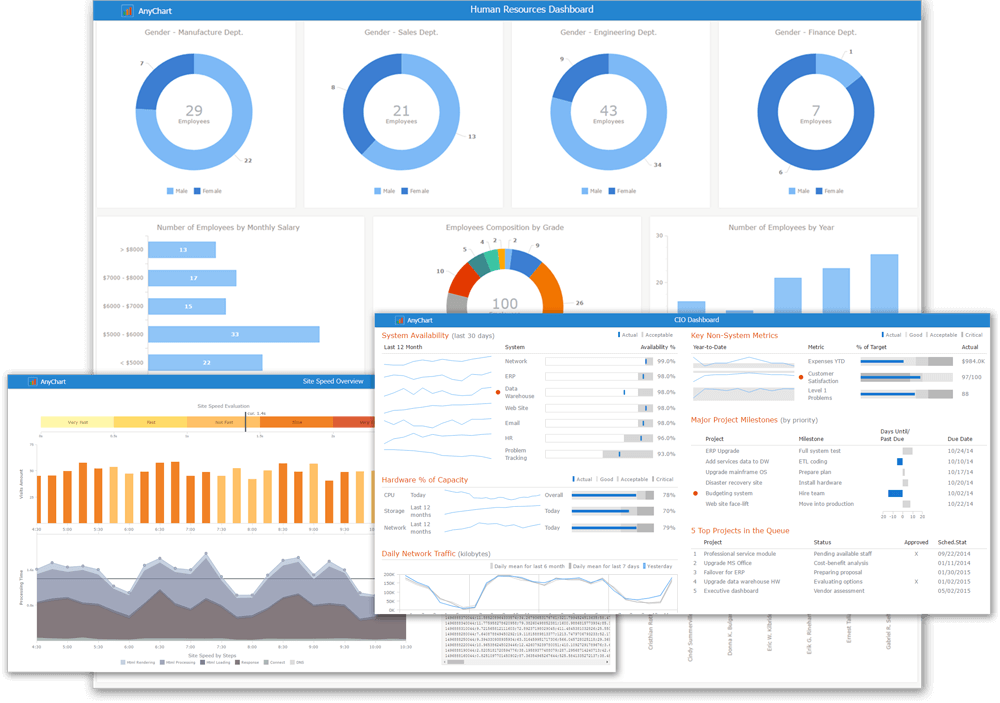 Business intelligence dashboards arrange numbers, metrics and performance scorecards on a single screen. Dashboards help executives, management, and employees to view KPI's and assess the situation. BI dashboards help to understand the data and improve the efficiency of an organization.
AnyChart provides many sample web-applications with interactive BI dashboards. Every interactive JavaScript dashboard in these apps is created with AnyChart.
Thousands of companies already use AnyChart to create interactive dashboards. Join us and build your own!
Are you building Sales Dashboard, Site Speed Monitor, CIO Dashboard, Investment Portfolio, Human Resources Dashboard, Technical Support Dashboard? AnyChart can do this and more.
Learn more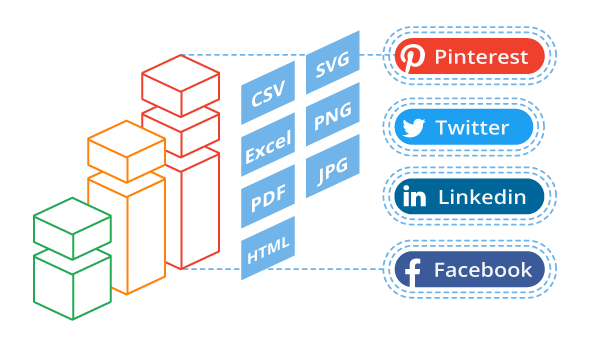 You can easily share a chart made with AnyChart JavaScript library to a social network like Facebook, Pinterest, Twitter and LinkedIn. Also it allows implementing custom integration with any other social network using image sharing functions. And of course, you can save a chart as an image in PDF, PNG, JPG or SVG formats or download chart data as Excel or CSV file.
Learn more
Contact Our Sales Representatives Our Sales Representatives will be happy to talk to you and answer any your questions regarding our products, licensing, purchasing and everything else.