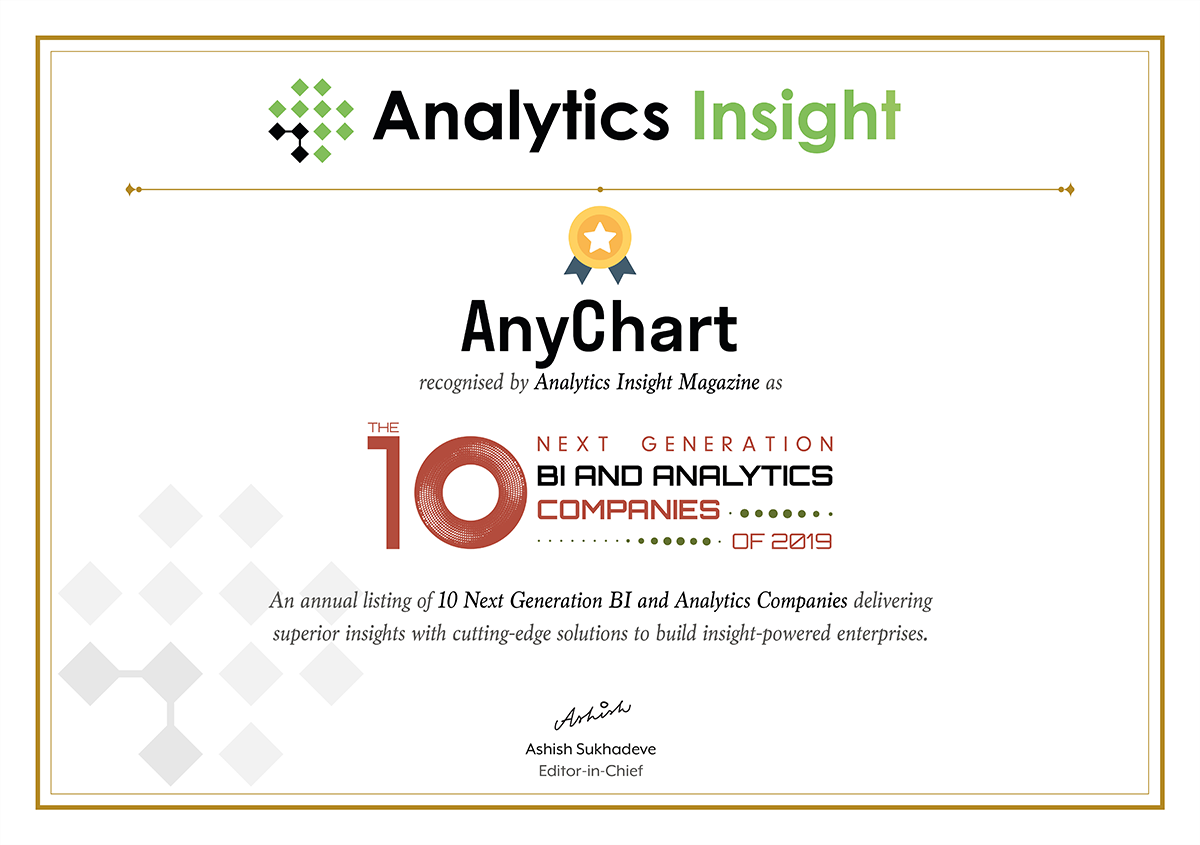 We are excited to announce that Analytics Insight, a magazine that covers big data and business intelligence developments, included AnyChart in The 10 Next Generation BI and Analytics Companies of 2019 — "for providing the most advanced solutions and playing a significant role in shaping the future of these disruptive technologies."
The list has been made public in the just-released November issue of the magazine and is accompanied by the stories about each featured company. With permission of Analytics Insight, today we are republishing the magazine's story about us on our blog — "AnyChart: Turning Data into Actionable Insights with Award-Winning Data Visualization Solutions."
Read the story of AnyChart as it appeared on Analytics Insight »
Categories: AnyChart charting component, AnyGantt, AnyMap, AnyStock, Big Data, Business Intelligence, Charts and Art, Choosing Chart Type, Dashboards, Financial charts, Flash platform, Gantt Chart, GraphicsJS, HTML5, Interesting Facts, JavaScript, News, Success stories
---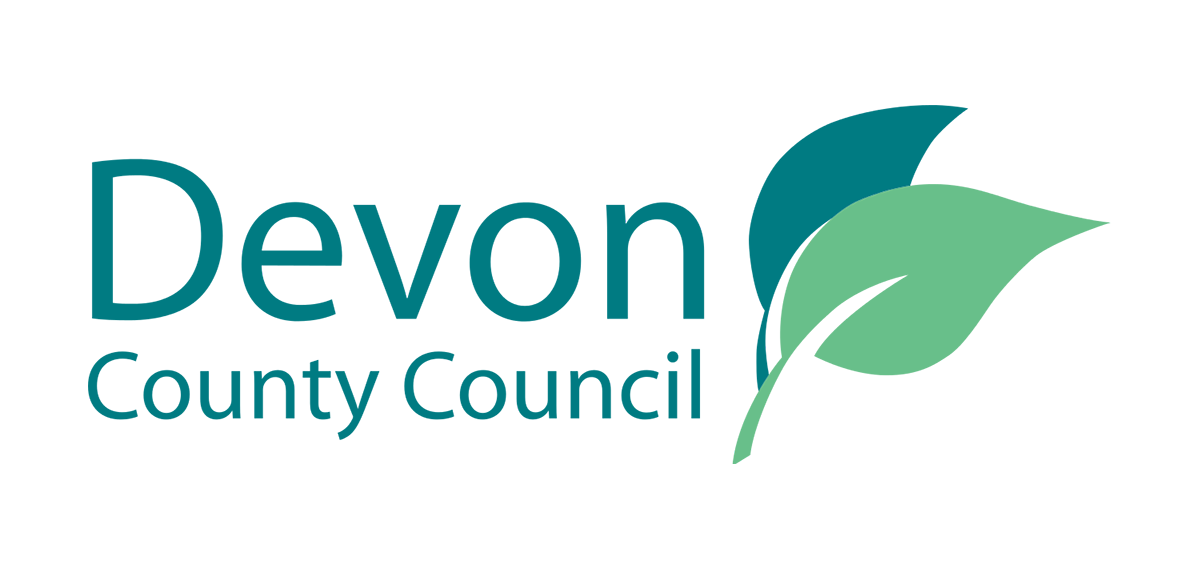 As a globally leading, award-winning data visualization solution, our JavaScript charting library is used not only in commercial apps but also by governments of all levels worldwide. Devon County Council, a UK local authority administering the English county of Devon, is one such customer.
In particular, Mark Painter from Devon County Council's Community and Public Health Intelligence Team told us they use AnyChart to generate all the charts in their Health and Wellbeing Profiles. We've interviewed him to learn more.
---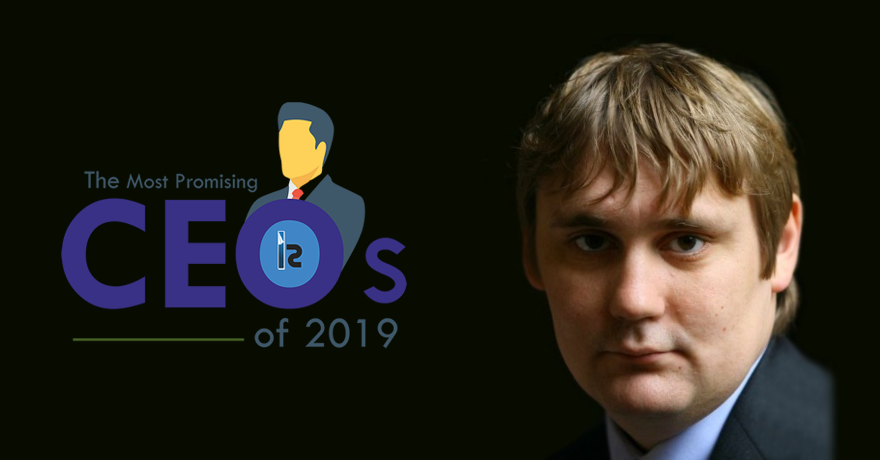 Insights Success magazine has named Anton Baranchuk, CEO and Co-founder of AnyChart, one of The Most Promising CEOs of 2019. Celebrating this exciting recognition, we are pleased to share with you a special article about him and our company. Published in the latest issue of Insights Success, the story is based on Anton's recent interview with the magazine. Take a read.
---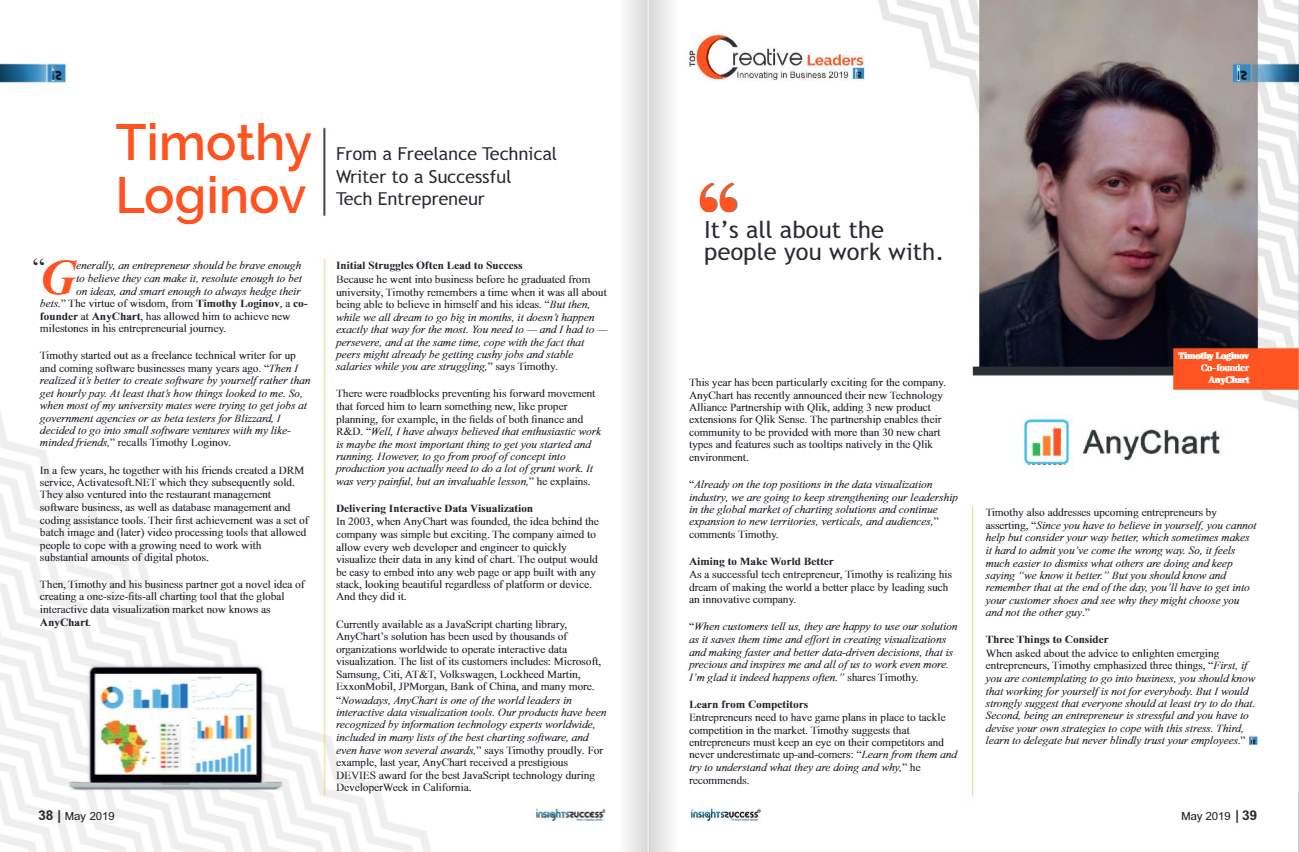 Business magazine Insights Success featured AnyChart's co-founder Timothy Loginov as one of the Top Creative Leaders Innovating in Business 2019! Today we are republishing an engaging two-page article that illuminates his journey from a freelance technical writer to a successful tech entrepreneur, outlines how our company has developed into a global leader in data visualization tools, and summarizes meaningful lessons and tips for emerging entrepreneurs.
---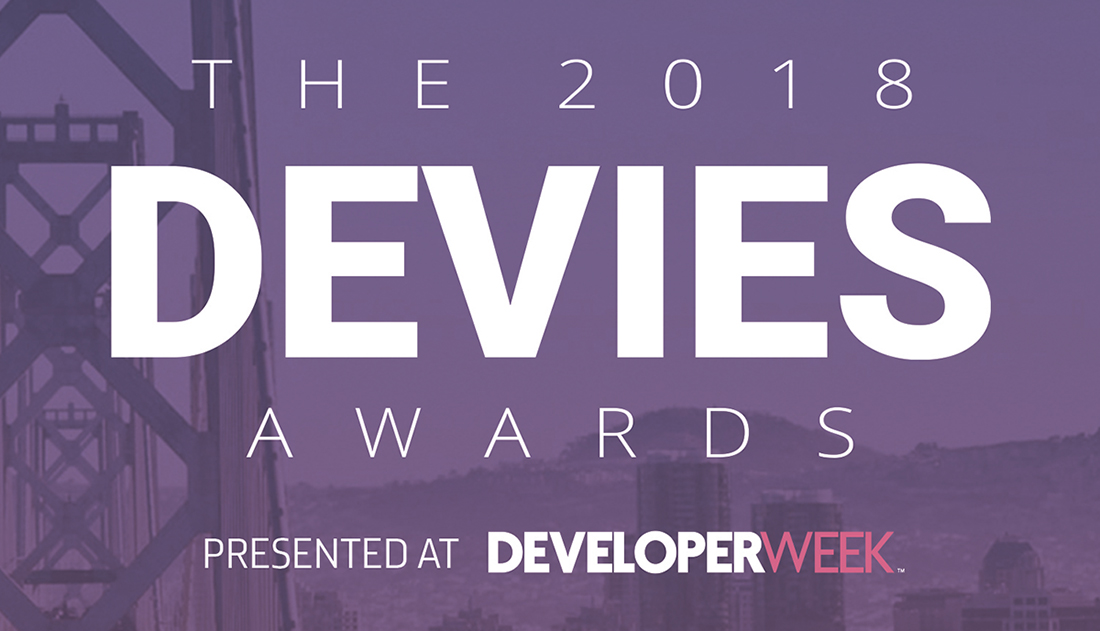 It's happened! Our AnyChart JS Charts library has just been officially named the best in JavaScript Technology for innovation and received a prestigious DEVIES award in California! (See all the 2018 DEVIES winners — one for each of the 15 categories.)
2018 DEVIES is reported to be the world's leading DevTech Awards event, taking place these days during DeveloperWeek in Oakland, CA, the largest developer expo and conference series globally.
---

AnyChart is a flexible JavaScript (HTML5) based solution that allows you to create interactive and great looking charts. It is a cross-browser and cross-platform charting solution intended for everybody who deals with creation of dashboard, reporting, analytics, statistical, financial or any other data visualization solutions. AnyChart works everywhere -PCs, Macs, iPhones, iPads, Android devices and helps businesses transform operational data into actionable information.
Kevin William David interviewed Anton Baranchuk, CEO at AnyChart to know more.
Categories: AnyChart charting component, AnyGantt, AnyMap, AnyStock, Business Intelligence, Flash platform, GraphicsJS, HTML5, JavaScript, Oracle Apex, Qlik, Success stories
---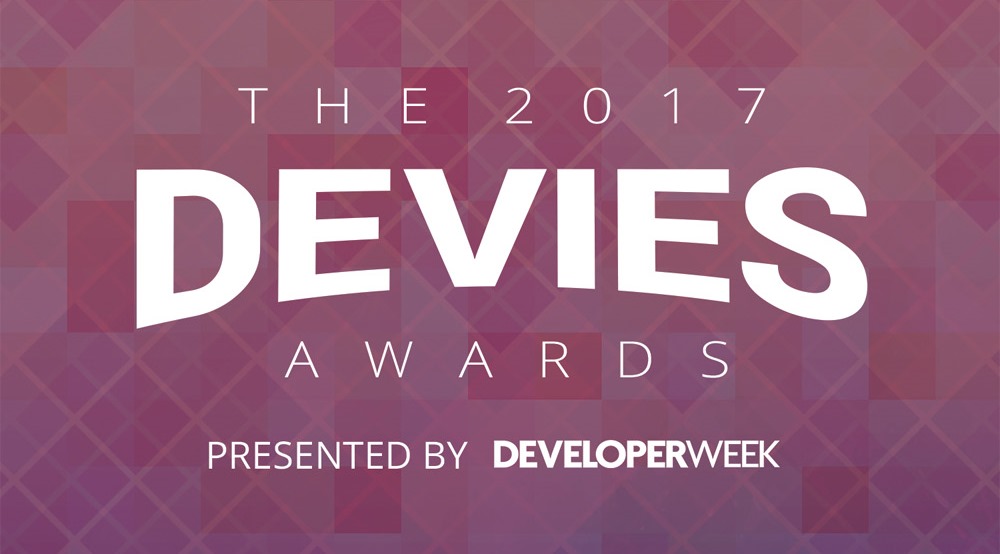 We are proud to tell you today that our company AnyChart has won the JavaScript Technologies category at the 2017 Devies Awards! The ceremony took place yesterday in San Francisco, CA, as part of DeveloperWeek, the world's largest developer conference and expo with 8,000 attendees. Our CEO Anton Baranchuk received the award on behalf of the AnyChart team.
The DeveloperWeek Advisory Board received hundreds of nominations and, of course, thoroughly studied how much we did last year. What excited the judges most was the public release of our JavaScript graphics library GraphicsJS. And they concluded that to be last year's most notable innovation in JavaScript technologies, exceptionally meaningful to the whole web development community.
The Devies Awards celebrate the most innovative companies in the field of developer technologies across 13 categories. Together with AnyChart, among this year's winners are industry giants Microsoft and IBM.
---
Today we are glad to publish a new customer success story – about AnyChart and Sparks & Associates.

The Actualized Leadership Profile (ALP) is a 77-item self assessment that measures an individual's dominant motive need and corresponding style of leadership. Based on the seminal works of Abraham Maslow and David McClelland, the ALP measures the degree of self-actualization that is demonstrated in one's current style of leadership. A customized, full color and confidential report identifies the strengths and limitations in the individual's current leadership approach.
The challenge was:
To provide a creative and intuitive visualization of personal assessment results.
To create a visualization that accepts result parameters from the system's existing ASP code.
Solution: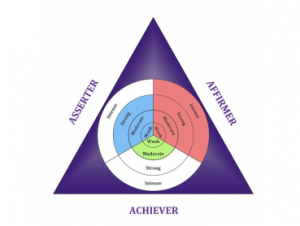 You can enjoy the full success story here:
Or see other AnyChart Customer Success Stories.
---
We are happy to announce that a new customer success story has been added to our site.

DeviceLock, Inc, established in 1996, is a leading provider of endpoint device/port control and data leak prevention software for business, education and government institutions around the world. The company offers DeviceLock, a policy-based endpoint data leak prevention (DLP) security solution that enables network administrators to centrally control uploading and downloading activity through local computer devices and network protocols and applications.
The challenge was:
To present the activity of DeviceLock in a clear and visually appealing way.
To make complex data easy to read and understand so that the situation could be quickly evaluated by the end user.
Solution:
AnyChart JavaScript charts were chosen as a solution. The component allows to create stylish interactive HTML5 charts and provides excellent rendering performance.
Due to wide variety of chart types and the flexibility of AnyChart, it was possible to implement user-friendly data visualizations.
You can enjoy the full success story here:
Or see other AnyChart Customer Success Stories.
---
We are very pleased to announce that AnyChart have partnered with Datonix.
Datonix primary product is datonixOne, a computer appliance designed for BIGDATA Solutions and eXpress development. Using datonixOne, Federated BIGDATA applications can be quickly developed, providing ready information for end users.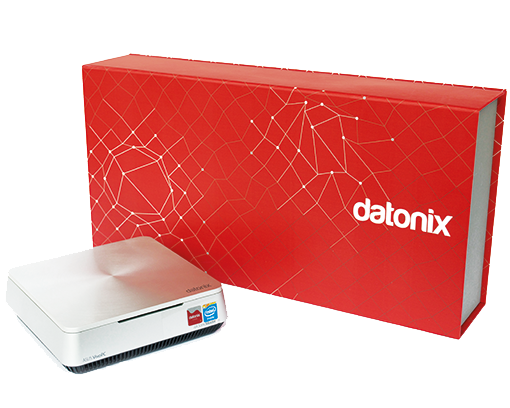 AnyChart partners:
https://www.anychart.com/partners/
.
---