November 26th, 2021 by AnyChart Team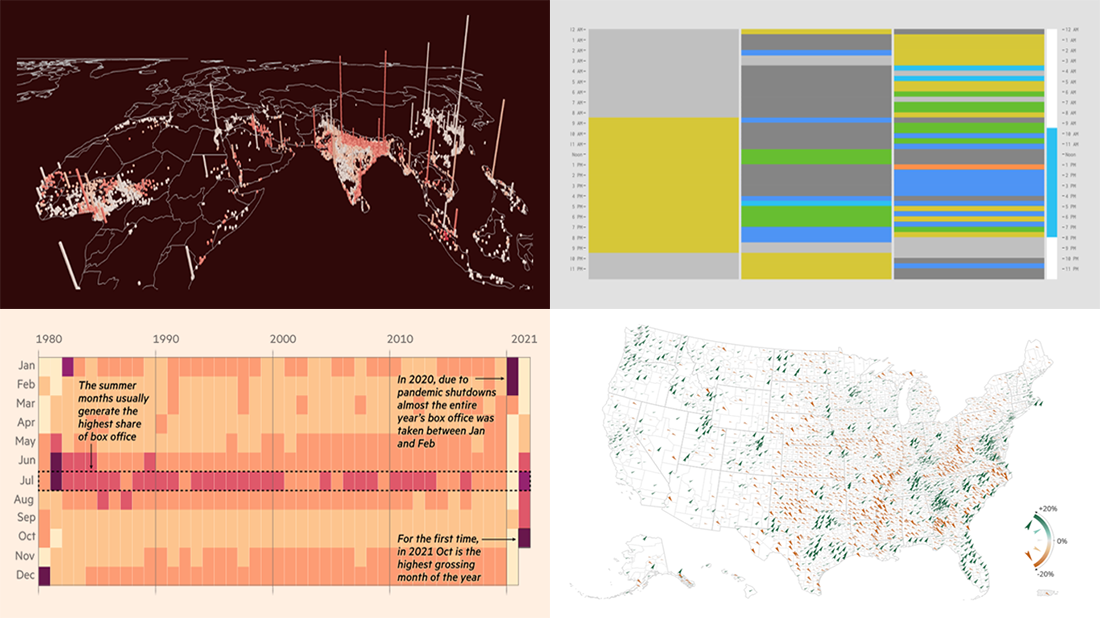 It is much easier to analyze large amounts of data when they are represented using the right visualization techniques. We are ready to show you another four vivid examples! Today on DataViz Weekly:
Population and racial changes in the United States — Pitch Interactive & Census 2020 Data Co-op
Box office for cinema-exclusive and simultaneous release movies — FT
Global extreme urban heat exposure — AP News
Most common daily time uses — Nathan Yau
---
October 20th, 2021 by Shachee Swadia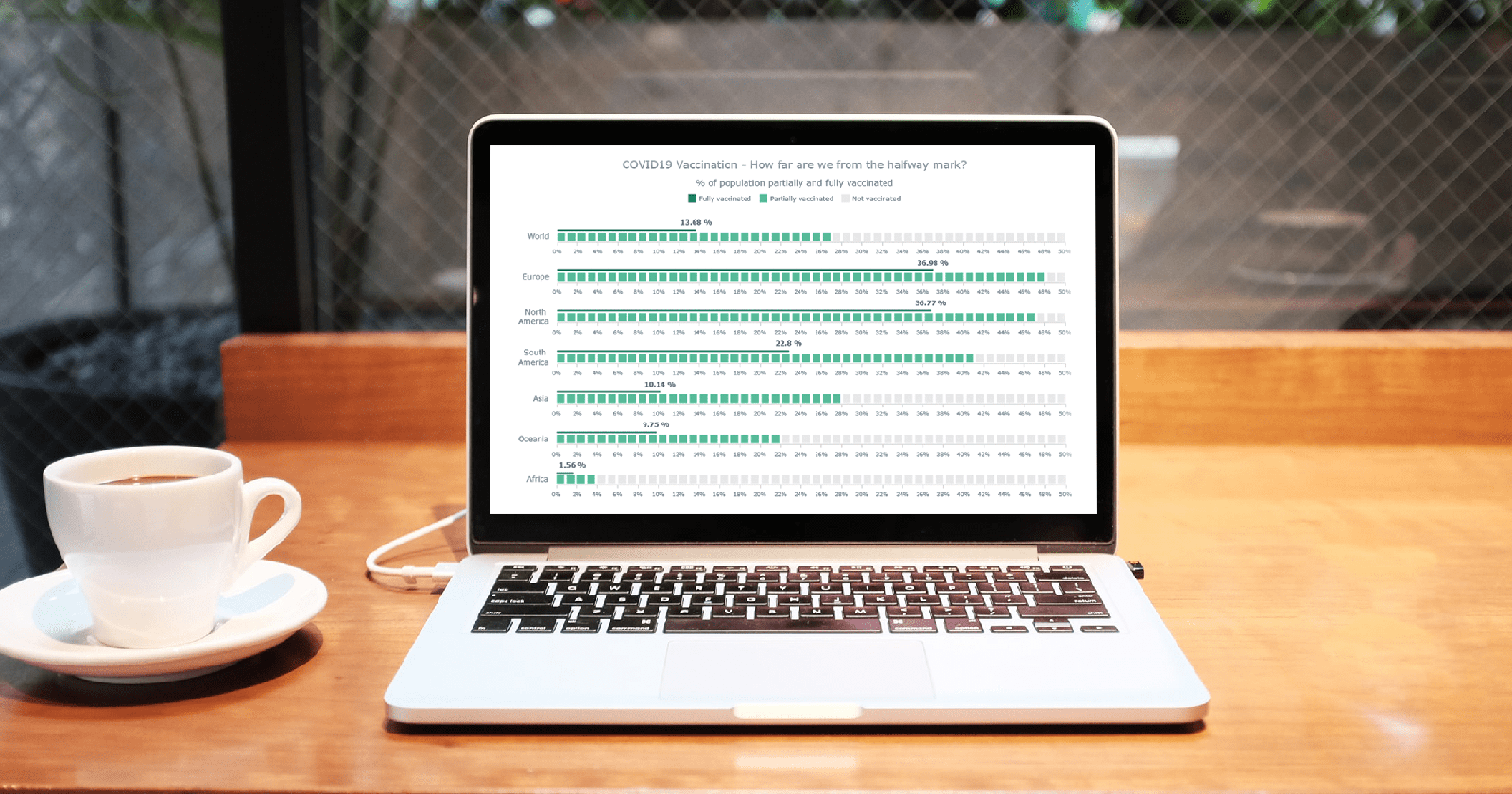 This article presents an easy-to-follow guide for building an interactive linear gauge chart in JavaScript.
We'll show how to quickly create a cool and interactive linear gauge chart that highlights Covid-19 vaccination data around the world. Our chart will allow us to visualize the status of Covid-19 vaccination at the time of writing, and will display two types of data — showing how far away we are from the halfway target of both partially and fully vaccinating the global population.
---
October 8th, 2021 by AnyChart Team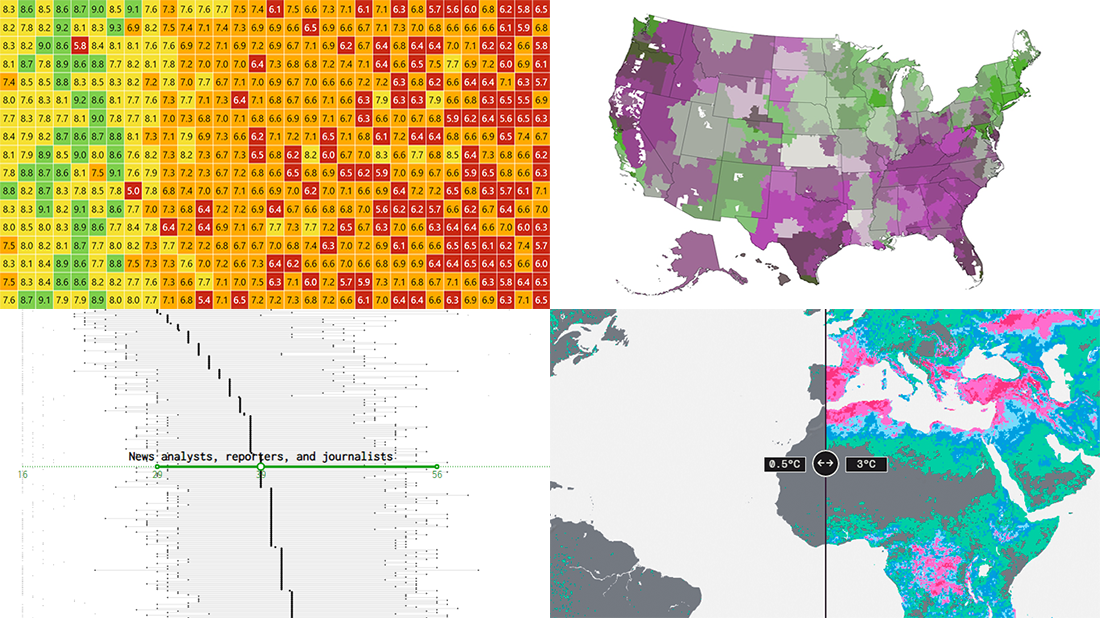 For all who already have an eye for data visualization or only want to get it, DataViz Weekly is here with an overview of four new interesting projects curated from around the web!
U.S. jobs by age of workers — Nathan Yau
Probable climate futures based on different scenarios — Probable Futures
Average IMDb scores of all TV series by episode — Jim Vallandingham
Vaccination vs hospitalization rates across the United States — The Washington Post
Read on to learn more about each and check them out!
---
September 24th, 2021 by AnyChart Team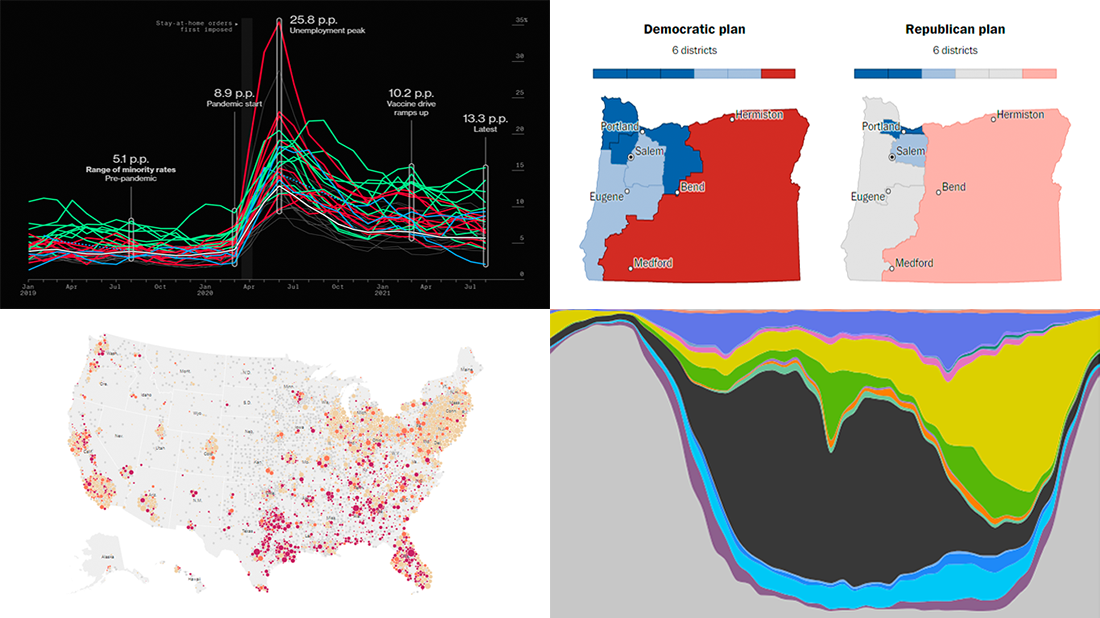 Hey everyone! It is Friday, and we are here to put a spotlight on the most compelling examples of sensible data visualization we have recently seen around the internet. As always, let's start with a quick list and then look at each project. All aboard for DataViz Weekly!
Intensive care unit occupancy rates in the United States — The New York Times
Minority unemployment rates in 15 large U.S. cities. — Bloomberg
Early proposals for congressional redistricting in Oregon, Indiana, and Colorado — The Washington Post
Time use of American men and women by employment status — Nathan Yau
---
September 10th, 2021 by AnyChart Team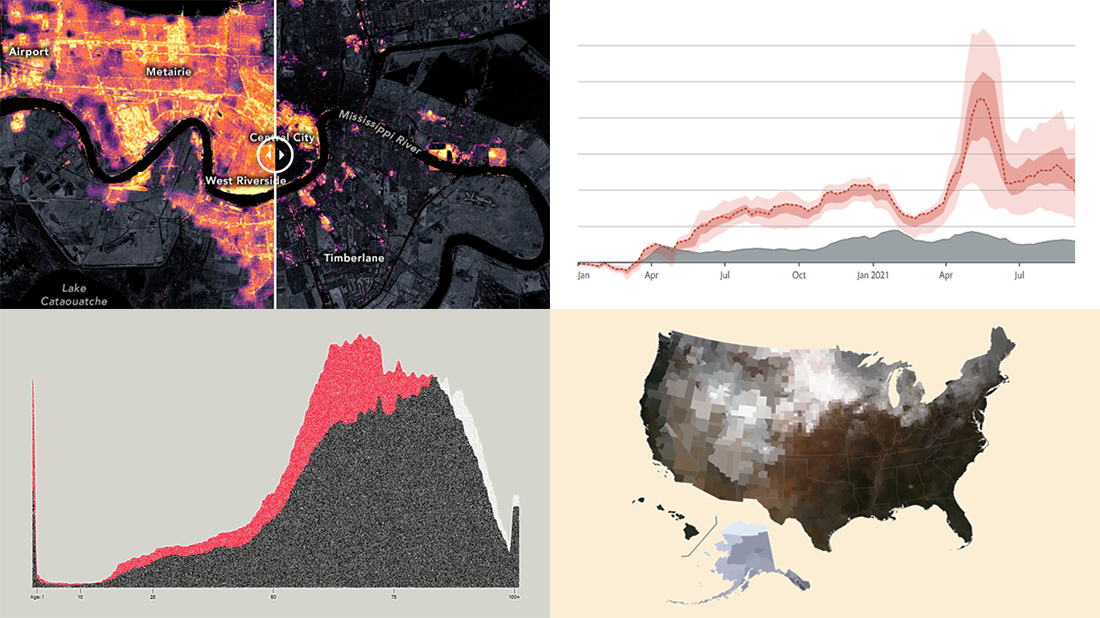 This week, we have come across a number of wonderful new data visualization projects out there. Here are the four that we've found most interesting and decided to showcase today in DataViz Weekly. Join us for a quick overview of these works and check them out!
Black mortality gap in America — The Marshall Project
Excess deaths worldwide during the COVID-19 pandemic — The Economist
Ida-caused power outage in New Orleans as seen from space — NASA Earth Observatory
Average seasonal colors of the United States — Erin Davis
---
August 27th, 2021 by AnyChart Team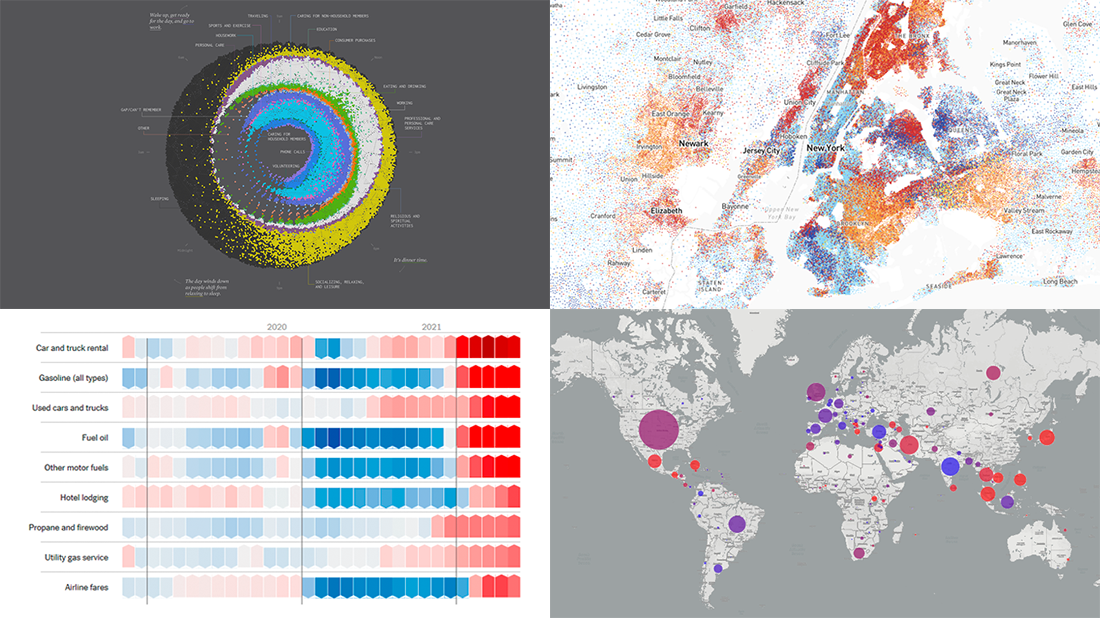 Are you ready for another set of excellent data graphics examples? It's time! The following projects made it to the newest DataViz Weekly digest — see the list below and keep reading for a closer look!
Average weekday in the life of Americans — Nathan Yau
Race and ethnicity across the United States — CNN
Inflation in the United States — NYT Opinion
COVID-19 spread across the world over time — Olivia Jack
---
August 13th, 2021 by AnyChart Team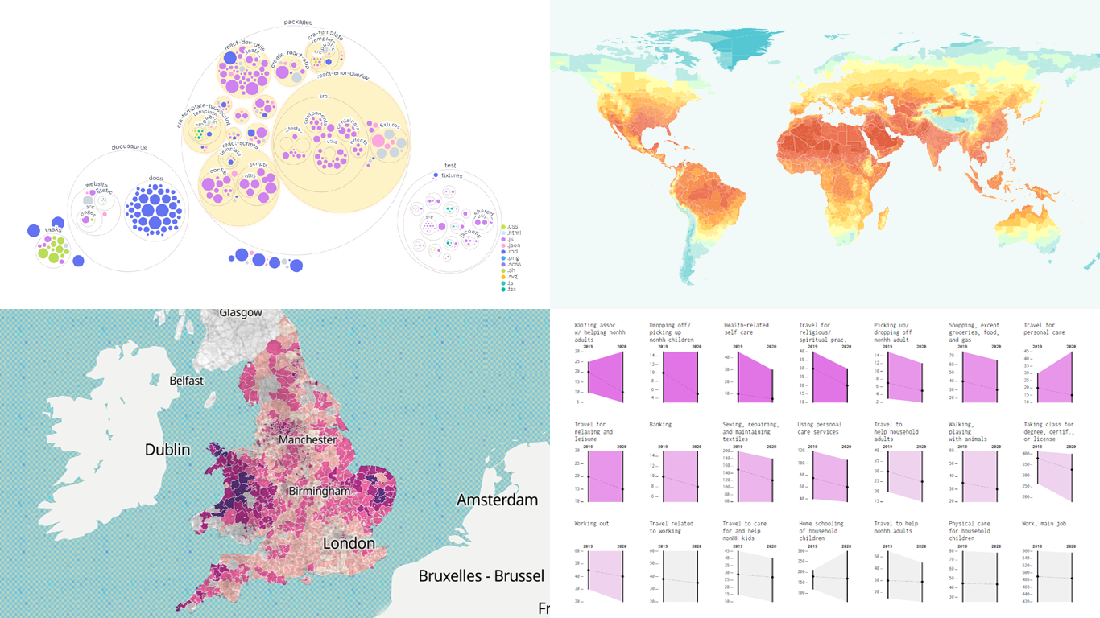 It is Friday the 13th. But don't worry about the irrational! Check out the four really cool data visualization projects we have discovered around the web these days and you will be fine, entertained, and inspired.
Today on DataViz Weekly:
Codebase visualization in packed bubble charts — GitHub OCTO
Climate change impacts through 2099 — Climate Impact Lab
Shifts in U.S. time use patterns during the pandemic — Nathan Yau
50 years of social change in England and Wales — ONS
---
July 30th, 2021 by AnyChart Team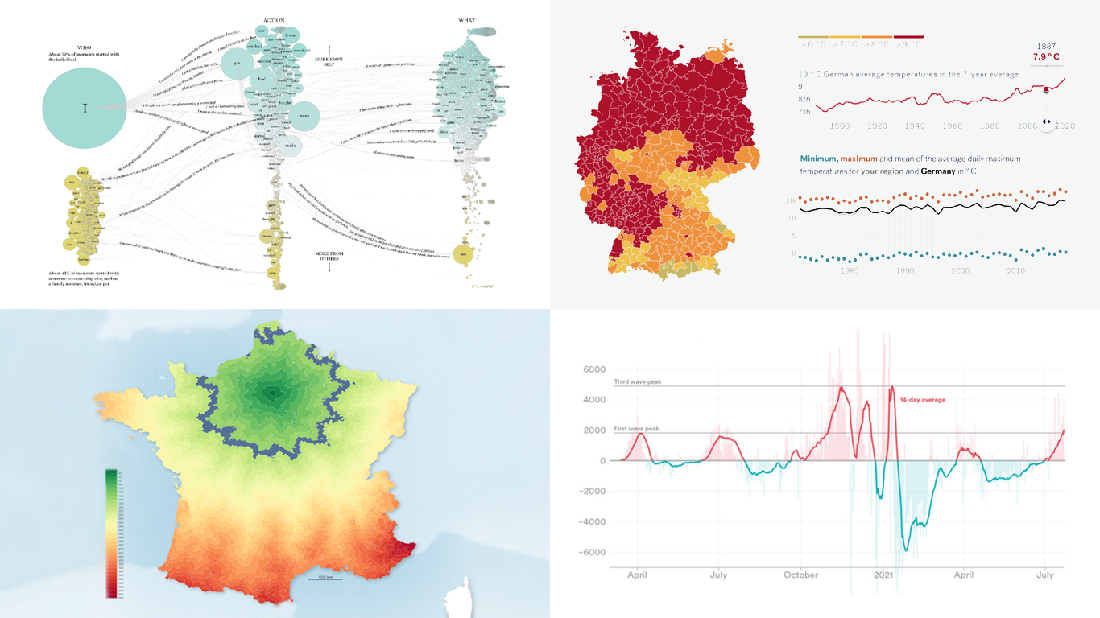 Data becomes easier to perceive and draw insights from when it is properly represented in charts and maps. For everyone interested to check out how information visualization works, we continue our regular feature DataViz Weekly curating the best new examples of effective graphics. Here are our latest picks:
COVID-19 case acceleration rates — STAT
Climate change risks across Germany — Vislab
What makes people happy the most — Nathan Yau
Driving time to Paris from across France — Nicolas Lambert
---
July 23rd, 2021 by AnyChart Team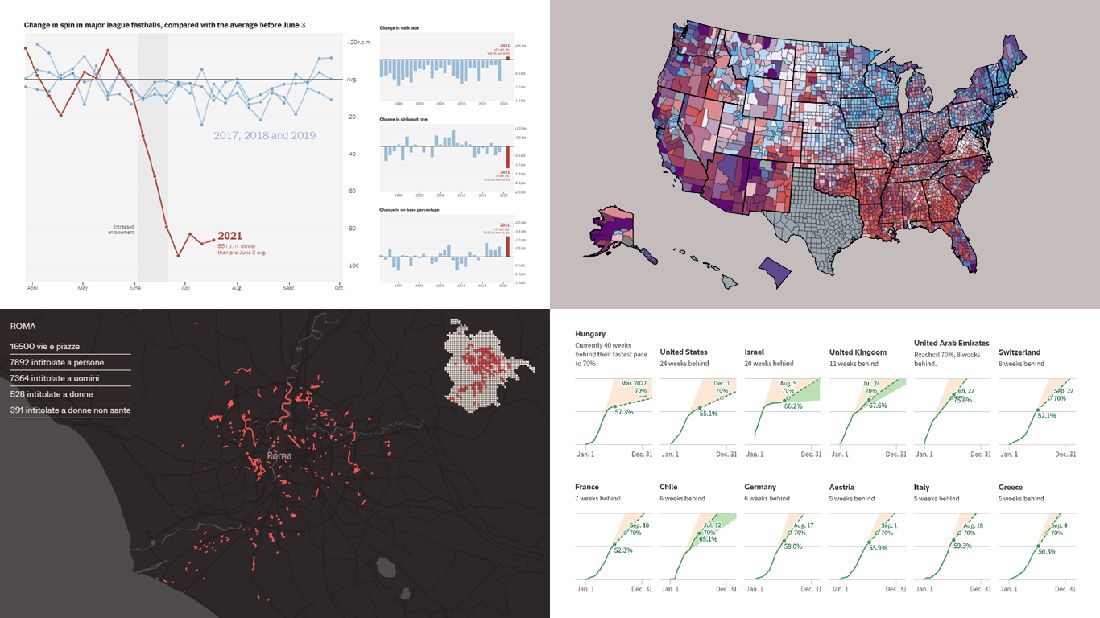 Look at some of the most interesting data visualizations we have come across out there over the last few days! The following projects are deservedly featured in DataViz Weekly this time:
Falling spin rates in American baseball after a crackdown on sticky substances — The Upshot
Gender diversity in Italian street names — EDJNet
Shifts in the COVID-19 vaccination pace worldwide since January 2021 — Reuters
Vaccination equity in America — CDC
---
June 18th, 2021 by AnyChart Team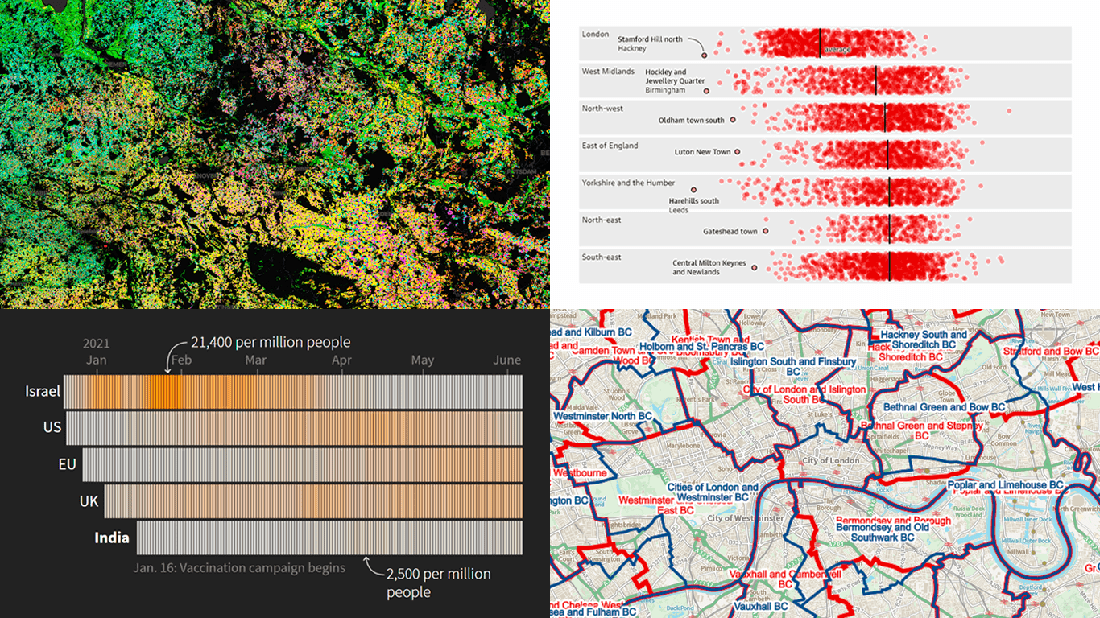 Hardly a day goes by without some cool new charts and maps being built and published, helping to make sense of various data. Every Friday, we tell you about those that have gripped our attention the most during the past few days, within the framework of DataViz Weekly. Come see our new selection!
Proposed new parliamentary constituency boundaries for England — BCE
Reasons behind the delay of lockdown reopening in England — The Guardian
COVID-19 vaccination campaign in India — Reuters
Agricultural land use in Germany by crop type — Earth Observation Lab at HU Berlin, ThEO, and ZALF
---