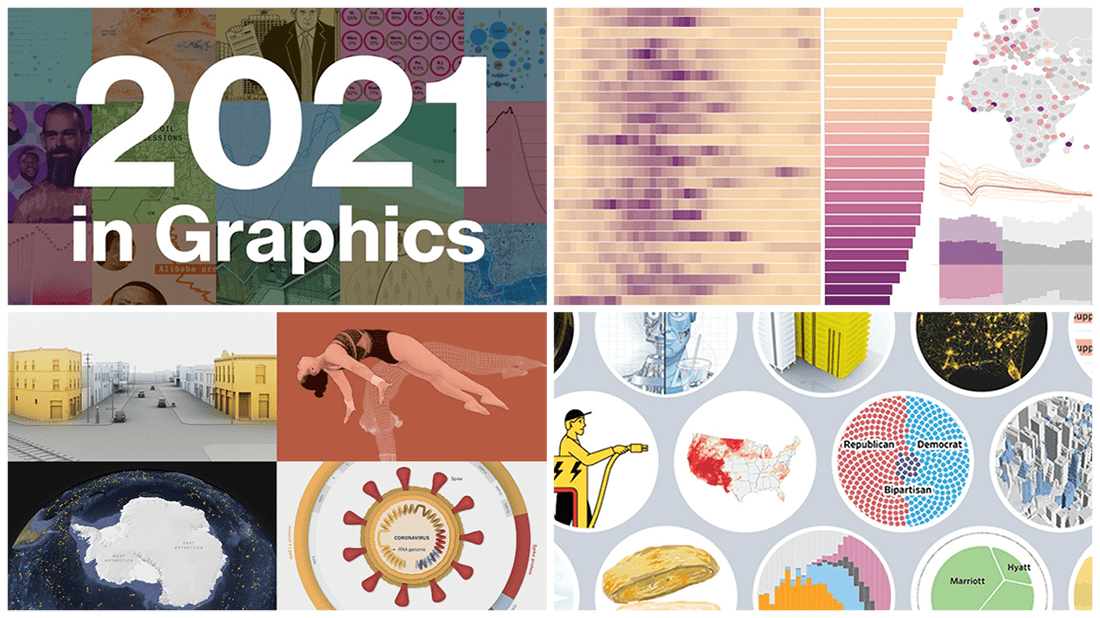 As we get ready to ring in the New Year 2022, it's a great time to take a look back at 2021! Over the last 365 days, various experts in data graphics and visual storytelling have done their best to help us better understand what was going on around us with the help of static and interactive charts, maps, and infographics. Now we want to let you recall the most important matters that shaped the passing year from the lens of data visualization.
Here, in the final DataViz Weekly issue of 2021, we bring you a roundup of the year-in-review-in-graphics recaps on Bloomberg, The Wall Street Journal, The New York Times, and POLITICO.
Check it out, see the awesome visuals, and enjoy the start of a very happy, healthy, and prosperous new year that we wish you all to have in 2022! 😎🎉
Data Visualization Weekly: December 24, 2021 — December 31, 2021
Bloomberg: Year in Graphics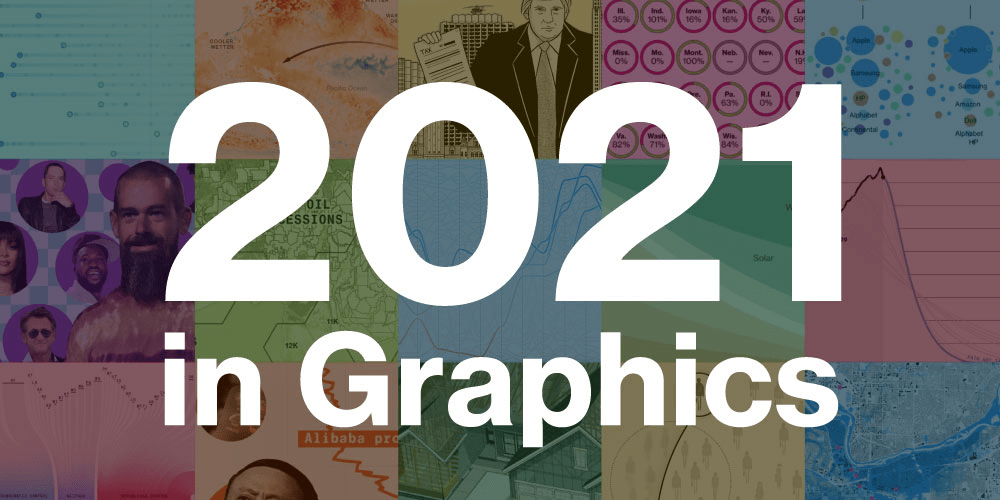 The Bloomberg Graphics team grouped the most important visual data stories it had built over the course of 2021 into 11 sections by topic: COVID, inequality, business, economy, climate, energy, real estate, new normal, politics, billionaires, and sports.
1. Tracking COVID-19:
The Bloomberg COVID-19 vaccine tracker
The Bloomberg COVID-19 resilience ranking
The U.S. demographics of vaccination tracker
Travel during COVID-19: Where can you go and what restrictions to expect
Inside Boston's Major League vaccine rollout
To expand U.S. vaccine access, consider the dollar store
Confused about masking? It's time to get tactical
Pfizer fights to keep its $36 billion COVID recipe a secret
The winners and losers from a year of ranking COVID resilience
Unvaccinated COVID patients push hospital systems past the brink
2. Inequality:
Redlined, now flooding
Companies open up on racial data even as representation lags
The booming U.S. recovery is leaving some communities completely behind
In a city split along race, black D.C. workers see strong economic recovery
These minority neighborhoods waited a year for COVID loans
Jobless rates from 15 U.S. cities show racial gap is widening
New York's once-thriving Asian businesses struggle to recover from 4,000% unemployment spike
How COVIDS turbocharged the American consumer
Georgia shows just how broken American unemployment benefits are
Charging 589% interest in the pandemic is a booming business
3. Business:
The world's addiction to palm oil is only getting worse
The chip shortage keeps getting worse. Why can't we just make more?
Robinhood restrictions meant users could only lose so much
The STEM graduate system is broken. Here's how to fix it
How a chip shortage snarled everything from phones to cars
Streaming TV costs add IP as Americans add more services
Ranking the best B-schools in the world
In just one year, Beijing's crackdown has changed corporate China forever
Wall Street is churning out SPACs at investors' peril
Every step of the global supply chain is going wrong — all at once
4. Economy:
A $9 trillion binge turns central banks into the market's biggest whales
The COVID-19 pandemic has added $19.5t to global debt
How the U.K.'s trade with the EU fared after Brexit
China's COVID rebound edges it closer to overtaking U.S. economy
A hidden bond-market problem
States dole out cash to college kids, theaters in $200 billion 'experiment'
Europe's giant job-saving experiment pays off in pandemic
5. Climate crisis:
Flood-threat assessment finds danger goes far beyond U.S. homes
Hamptons tries extreme climate-proofing to save itself
La nina roars, unleashing fire, drought and floods worldwide
Most Americans don't have enough flood insurance for climate change
Whatever climate change does to the world, cities will be hit hardest
Cities are our best hope for surviving climate change
Killer heat forces cities to adapt now or suffer
More Americans are moving into fire-risky areas
How scientists know that climate change juices heat waves
The ESG mirage
6. Energy:
There's a fortune to be made in the obscure metals behind clean power
BP looks dirtier than Exxon in new data from giant U.S. oil field
Opinion when the electric car is king, less energy is more
Secrecy and abuse claims haunt China's solar factories in Xinjiang
What happens when an oil giant walks away
How batteries work: inside the batteries powering your car, phone and more
The U.S. will need a lot of land for a zero-carbon economy
European banks' next big problem? The CO2 in their loan books
The green revolution is being built on a very dirty industry
The cheap and easy climate fix that can cool the planet fast
How to stop 30 years of failing to cut emissions
The Chinese companies polluting the world more than entire nations
7. Real estate and infrastructure:
Europe asks travelers to ditch planes for night trains
Building a home in the U.S. has never been more expensive
What it looks like to reconnect Black communities torn apart by highways
In Florida, petty condo politics jeopardizes residents' safety
New York's real estate tax breaks are now a rich-kid loophole
How a $2 million luxury condo in Brooklyn ends up with a $157 tax bill
New York tax bills show COVID's lasting damage to real estate
In wake of 9/11, Wall Street is more of a notion than an address
How COVID has reshaped real estate from New York to Singapore
How to fix America
8. New normal:
More Americans are leaving cities, but don't call it an urban exodus
A Seattle commercial district's trial by virus
Office return stalls in London's financial hubs
9. Politics and government:
What went wrong: How rioters breached the capitol complex
How Hong Kong's national security law is changing everything
Republicans have a redistricting problem as suburbs shift toward Democrats
Cities say they want to defund the police. Their budgets say otherwise
What a scaled-down, high-security inauguration looks like
Lost N.Y. House seat stirs echoes of racist 1929 Congress debate
Republicans fall short in voting-rights crackdown while adding hassle at polls
NYC cops log millions of overtime hours. New Yorkers don't feel safer
10. Billionaires and their money:
Trump's ailing empire: His fortune slips to $2.3 billion as COVID and riot take a toll
Jack Dorsey's celebrity network is helping him give away billions
Mackenzie Scott's money bombs are single handedly reshaping America
How Bill and Melinda French Gates are dividing a $148 billion fortune
11. Sports:
Long tee shots at U.S. Open fuel debate: Does golf have a distance problem?
U.S. comes out on top in Tokyo Summer Olympics gold medal haul
WSJ: Year in Graphics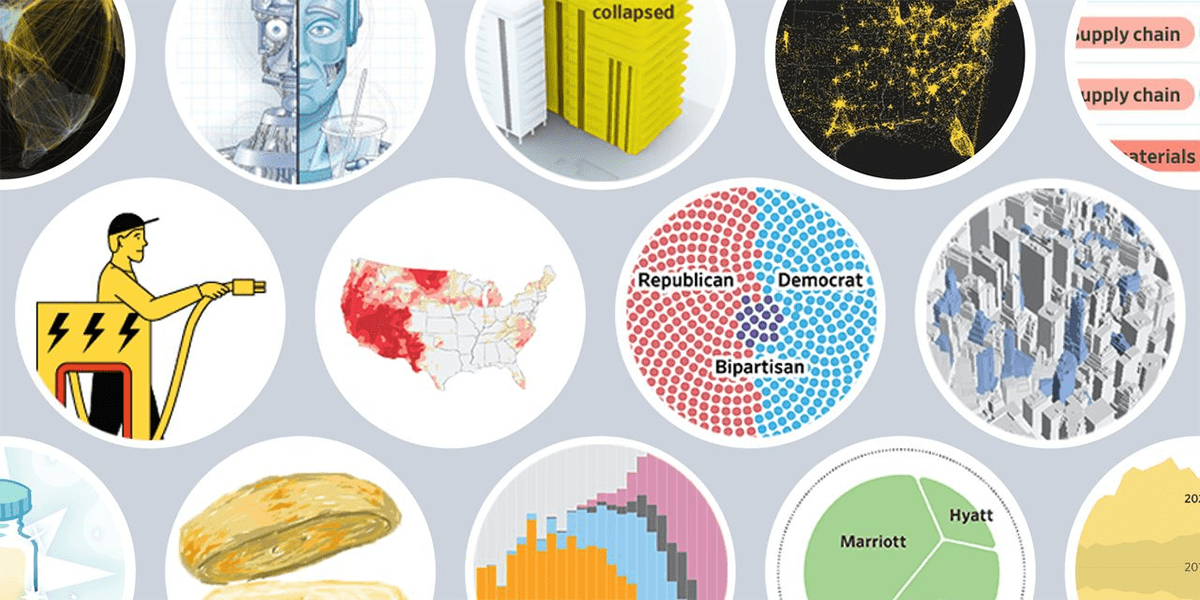 The Wall Street Journal starts its collection of selected graphics helping to explain 2021 with editors' picks. Next come the sections dedicated to investigations, pandemic life, COVID-19, disasters, and the future. This year-in-graphics feature concludes with 21 projects called "Some of Our Favorites."
1. Editors' picks:
Americans up and moved during the pandemic. Here's where they went
How the 9/11 attacks remade New York City's Financial District
Are electric cars really better for the environment?
What is ranked choice voting? NYC's ballot explained, with bagels
Why is the supply chain still so snarled? We explain, with a hot tub
2. Investigations:
The Facebook files
How TikTok serves up sex and drug videos to minors
Federal judges with financial conflicts
3. Pandemic life:
The places you can't fly to anymore
Nearly 1.5 million mothers are still missing from the workforce
How much are prices up? Here's one family's day-to-day expenses
4. COVID-19:
How mutations have shaped the COVID-19 pandemic
mRNA COVID-19 vaccines are fast to make, but hard to scale
COVID-19 vaccines vs. infections
5. Disasters:
Problems with the Miami-area condo: a visual analysis
Drought's toll on U.S. agriculture points to even-higher food prices
How a bomb cyclone and atmospheric river combined to batter California, West Coast
6. The future:
How computers with humanlike senses will change our lives
Jeff Bezos in space: What the 10-minute Blue Origin flight will be like
China's space station Tiangong is coming together bit by bit
7. Some of our favorites:
We compared 'Taylor's version' songs with the original Taylor Swift albums
America's imports are stuck on ships floating just off Los Angeles
NASA's 2021 Mars Perseverance rover on track for ambitious landing, search for alien life
See just how big Doordash, Airbnb and Snowflake have gotten
The SPAC boom, visualized
Is a graduate degree worth the debt? Check it here
How new wind turbines produce far more energy
Digging out stuck ship in the Suez canal: what is needed to refloat the ever given
Where voting laws are most likely to change for the 2022 election
How Simone Biles performs her most difficult gymnastics moves at the Olympics
Thanksgiving dinner staples are low in stock thanks to supply-chain issues
How the biggest companies have fared during the COVID-19 pandemic
Rising inflation looks less severe using pre-pandemic comparisons
Half of U.S. states ended federal COVID-related jobless benefits early. Here is how they compare with the other half
COVID-19 forced more Americans to juggle working from home and child care
Climate summit: How do you cut 50% of greenhouse-gas emissions by 2030?
Why Doordash and Uber Eats delivery is costing you more
Biden's first 100 days: COVID-19 relief package, executive orders and appointments
Understanding your tax return: An illustrated guide to common terms
How much do electric vehicles cost to 'fill up' compared with buying gasoline?
The journey of one Southwest plane explains the misery of travel now
NYT: Year in Visual Stories and Graphics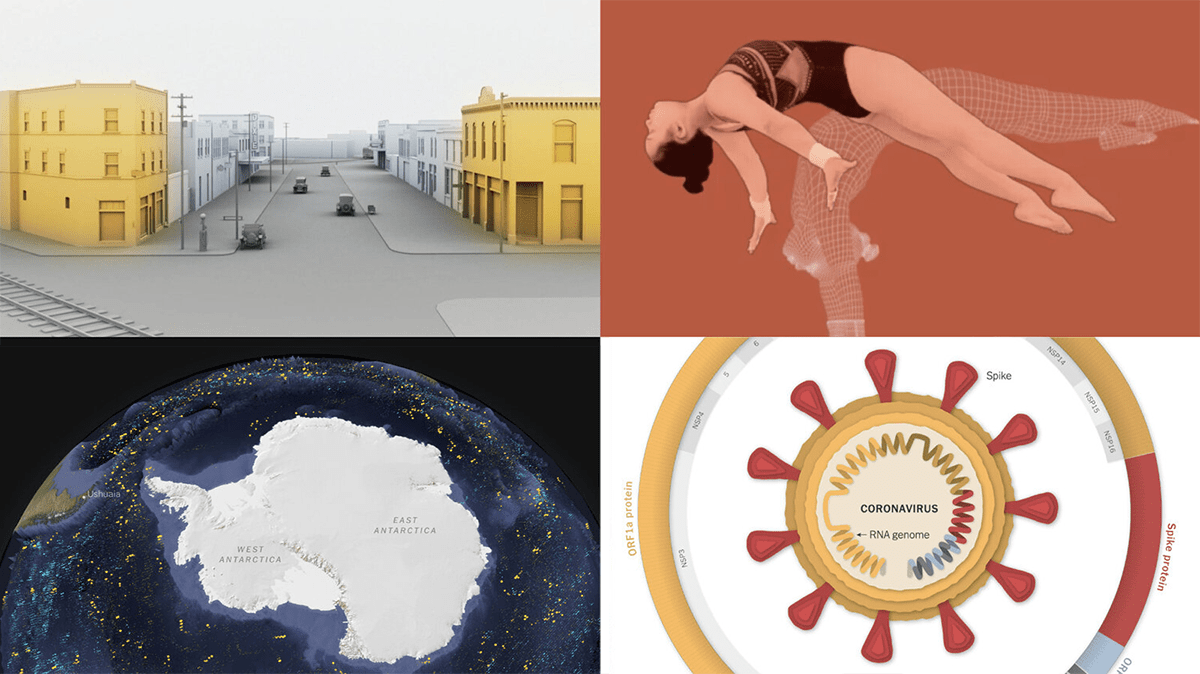 The New York Times says its strongest visual stories of the passing year covered the subjects of insurrection, vaccines, wildfires, demographics, variants, pop music, climate change, and the Olympics. The projects in this year-in-review piece are grouped by month of release.
1. January:
A guide for COVID-19 risk in your county
Where 2020's record heat was felt the most
Tracking the oath keepers who attacked the Capitol
Critical moments in the Capitol siege
Every country has its own climate risks. What's yours?
Three weeks inside a pro-Trump QAnon chat room
How a presidential rally turned into a Capitol rampage
150 years ago Brooklyn renumbered all its streets. It was a disaster
Hospitals in England struggle in the grip of the virus
Tracking coronavirus vaccinations around the world
2,000 headlines. Here is a first draft of Trump's legacy
The complete list of Trump's Twitter insults (2015-2021)
2. February:
Arrested in Capitol riot: Organized militants and a horde of radicals
First they guarded Roger Stone. Then they joined the Capitol attack
A small group of militants' outsize role in the Capitol attack
They stormed the Capitol. Their apps tracked them
Lie after lie: Listen to how Trump built his alternate reality
A step-by-step guide to the second impeachment of Donald J. Trump
An extremely detailed map of the 2020 election
The primal scream: America's mothers are in crisis
Why opening windows is a key to reopening schools
What are the vaccine roadblocks where you live?
Tracking coronavirus variants
Reddit is America's unofficial unemployment hotline
3. March:
Subtle shifts hint at dramatic dangers in the Atlantic ocean
A close-up picture of partisan segregation
The culture warped pop, for good
Do you think you can tell how a neighborhood voted just by looking around?
Where people can and can't get vaccinated around the world
Pandemic's racial disparities persist with vaccine rollout
Who's next in the vaccine line?
See how rich countries got to the front of the vaccine line
What it's like to lose someone to COVID
One way illicit oil reaches North Korea
19 songs that matter right now
4. April:
Rise of variants in Europe shows how dangerous the virus can be
How the virus tore through the U.S. prison system
Readers share artifacts of remembrance
How safe are you from COVID when you fly?
Covid upended a century of patterns in U.S. deaths
One son's 48-hour fight to save his parents
Our 'before' no longer makes sense. How do we live now?
Swelling anti-Asian violence: Who is being attacked where
Least vaccinated U.S. counties have something in common: Trump voters
A climate change guide for kids
How Pfizer makes its COVID-19 vaccine
The off-white papers
How does ranked-choice voting work in New York?
Which states will gain or lose seats in the next Congress
Do you live in a political bubble?
What does love look like in a time of hate?
5. May:
The art in the oval office tells a story
Claiming the summit without reaching the top
How do animals safely cross a highway?
Meet the four kinds of people holding us back from full vaccination
These 8 Democrats want to be Mayor of New York City. We have questions
Mapping New York City's mayoral campaign money
What the Tulsa race massacre destroyed
Can removing highways fix America's cities?
The pandemic has split in two
Hear a Harlem choir rejoice again
6. June:
'Everyone here is alone.' How COVID tore apart a New Delhi neighborhood
Since when have trees existed only for rich Americans?
What happened when Trump was banned on social media
Why the Mexico City metro collapsed
The amazon that customers don't see
New York primary election results
The heat in Portland, Seattle and Vancouver is off the charts
How China spreads its propaganda version of life in Xinjiang
Floor by floor, the lost lives of the surfside building collapse
Day of rage: How Trump supporters took the U.S. Capitol
7. July:
Sunisa Lee is unmatched on uneven bars and wants all-around glory
There's nothing Adam Ondra can't climb
What happened in Simone Biles's vault
How pitching changed after a crackdown on sticky substances
Running fast vs. running far
When a search crosses the line: Egyptian women describe state abuse
What matters in a name sign?
These 115 workers helped keep New York alive in its darkest months
What's in and what's out of the infrastructure plan
Tracking wildfires in the West
8. August:
Decisive moments from the Tokyo games, frame by frame
Visualizing present vs. past Olympic champions
The hidden melodies of subways around the world
Where the racial makeup of the U.S. shifted in the last decade
See mask mandates and guidance in each state
The dangerous road to the Kabul airport
179 reasons you probably don't need to panic about inflation
Inside the diverse and growing Asian population in the U.S.
Hospitals and insurers didn't want you to see these prices. Here's why
What's making the delta wave deadlier
Black surfers refuse to be excluded: 'I have a right to be on this wave'
9. September:
The Caldor Fire's march to the edge of South Lake Tahoe
Bitcoin uses more electricity than many countries. How is that possible?
A tour of China's future Tiangong space station
Why the Empire State Building, and New York, may never be the same
How a U.S. drone strike killed the wrong person
Covid hospitalizations hit crisis levels in southern I.C.U.S.
After hurricane Ida, oil infrastructure springs dozens of leaks
The Surfside condo was flawed and failing. Here's a look inside
How it feels to be Asian in today's America
When a minivan becomes a music machine
10. October:
How Texas plans to make its house districts even redder
In Mexico, nearly 100,000 people are missing
How everyday sexism could stop you from getting that promotion
See how the Dixie Fire created its own weather
What previous COVID-19 waves tell us about the virus now
Before the final frame: When police missteps create danger
The fight for sneakers
11. November:
The untold story of sushi in America
How maps reshape American politics
What we see in the shameful trends on U.S. maternal health
What we know so far about waning vaccine effectiveness
See where COVID is surging across Europe
Everything in the house budget bill
Where should you live?
Vote for the best book
12. December:
How Beijing influences the influencers
How the supply chain crisis unfolded
Where the despairing log on, and learn ways to die
A climate alarm rises from the Antarctic
The civilian casualty files
Postcards from a world on fire
See where 12 million workers are affected by vaccine mandates
5 desperate days: Escaping Kabul
Why COVID death rates are rising for some groups
The coronavirus in a tiny drop
POLITICO: Year in Figures and Charts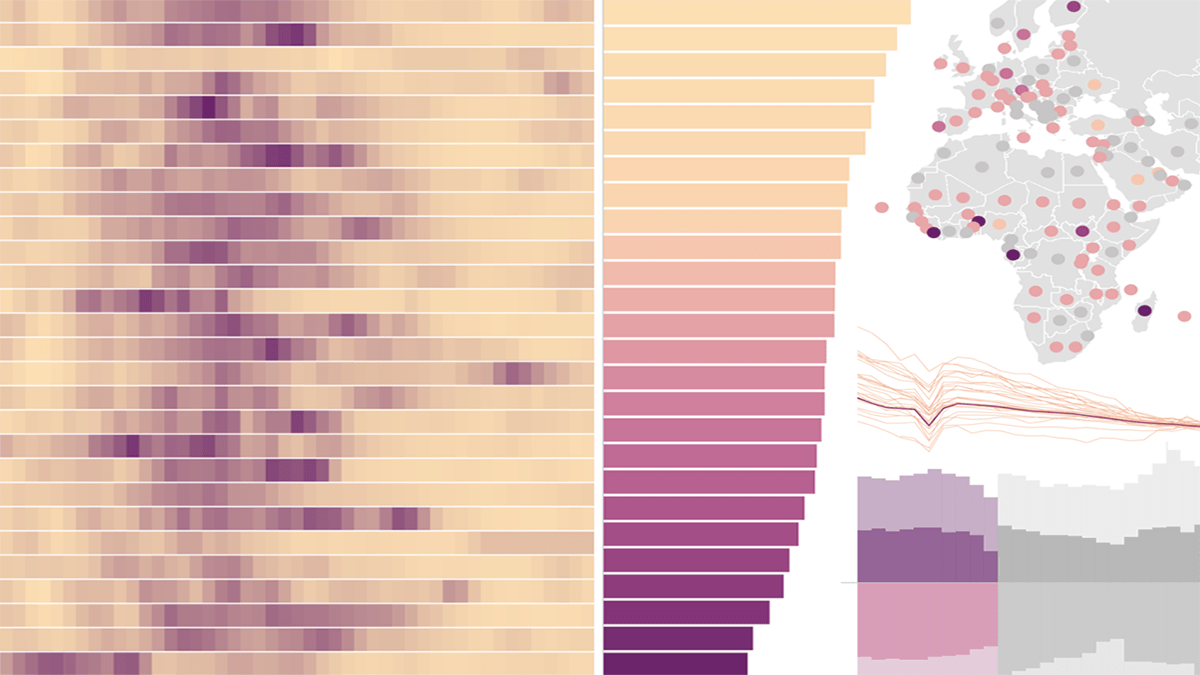 POLITICO published a self-sufficient year review piece that shows visualizations on the topics defining the year, from the pandemic challenge and fight against climate change to Biden's Afghan Pains and the culmination of Brexit:
Pandemic, year two
Not over yet
Economies recover…
…But inflation hurts families
Pricey energy bills
The end of an era
Elections have consequences
Biden's Afghan pains
Forest fires burn…
…As the world commits to taking action
U.K. trade shifts after Brexit
Industrial shortages
Pandemic hit women harder
***
Want more cool data graphics and stories? Revisit our previous year-in-review roundups — 2020, 2019, 2018 — and weekly selections!
Looking forward to seeing you in 2022!
---
Comments (1)