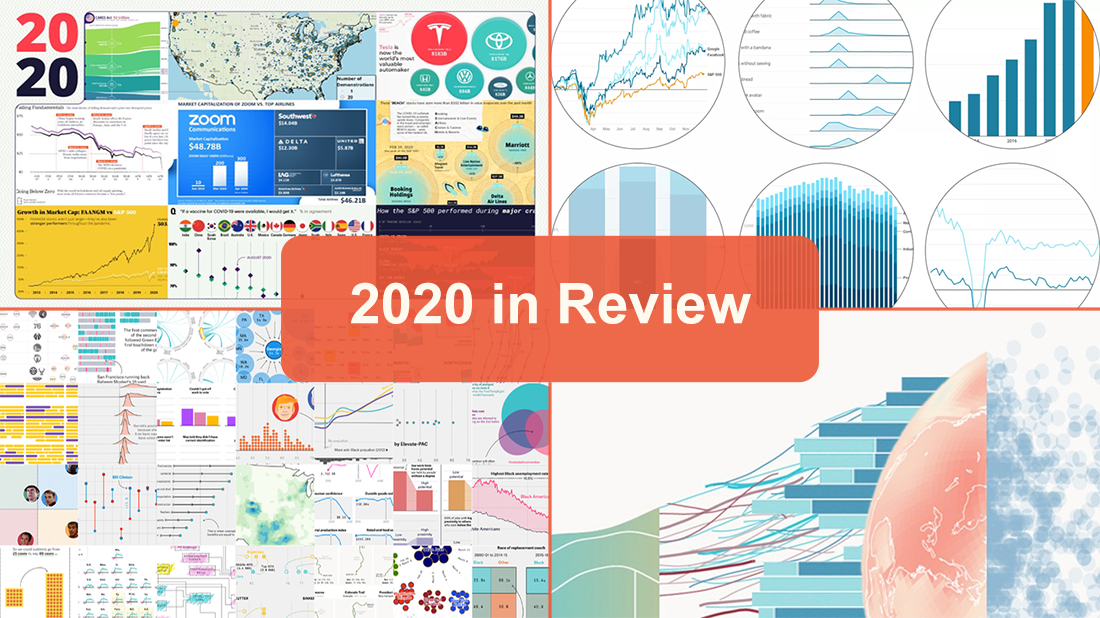 2020 was strange. It was difficult. But it was. Happy New Year everyone! 🎉
Even though 2020 was not that bad in everything, we all hope, of course, that 2021 will be (much) better. Let it be so! But before we dive into the new one, let's take a glance back and remember 2020 as is, with the help of great data visualizations.
The January 1st issue of DataViz Weekly invites you to look through the lists of the charts included in the year-in-review features on Visual Capitalist, Recode by Vox, FiveThirtyEight, and The Economist. Sneak a peek, and then check out the graphics.
Data Visualization Weekly: December 25, 2020 — January 1, 2021
Visual Capitalist: 20 Charts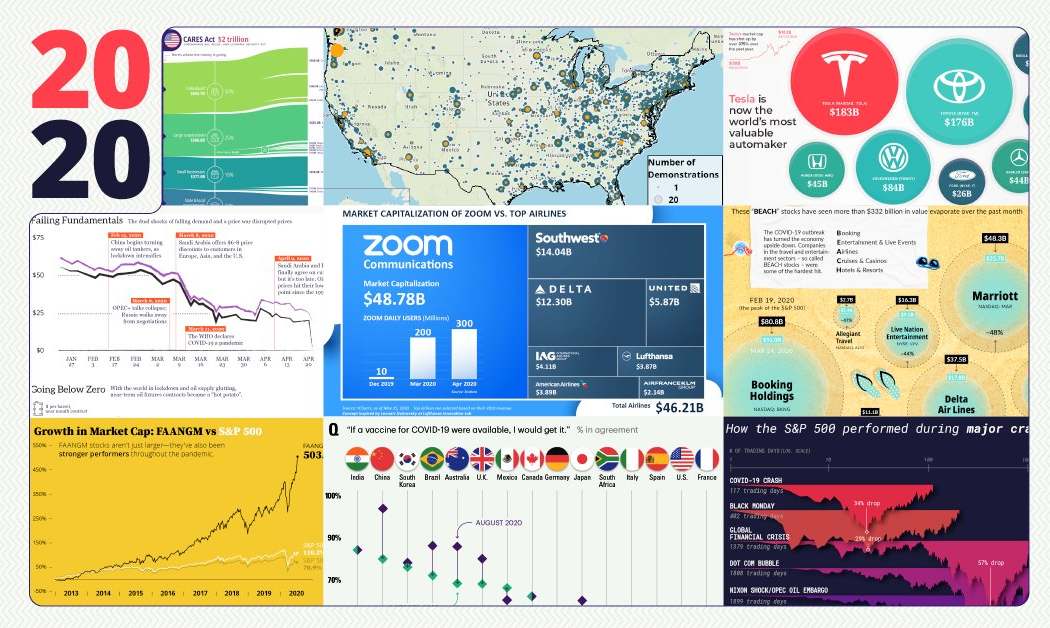 Visual Capitalist offers a look at the top events of the year in its own and third-party graphics. The data visualizations included in the year review are on the following:
Bushfires in Australia
Rising tensions between the United States and Iran
Rapid spread of the novel coronavirus
Shrinking BEACH stock market capitalization
Start of the lockdown life
Flattening the curve
Historic job losses
Stimulus
Negative oil prices
Black Lives Matter protests
Zoom's skyrocketing market capitalization
Remote working benefits and challenges
Tesla as the world's most valuable automaker
Big Tech's dominance
Beirut explosion
End of the shortest bear market in history
Wildfire season in America
U.S. election
COVID-19's third wave
Global vaccination effort's kick-off
Recode by Vox: 20 Charts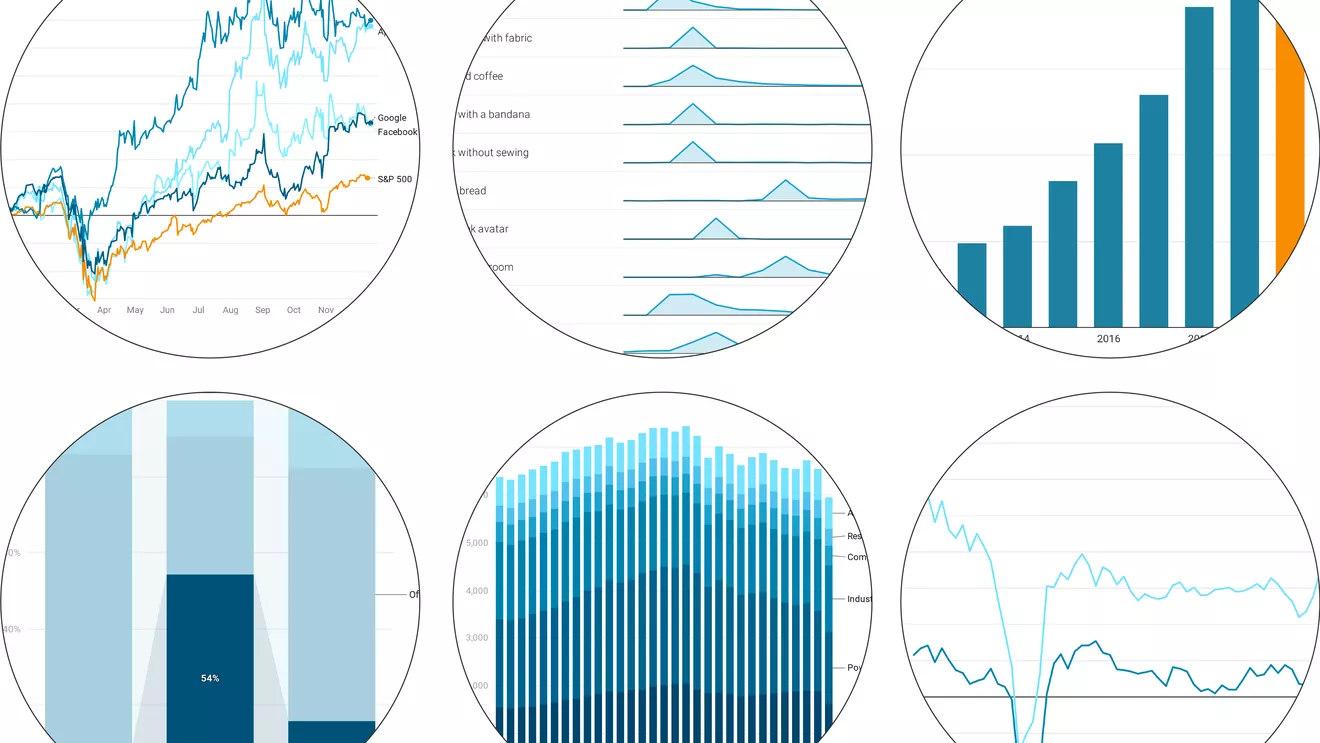 Recode's year-in-review roundup also comprises twenty charts. Some of them are interactive. Designed to highlight the key trends for 2020, these data visualizations are on the following:
COVID cases worldwide
Efforts to flatten the curve
Vaccine development timing
Voter turnout in the U.S. elections
Protests
Political stress indicator
Google searches for food pantries
Profits vs wage growth for essential businesses
The highest unemployment rate in generations
Working from home
Shelter adoption rates for dogs and cats
Top trending "how to make" searches on Google
Big Tech companies' stock price change
Amazon's profits
E-commerce gains
Amazon as a (growing) risk factor for competitors
Growth of video streaming
The pandemic's effect on industries
Greenhouse gas emissions
Record hurricane and wildfire seasons
FiveThirtyEight: 40 Charts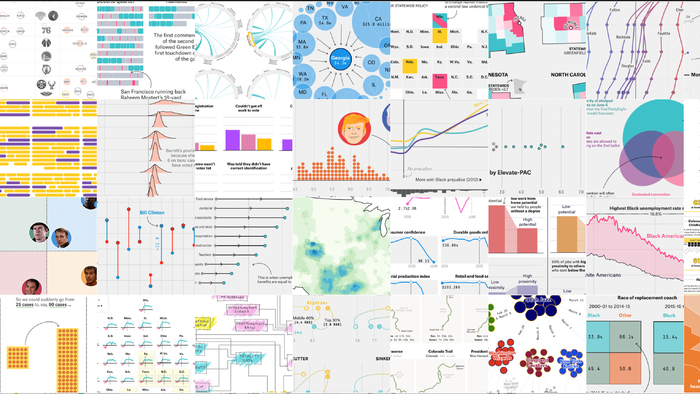 FiveThirtyEight, famous for the great use of statistical analysis to tell stories, recaps the year in a selection of forty charts called by its visual journalists as "the best — and the weirdest." The graphics are grouped into four key topics: politics, election, sports, and Covid. Here's a quick list of what's presented in the year review feature on FiveThirtyEight:
Politics:
Mail and shipping volumes
Anti-Black prejudice by voting intention
Supreme Court rulings vs public opinion
Suburbs by change in diversity
Timeline of vote tallies after polls closed, by state
Sanders's vote share by age and ideology
Ideologies of Supreme Court justices since Roberts joined the court
Party control of redistricting after the 2020 election
How statistics may obscure bias in policing
How favorability ratings of politicians are related
Donations sent to Democratic candidates in Georgia via ActBlue
Difference between Biden's and the Democratic Senate candidates' vote share
Atlanta's shift left turning Georgia blue
Biden's national polling margins vs Clinton's
Women and men holding the 25 key offices under every U.S. president since 1977
Ideological positions of each judge on the 7th U.S. Circuit Court of Appeals
Election 2020:
Types of barriers to voting
Major-party presidential nominees by age since 1796
Nonincumbent Republican women's chances of winning the Congress seats they were running for
Scenarios for a contested convention where no candidate receives a majority of pledged delegates
Trump's gains in heavily Latino counties
National polling averages for the past 14 presidential election cycles
Sports:
Oklahoma City Thunder offseason trades
Every minute of the Fox television broadcast of an NFL game
Statewise policies on the use of Native American mascots
Football coaches in movies
Mascots for all NBA, WNBA, NHL, MLB, and NFL teams by type
Pitch velocity by handedness
Classic routes targeted for FKTs
Teams that shared arenas with the Utah Jazz and with teams that faced it
Race of replaced and replacement NBA coaches
Share of NFL coaches by age and by job
COVID-19 (and its economic fallout):
Unemployment benefits vs lost earnings
Demand at COVID-19 testing sites
Economic indicators
High-risk jobs vs degree and income
Unemployment rates by race
Transmission rates on Thanksgiving
Share of the population that stayed at home in each state
COVID-19 model
The Economist: Non-Covid Charts (+ All Others)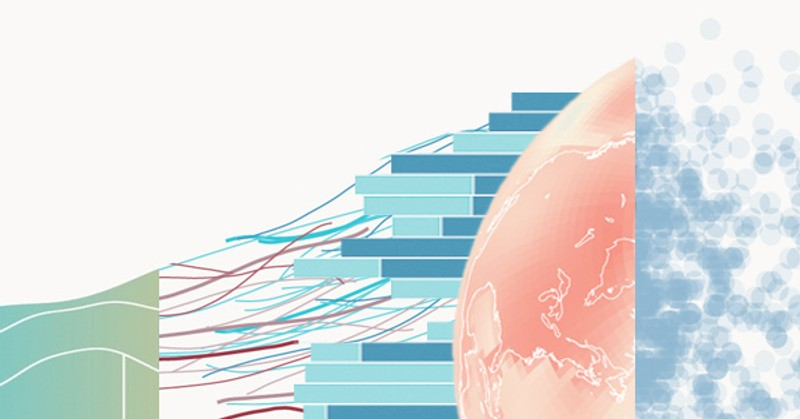 Tired of COVID and related data visualizations? Want something quite completely different? Check out The Economist. Its data journalists have curated their favorite non-COVID pieces of 2020. At the time of writing, there are five (but check now as some more should already be there):
Hours played a game vs well-being
Land-surface and ocean-surface temperature change
Formula 1's best drivers
Household income vs maths test scores
Distribution of songs streamed on Spotify, by mood
But if you want more, they have also collated absolutely all data visuals published in the Graphic Detail section of The Economist this year into a single PDF file.
***
Thank you for being with us! We wish you all the best in the new year!
---
Comments (1)