October 14th, 2022 by AnyChart Team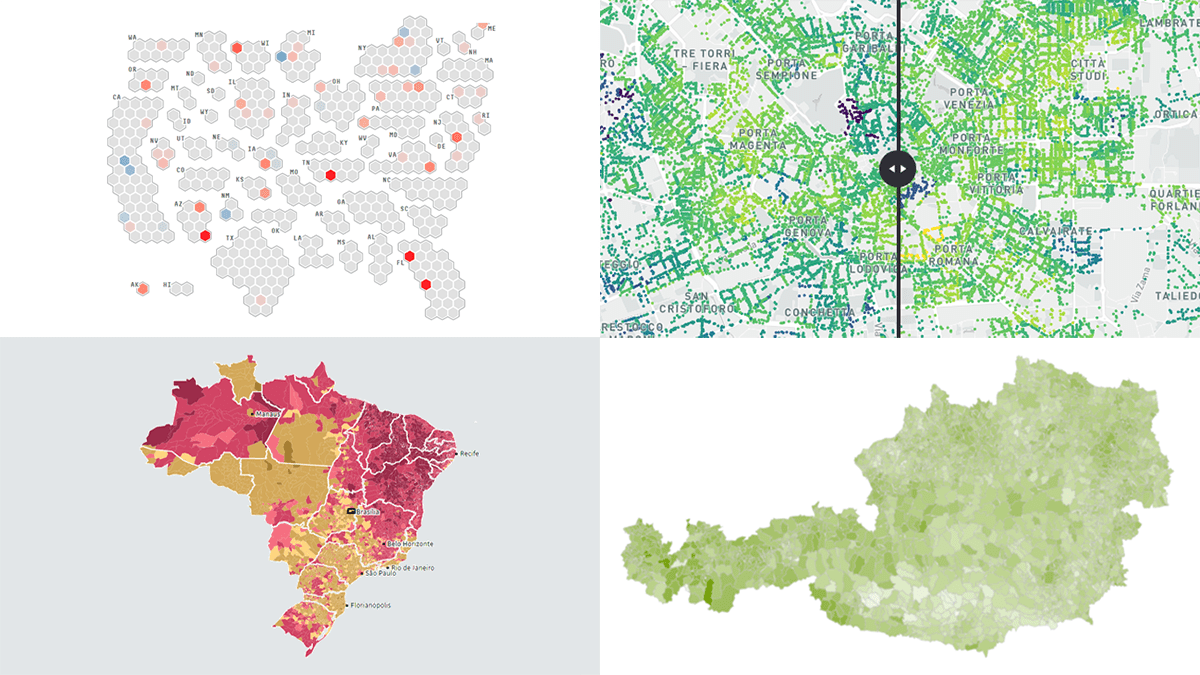 Some of the election races scheduled for this fall have already ended. Others are yet to be decided. And obviously now is a time for election maps to shine again! In this DataViz Weekly piece, we highlight a selection of maps visualizing data on the recent votes in Italy, Austria, and Brazil, as well as the upcoming midterm elections in the United States. Take a look.
---
September 24th, 2021 by AnyChart Team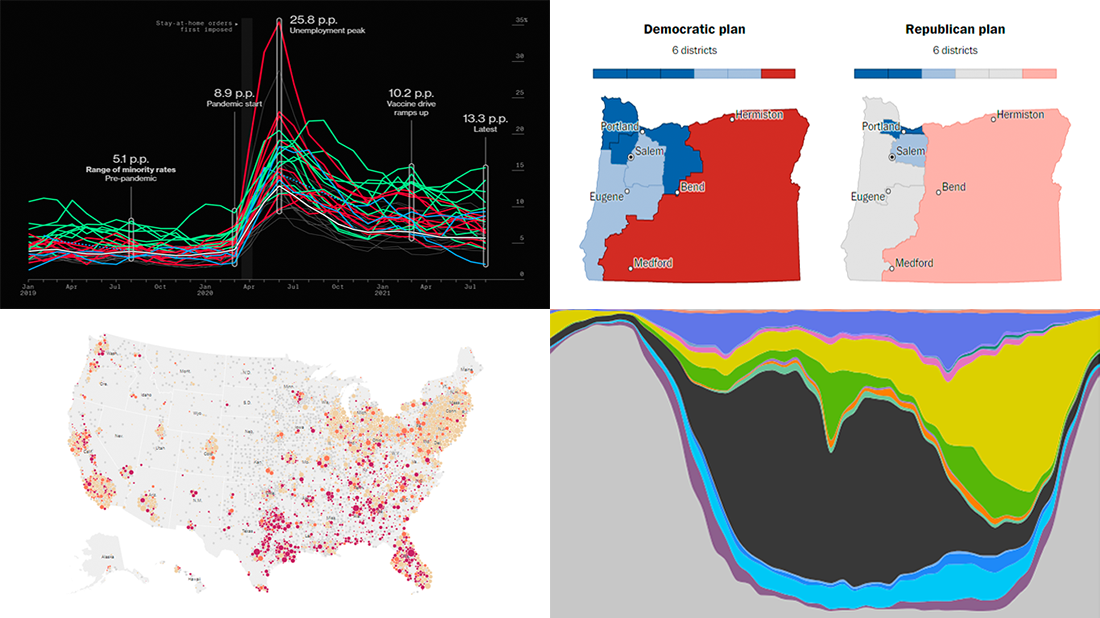 Hey everyone! It is Friday, and we are here to put a spotlight on the most compelling examples of sensible data visualization we have recently seen around the internet. As always, let's start with a quick list and then look at each project. All aboard for DataViz Weekly!
Intensive care unit occupancy rates in the United States — The New York Times
Minority unemployment rates in 15 large U.S. cities. — Bloomberg
Early proposals for congressional redistricting in Oregon, Indiana, and Colorado — The Washington Post
Time use of American men and women by employment status — Nathan Yau
---
September 17th, 2021 by AnyChart Team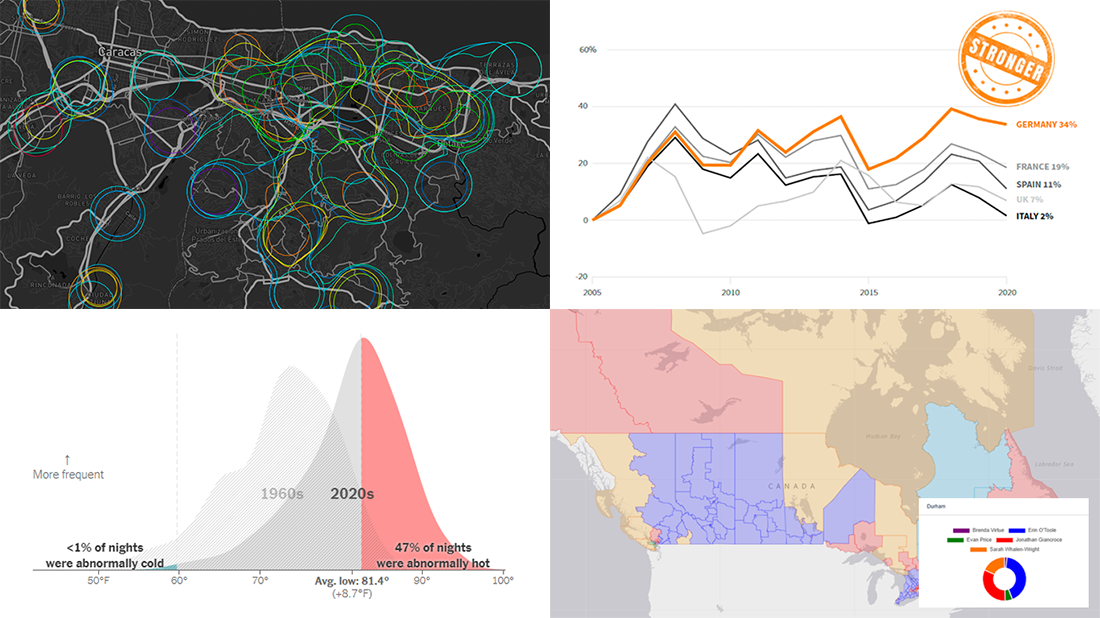 We continue to choose the most interesting out of all the newest data visualizations published here and there and show you them in weekly roundups. It's time to look at our fresh selection! This time, the following projects are featured in DataViz Weekly:
Canadian federal elections since 2000 — Stephen Taylor
Germany under the 16-year leadership of Angela Merkel — Reuters
Sounds of Caracas — Valeria Escobar
Abnormally hot summer nights in American cities — The Upshot
---
January 25th, 2021 by Shachee Swadia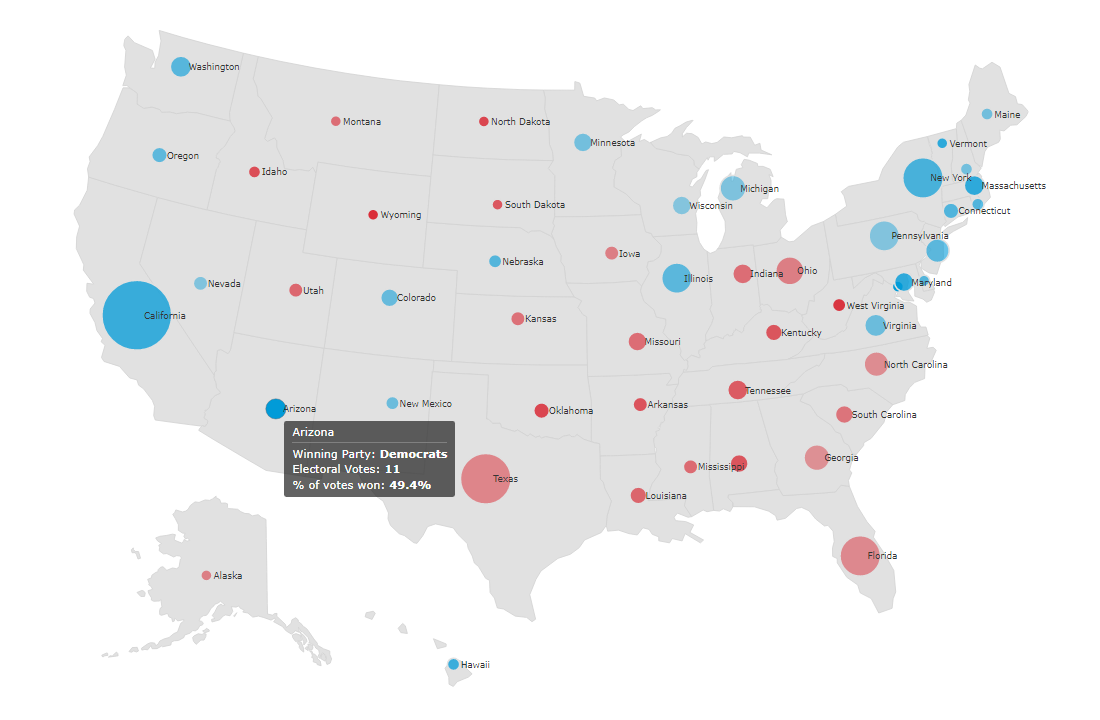 In these times of exponentially growing data, visualization is a necessary skillset to have in your tool box. Popular techniques include bar charts, line graphs, pie charts, and bubble maps among others.
Building interactive charts from scratch with JavaScript can be a difficult endeavor for any developer, especially someone starting out new. That is exactly why we have JS charting libraries which make it much easier and quicker to conjure up insightful visualizations!
Read on to see how I create a JavaScript Bubble Map with one of these libraries.
Read the JS charting tutorial »
---
November 6th, 2020 by AnyChart Team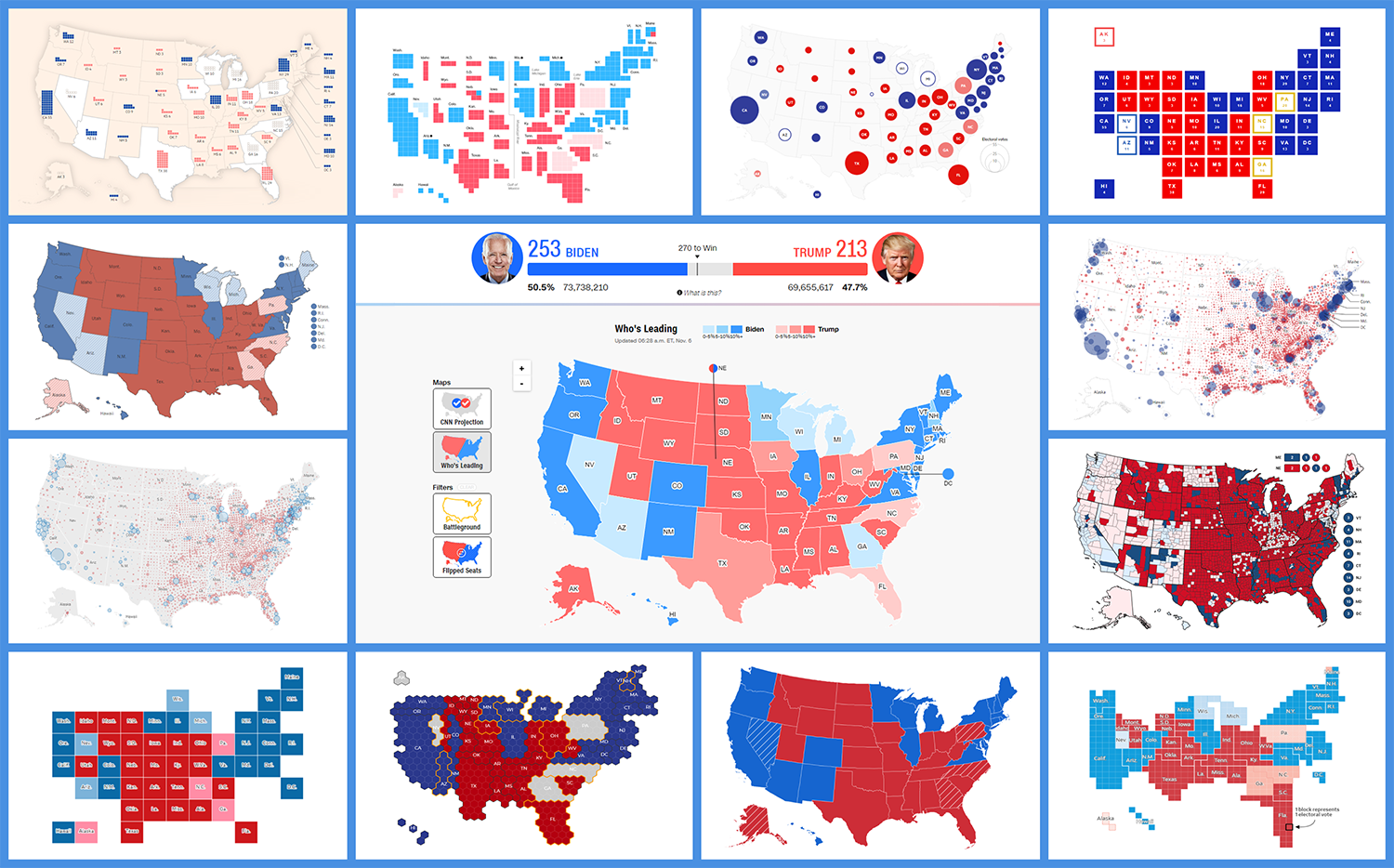 All eyes on election maps! Yes, they could be misleading. And even widely misleading. But it can be at least so fascinating to look at them, especially at times like this! So, we have curated a list of over twenty reputable resources — as of now, to be precise, 24 and counting! — where you can watch the live results of the 2020 United States Presidential election in compelling data visualizations. At the same time, it is a great chance for you to investigate and understand how election maps (and some other graphics) can look and work in practice.
Vote counts may be different on different platforms and update as more data becomes available out there — it's absolutely okay. The election results are still partial. Over the coming days, all numbers will be adjusted to match the real, final vote count. Just in case: We've added only reliable sources — notable, reputable media outlets.
Without further ado, check out maybe the most important data visualizations these days! (Electoral vote count numbers in the text last updated on November 9th, 2020, for each source.)
---