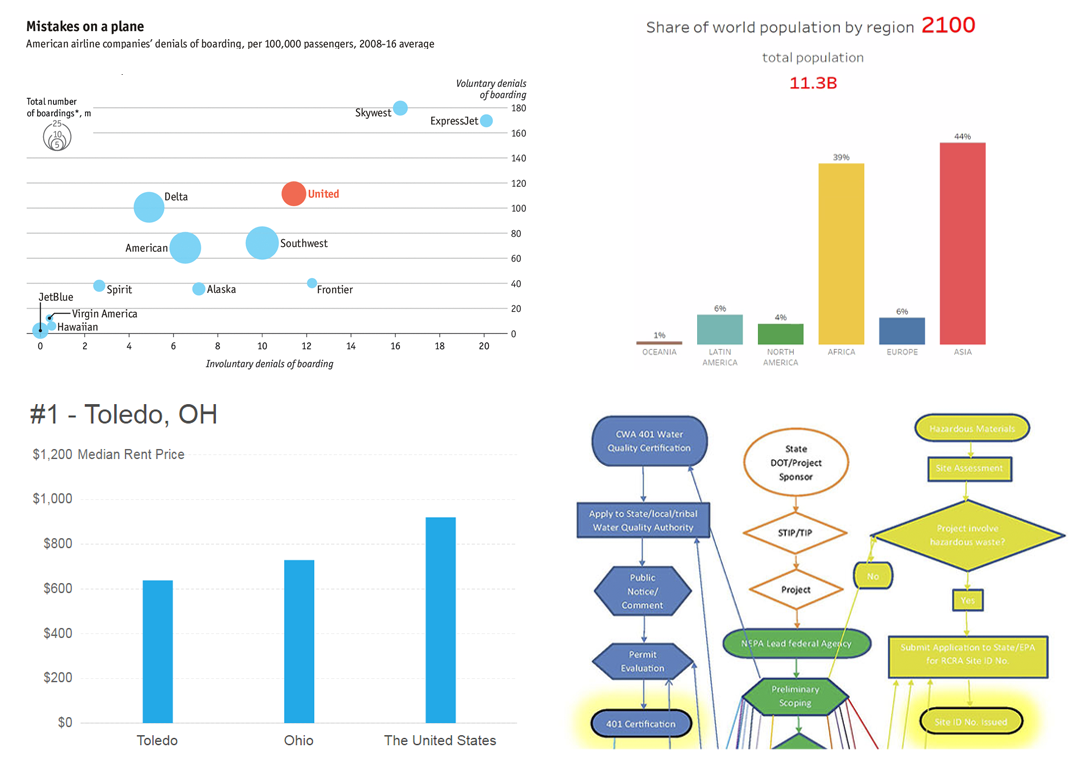 Welcome to the new Data Visualization Weekly collection of interesting chart visualizations of the latest 7 days! In this series, it's always Friday. Not that we are now part of the T.G.I. Friday's restaurant chain – not at all! But we usually publish DataViz Weekly posts on Friday, in the Friday mood. And our goal here is to let you heave a sigh of relief after another workweek and simply enjoy some cool chart visualization examples before going to a pub (or exactly from there!), home, or wherever else for a Friday night.
See below for four engaging data visualizations. In particular, there you'll find the animated chart that became one of the most widely liked and shared tweets with third-party charts in our Twitter account's history. And it goes first.
---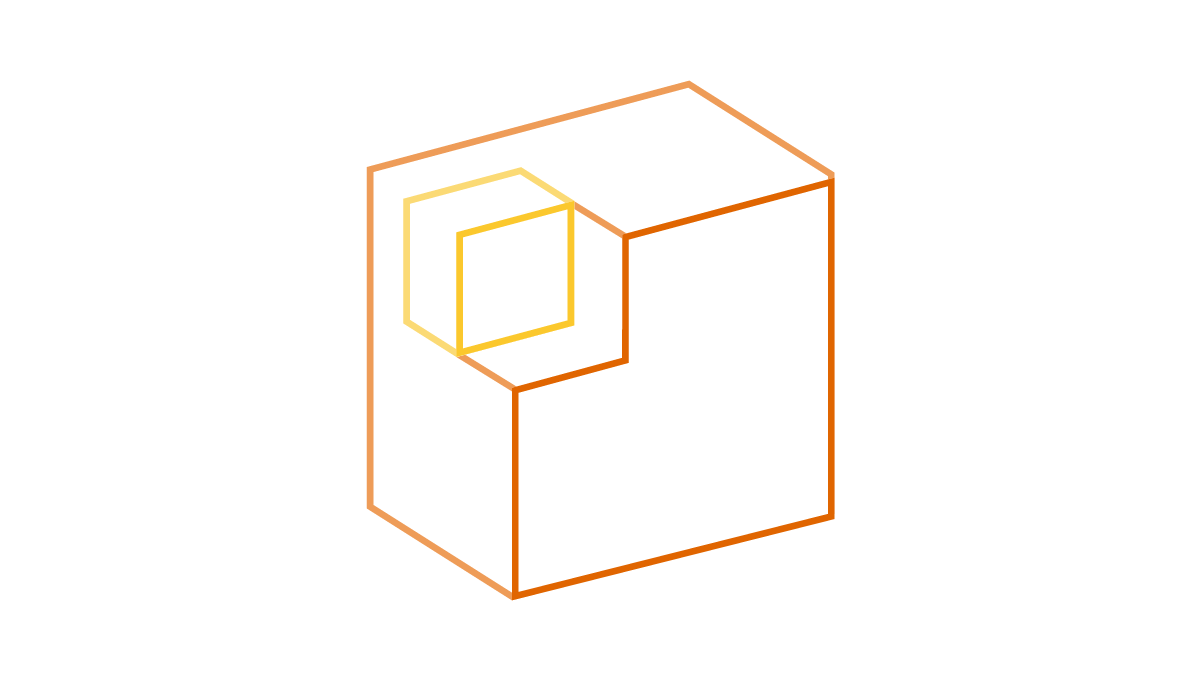 Illustrating part-to-whole relationships for further analysis is a very popular objective in data visualization. Basically, it is one of the most widespread ones, e.g. along with data comparison. With that in mind, the second part of the Choose Right Chart Type for Data Visualization series on our blog focuses on how to display Data Composition properly.
In particular, this article will show you the best ways to present the share percentages of simple values, compositional patterns in large data sets and hierarchical data (also with subordination), and stages in a process.
---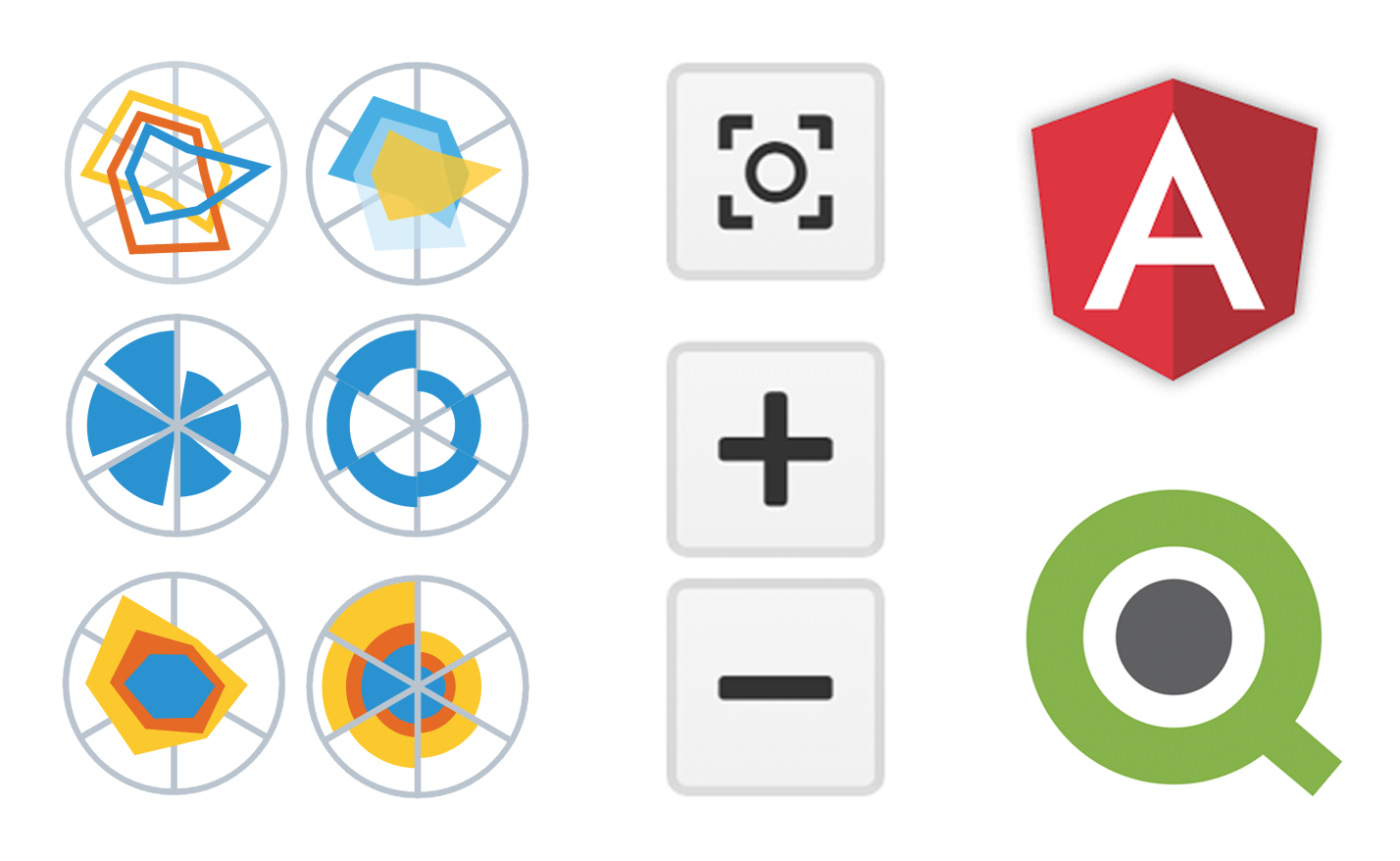 "Sweet April showers do spring May flowers," once wrote 16th-century English poet Thomas Tusser. Well, our customers already know that AnyChart's April brings flowers, too! Last year we launched the great 7.10.0 version of the AnyChart JavaScript charts library and, basically, of our whole data visualization product family. Now, in the year of 2017, April brings you another great update.
So, please all greet the 7.13.1 release of AnyChart, AnyMap, AnyStock, and AnyGantt – our cute first spring flowers grown especially for you!
---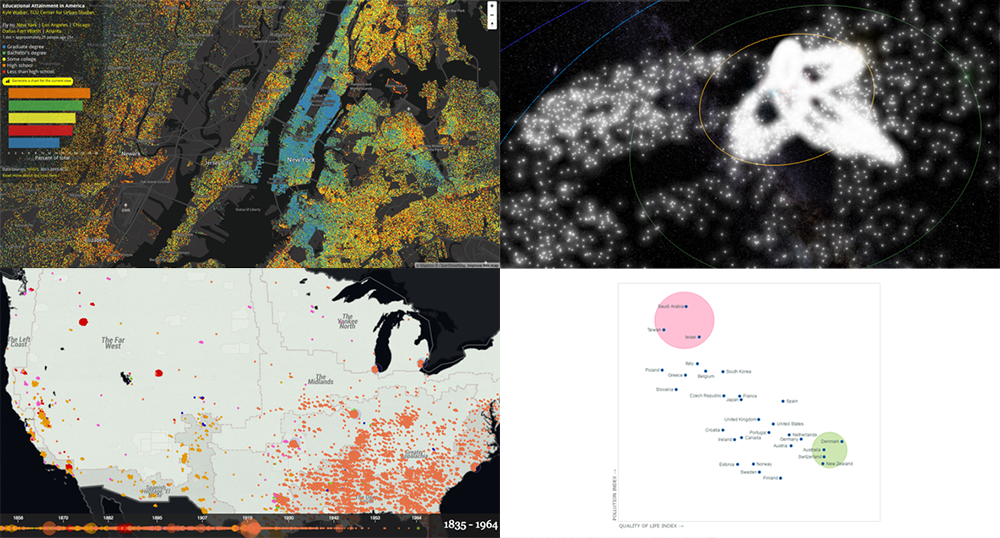 Tired after another workweek? Then now is a great time to lean back and relax and take a quick look at yet another set of interactive data visualization examples! We have shared these visualizations on social networks just recently. They got pretty much attention of our followers (and beyond). So their way to Data Visualization Weekly on the AnyChart blog was quite quick and simple.
Today we are presenting you with interactive visualizations of meteor streams, lynchings in America, JS quadrant chart of top 30 countries by quality of life plotted also according to their pollution indexes, and educational attainment in the United States.
---
When it comes to building data analytics and reporting solutions, choosing the right chart type for a certain data visualization task remains a common challenge. What to pick for data comparison, studying distribution, observing data over time, or another certain purpose? It all can be very tricky! To help you overcome with this challenge to the best effect, today we are launching a series of articles entitled Choose Right Chart Type for Data Visualization. The series is designed to quickly explain what chart types you should pick for one purpose of data analysis or another. With that said, each article here will be devoted to a specific, yet still big question that you want your data to answer.
The current (first) guide of the series is all about chart types that work best for finding out the differences in data: Data Comparison. In fact, it is one of the most frequently established purposes of data analysis. And sometimes many people use wrong chart types to fulfil it correctly. Now, finally, let's get to the very point and see what visualization forms work best for comparing data.
---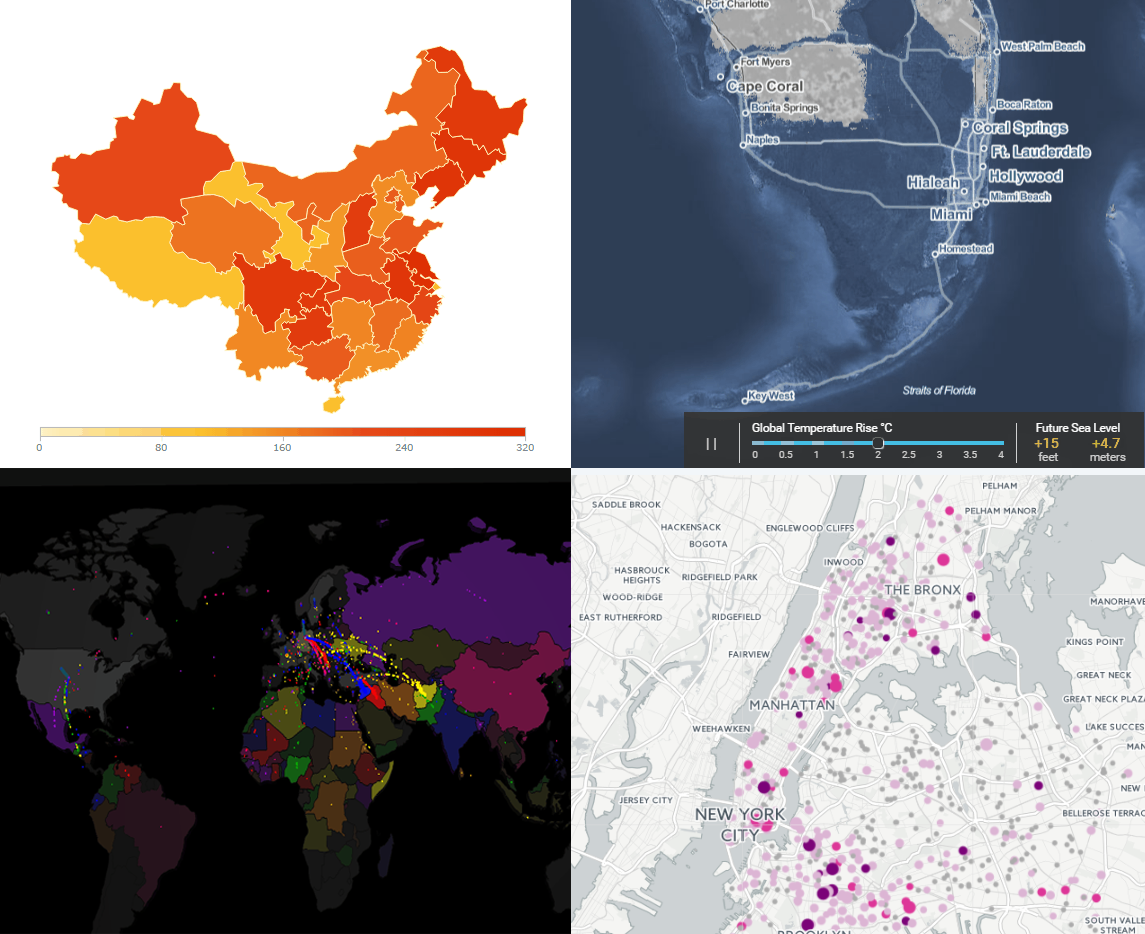 Today's Data Visualization Weekly issue is fully devoted to interactive maps. To put it precisely, we'll highlight four of them this time. These maps have been popular on the Web and also most followed on our Facebook and Twitter accounts within the last days. So they've completely deserved to be mentioned here.
Here's what interactive maps we are sharing with you today:
Lead-Tainted Water Fountains in NYC Schools,
Surging Seas,
Asylum Seekers' Paths, and
China's Regions and Counties.
---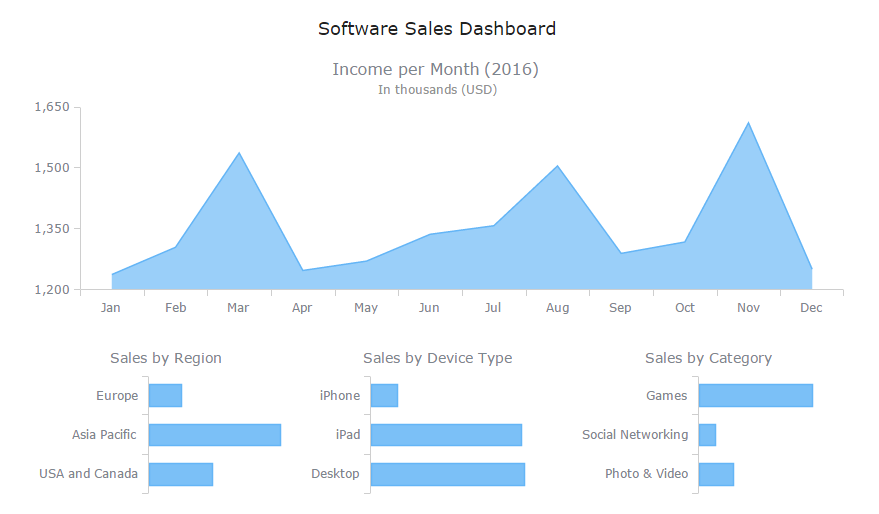 Charts are one of the best ways to display your data in a way that's meaningful to readers, but if you don't have great chart captions, your readers may interpret that meaningful information incorrectly.
Readers' attention spans are waning by the second. In fact, humans now have a shorter attention span than goldfish (yes that cute, little fish you won from the carnival can pay attention better than the average person). This means that most people are scanning through your work. Without a clear, concise chart caption, your chances of getting your message across are slim.
Fear not! Here are some tips to help you come up with excellent chart captions, titles for graphs and dashboards.
---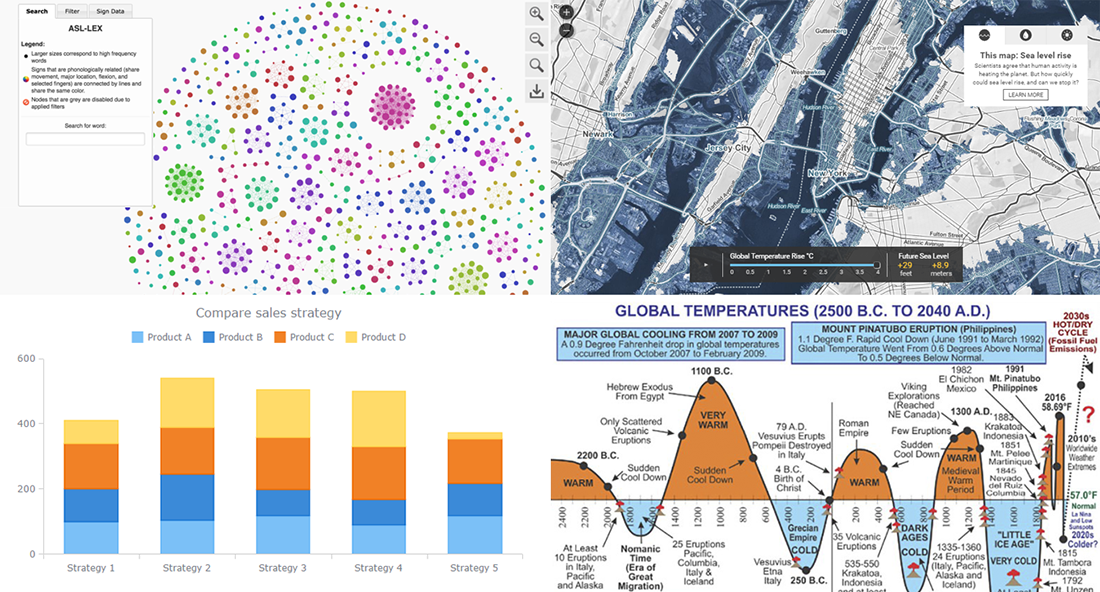 Today is the 13th Friday of the 2017 year, and another weekend is coming! In the meantime, we invite you to enjoy another portion of last week's notable works in the data visualization field. The first highlight here is the article about stacked bar charts and how to use them, written by our Data Visualization Expert Vitaly Radionov specifically for Smashing Magazine. After briefing you on that, we'll also take a look at this year's winners of the Vizzies Challenge, a graph of global temperature change from 2500 BC to 2040 AD, and a (scary) map visualization of the sea level rise expected in the (near?) future.
---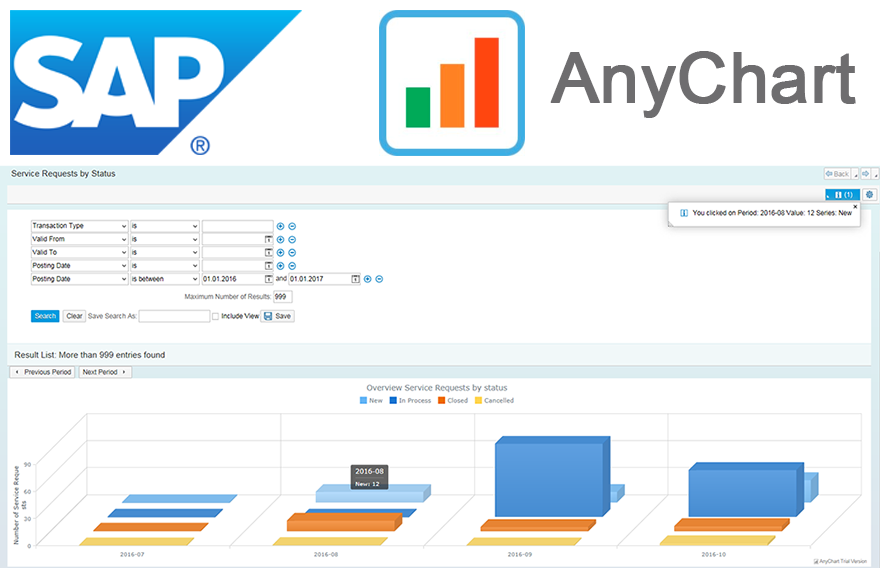 We as 'mere' humans are not very good at processing raw statistical data visually when it's delivered to us in an unrefined form. We are, however, very good in detecting complex patterns when data is presented to us in a graph or a chart. It is therefore no wonder that as a developer you often get the requirement to represent data in a more comprehensible form. When you want to visualize data in the SAP Web UI in a more graphical way the standard possibilities available to you are rather limited. Luckily there are ways to overcome these limitations. When you combine SAP with the graphical power of AnyChart JS Charts a whole range of new possibilities will become available to you.
In this blog I will describe how you can integrate AnyChart in the SAP Web UI with relative ease, how you can feed AnyChart objects with SAP data using both a 'pull' and a 'push' mechanism and how you can respond in the SAP backend to the events triggered from user interaction with an AnyChart object.
---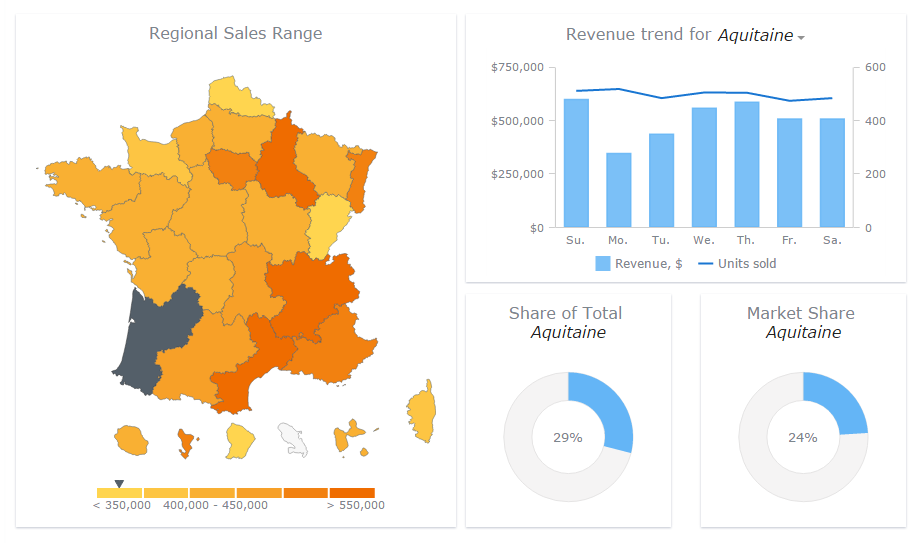 With the explosion of data in the past few years, the relevance of understanding it better has grown to the highest extent. That is why expertise in interactive charting and dashboard design, as well as in the whole big Data Visualization and Data Science fields in general, has become so important nowadays. In fact, it is usually rather difficult to understand raw data as deeply and quickly as needed. Luckily, neat visual representation of information can be helpful in clarifying even very large amounts of data, discovering and exploring patterns in data, and then making (right) data-driven decisions.
Creating dashboards is a great way of transforming diverse relevant data into informative, insightful visualizations as the basis for further analysis. In order to obtain the highest possible efficiency, they should be insightful, featuring robust usability, and visually (and aesthetically) appealing.
Today we'll talk about the most notable dashboard design trends. Understanding them is very important to each data professional who wants to further improve their skills by keeping up with the times and adhering to the best practices.
---