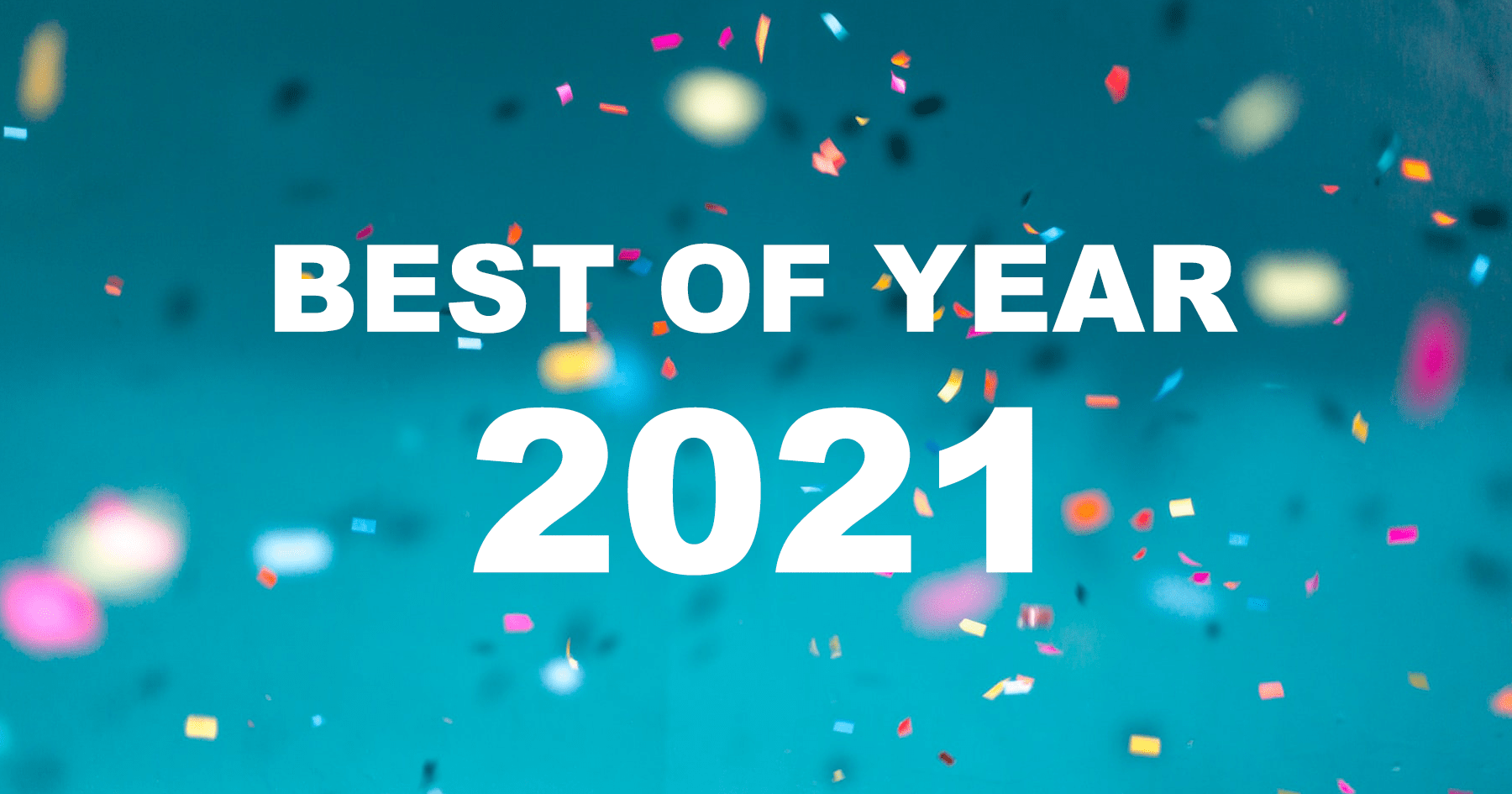 In 2021, there were 53 Fridays. It means a total of 53 DataViz Weekly roundups came out during the year, putting a spotlight on some of the most interesting charts, maps, and infographics from around the web. Today, on the first Friday of 2022, we invite you to remember — or get to know in case you missed something — the very best data visualizations of 2021.
As in previous "best of year" collections (2020, 2019, 2018), we decided not to reinvent the wheel but to take a quick look at renowned experts' picks. Now, check out four lists of the best projects — from Nathan Yau, Kenneth Field, Terence Shin, and DataJournalism.com.
Best Data Visualization Projects of 2021 — Nathan Yau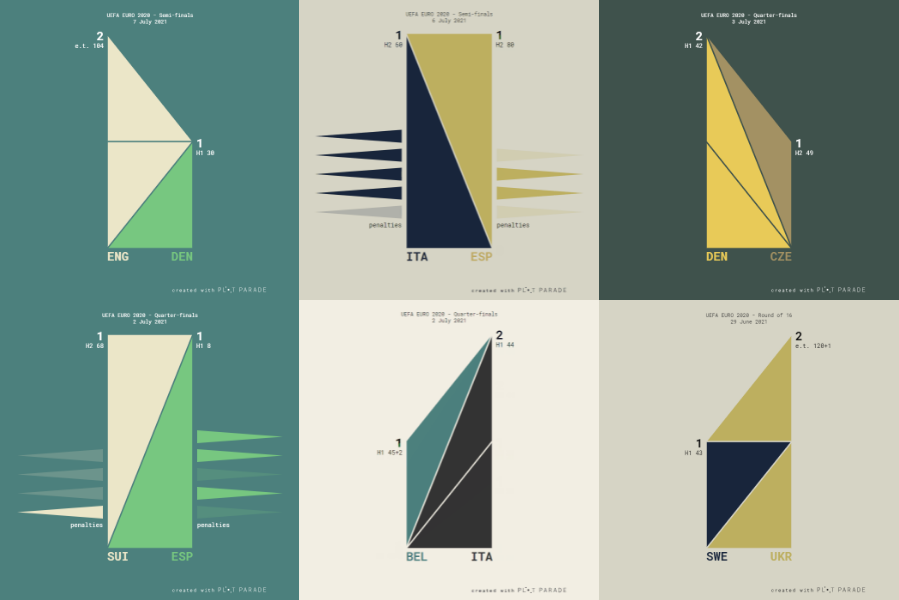 Statistician and data visualizer Nathan Yau selected eleven projects as his personal favorites and used an awards-like style of presenting each. For example, Krisztina Szűcs's "UEFA 2020 Chart Gallery" (featured on DataViz Weekly in July) is listed as the "Best Fresh Visualization of Soccer Matches," "Africa's Rising Cities" by The Washington Post (featured in December) as the "Best Walk-Through Showing Scale of Unfamiliar Areas to Most," and so on. Some categories also include runner-ups. The entire list of the best data visualizations of 2021 mentions seventeen projects.
Best Atlas of Things That Are Difficult to See in Real Life
Atlas of the invisible — by James Cheshire and Oliver Uberti
Best Demonstration of a Big Ship Stuck in a Canal
Ever Given ever ywhere — by Garrett Dash Nelson
Runner-ups:
Steer through the Suez Canal — by Sarah-Grace Mankarious and Marco Chacón for CNN
Scale-a-tron — by Stamen
How the Ever Given was freed from the Suez Canal: A visual analysis — by Atthar Mirza, Júlia Ledur, and Ruby Mellen for The Washington Post
Best Overview of Visualization Research That Is Not Overly Pedantic
The science of visual data communication: What works — by Steven L. Franconeri, Lace M. Padilla, Priti Shah, Jeffrey M. Zacks, and Jessica Hullman
Runner-up:
alt.VIS workshop at IEEE VIS 2021
Best Fresh Visualization of Soccer Matches
UEFA 2020 chart gallery — by Krisztina Szűcs
Runner-up:
All the passes — by Karim Douïeb
Best What-If Reopening Scenario
Why opening windows is a key to reopening schools — by The New York Times
Runner-up:
What will it be like when we go back to the office? — by Sarah Slobin and Feilding Cage for Reuters
Best Use of Step-Wise Moving Bubbles
This is how everyday sexism could stop you from getting that promotion — by Jessica Nordell and Yaryna Serkez for The New York Times Opinion Section
Best Gratuitous Use of 3-D Modeling to Satisfy a Curiosity
The fry universe — by Chris Williams
Best Walk-Through Showing Scale of Unfamiliar Areas to Most
Africa's rising cities — by The Washington Post
Best Bat Illustrations with Traditional Charts
Bats and the origin of outbreaks — by Julia Janicki and Simon Scarr, with illustrations by Catherine Tai, for Reuters
Best Way to See Where a Raindrop Ends Up
River runner — by Sam Learner
Best Deep Dive Into How the Ultrawealthy Make and Spend Money
The secret IRS files — by ProPublica
Best Maps of 2021 — Kenneth Field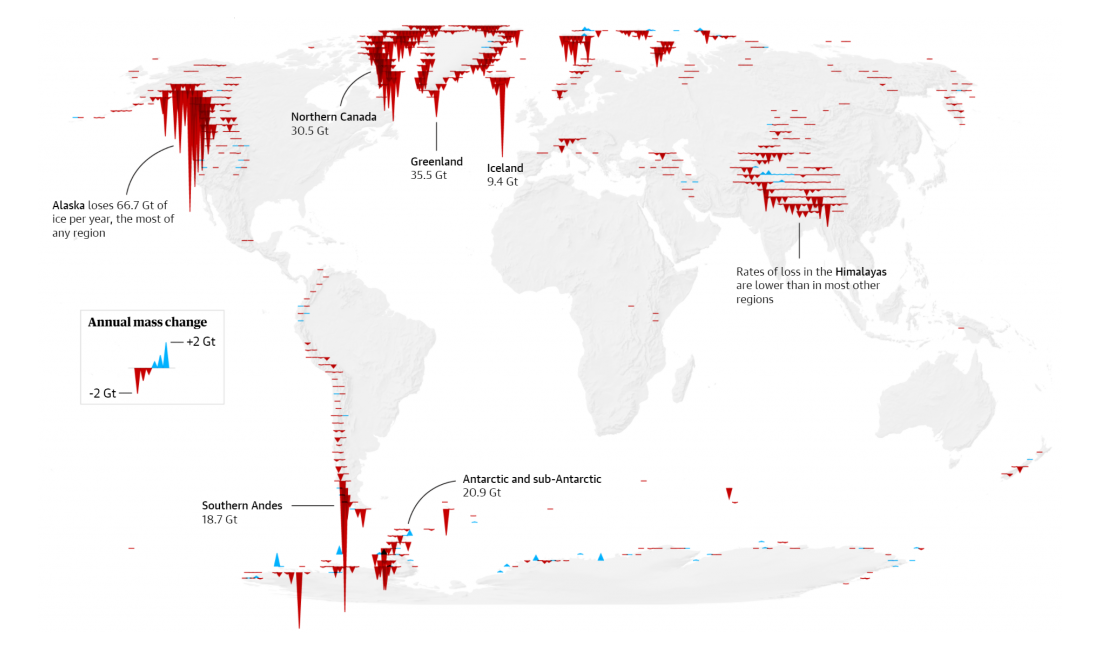 Cartographer Kenneth Field included (also) seventeen projects in his selection of favorite maps. You can see one of them shown in the image above, "Global Glacier Loss" by Niko Kommenda from The Guardian. The last on the list is a map produced by Kenneth himself: "Screwed," an awesome physical multivariate thematic map of the 2020 U.S. presidential election results, which totally deserves being praised as one of the best map-based data visualizations of 2021, too.
Stamen 2020 headquarters — by Catalina Plé
500,000 lives lost — by NBC News
Population change by US state since 2010 — by Adrian Blanco and Tim Meko for The Washington Post
Global glacier loss — by Niko Kommenda for The Guardian
San Marino bus map — by Jug Cerovic
It's coming home — by Dan Willan-Vasey
Algonquin canoe trip — by Warren Davison
Tokyo Olympics opening ceremony drone globe — by NBC Sports
Atlas of the invisible — by James Cheshire and Oliver Uberti
St. Vincent Island — by Aaron Koelker
Arctic warming — by Greg Fiske, Woodwell Climate Research Center
The lost treasures of Isla del Coco — by Jakob Listabarth
La Réunion — by Institut Geographique National (IGN, France)
Murky waters: Unmapped areas of seafloor — by Andrew Douglas Clifford
Deception Island — by Centro Geográfico del Ejercito / Army Geographic Centre (CEGET, Spain)
Penguinland — by Danai-Maria Kontou
Screwed — by Kenneth Field
The 10 Best Data Visualizations of 2021 — Terence Shin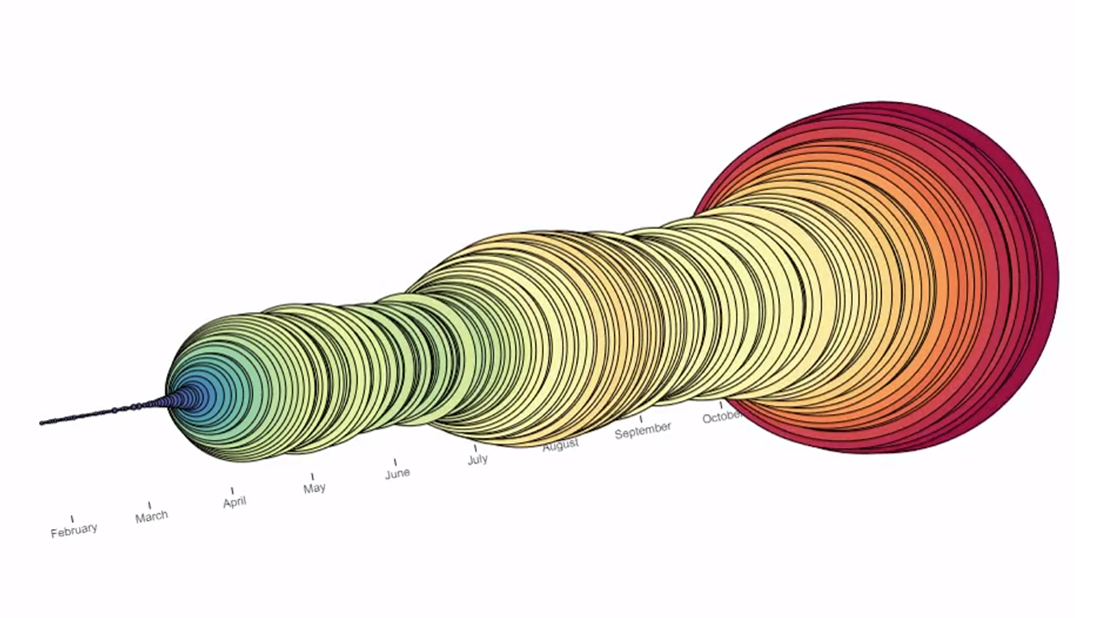 Data scientist Terence Shin shared a list of the ten data visualizations that he believes are the best in 2021. All the highlighted projects had been exhibited in the r/dataisbeautiful subreddit, and here, each is provided with a link to the corresponding post. "I wanted to share visualizations that were not only unique, but also ones that were relevant with particular trends this year, like COVID, climate change, and more," he explained in a quick introduction.
Alcohol consumption over time — by Sjoerd Tilmans
221 years of health and wealth — by James Eagle
A 3-D map of Earth's fiber optic cable network — by Tyler Morgan-Wall
COVID cases in the US — by Velimir Gasparovic
Choropleth map of COVID in the US — by David A. West
Housing prices over time — by James Eagle
A map of all mental disorders — by James Eagle
China's CO2 emissions — by Peter Gorman
Where does our plastic go? — by Patrick Drake and Alana Sharp
The top 100 artists from 1960 to 2020 — by u/takeasecond
Best Data Journalism Projects of 2021 — DataJournalism.com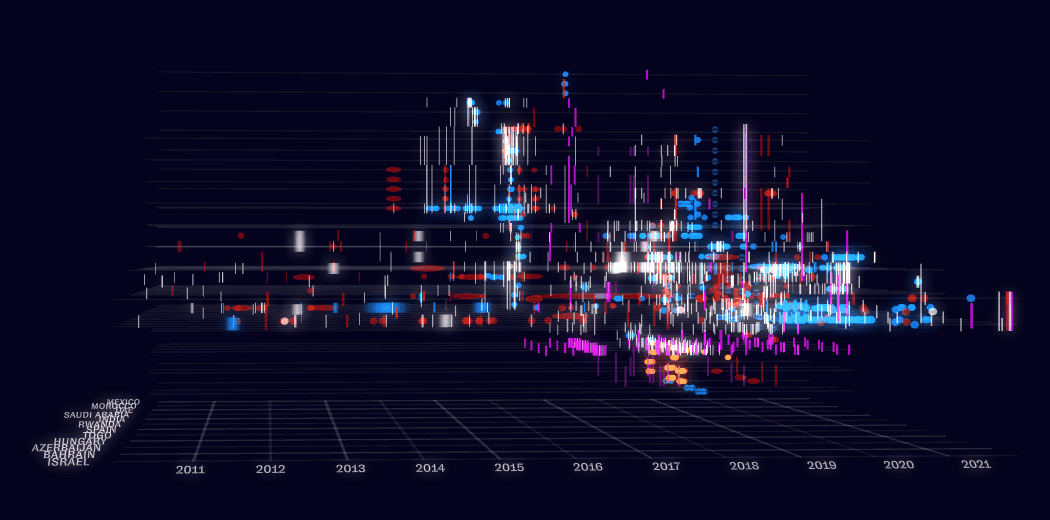 Data visualization is an integral part of data journalism, making it easier to provide a clear understanding of complex situations along with an immediate and profound impression. So we are also glad to show you this one more cool "best of year" selection. The team of DataJournalism.com made their choice of the (twelve) best data journalism projects of 2021.
Pandora Papers — by ICIJ
Afghanistan, visualising 20 years of war — by Al Jazeera
Hot and humid Olympic summer — by Reuters Graphics
Digital violence: How the NSO Group enables state terror — by Forensic Architecture
The underwater 'hotspot' feeding La Palma's volcano will create new islands — by El País
Following the science — by The Pudding
COVID-19 Vaccination Tracker — by Reuters
America's food safety system failed to stop a Salmonella epidemic. It's still making people sick — by ProPublica
Sexual violence in Singapore — by Kontinentalist
The climate crisis, by the numbers: Your guide to humanity's greatest challenge — by BuzzFeed News
Visualised: Glaciers then and now — by The Guardian
What it takes to understand a variant — by The New York Times
***
A lot of great charts, maps, and infographics were created in 2021. Let's see what 2022 will be in that regard! Stay tuned for DataViz Weekly on the AnyChart blog for regular updates on the most interesting and simply the best data visualizations as they come out around the internet!
You can check out previous "best of year" collections here: 2020, 2019, 2018. To recall 2021 in data graphics, see our last week's 2021 year in review post in case you missed it.
All the best in 2022!
---
No Comments Yet