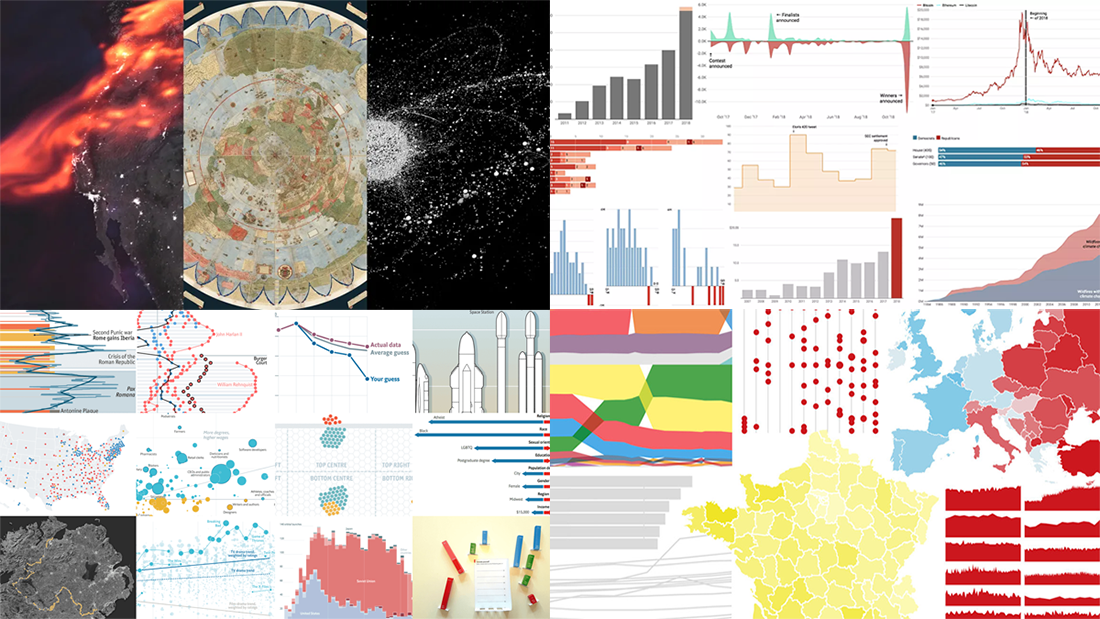 The last days of 2018 are a great time to look back at these 12 months. The year's final issue of DataViz Weekly is here to familiarize you with four cool selections of the best data visualizations that show the picture of 2018, curated by four major media outlets: POLITICO, Recode, The Economist, and Fast Company. Take a quick look at the lists and check out the charts.
Best Data Visualizations of the Year: Politico, Recode, The Economist, Fast Company
Politico's DataViz of the Year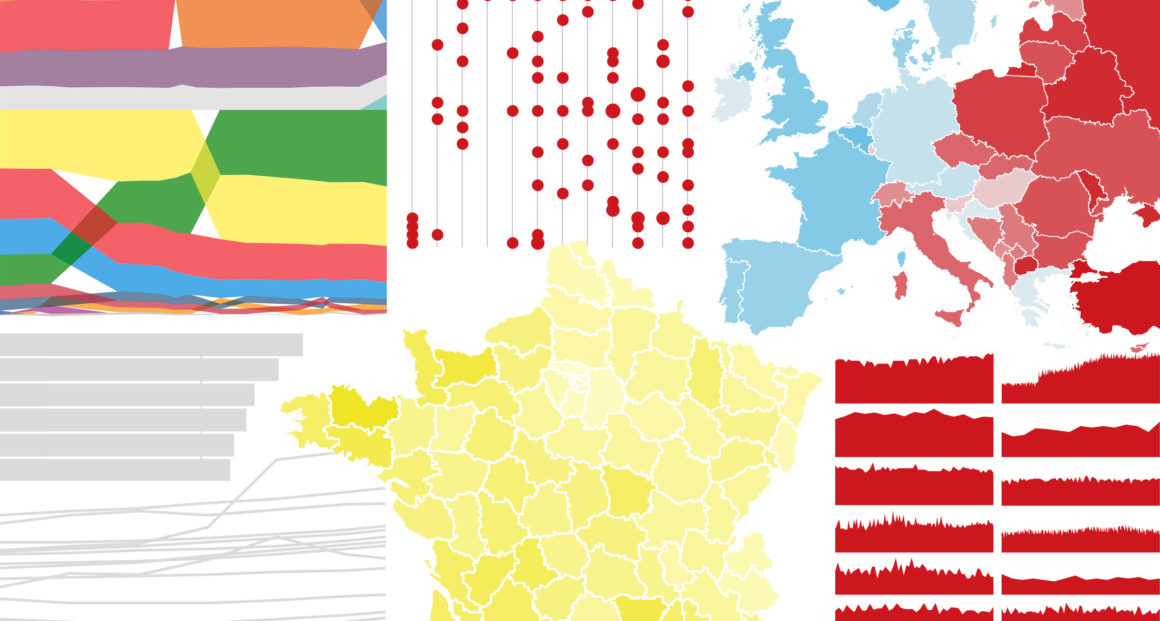 POLITICO picked top 14 projects with charts and figures to tell the story of 2018, on topics that defined the year:
Rise of the yellow vests movement in France
Donald Trump's fake news
Job changes in the Trump administration
Apple's market leadership
Climate change
European elections
Far-right parties across the European Union
Brexit opinions
Europeans' feelings towards Muslims
EU migration reduction
Merkel's staying power
GDP per capita across the EU
Respect for human rights of LGBTI+ people in Europe
Performance of social media
Recode's DataViz of the Year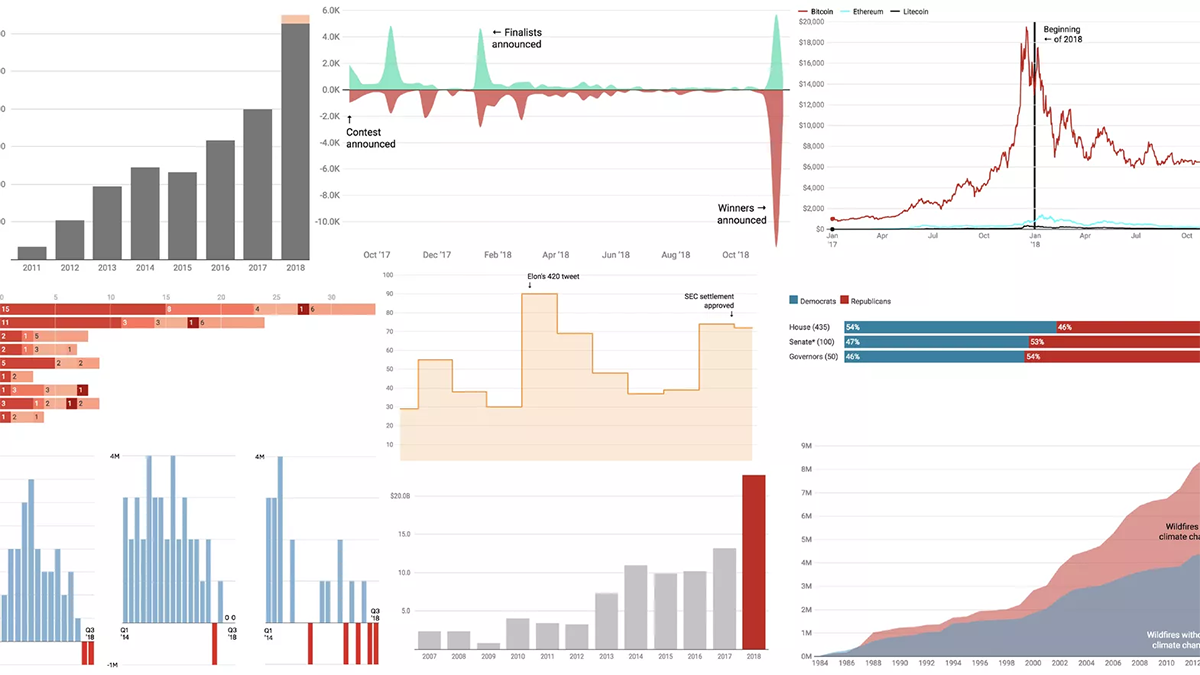 Recode shared a visual review of the year in another 14 charts, focusing on technology and related trends:
Social media sentiment about Amazon's HQ2
Change in social media usage
Tesla's stock price
U.S. plug-in electric vehicle sales
Cumulative hectares of U.S. forest burned, with and without the climate change
Users' trust in major Internet companies
#MeToo power
Cryptocurrency price decline
Popularity of search terms juul, cigarette, marlboro, and electronic cigarette
Market capitalization of Apple, Microsoft, and Amazon
Government composition after the midterm elections for the U.S. House, Senate, and governors
Annual capital expenditure for Apple, Amazon, Microsoft, Facebook, and Alphabet
Top 10 free games by revenue
MoviePass parent company stock price
The Economist's DataViz of the Year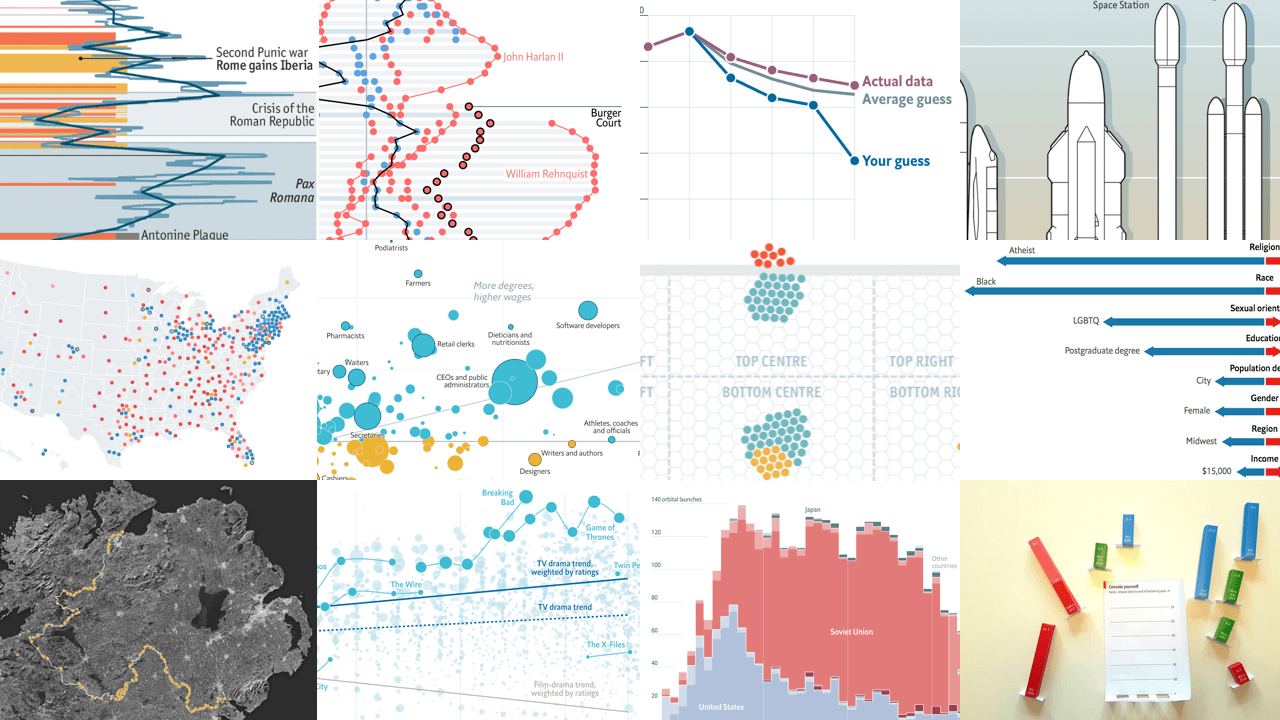 The Economist Data Team selected their 12 most-loved data stories and charts published in 2018:
Economic returns to university
Space launchers
Segregation in America
Nintendo console sales
Lead emissions from silver production in 1100 BC through 800 AD
Midterm election race and results
Success in penalty shootouts
Ideologies of the U.S. Supreme Court justices
All state and commercial space launches
Vote forecast model
IMDb user ratings for TV dramas
EU's new external border in Ireland
Fast Company's DataViz of the Year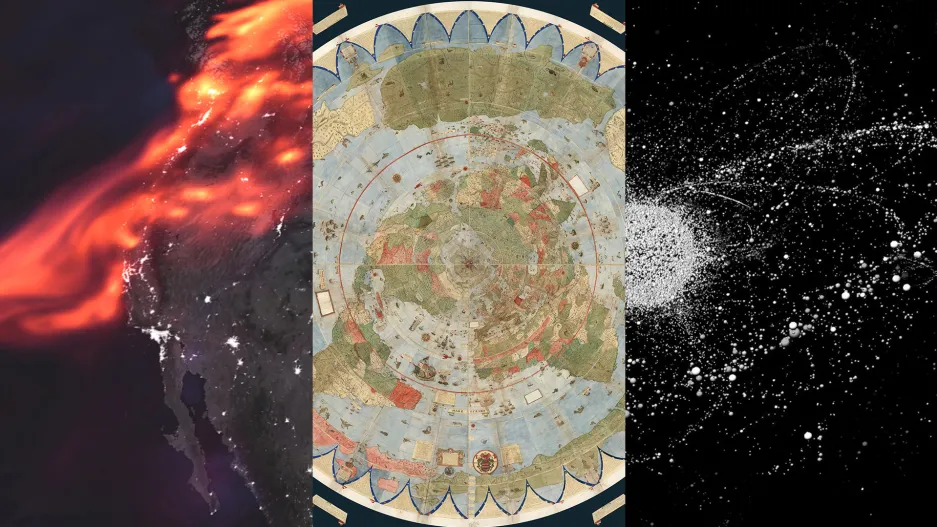 Fast Company recalled 10 of the best data visualization works that came to light this year:
Real size of countries
Earth atmosphere
Corporate connections in the S&P 500 top 50
Space waste
$1M+ homes across the U.S.
Block-by-block population estimates for Manhattan over a day
PayPal user data sharing
Trump Properties in political campaigns and U.S. taxpayer money
Map of the ancient Earth up to 750 million years ago
The largest known early world map made interactive
***
Don't miss out on these some of the best data visualizations of 2018.
Stay tuned for DataViz Weekly in 2019 as we will continue to share some of the most interesting data visualizations from around the web, within the framework of this Friday feature.
Happy holiday time, everyone!
---
Comments (3)