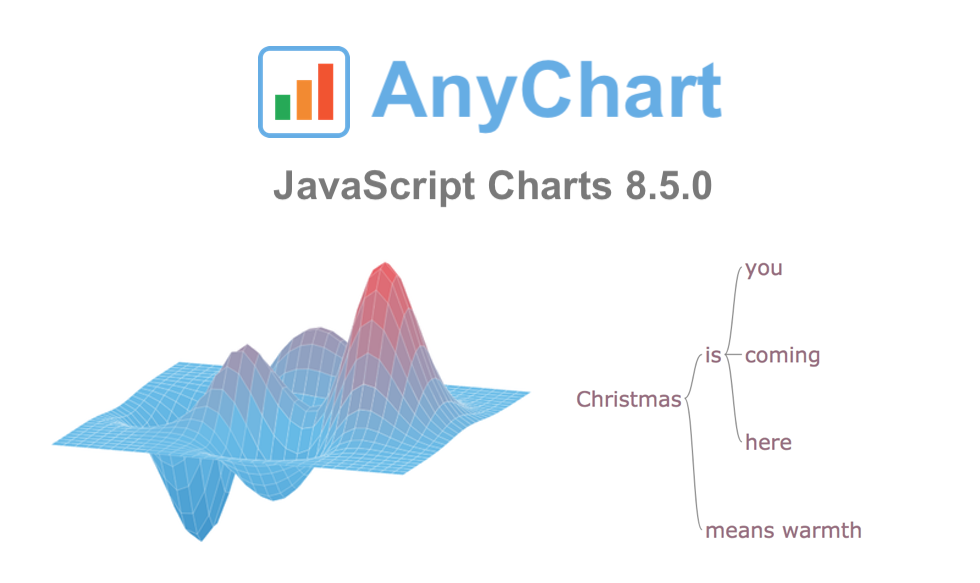 On this wonderful day, we are excited to announce a new major update for our JavaScript data visualization libraries: AnyChart 8.5.0 is released!
The new version brings a lot of advanced features and improvements that make our JS (HTML5) charting solutions even more powerful. 3D Surface Plot, Word Tree, and much more — spare a minute to look through the highlights of the 8.5.0 release of AnyChart, AnyStock, AnyGantt, and AnyMap.
New Features in AnyChart JS Charts 8.5.0
More Improvements for JavaScript Data Visualization Libraries
Release 8.5.0 of JavaScript data visualization libraries AnyChart, AnyStock, AnyGantt, and AnyMap has also delivered multiple important improvements and bug fixes.
In particular, we've added new chart constructors, ordinal scale modes, stock chart tooltip's single display mode, and more.
Check out the version histories of our products for more information:
Next Stop: AnyChart 8.5.1
Expect the next version of our JavaScript data visualization libraries AnyChart, AnyStock, AnyMap, and AnyGantt to go live in January 2019. It will be minor release 8.5.1, bringing new improvements and fixes.
Stay tuned for our plans — follow the public roadmaps of our products:
Please also feel free to send us new feature requests along with any other suggestions — just get in touch with our Support Team, and we'd love to hear and consider your ideas.
***
Enjoy AnyChart 8.5.0! And of course… Merry Christmas and happy holidays!
---
Comments (1)