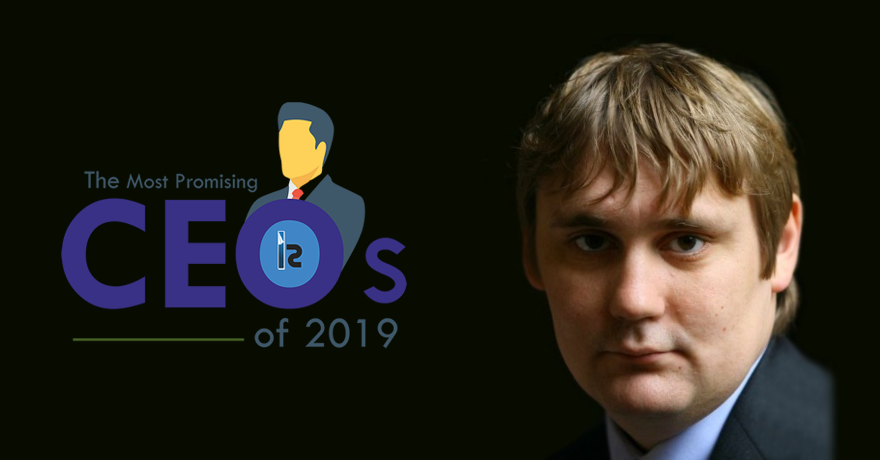 Insights Success magazine has named Anton Baranchuk, CEO and Co-founder of AnyChart, one of The Most Promising CEOs of 2019. Celebrating this exciting recognition, we are pleased to share with you a special article about him and our company. Published in the latest issue of Insights Success, the story is based on Anton's recent interview with the magazine. Take a read.
---
Most Promising CEOs of 2019 — Anton Baranchuk: Transforming Data into Insightful and Actionable Information Through Smart Visualization
Business acumen when accompanied with technical knowledge makes an ultimate combination that can take IT companies to the new heights. Anton Baranchuk, CEO at AnyChart America, is one such blend of business and technical expertise, who has been transforming the industry with his novel approaches.
Inception Tale
AnyChart was started in 2003, at the times of Adobe Flash and the early age of the Extensible Markup Language (or simply XML), when future AnyChart teammates realized that literally any data from literally any source can be extracted in the XML format and then be interactively visualized using the Adobe Flash technology. Implementation of this approach laid the foundation of the AnyChart business. Flash was everywhere, so indeed AnyChart succeeded as a one-fits-all data visualization tool.
Back in the 2000s, both Flash and XML were on the rise while still quite young, meaning the company had to deal with a number of inherent bugs, security shortcomings, and other issues. That is where the first big clients appeared to be of great help.
"When Oracle introduced our data visualization component in APEX, we started getting a whole lot of feedback from users, which greatly helped us in quickly shaping our product development, technical support, and business tactics to the best possible extent. So I can say it was essentially important for us as a tech business to quickly roll out a product and earn our first big clients," Anton recalls.
Sharp Curve to New Success
AnyChart managed to take lead in interactive data visualization. But after the fall of Flash as a universally used environment, the company had to switch to HTML5, which was a huge challenge. Finally, AnyChart added support of SVG and released the first version of its JavaScript charting library.
Nowadays, the company continues to support its Flash-based charting components. However, the vast majority of AnyChart's customers already adhere to HTML5, the backbone technology of the contemporary web.
Acknowledging what their entire team already did to get where it is currently positioned, Anton proudly asserts: "I am happy we've done it with such a success and are currently among the few absolute leaders in the global interactive data visualization software market."
He adds: "It is crucial for a technology company to stay in the know of what's going on out there, predict any possible changes that can affect it, follow the trends, and of course, always do your best to fully satisfy the needs of your clients at all times. That's the way we have been and will keep doing our best to follow."
Flexible Data Visualization Solutions
Now, AnyChart is a flexible JavaScript (HTML5) solution that allows businesses to create interactive and great looking charts of any kind out of any data — in full accordance with what the name "AnyChart" implicits. It is fully cross-browser and cross-platform, intended for everybody who deals with the creation of dashboards, reporting, analytics, statistical, financial or any other visualizations for the purpose of smart, data-driven decision making. Graphics rendering in AnyChart is powered by GraphicsJS, AnyChart's own open-source JS library for SVG/VML-based graphics and animation. AnyChart JS charts work everywhere including PCs, Macs, iPhones, iPads, and Android devices, enabling businesses to transform operational data into insightful, actionable information.
Prominently delivering a powerful JavaScript charting engine, the company markets it as a product family comprising four JS visualization libraries, each inherently optimized to serve a specific data viz purpose: AnyChart — for basic charts (over 70 chart types are available out of the box), AnyMap — for maps and seat charts, AnyStock — for stock and financial charts, or basically any date/time charts, AnyGantt — for project and resource charts (Gantt, PERT, etc.). But essentially it is one versatile data visualization tool.
Leading Data Visualization Globally
Anton's constant efforts as the CEO at AnyChart America, the company's forefront, resulted in framing AnyChart among the global leaders of data visualization tools. AnyChart has earned more than 75% of the Fortune 500 members and over half of the top 1,000 software vendors worldwide. Overall, thousands of companies and organizations use AnyChart, including enterprise giants like Oracle, Microsoft, Samsung, Volkswagen, Bosch, McDonald's, Reuters, Rolex, Lockheed Martin, and many others. Also, it has been widely recognized by technology experts worldwide and received multiple awards for the best and most promising in JavaScript and data visualization.
This year has been particularly exciting for the company. AnyChart has recently announced their new technology alliance partnership with Qlik, adding three new product extensions for Qlik Sense. The partnership enables Qlik's community of data analysts to be provided with more than 30 new chart types and features such as tooltips natively in the Qlik environment, with no coding required.
Keeping Up with Trends is Essential
Anton believes that in this fast-paced industry it has always been essential for the technologists to keep up with the tech-enabled trends.
Emphasizing upon AnyChart's distinctiveness in the market, he asserts: "Due to a big number of ideas and solutions out there in almost every single field, it is important to properly analyze everything and see what's going to work best in each particular case."
Invaluable Advice
Considering the essential attributes of leadership, Anton asserts: "I believe maybe the most important thing is openness, in the widest sense. To your teammates. To your customers. To new ideas, experiences, and information in general. Then, analyze what you've learned or thought about and think how it can actually be applied in what you are doing, and not only for now but also for later stages."
Anton advises aspiring entrepreneurs to analyze the overall market and think several steps ahead to withstand the complexities. He believes that in order to experience a principle work-ethical environment, a professional and enthusiastic team really matters. Addressing a proverb saying "Fall seven times and stand up eight," Anton asserts: "Don't give up if something goes worse than expected and in case of any failures."
Bright Future for AnyChart
With many thousands of happy clients, from startups to corporate giants, AnyChart's future plans are about working more and more to make the company's data visualization solutions even better and further justify the trust of the customers.
---
Originally published in the Vol. 06 issue of the Insights Success magazine on June 6, 2019 ("The Most Promising CEOs of 2019" — "Anton Baranchuk: Transforming Data into Insightful and Actionable Information Through Smart Visualization"):
---
No Comments Yet