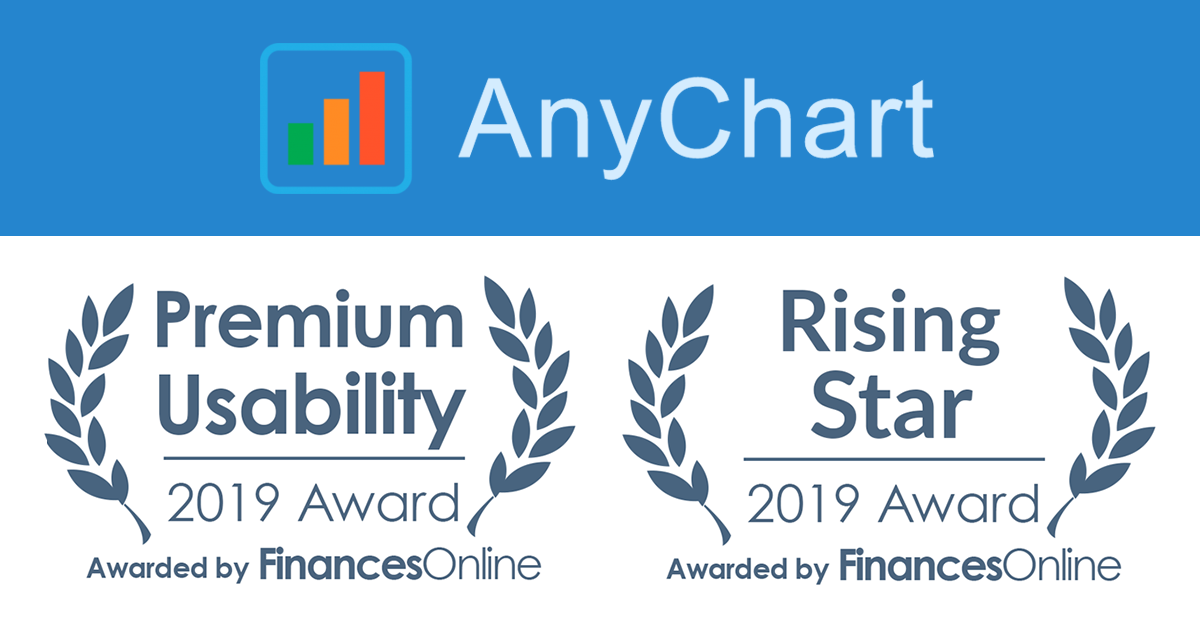 At AnyChart, we believe that companies and organizations should be able to leverage their data without having to waste time on trying to make sense of raw digits and vast spreadsheets. This is why we worked hard to create a no-fuss interactive data visualization software that does not compromise flexibility while giving everyone a unique chance to visualize any data in any way they want and make correct data-driven decisions they need in an instant. It is for this reason that FinancesOnline, a reputable business directory, has included our charting solution in their list of the top data visualization tools and granted us the Premium Usability Award and the Rising Star Award for 2019!
AnyChart, according to the FinancesOnline experts, allows developers to simplify the creation and integration of any charts into any application thanks to our robust JavaScript charting library along with "awesome API functionality, documentation tools, and enterprise-grade support." Moreover, AnyChart's capability to export these charts into any file format and share them on different platforms is a great way to boost collaboration in the workplace and improve data transparency for stakeholders.
FinancesOnline also commended how AnyChart allows users to churn out interactive BI dashboards based on what types of data they want to monitor regularly.
Aside from snagging a spot on their list of the best data visualization tools and being honored with the awards, FinancesOnline's experts noticed our JS/HTML5 data visualization library had built a solid reputation among industry professionals. Indeed, in recent years, we have increasingly expanded our customer database by providing not only top-notch SaaS products but also high-quality service for our clientele.
If you want to learn more about AnyChart JS Charts and find out why it is one of the trending alternatives to some of the other most popular data visualization tools, read the full AnyChart review on the FinancesOnline website. They also offer in-depth evaluations of other types of platforms in case you are looking for other kinds of software solutions for your business.
---
No Comments Yet