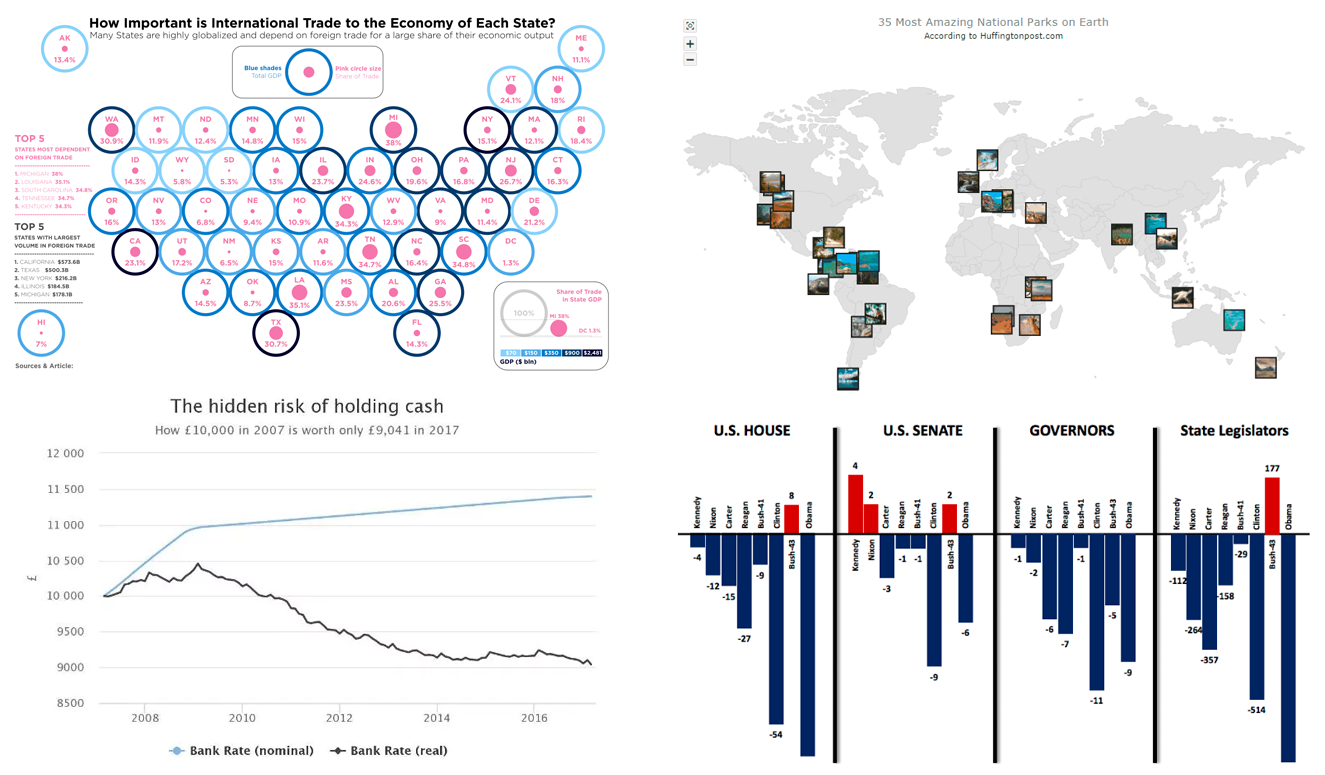 Data visualization techniques are an amazing means of communicating information. Their proper implementation enhances understanding of data and can be very helpful in clarifying (and even revealing) differences, trends, relationships, and other patterns and related aspects within data sets.
We keep on showing you interesting data visualization examples on a regular basis, within the framework of Data Visualization Weekly (and in earlier recaps of the week). And we hope you'll find the current issue of the series worth checking out, great as another portion of inspiration and examples of how data visualization techniques work, or – at least – just interesting in terms of facts and trends communicated.
So, here's a small selection from what we noticed on the Web and shared on social networks within the last seven days.
Data Visualization Weekly: April 28, 2017 – May 5, 2017
Data Visualization Techniques Explain Why Holding Cash Is Dangerous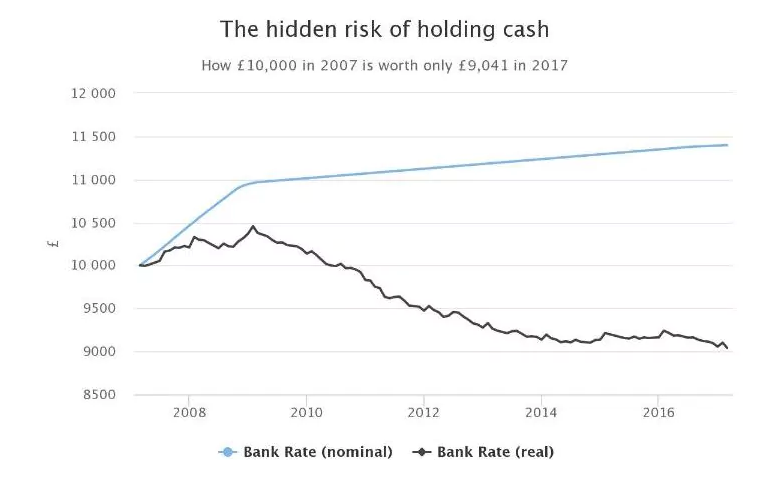 Keeping money in cash deposits for a long time can be dangerous to your wealth, even when inflation is low. This chart published on The Telegraph clearly proves that this is true even with low inflation. This visualization, based on Bank of England's data, depicts nominal and real bank rates between the years of 2007 and 2017. And that's how £10,000 on a saving account is turning £9.041 over the course of 10 years.
Visualizing U.S. States' Dependence on International Trade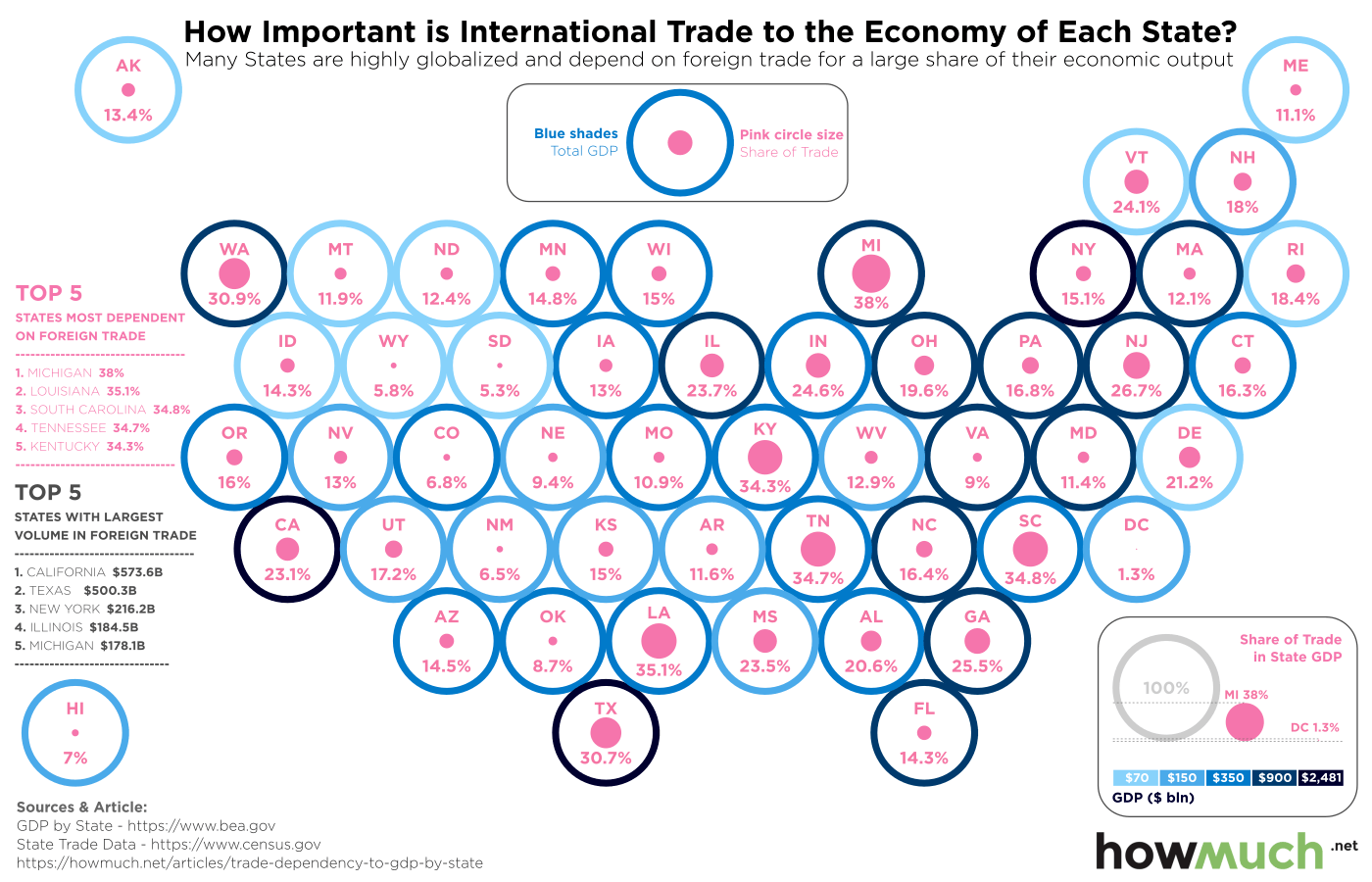 The infographics visualization pictured above displays how globalized each state of the United States of America is in terms of economy. You can find it published and explained on ValueWalk. As we see, Michigan, Louisiana, South Carolina, Tennessee, and Kentucky depend on foreign trade the most.
Interactive JS Map of 35 Most Amazing National Parks on Earth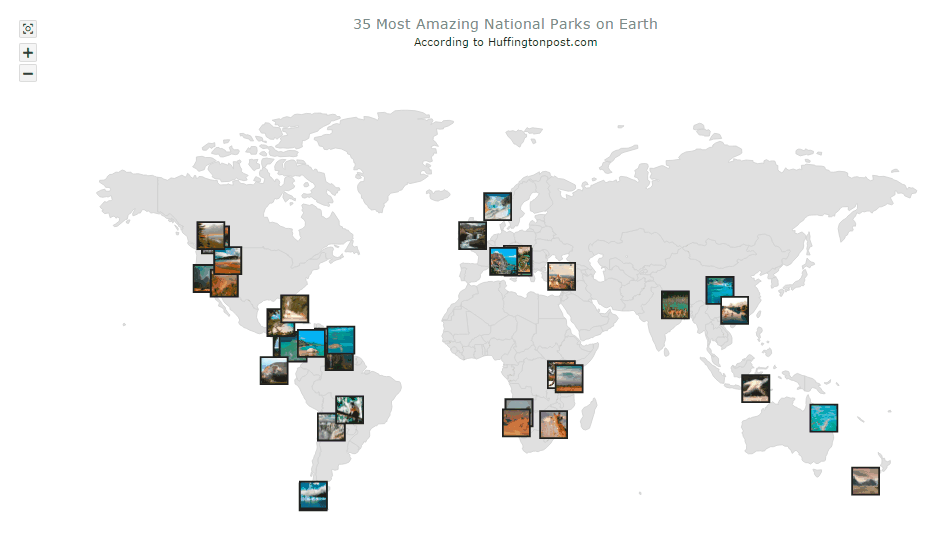 The Huffington Post once published a nice article on The 35 Most Amazing National Parks on Earth. And this interactive geovisualization (a dot map) created with the AnyMap JavaScript library provides another view of the same information, now with a spatial perspective. All of those parks are mapped here according to their location, featuring pictures and descriptions. Actually, it is a nice example of how data visualization techniques can help you present data in an informative and, at the same time, neat, concise and visually appealing manner, not to mention simply another perspective.
Chart of Seat Losses of U.S. Presidents' Parties in First Midterm Election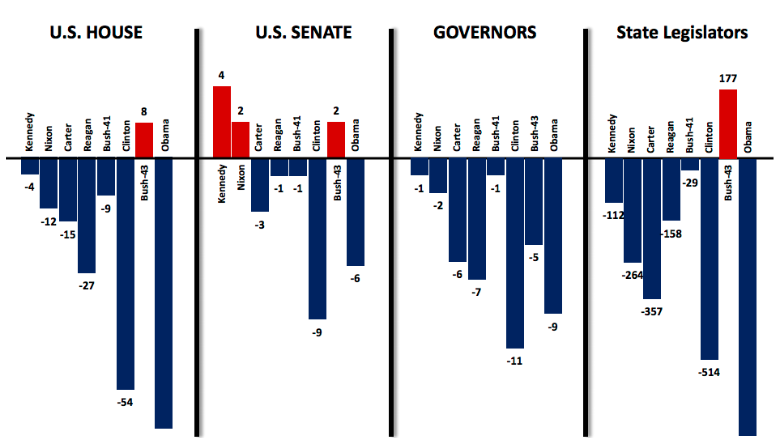 "The history of the first midterm election of a newly-elected president should scare Republicans tasked with retaining their House majority in 2018," CNN warns. This conclusion is based on statistics visualized in a multi-series column chart with negative values (here's a JavaScript charting example for such a chart type). The chart shows how many official seats the President's party lost in the first midterm election, starting from John F. Kennedy. That's impressive. Well, now it will be even more interesting to watch the upcoming election in 2018 and see what will happen this time.
Thanks for your attention to the new Data Visualization Weekly issue! Whenever you find or make new visualizations that you think are nice examples of using cool data visualization techniques or just worth seeing, please feel free to send them in. You are more than welcome to use Twitter and Facebook for that, if you'd like. And then your work (or the one you've just discovered) will get a great chance to be featured in our regular posts here, too.
Have a nice weekend time, folks!
---
No Comments Yet