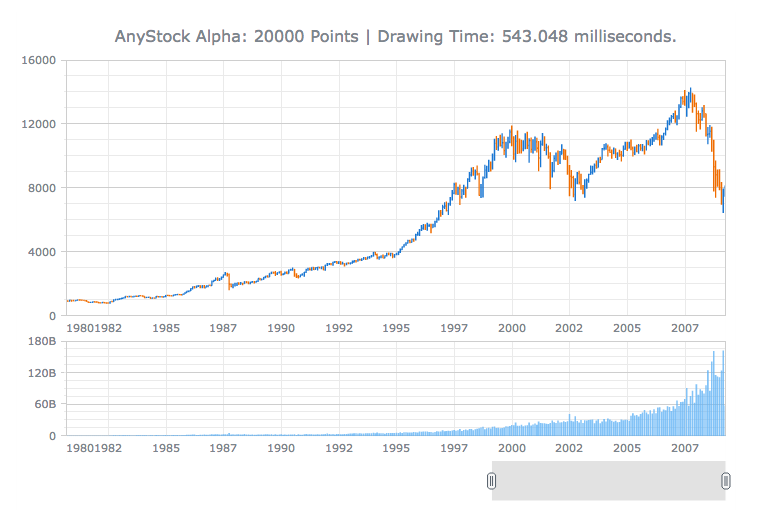 AnyChart Stock 7 is an upcoming addition to new AnyChart 7 HTML5 JavaScript Engine: Financial charting solution that allows to turn your real time data into highly sophisticated charts with interactive capability.
Designed to display large datetime datasets, AnyStock is the ideal tool for client reporting and performance based reporting applications. Reports and Dashboards are visualized with scrolling, drill downs, panning and zoom functionality.
Demo page: https://www.anychart.com/products/anystock/demos/alpha/
What you can see on a demo page is the early Alpha preview of AnyStock, this chart shows dataset of 20.000 points and it usually takes about half a second to be rendered in a modern browser on an average workstation. The title of the chart you see shows results of the real performance benchmark for this chart on your computer.
We are working hard to go into the release stage, polishing all bells and whistles and hoping to make it by September 2015.
New AnyStock will feature amazing speed and all the neat things our customers loved previous versions of in AnyStock, and it will be fully integrated into the new AnyChart 7 Framework and share most of its ideology, settings technique and ease of use – and you will be able to use it along other charts, including those we have in the AnyChart Basic Charts, AnyGantt Gantt Charts and AnyMap HTML5 Maps.
We are convinced that you will be pleased with the result, stay tuned!
---
Comments (2)
guan    7th Sep 15 9:55 am
Can you inform Me When The JavaScrip HTML5 version of AnyChart has been released
Timothy Loginov    7th Dec 15 9:30 am